Having a sturdy and reliable roof is essential for any homeowner, particularly those in the state of Florida. From high sun exposure to powerful storms and heavy rain, the climate of this state has a huge influence on what kind of materials should be used in residential roofing.
To ensure that you make the best decision when building a new roof or doing a roof replacement for your home, it is important to consider all factors involved before getting started.
Types of Roofing Materials
When deciding on a material for your roof, there are several things to consider: expected lifespan, cost, roof maintenance requirements, and aesthetics. Fortunately, homeowners have a wide variety of options from which to choose.
Here is an overview of the best roof materials for Florida:
Asphalt Shingles
Asphalt shingles are one of the most popular roofing solutions due to their relatively low cost and ease of maintenance. They come in a variety of colors and styles and even have hail-resistant selections as well. Quality ranges from basic three-tab shingles (the most affordable) to dimensional shingles (which are thicker and more durable – and more expensive) to luxury shingles (which have the longest life expectancy but can cost as much as other types of roofing materials).
Depending on the quality, asphalt shingles may not last as long as other types of roof materials — typically about 15-30 years depending on environmental factors such as sun exposure or storm damage — and may require more frequent repairs than other roof types.
Asphalt shingles are prone to wind damage, so it is important to have regular roof inspections and to make sure that any installation or repair of asphalt shingles is done properly.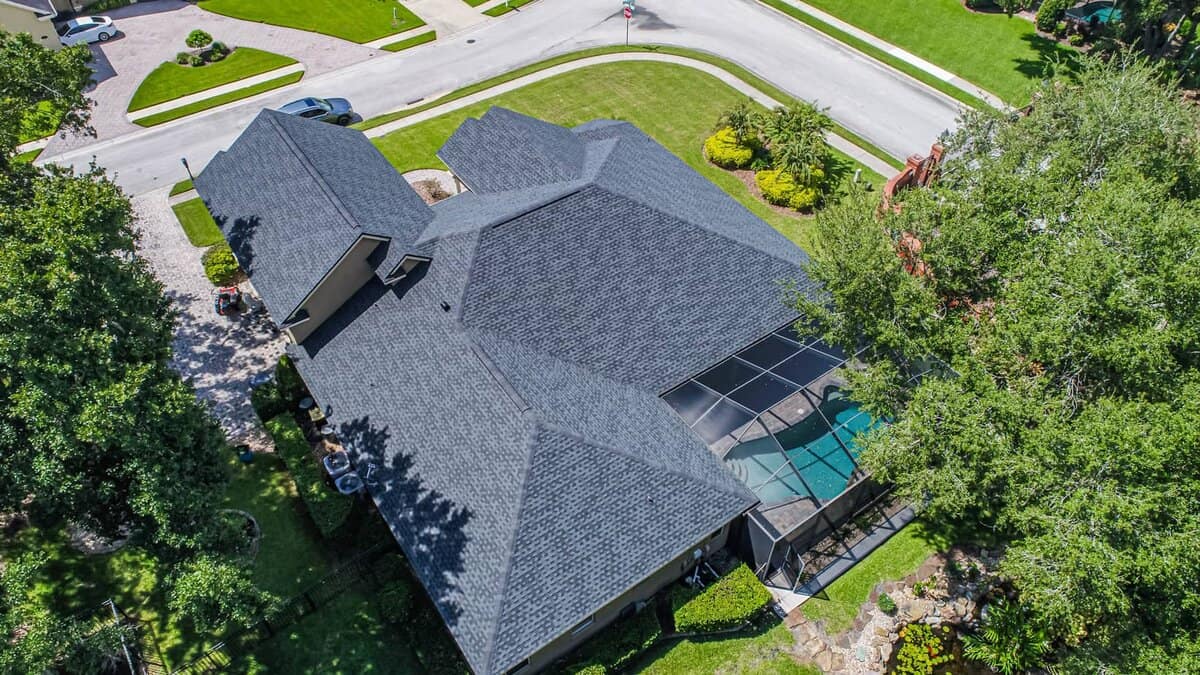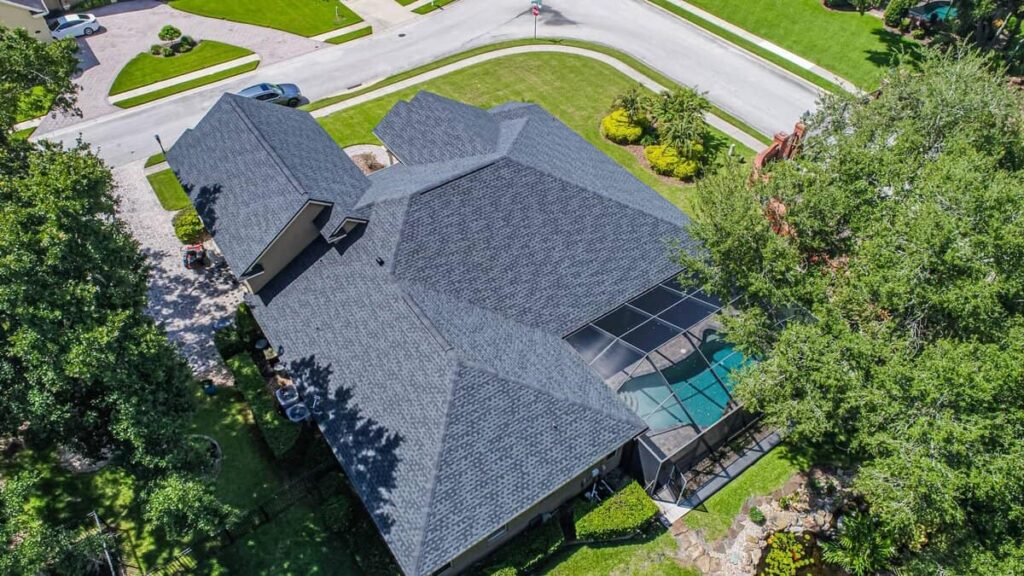 Pros
Affordability
Ease of installation and repair
Many options for colors and styles
Cons
Often have a shorter life expectancy
May need to be reinforced because of Florida's high winds
Metal Roofs
Metal roofing is becoming increasingly popular as a roofing choice for homes in Florida. R provide excellent protection against the elements, including hail and strong winds. They also typically have a much longer lifespan than traditional asphalt shingle roofs, lasting up to 50 years or more.
Metal roofs also reflect the sun's heat, making them great for energy efficiency.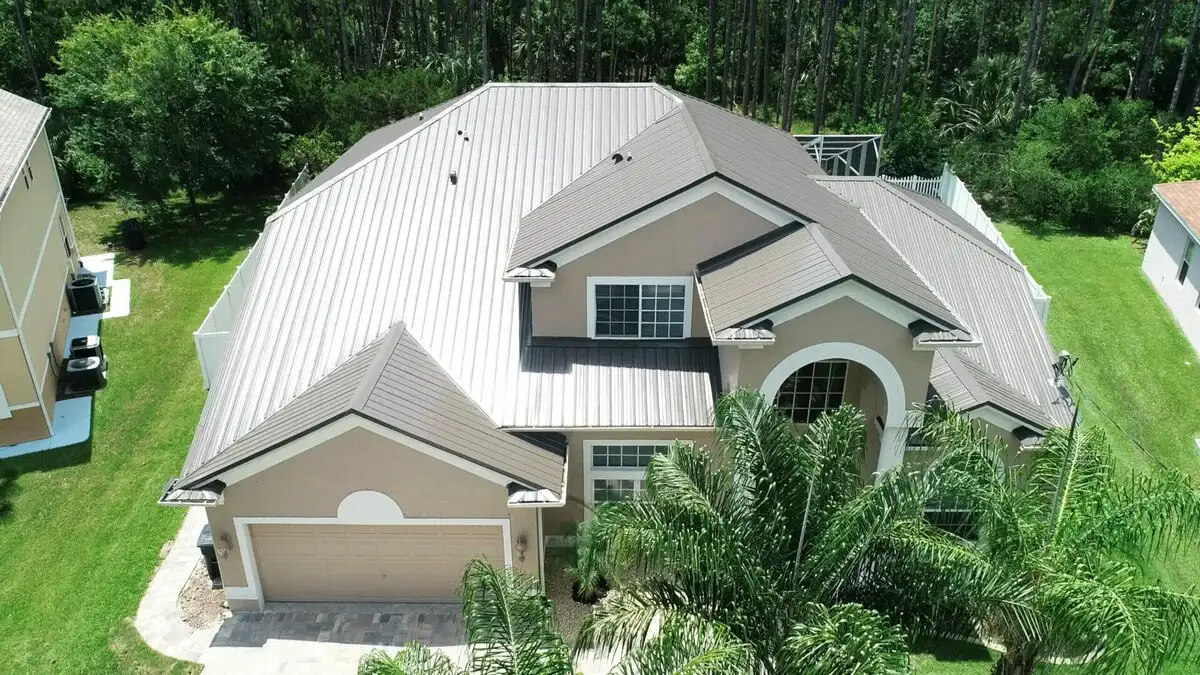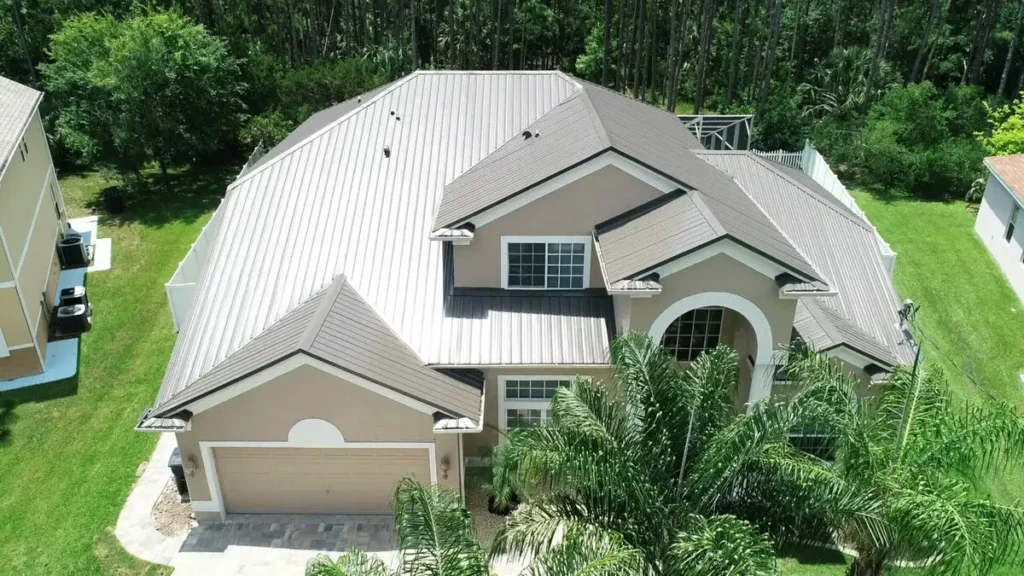 Pros
Lightweight metal does not require additional support
Long life expectancy
Variety of color and style options
Energy efficient
Fire-resistant
Recyclable at the end of its lifespan
Cons
Can be noisy if not properly installed
Higher cost than asphalt shingles
Not all roofers have experience working with metal roofs
Tile Roofs
Clay tiles offer a classic look with their terracotta coloring while providing exceptional heat resistance and durability that can outlast other materials by up to 50 years if taken care of properly.
However, tiles can be difficult to install due to their weight, so reinforcements may be required to hold them up over time. They also require more maintenance than asphalt shingle roofs due to moss build-up that can occur over time. Though pricier upfront than asphalt roofs, tile provides better protection against extreme weather conditions like hurricanes with its strong wind resistance capabilities.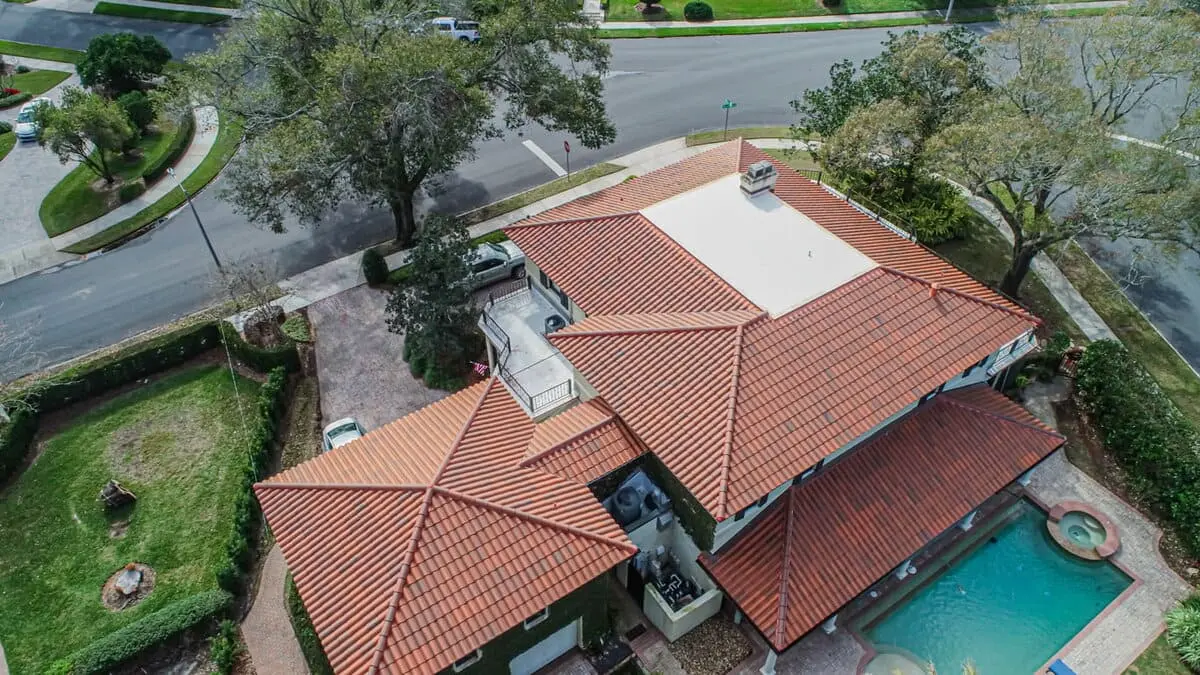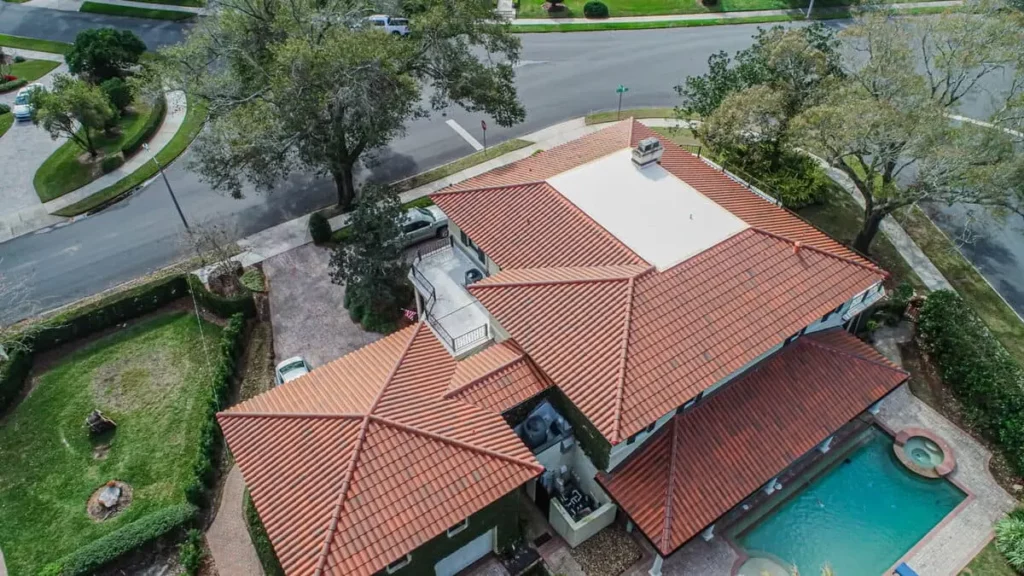 Pros
Long life expectancy
Environmentally friendly
Heat- and wind-resistant
Good for areas that get salt spray from the ocean or Gulf
Cons
Roof structure must be able to hold heavy weight
Potential for breakage
More difficult to repair than other options
Flat Roofing
An increasingly popular option in Florida, flat roofs can be made with a number of different materials. With a flat roof, you can install solar panels to help with energy efficiency and it often requires much less maintenance than other types of roofs.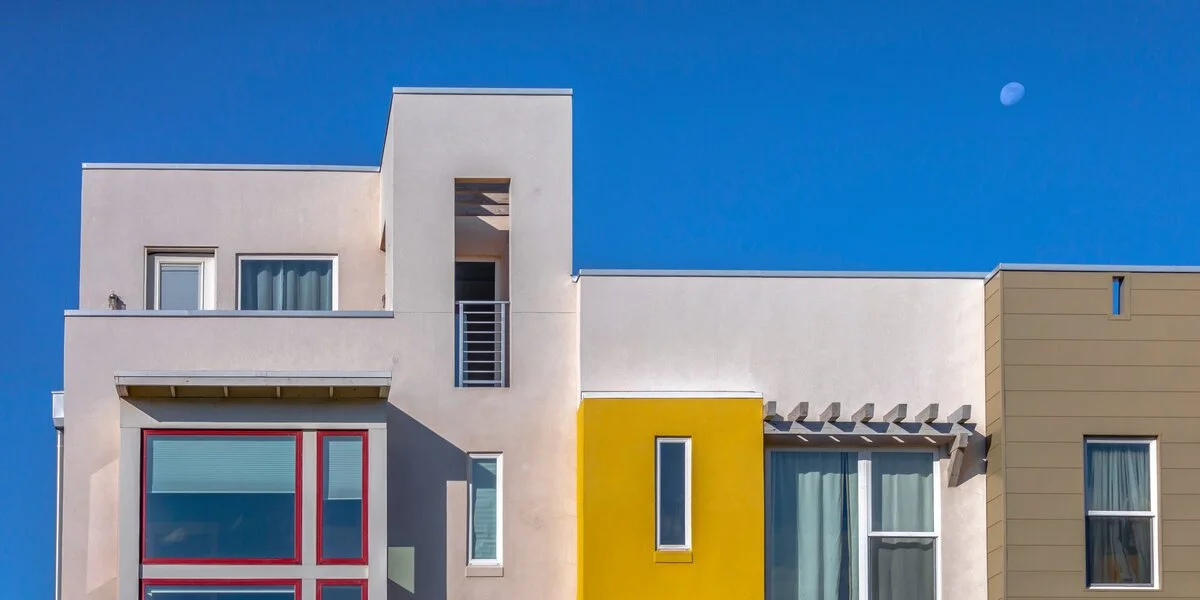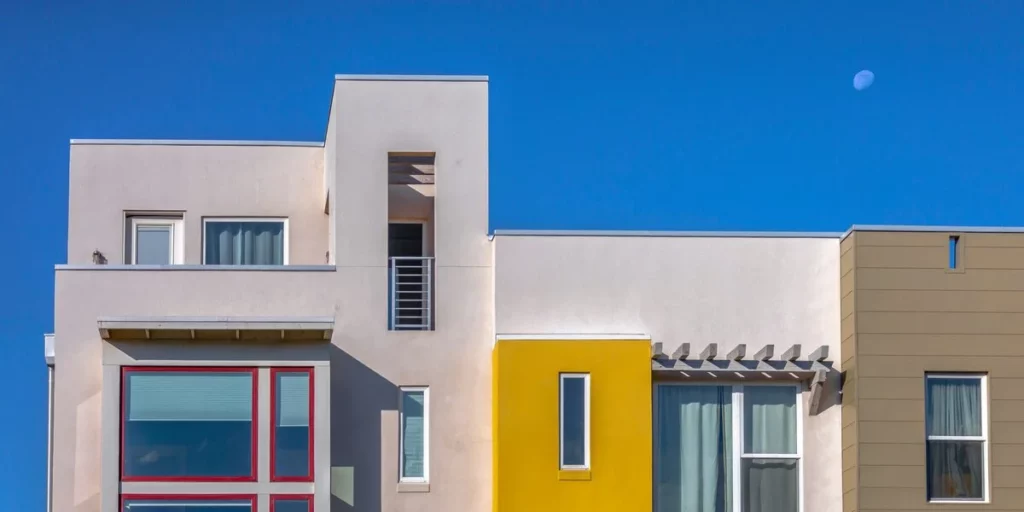 Pros
Energy efficient
Less maintenance required
Cost-effective
Cons
Frequent inspections are needed to check for any damage or leaks that may occur over time
Not as wind-resistant if not installed properly
Not an option for existing roofs with pitches
Caring For Your Roof in Florida
All roofs and roofing materials are subject to damage and normal wear and tear over time. While it is impossible to predict what Mother Nature might bring to Florida, it is important for Florida homeowners to take steps to ensure that their roof is in good condition – before a problem like leaks in attics or stained walls becomes apparent.
It is especially important that your roof is in good shape before a major storm hits, since roofs with existing problems are significantly more likely to incur major damage.
Here are some roof-care tips for Florida homeowners:
Have a professional roofing company inspect your roof at least once a year.
Inspect your roof after major weather events like hurricanes, tropical storms, or even heavy rainstorms. If you see even minor damage – or if you are unsure – contact a roofing contractor.
Make sure all gutters and downspouts are clear so that water can drain properly.
Ensure that flashing and vents are intact and secure, particularly after heavy winds.
Regularly trim trees near your home to help prevent branches from falling on the roof and causing damage.
Keep an eye out for any missing or damaged shingles.
Check for any signs of water damage on the interior walls and ceilings.
Clean your roof as needed to remove mold and algae that are common in our humid conditions.
When it comes to roofing, Florida homeowners have a lot of options in 2023 when it comes to finding the best roofing materials for our climate. Whether you choose asphalt shingles, metal roofs, tile roofs, or flat roofs, be sure to do your research and get a professional inspection before making an informed decision. Properly caring for your roof will help ensure that it will last for years to come.
Stronghold Roofing & Solar In and Near Lakeland
As a Lakeland roofing company, Stronghold Roofing and Solar has the knowledge and skills you need when it comes to making decisions about your Florida roof. As lifelong Polk County residents, we are committed to providing our residential and commercial clients throughout central Florida with the best roofing services.
Whether you need a new roof, roof maintenance, or just a free roof inspection or advice, contact our experts in Stronghold Roofing & Solar.