Metal has become an increasingly popular option for residential roofing in the United States over the past few years. However, while it may seem "trendy" now, metal has been used on public buildings since the 1700s, and it began to become more common for homes and barns in the mid-1800s.
In fact, in 1824 Thomas Jefferson had the original wood shingles on Monticello's roof replaced with terne (tin-coated iron).
Metal's resurging popularity as a roofing material can be traced to the fact that metal roofs offer several benefits that make them attractive to homeowners.
Metal Roof Advantages
Long Life Expectancy
Metal roofing can last between 40 and 70 years, which is significantly longer than common alternatives like shingle roofing, which typically last only 15 – 30 years. This longer lifespan means that many homeowners will only have to replace their roof once. As a result, the lifetime cost of a metal roof can be much less than roofing materials that are less expensive up front.
Durability
Unlike asphalt shingles or some other roofing materials, metal does not degrade over time. A metal roof will be as impact-resistant after 30 years as it is on the day it is installed.
Fire and Weather Resistance
Metal roofs can resist high winds and harsh weather. Metal roof could withstand Category 4 wind gusts of up to 140 miles per hour. Metal is also naturally fire-resistant, so metal roofs typically earn the highest fire rating.
Sustainability
Metal roofs are one of the most eco-friendly roofing options available. They are made with a minimum of 25% recycled material, and they are virtually 100% recyclable. In addition, metal roofs can eliminate the need to remove old materials like asphalt shingles when a roof replacement is needed, because metal can often be installed over an existing roof.
Aesthetics
Professional metal roofers offer a wide variety of styles, types, and colors of metal roofs that can complement any architectural style and neighborhood. From traditional standing seam metal roofing to options that mimic shingles, shakes, clay tile or even slate, metal roofing can allow homeowners to achieve just the look they want.
Energy Saving
Energy costs can be reduced by 40% or more by choosing a metal roof. A variety of coatings are available that provide excellent insulation for homes in climates that have cold winters or reflect solar radiation in warmer climates. In fact, a metal roof can stay 50 to 60 degrees cooler than other materials during peak hot-weather months.
Increased Property Value
Metal roofs' durability and long life expectancy give potential home buyers peace of mind knowing that roof repair or roof replacement will be less of a concern. This makes the home worth more compared with other homes that might need a new roof or extensive roof repairs in a few years.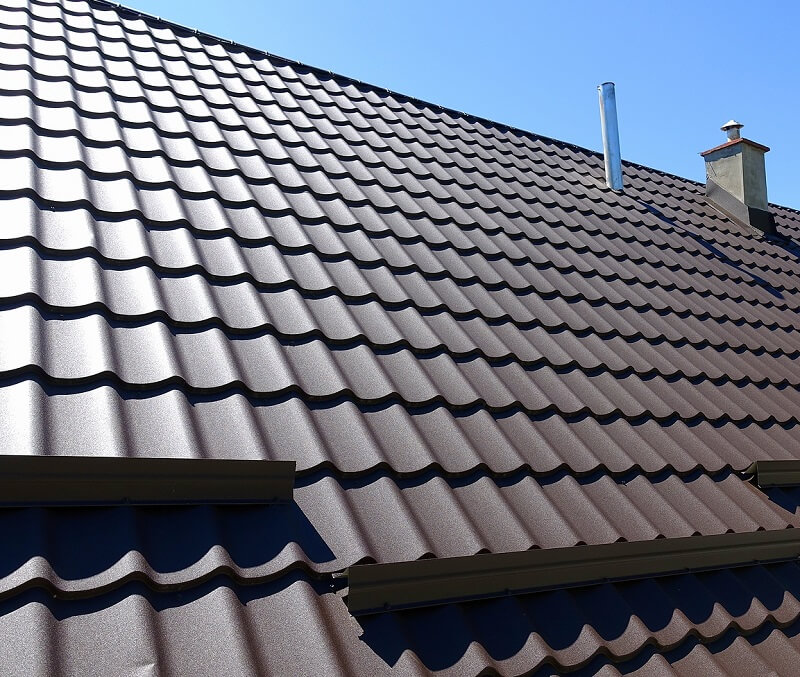 Noise Dampening
Contrary to many people's expectations, properly installed metal roofs are not noisy. In fact, they can actually dampen noise from outside weather conditions such as rain or hail.
Types of Metal Roofs
There are several options when it comes to the type of metal used in a residential metal roof installation.
Aluminum Roofing
It is the most lightweight material, but it is nonetheless very durable. Aluminum does not corrode, making it a good choice for humid and coastal areas. It can be more expensive than other metal roofing options, and the design choices may be fewer.
Copper Roofing
It offers a very traditional design aesthetic, and it will develop a unique patina over time that actually helps resist water. Copper lasts longer than almost any other type of roofing material, with some known copper roofs lasting for decades. On the negative side, copper is expensive and it is prone to denting since it is a softer metal.
Steel Roofing
It is the prototypical metal roofing material that most people think of when they hear "metal roof." Made from iron and other elements, steel is low maintenance, long-lasting, and is the least expensive of the metal roofing options. While it is resistant to corrosion, steel may underperform aluminum, copper, or zinc in high humidity or coastal environments.
Tin Roofing
It was popular in the mid 19th century, but has been replaced by longer lasting and more durable metal options. When the term is used today, it typically means steel roofing.
Zinc Roofing
Like copper, it has a unique appearance and will develop a patina with age. Zinc roofs are more common in Europe, but are less popular in the United States due to their high cost.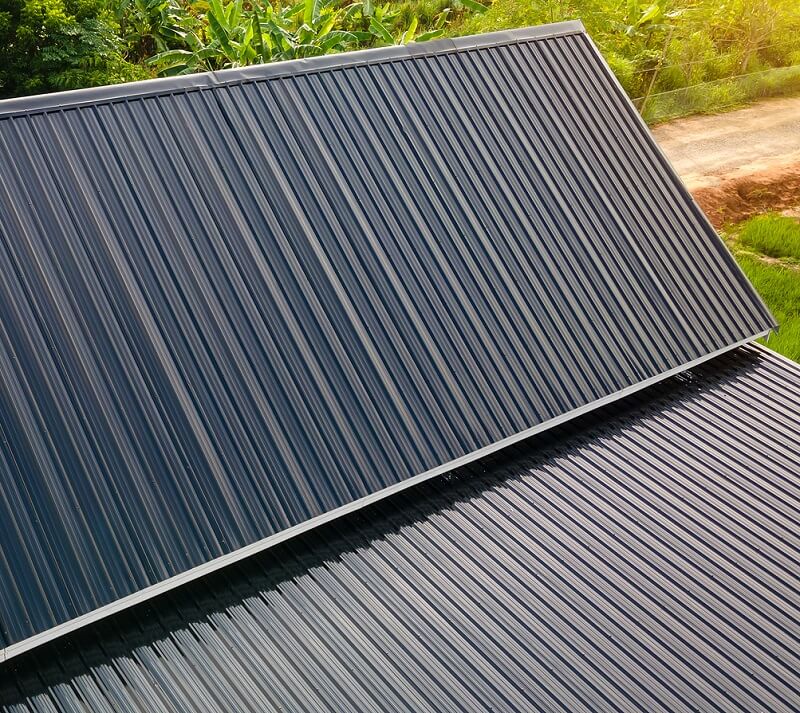 There are also different styles of metal roofs:
Styles of Metal Roofs
Standing Seam
It has a sleek appearance and is very customizable to the specific application.
Shake-inspired
It mimics the classic style of wooden shakes that have been used as a roofing material for centuries, giving the home a traditional appearance.
Tile-inspired
It is designed to look like clay or concrete tile, but it is more durable, easier to maintain, and can be significantly lighter.
Slate-inspired
It gives a home a unique, traditional look without the stress caused by the extremely heavy weight of natural slate.
Corrugated
It is beautiful and also quite durable, thanks to the strength added by the corrugation.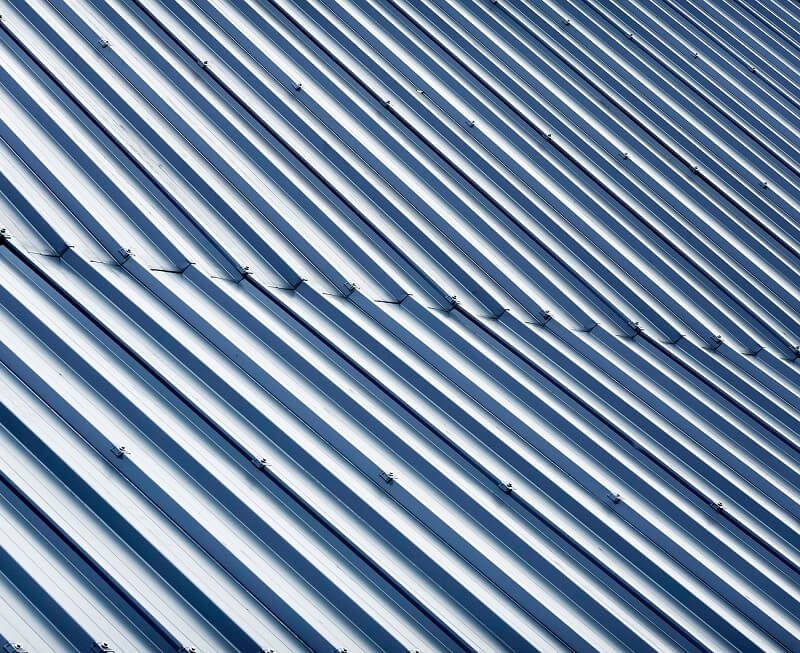 Metal Roof Installation
Metal roofs can be installed in a new construction or as a replacement for an existing roof.
If there is already a roof in place, a roofer contractor will first do a roof inspection to determine if the old roof needs to be removed, or if the new metal roof can be installed on top of it. If laying metal over old shingles or other roofing materials is an option, there may be less cost since removal and disposal will not be required.
Here are the steps that a roofer will follow when installing a metal roof with panels:
Get an accurate measurement of the roof to determine how much material will be required. This calculation involves getting the length, width, and slope of each roof area to arrive at the total square footage.
Once the materials have been procured, the roofing contractors can begin the process of installing the new roof. If needed, they will first remove the old roofing and repair or replace any damaged sheathing or structural elements of the roof frame.
An insulation layer may be installed, which helps keep moisture from getting trapped between the metal roofing material and the sheathing.
Drip edging will be installed along the eaves and the rake of the roof.
The first metal roofing panel will be installed following the manufacturer's guidelines and local code requirements.
Metal roofing ridge cap is placed along the peak where the two slopes of the roof meet.
A final inspection and debris cleanup should be the final steps in the process.
Metal Roof Installation without Sheathing
Some types of metal roofing, particularly panels, are sturdy enough that there may be a question as to whether sheathing is necessary.
The first part of the answer to that question involves state and local building codes, which may stipulate whether sheathing is required. Beyond that, the answer depends on the specific circumstances. Metal panels that are rated for architectural use can be attached directly to purlins, which are horizontal pieces of wood or metal that are attached to the trusses. This is primarily useful for buildings like barns or other non-residential structures.
In a home, however, there is a concern about condensation, which could collect on the inside of a metal roof when there is a temperature differential between the home's interior and the outside. This condensation can cause damage to walls, ceilings, and even the home's structure. This is one reason that sheathing is generally used in residential metal roof installations.
In addition to the sheathing (or roof decking) many roofing contractors suggest that a moisture barrier is also important in helping prevent leaks with a metal roof. This felt sheeting is infused with asphalt or tar, and is designed to keep moisture from humidity or rain from damaging the roof sheathing beneath it.
Metal roofs that are properly installed can have an expected lifespan of 40 – 70 years. However, not using sheathing or moisture barriers can result in a roof that does not last as long as it should.
Signs that You May Need a New Metal Roof
While metal roofs can be expected to last for decades, they will eventually need replacing, just as all roofing materials do. For homes with a metal roof, here are a few signs that it might be time for a replacement:
Stained walls or ceilings inside the home can point to a leak in the roof, which might be the first sign of future problems.
The painted finish on metal roof panels can be damaged by weather, debris, chemicals, or excessive wear and tear.
The roof is showing signs of corrosion, rust or discoloration.
The roof has sustained damage from strong storms, wind, or hail, or large branches or other debris has fallen on it.
Some metal roofing systems that use exposed fasteners can experience problems due to the fasteners becoming too big for the screws because they do not expand and contract.
Metal roofs exhibiting any of these signs may be at or nearing the end of their life. It is important to have any issues assessed by a professional and experienced metal roofing contractor. Even if a major roof repair or full roof replacement is not needed immediately, an inspection can help provide an estimate for the remaining life expectancy and allow homeowners to begin budgeting for work that will be needed later.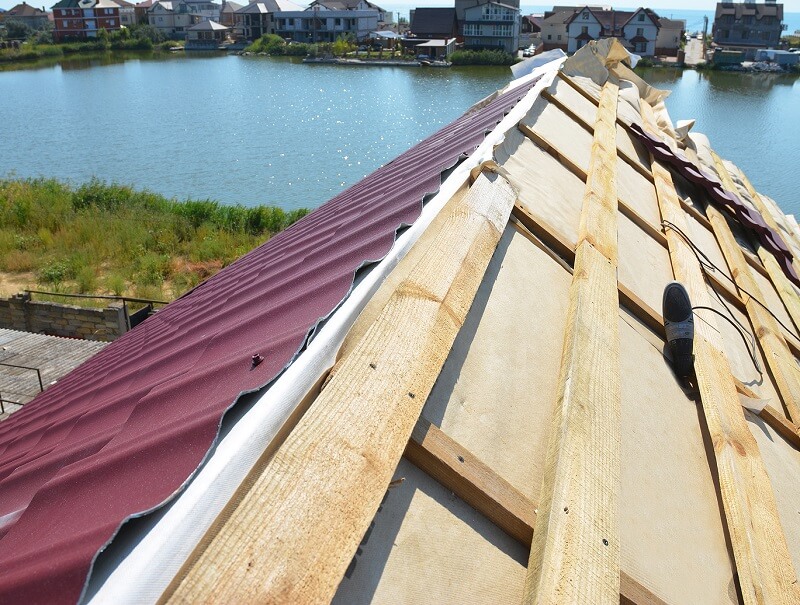 Metal Roofing In and Near Lakeland
If you are looking for the best roofing company in and near Lakeland with experience working with metal roofs, contact Stronghold Roofing & Solar. Our experienced roofers can do metal roof installation, repair, and inspection.
In addition to traditional residential roofing, our roofing services include installation and repair of:
Commercial roofing
Flat roofing
Mobile home roofing
We offer a variety of roofing options to meet our customers' needs, both aesthetic and budget:
Shingle roofing – 3-tab and architectural shingles
Tile roofing – Clay tile and concrete tile
Metal roofing
Flat roofing
Our roofing company in Lakeland is pleased to offer our valued customers roof financing options that allow homeowners to pay for their roof repair or roof installation with predictable monthly payments.
Having worked with many clients over the years, we also can assist with the roof insurance claims process if damage to a roof might be covered by homeowner's insurance.
Contact us today for a free roof inspection. Roof Depot of FL – We'll knock your shingles off.