The roof is one of the most important parts of your home. Not only does it protect you from the elements, but it also plays a big role in the overall aesthetics of your house. That is why it is important to stay up-to-date on the latest roofing trends.
Roofing in 2022
Over the past few decades, there have been many changes in roofing, from truss design to roof styles and types of roofing materials. The demand for some products has decreased, while others have seen a marked increase. Still others, like solar roofs, were not even available until more recently.
Here are a few things you can expect to see in 2022 and beyond:
More energy-efficient designs. As interest in our impact on the environment continues to grow, we will see more roofs designed to be energy-efficient. This means things like using materials that reflect heat and installing solar panels to generate electricity.
Greater use of sustainable materials. There has been – and continues to be – an increase in the use of sustainable materials like bamboo, cork, and recycled plastic in roofing construction.
More unique designs. Consumers seem to be moving away from the cookie-cutter look of the past. We are starting to see more roofs that are truly one-of-a-kind. This could mean incorporating geometric shapes, using unusual materials, or even incorporating living plants into the design.
Increased focus on safety. With the rise in extreme weather events, we will see a greater focus on making roofs that can withstand high winds and heavy rains. This could mean using stronger materials and installing additional supports.
Better integration with the home's design. In the past, roofs have often been an afterthought when it comes to home design. But we are starting to see more roofs that are integrated into the overall look of the home, from the materials used to the way they are positioned on the house.
A Brief History of Roofing
It may be hard to believe, but the first roofs were probably thatched. Before today's roofing materials were even invented, people needed to have some form of protection from the elements – a literal "roof over their head."
People used to cut grass and straw and lay it over their homes in order to keep the rain out. Obviously, this was not the most effective method, and it did not take long for people to start experimenting with different materials.
One of the most popular roofing materials in the ancient world was clay. Clay roofs were common in Greece, Rome, and even parts of Asia. They were durable and did a good job of keeping homes cool in the summer and warm in the winter.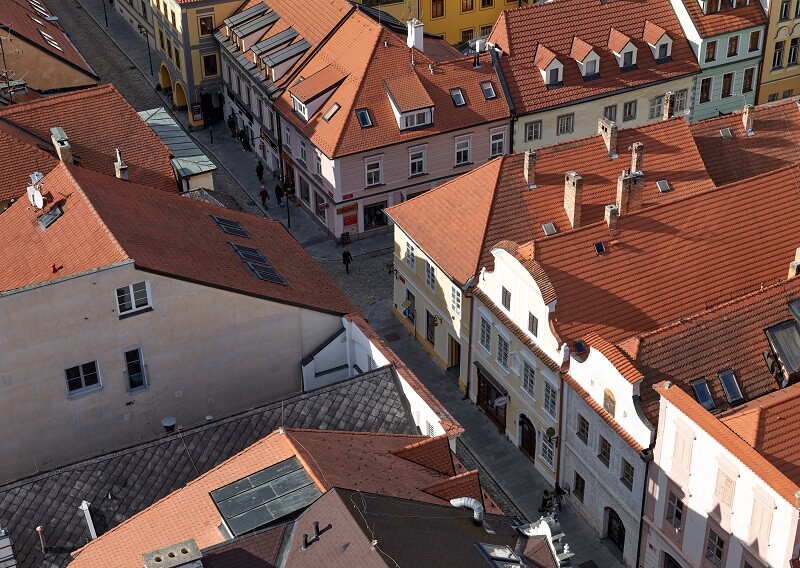 Another popular material was wood. Wood shingles were often used in Europe and North America. They are still used today, though they have fallen out of favor in recent years due to concerns about fire safety.
Metal roofs have also been around for centuries, but they did not really become popular until the Industrial Revolution. Metal roofs are now one of the most common types of roofs, and they come in a variety of styles and colors.
Asphalt shingles are currently the most popular type of roof in the United States. They were invented In 1903 by a roofing contractor from Grand Rapids, Michigan named Henry Reynolds. He began hand-cutting 8×16" pieces from rolls that had been saturated in asphalt and coated with stone. Later, machinery was created that cut individual shingles from a continuous roll of felt saturated with asphalt.
Roof Design Ideas
Popular roof styles are continually evolving, and new roofing materials are being offered almost continuously.
If you are thinking about a roof replacement, you may be wondering, "What is the most popular roof style today?" The answer depends on several factors, including geographic location of the home, but here are the most common roof styles found today.
Gable roofs (aka peaked roofs or pitched roofs) are triangular and probably the style that most people when when they think of a roof. They can have very low pitches or be quite steep. Their simplicity makes them easy to construct and more affordable than complex roofs with multiple surface areas.
Hip roofs are similar to gable roofs, but they are sloped on all four sides. They are very stable and durable, but somewhat more complex than plain gable roofs.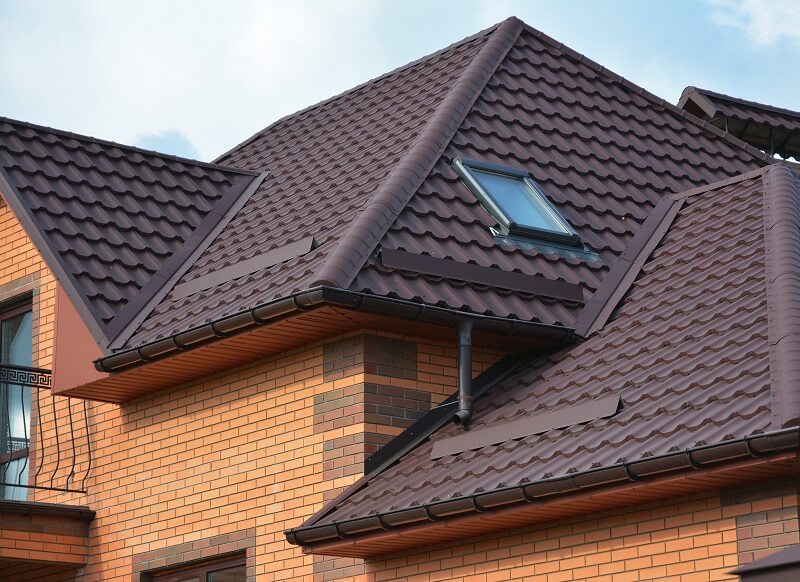 Flat roofing has long been used on commercial buildings but has become one of the most popular roof design ideas for homes as well. Often constructed of metal roofing, flat roofs can add a unique look and also offer space for rooftop gardens, solar panels, or a green roof.
Shed roofs are sometimes called skillion roofs. This type of roof is pitched in one direction only.
In addition to these more common types of roofs, there are an endless variety of unique styles – and some truly one-of-a-kind examples.
Bonnet roofs are a type of hip roof that have a steep upper slope and a more gentle lower slope. This offers better protection from the sun and rain, and makes these roofs well-suited for areas that experience heavy winds.
Butterfly roofs have two pieces that meet in the middle, angled in a V shape. They offer good wind protection and can allow for larger windows to be installed.
Cross gabled roofs usually comprise two or more gable roof ridges that intersect at an angle. They are good for homes with vaulted ceilings, and their simpler design makes them more affordable to construct.
Jerkinhead roofs are another type of gabled roof, but this style has two of the ends clipped off. This makes it more stable than a standard gable roof and more resistant to wind damage.
Sawtooth roofs have a distinctive look consisting of a series of ridges with dual pitches on each side. They allow natural light in and can help reduce energy costs.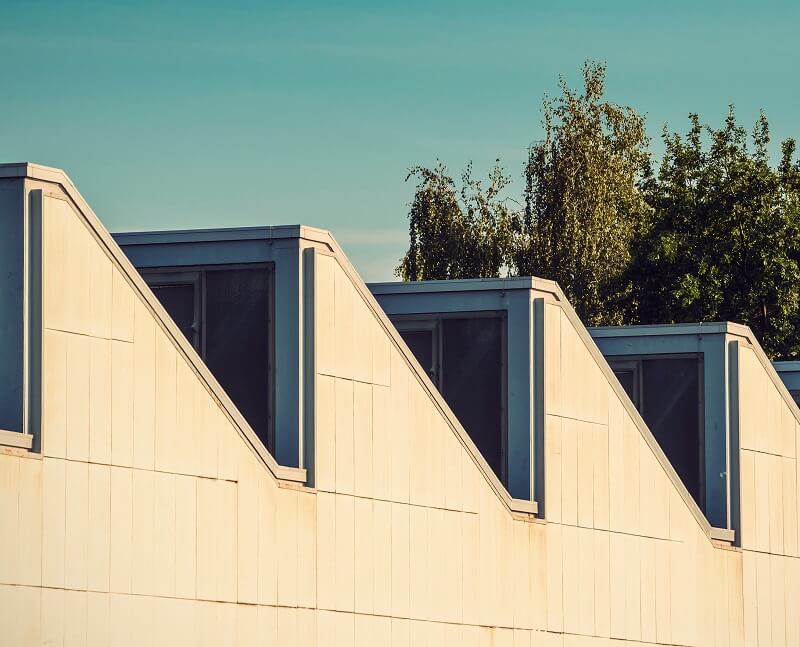 New Options in Roofing Materials
When it comes to roofing materials, there are always new developments on the horizon. This year is no different, and there are a few new materials that you will want to keep an eye on.
Solar Shingles
One of the most exciting new developments is solar shingles. These shingles are designed to absorb sunlight and convert it into energy. This energy can then be used to power your home, and it can even be stored for later use. Solar shingles are a great way to reduce your dependence on fossil fuels, and they can also help you save money on your energy bills.
Metal Roofs that Generate Electricity
Another new development is metal roofs that are coated with photovoltaic cells. These cells are able to generate electricity, which can be used to power your home. Metal roofs are an environmentally friendly option, and they can also help you save money on your energy bills.
Living Roofs
Green roofs have grown in popularity over recent years and will likely continue to be a choice for homeowners with the budget for one of the most eco-friendly options available.
Asphalt Shingles with Style
Asphalt shingle roofing has long been the most common in the United States, but gone are the days of plain black roofs. Instead, asphalt shingles come in an almost infinite array of styles, profiles, and colors, so homeowners are increasingly able to make a design statement with their asphalt shingle roof.
What Is the Best Roof for My Area?
The best roof style for your home depends on a variety of factors, including the climate, the architecture of your home, your personal preferences, and your budget.
If you live in an area with a lot of snow and ice, a metal roof is a great option. Metal roofs are durable and they can handle the weight of heavy snowfall. If you live in a hurricane-prone area, a metal roof is also a good choice because it can withstand high winds.
If you want a roof that is beautiful and unique, slate or tile might be the right choice for you. Slate and tile roofs are available in a wide range of colors and styles, and they can really add character to your home.
If you are looking for a roof that is durable and long-lasting, concrete or metal might be the best choice for you. Concrete roofs can last for decades, and metal roofs are also very durable.
When it comes to roofing, there are nearly endless possibilities. The sky is the limit when it comes to design, and there is sure to be a trend that catches your eye in 2022. Whether you are looking for something traditional or something completely new, there is a roofing style out there that is perfect for you.
Commercial Roofing Trends in 2022
As with residential roofing, change has been happening in the commercial roofing space as well. Some of these changes are dictated by new technologies or improved materials, while others are simply the result of changing customer preferences.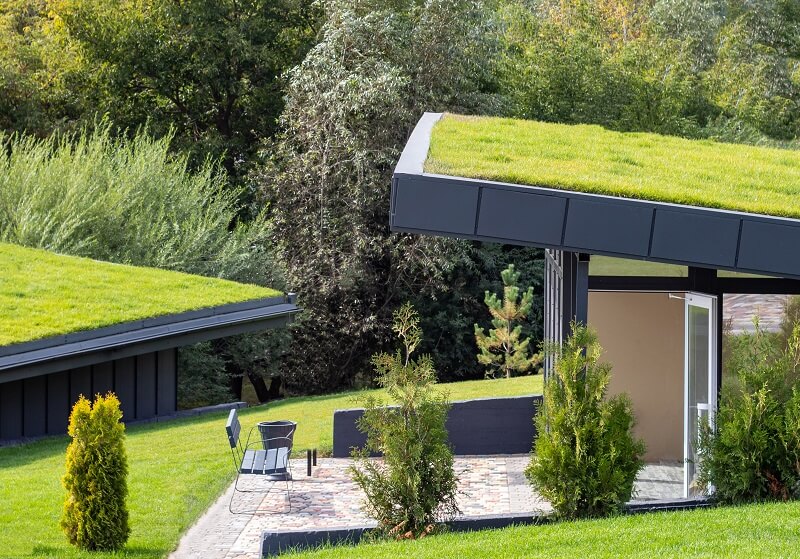 Green Roofing Solutions
As more and more businesses become conscious of their environmental impact, they are increasingly looking for ways to reduce their carbon footprint. One way to do this is by installing a green roof. Green roofs are covered with vegetation, which helps to insulate the building, regulate temperature, and absorb rainwater.
Solar Roofing
Solar roofing is another trend that is being driven by environmental concerns. Solar panels can be used to generate electricity, which can then be used to power the building or sold back to the grid. Solar roofing can also help to offset a business's energy costs.
Single-Ply Membrane Roofing
Single-ply membrane roofing is a type of flat roofing that is composed of a single layer of material. Single-ply roofs are durable and easy to install, and they can be made from a variety of materials, including PVC, TPO, and EPDM.
Metal Roofing
Metal roofing has long been popular for commercial buildings because it is durable, energy-efficient, and low-maintenance. Metal roofs can be made from a variety of materials, including steel, aluminum, and copper. This increased variety gives business owners more options than ever before.
Cool Roofs
Cool roofs are designed to reflect sunlight and heat away from the building, which helps to keep the interior cooler in the summer months. Cool roofs can be made from a variety of materials, including metal, tile, and white membranes.
Commercial building owners looking to install a new roof have many excellent choices in 2022, and the future will likely hold even more.
The Best Roofing Company in Central Florida
Roofing Depot of FL serves the roofing needs of homeowners and business owners in Lakeland and throughout the Central Florida region. Our owners are lifelong Polk County residents, and all our roofing professionals are dedicated to providing complete satisfaction to our clients, from choosing the best roofing options to financing and homeowners insurance claims.
Our services include inspections, repairs, replacements, new construction roofing, mobile home roofing, residential roofing, and commercial roofing.
Contact Roofing Depot of FL today to schedule a free estimate for your roofing needs. We'll knock your shingles off!