Flat roofs are significantly more common in commercial buildings because the large size of a commercial building can make pitched roofs impractical and more difficult to maintain. However, flat roof construction can be an interesting, unique, and practical choice for some residential homes as well.
Flat roofs are not actually completely flat. A properly designed and installed flat roof will have a very slight, almost imperceptible slope to allow water to drain. That said, they are commonly referred to as flat roofs because the pitch is so minimal that it cannot be seen.
Just like asphalt shingles, tile, and metal roofing materials each have pros and cons, flat roofing comes with its own set of unique benefits and drawbacks.
Benefits of Flat Roofing
Here are a few of the benefits that flat roofs offer:
Easier Installation
Flat roof installation is typically easier and quicker than other roofing options. Similarly, flat roof replacement tends to be less complicated than replacement of pitched roofs.
Less Expensive Installation
Flat roofs require less material to construct than pitched roofs, which makes the initial construction faster and, therefore, less expensive. Flat roofs can be less costly than other types of roofs due to the fact that they are generally unseen, which means the aesthetics is much less of a consideration.
Less Expensive to Maintain
Flat roof repairs tend to be less costly than with other types of roofs, in part because they are easier for roofers to navigate. Most flat roofing contractors agree that this allows them to inspect and maintain the roof much more efficiently.
More Usable Space
It is much easier to put equipment like HVAC systems or other mechanical systems on a flat roof than on a roof with a pitch. Putting equipment out of sight can free up potentially usable space on the ground, which can improve the overall aesthetics of the building without making servicing the equipment significantly more challenging.
Versatility
Flat roofs can provide options for a wide variety of secondary uses. Flat roofs can be used, for example, as space for a rooftop deck, an outdoor lounge, or even a garden. These secondary uses can come with the added benefit of providing additional protection from the weather. (Note, however, that a garden on a flat roof needs to take into consideration the types of plantings that are suitable, since plant roots can cause damage to the roof.)
Energy Efficiency
One of the drawbacks of sloped roofs is that warm air can be trapped inside, causing wear and potential damage to the roof. Flat roofs, on the other hand, have less space for air to stagnate. This is especially beneficial in warm climates like Florida, where temperatures can regularly exceed 90 degrees for extended periods.
Solar Panel Installations
Solar racking and solar panels can be installed easily on a flat roof, and they are less evident from the ground than when installed on a pitched roof.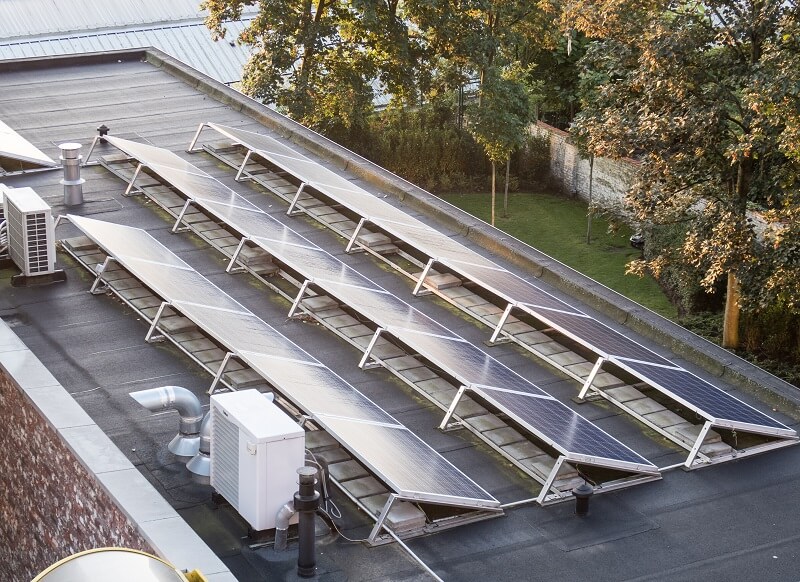 Differentiation
Flat roofs are not as common as sloped roofs in much of the country, especially in residential settings. A flat roof on a home or commercial building can offer a unique aesthetic that makes it stand out as stylish and sleek.
Drawbacks of Flat Roofing
Flat roofs have limitations and drawbacks that may make them less desirable in certain applications.
Less Stable
As the surface area of a flat roof increases, the stability of the roof decreases. This potential instability means that accommodations for supporting the expanse of a flat roof must be made on the interior of the home or commercial building.
Limited Lifespan
Most sloped roofs can be expected to last for 20 years or more, but flat roofs tend to need replacement every 10 to 15 years or so. Some newer materials for flat roofing have become available, such as PVC and polycarbonate roofing, but there is limited information about their expected lifespan.
Drainage Challenges
Flat roofs have obvious challenges when it comes to drainage, and this is especially relevant in areas like Florida with frequent precipitation. Water can puddle and form pools on the roof, and this standing water can result in a breakdown in the roofing material. As a result, it is absolutely imperative that a flat roof be constructed to ensure proper drainage to minimize the possibility of future roof issues and even roof failure.
Limited Options
When it comes to design, there are fewer opportunities available for customization with flat roofs. While shingles, tile, and metal all typically come in a myriad of different styles, colors, and profiles, flat roof options are generally much more generic. Most flat roofs use rolled roofing, which is made of bitumen, TPO, Thermoplastic Polyolefin, EPOM, or rubber.
Cold Weather Reliability
Though not an issue in the Sunshine State, flat roofs in colder climates can be problematic due to the cold weather conditions during the winter months. Water can accumulate on flat roofs, which can lead to ice dams. Additionally, heavy snow and ice can accumulate over several months in the winter, which can put a great deal of stress on a flat roof.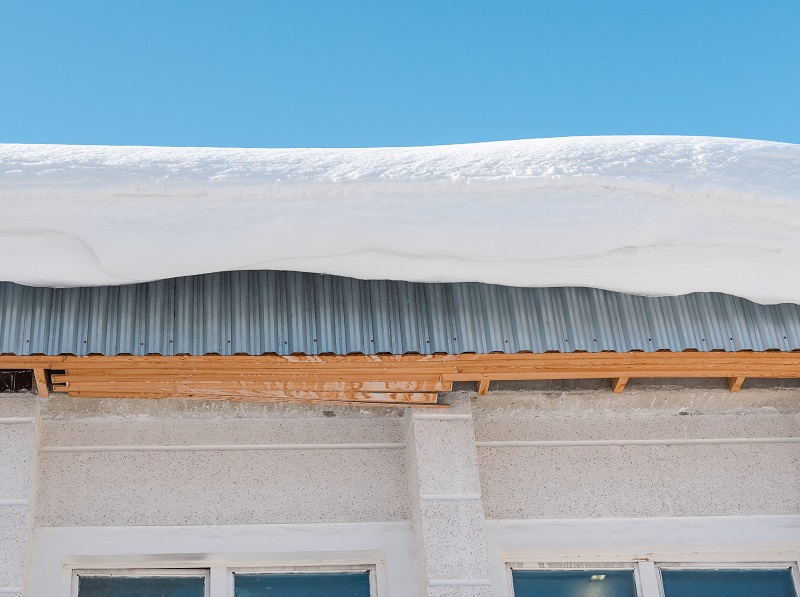 Less Insulation
Flat roofs have less space for insulation than pitched roofs, which can impact energy usage in the home or building. The limited availability for insulation is counterbalanced, however, by the fact that flat roofs trap less heat because they have less airspace. The advantages and disadvantages on this subject depend on the type of flat roof and, more importantly, the climate where it is installed.
Types of Flat Roof
There are three main types of flat roofing materials.
Built-up roofs
They have traditionally been made of roofing felt loaded with asphalt and embedded in bitumen, typically applied two to four plies thick. Finely crushed stones spread across the roof protect it from weather. Now, built-up roofs are sometimes made using materials like fiberglass membranes. Built-up roofs are the least expensive flat roof option, but they are very heavy and can have higher maintenance requirements than other options.
Modified bitumen roofs
These roofs can be made of a peel-and-stick material that can even be installed by homeowners. They are highly durable, low maintenance, and environmentally friendly.
Rubber membrane roofs
These roofs resemble an inner tube. The membrane material is engineered to resist damage from sunlight, and it is relatively light, easy to patch, and can be installed fairly easily. Leaks are rare unless there is surface damage, and repairs are typically straightforward and affordable.
Flat Tile Roof and Flat Metal Roof
One roofing alternative that sometimes creates confusion about flat roofing is what is often referred to as "flat tile roofing." The confusion is a result of the fact that flat tile refers to the profile of the tiles and not to the lack of pitch of the roof. Flat roof tiles are typically made of clay or concrete and are intended for installation on a sloped roof. The "flat" designation refers to the fact that the tiles have virtually no curve to them and not to the structure of the roof.
Conversely, a flat metal roof refers to the pitch and the roofing material of a home or building. In fact, metal is often the roofing material used in flat or low-pitched roofs due to its durability, minimal maintenance requirements, and its environmental friendliness.
Flat Roofs on Home Additions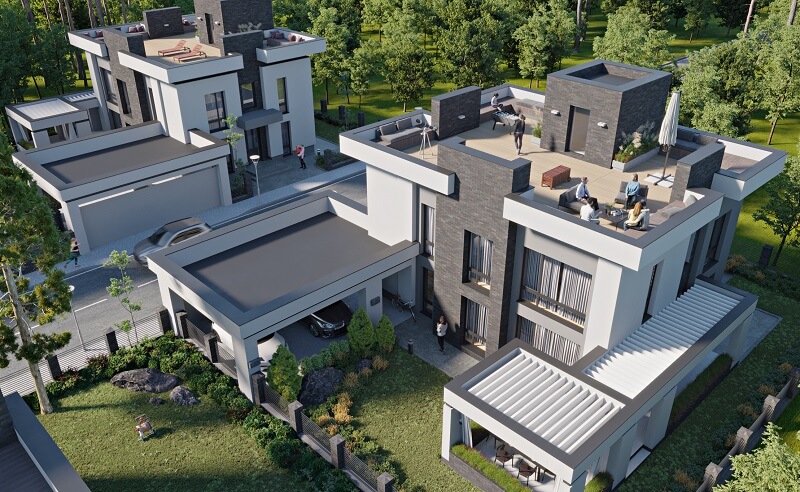 It is often the case when a homeowner adds a room (or rooms) on to a home, a flat roof is more aesthetically appealing and more practical than a pitched roof. It can be challenging to match the pitch of an existing roof, or to blend roof pitches going in different directions.
Putting a flat roof on an addition can also provide a convenient space for a separate HVAC unit if one is needed.
Flat Roof Coatings
There are special roof sealants that are available for flat roofs. Some of these flat roof coatings can stop leaks, but they also can help reduce energy consumption, keep maintenance costs low, and extend the lifespan of the roof.
Coating a flat roof adds an extra layer of protection to an existing roof structure. Because flat roof coatings expand and contract along with the roofing materials when weather conditions change, the coating itself remains intact.
Reflective coatings for flat roofs are also available, which can enhance the energy savings benefits.
Flat Roof Repair
One of the benefits of flat roofs is that they are easier to repair, and they are much less dangerous for roofers to work on. That said, maintaining flat roofs and repairing them as needed is especially important in Central Florida, where frequent and heavy rains can quickly cause problems. Pooling or standing water will erode roofing materials and limit their lifespan. Pooling water can be caused by a variety of different factors, including debris that can accumulate on the roof leading to problems with the drainage system.
Because flat roofs are somewhat less common than sloped roofs, it is important to find a licensed roofing contractor who has experience with installing and repairing flat roofs. There are special considerations that must be taken into account, and an inexperienced roofer can inadvertently make issues worse.
This is also why it is generally a better investment to pay a professional roofer to make flat roof repairs than for the homeowner or building owner to attempt to do it on their own. At a minimum, it is always advisable to have a roof inspection done to determine precisely what the situation is and to recommend how any necessary repairs should be handled.
Whether it is a home or commercial building where a flat roof is being considered or in need of maintenance, it is important to understand all the advantages and disadvantages in order to make the most informed decision possible. An experienced flat roofing contractor like Residential Roofing Depot can help explain all the options as well as the benefits and drawbacks of your specific situation.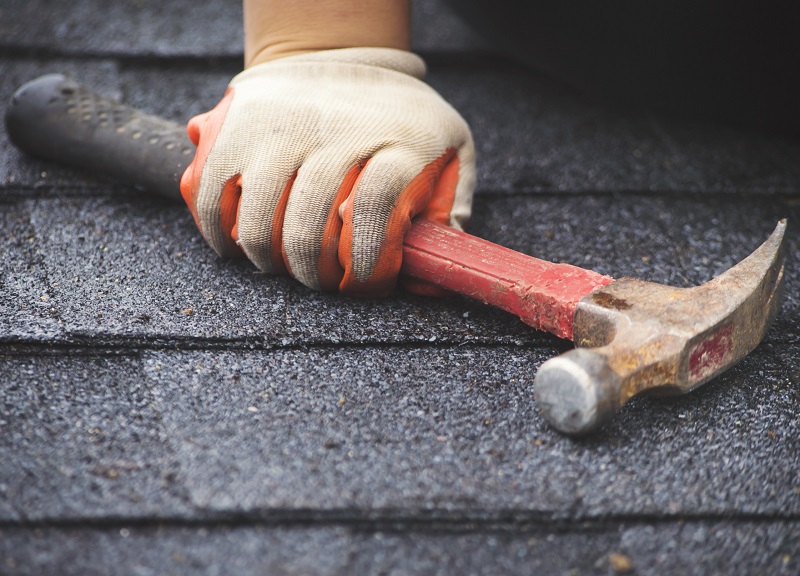 All Your Roofing Needs in and near Lakeland
When you contact Residential Roofing Depot, you can rest assured that you will get the service you deserve. From the initial free estimate to the completion of the work, we:
Show up at the schedule time
Provide transparent pricing for the job with no surprise fees
Use quality materials to ensure that the job is done correctly
Offer a variety of options for roofing materials and styles
Have trained and experienced roofers with years of experience
Can provide assistance with any homeowners insurance claims related to your roof
Offer roof financing options that allow you to pay for your roofing project without tapping into your home's equity
Our services include routine or real estate roof inspections, roof repairs, full roof replacement, new construction roofing, mobile home roofing, residential roofing, and commercial roofing.
Contact us today for a free estimate of any of your roofing needs.