When it comes to roofing material, today's homeowners have many options, all of which have pros and cons. Some types of roofing material are more affordable, some are more durable, and some are easier to install and repair.
The benefits of shingle roofing are its relative up-front affordability, its versatility, and its ability to withstand high winds. Benefits of tile roofing include its environmental friendliness and long life expectancy. But what are the benefits of metal roofing?
Residential Metal Roofing
Metal roofs used to be reserved primarily for industrial and commercial buildings. Now, however, metal roofs have become increasingly commonplace for use in residential homes as well.
In fact, in 2015 the Metal Roofing Alliance reported that there were an estimated 750,000 homes in the United States that had metal roofs, and that figure has continued to increase since then. Unlike the old days when a metal roof installation generally meant a corrugated sheet of plain metal, today metal roofing contractors can offer a wide range of styles, forms, and colors.
Beyond just corrugated metals, there are metal shingles that come in different sizes, shapes, colors, and textures. There are various choices when it comes to material as well: tin roofing is no longer used, but there is steel roofing, aluminum roofing, or you might even consider a copper roof. Regardless of the architectural style of your home, there is a metal roofing option that will match it.
Here are a few benefits of metal roofing that have helped it become so popular:
Life Expectancy
Metal roofs often live longer than the owners of the home. With an expected lifespan between 40 and 70 years, metal roofs can be expected to last 2 to 3 times the lifespan of asphalt shingles. In many cases, a homeowner will never have to worry about doing a roof replacement for a metal roof.
Durability
Metal roofs are durable and resilient to the elements, and, unlike other choices of roofing material, they maintain their impact resistance over the decades.
Can withstand Harsh Weather
Metal roofing materials are able to withstand Florida's hot, humid, and sometimes harsh weather conditions. The Metal Roofing Alliance says that, "Each year, hail causes about 1.6 billion dollars worth of damage to residential roofs in the United States."
In Florida, frequent high winds and hurricanes pose special dangers to all residential and commercial roofs, but metal can withstand wind gusts up to 140 mph.
Fire Resistance
Metal roofing material is noncombustible, and it typically earns a Class A fire rating. This is one of the reasons that metal roofs have been popular in industrial and commercial buildings for a long time. With today's growth in options for metal roofs, homeowners can also take advantage of the fire resistant qualities of metal.
Eco-Friendly
According to the Metal Roofing Alliance, "Metal is considered the most environmentally friendly and sustainable roofing material available."
Metal roofs are typically made with at least 25% recycled material.
Metal roofs are 100% recyclable.
Metal roofs can be installed directly over other roofing materials, which eliminates some of the cost of removal as well as the environmental impact of disposing of old roofing materials.
Energy Efficient
Metal roofs can reduce energy costs by 40% or more because the coatings can deflect heat. Metal roofing systems reflect solar energy, keeping the home cooler. Reflective painted or granular-coated roofs can re-emit up to 90% of absorbed solar radiation.
Cool-metal roofing is a highly reflective coating that uses cool pigments in the paint, helping lower the surface temperature of the roof. This can help reduce the need for air conditioning.
Metal roofs are ideal for "Passive House" status, which is for net-zero energy homes. Metal roofs are suited for these homes because of their efficient solar reflectance and thermal emittance. Solar panels can be installed on metal roofs, which can add to the energy efficiency of the home.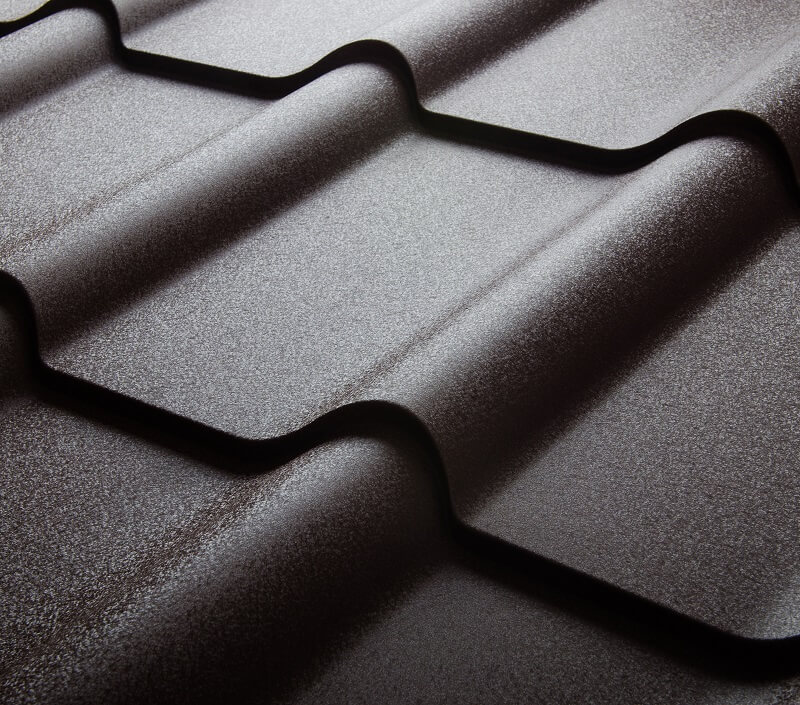 Good Investment
The initial cost of a metal roof is typically higher than asphalt shingles, but the lifetime investment in a metal roofing system can be significantly lower. That is due to metal's longer life expectancy and lower repair and maintenance requirements. Additionally, metal roofs can often be repainted rather than replaced.
Increased Resale Value
Homes with metal roofs tend to be valued higher because the roofs rarely need repairs, and do not require much in the way of regular maintenance. That is in addition to the fact that metal roofs last longer than some other roofing options, which means a new buyer will not likely need to do a replacement in the near future.
Noise Dampening
When installed correctly, metal roofs can dampen outside noise from rain, hail, and wind, contrary to popular belief.
Style
Metal roofs can work with virtually any architectural style. They can make a bold statement, or they can complement the other homes in the neighborhood – even if those homes do not have metal roofs.
Metal roofing comes in a variety of styles, including some that look exactly like more common roofing materials such as asphalt shingles or clay or concrete tile. Metal roofing options are available in many different styles, materials, and painting and coating options.
Lighter Weight
Metal roofing is significantly lighter than tile roofing, and it can even be lighter than asphalt shingles. Since the weight of the roofing material impacts the roof structure, lighter metal roofs can be advantageous in that they require less support.
Potential Homeowners Insurance Benefits
Some homeowners insurance may offer a discount for homes with metal roofs, because they know that the likelihood of damage (and the resulting claims) is less.
One of the popular misperceptions about metal roofs is that they attract lightning. In reality, homes with metal roofs are no more likely to be struck by lightning than homes with any other type of roof. Lightning is drawn more to height and size than material. Additionally, because metal roofing is non-combustible, it should resist fire that can be caused by lightning strikes, making it one of the safest roofing materials.
Types of Metal Roofs
There are many options for metal roofing. Here are some of the more common ones that homeowners can choose from: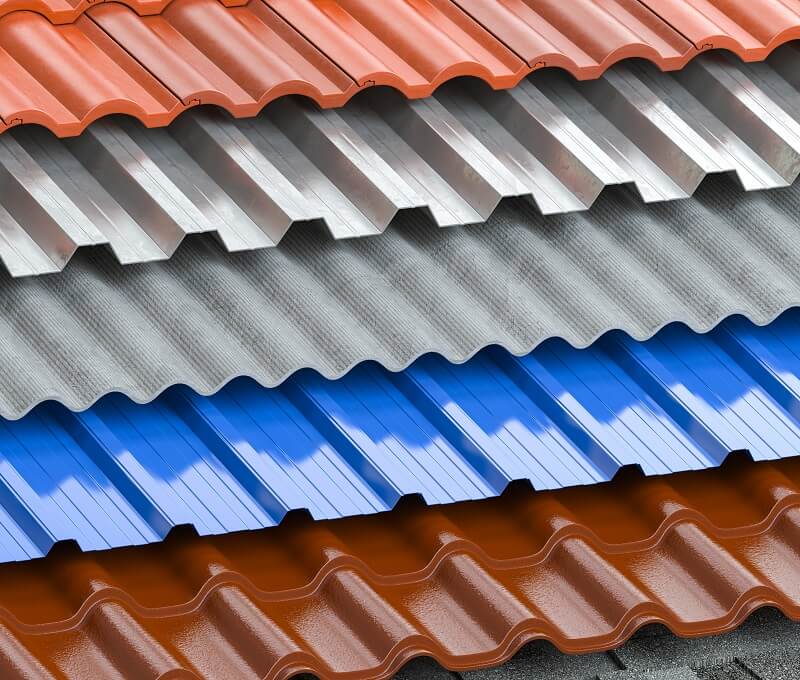 Standing Seam Metal Roof
Standing seam metal roofs are popular, and they are very customizable. Standing seam roofs have a sleek appearance and are long lasting.
Wood Shake Look-Alike
Wood shakes (sometimes also known as wood shingles) are a very traditional style that some homeowners prefer. Metal comes in forms that resemble wood shakes but last significantly longer, especially in Florida's humid and wet conditions.
Tile Look-Alike
Tile roofing is typically made of clay or concrete, but newer metal options that resemble tile that are more durable and easier to maintain. Another benefit is that metal roofing that resembles tiles is usually lighter.
Slate Look-Alike
Slate is a very traditional look that has historically been used in some parts of the United States. Slate is costly, heavy, and difficult to maintain, but slate-inspired metal roofing can offer the aesthetic without the drawbacks.
Corrugated Metal
To make corrugated metal for roofs, galvanized steel is dipped and then cold-rolled to create a corrugated pattern. Corrugated metal is durable and has a sleek, modern appearance.
Aluminum
Aluminum is lightweight, long-lasting, and energy efficient. It comes in a variety of styles and matches well with different types of homes.
Copper
Of all the types of metal roofing options, copper lasts the longest. It is also the most expensive. Cooper will form a protective layer and change color over time, but it is a very distinctive look that works well on some homes.
Galvanized Steel
Galvanized steel roofs are made from steel that has been coated with a layer of zinc to help protect them from rust.
Metal Roof Maintenance
Metal roofs are durable and most of the time they require less maintenance than some other roofing options. However, in order to prolong the life of a metal roof and maintain its appearance, regular maintenance can go a long way. Here are some of the things that might be done for metal roof maintenance:
Clean gutter and downspouts. Clogged gutters or downspouts can back up, which can lead to water standing on the roof or against the roof. This can cause damage to metal roofing and invite pests.
Remove any debris from the roof. Leaves and branches can fall on the roof and get stuck in roof valleys, and they could cause damage as they decay.
Clean the roof. Metal roofs can be cleaned by hand with soap and water. Some metal roofs can be pressure watched carefully. (This is best left to a professional, since too much pressure could cause issues and because it can be dangerous to have a pressure washer high off the ground.)
Repair scratches. For minor scratches in the roof surface, mineral spirits can be used to buff them out. Somewhat larger scratches may need to be touched up with a little paint.
Inspect flashing and all the areas around chimneys, skylights, or other protrusions in the roof to be sure it is not in need of repair.
Check for rust spots. Although today's metal roofs are designed to resist rust, environmental factors like chemicals from vents in the home can degrade a roof's coating. This can leave the metal open to corrosion.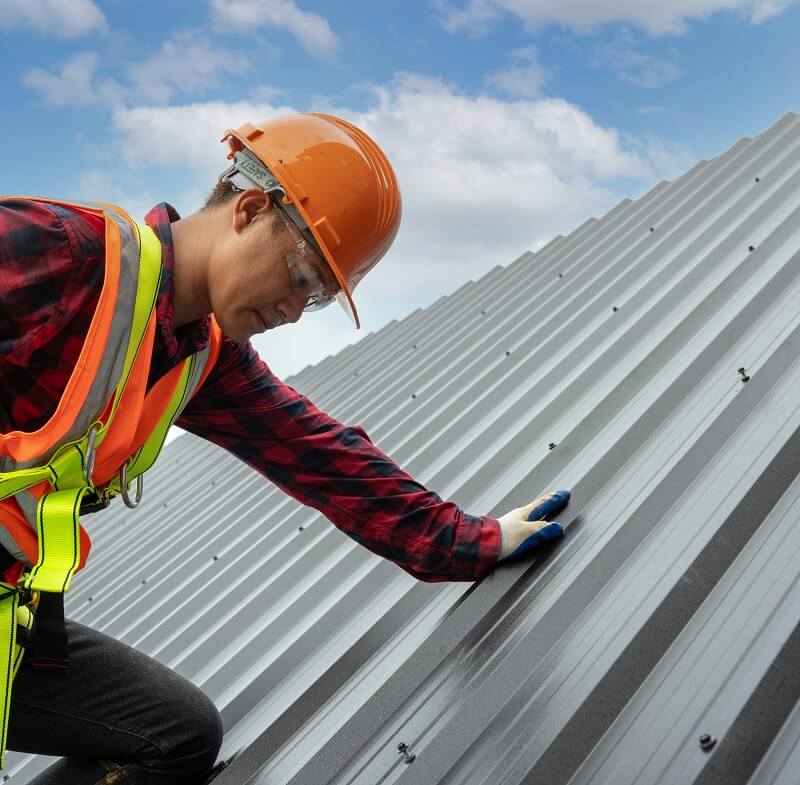 Although homeowners may be tempted to save the cost of a roof inspection and roof maintenance from a professional roofing contractor, the investment in a metal roof is substantial – and that makes an investment in professional service worthwhile.
Metal Roofing In & Near Lakeland
If you are looking for a metal roof, metal roof repair, or metal roof inspection, contact Stronghold Roofing & Solar today. We know that metal roof installations and repairs require specialized knowledge, and we have the trained roofing professionals to handle the job.
Beyond just roofing experience, the Residential Roofing Depot team has experience in other areas, which allows us to offer the best roofing services in and near Lakeland. One of our owners has a background in finance and insurance, and another has real estate and home improvement experience. We are lifelong Polk County residents, and we understand that repairing or replacing your roof is something you would prefer to avoid. We strive to make your experience with us as stress free as possible by committing to the best service and value.
We offer transparent pricing on all our services, and we stick to it. We show up at the scheduled time and complete the job in the time allotted. Additionally, we can assist with any homeowners insurance claims, and we have special financing options available.
In addition to metal roofing, we also offer shingle roofing, tile roofing, and flat roofing, so we have an option that will fit your style and your budget.
We are available 24/7 for any roof issues that require quick service. Contact us today for all your roofing needs.