If you are a homeowner in Florida's coastal areas, then you know the importance of having a strong and reliable roof. With the region frequently experiencing harsh storms, high winds, and heavy rains, it is essential to have a roofing material that can withstand these weather conditions. Tile roofing is one of the best roofing materials for coastal areas due to its durability, longevity, and aesthetic appeal.
The History of Tile Roofing
The use of tile as a roofing material dates back to ancient times, with evidence of clay tiles being used on roofs in China as far back as 10,000 BC. The Romans also used tile to cover their buildings, including their roofs, with terra cotta tiles being the preferred material. The Spanish brought their tile roofing expertise to the Americas when they colonized parts of the New World. In the 17th century, Spanish colonizers used tile on the roofs of buildings in St. Augustine, Florida, to protect against the harsh tropical climate.
Tile roofing continued to gain popularity in Europe and eventually made its way to the United States in the early 1900s. During this time, the use of tile was particularly popular in cities like New York and Chicago, where high-end buildings were designed with Spanish-style architecture. These days, tile roofing is a popular choice for homeowners in Florida, California, and other states with warm climates due to its ability to keep homes cool and withstand harsh weather conditions.
Types of Tile Roofing
There are 2 main types of tile used as a roofing material: Clay and concrete.
Clay Tiles
Clay tiles are the most traditional type of tile roofing and are made by shaping natural clay and then firing it in a kiln. These tiles come in a range of colors, such as terracotta, brown, and gray, and can be either flat or curved. Clay tiles have excellent insulating properties, which means they can help keep your home cool in the hot summer months. They are also durable and can last up to 50-100 years with proper maintenance.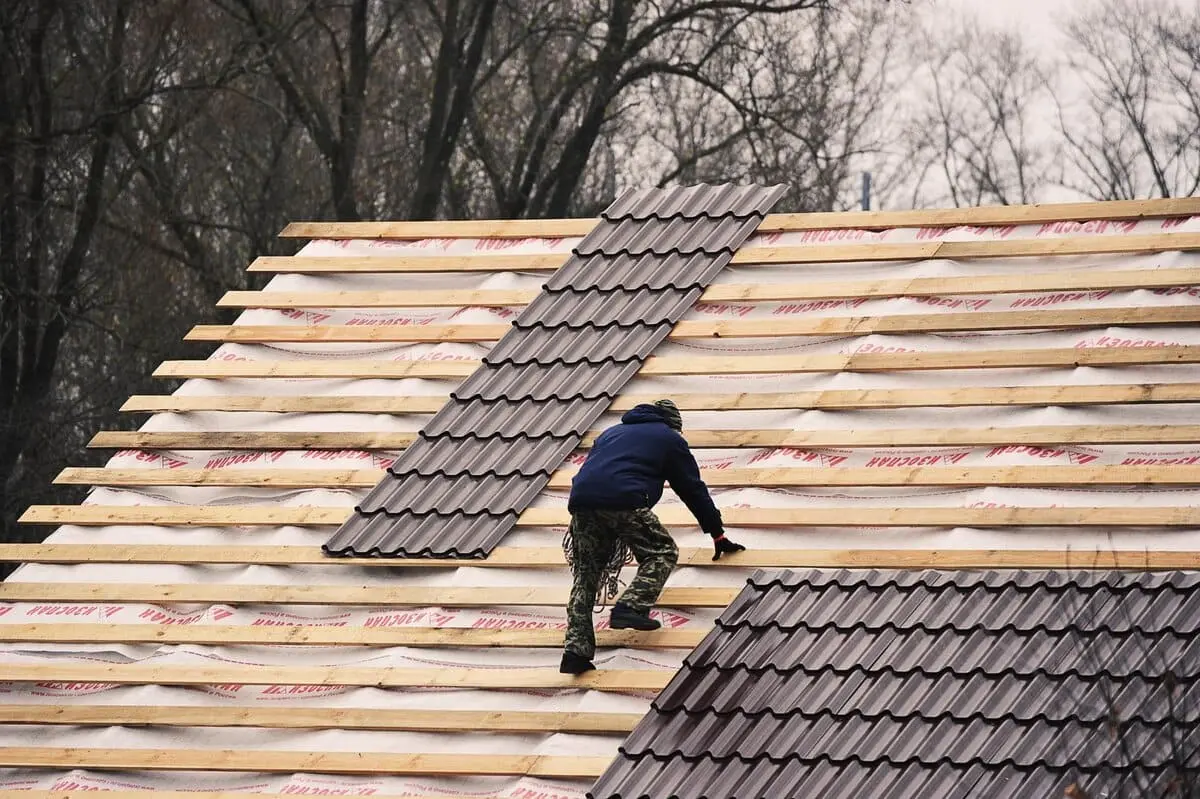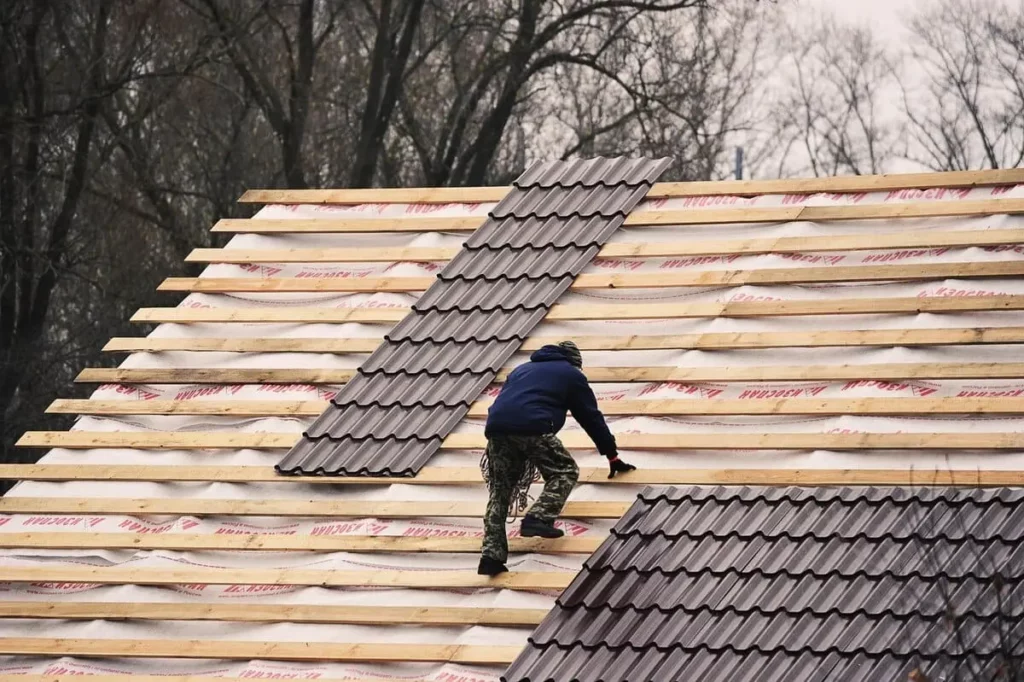 Concrete Tiles
Concrete tiles are made from a mixture of cement, sand, and water, and are an affordable and long-lasting roofing solution. These tiles are extremely durable and can resist harsh weather conditions, including high winds and heavy rains. Concrete tiles come in a variety of colors and styles, including terra cotta, gray, and black. They can also be designed to look like other roofing materials, such as wood shake or slate.
In addition to clay and concrete, there are a few other tile options available.
Ceramic Tiles
Ceramic tiles are an excellent choice for homeowners looking for a long-lasting and energy-efficient roofing option. Ceramic tiles are made from natural clay that is shaped and fired at high temperatures in a kiln. These tiles come in a wide range of colors, including reddish-brown, yellow, and even blue. Ceramic tile roofs are extremely durable and can last up to 100 years with proper maintenance.
Slate Tiles
Slate tiles are a premium roofing option and are made from natural stone that is split and then cut into various shapes and sizes. These tiles are usually gray or black in color and can give a home a sophisticated and classic look. Slate tiles are very durable and can last up to 100 years with proper maintenance. They are also extremely heavy and require a sturdy roof structure for installation.
Style and Color Options
Tile roofing comes in a wide range of styles and colors, allowing you to choose the perfect look for your home. Some popular styles of tile roofing include the classic curved look, the flat or straight tile, and the interlocking roof tile. There are also many color options to choose from, including red, brown, gray, or even blue. Homeowners can mix and match tile colors to create unique patterns and designs that match their style.
Benefits of Tile Roofing in Florida
Tile roofing is a great choice for homeowners in Florida due to its durability and low maintenance requirements.
Weather Resistance
Tiles are highly resistant to wind, rain, and hail, making them ideal for use in the region's coastal areas.
Fire Resistance
Tiles are also fireproof, which can give homeowners added peace of mind and protection from potential fires sparked by lightning or other sources.
Design Options
Many homeowners also appreciate the aesthetic appeal tile brings to their homes, as it can add curb appeal and resale value. The tiles themselves come in a variety of colors, styles, and textures that can be used to create unique rooflines.
Eco-Friendliness
Some tiles even have a natural insulating property that helps regulate temperatures inside the home during hot summer months. This can lead to lower energy costs as your air conditioner won't have to work as hard to keep your home cool.
Long Lifespan
Tile roofs also have an impressive lifespan of up to 75 years, making them one of the longest-lasting roofing materials available. This means that with proper care and maintenance, a roof replacement may not be needed for generations.
Less Roof Maintenance Requirements
Tile roofs require less upkeep and roofing services compared to other materials. In addition, most tile roofing options come with a warranty, which gives homeowners peace of mind knowing that their investment is protected.
Overall, tile roofing is an excellent choice for homeowners in Florida's coastal areas due to its resilience, aesthetic appeal, and long lifespan. With the right maintenance, this type of roof can withstand the elements and provide your home with reliable protection for decades to come. If you're considering investing in a new roof for your home, consider tile as a dependable and beautiful option that will last for many years to come.
Stronghold Roofing & Solar In Central Florida
When you are searching for a Lakeland roofing company to install, repair, or inspect a tile roof, you want the best roofing company in Florida – Stronghold Roofing & Solar.
As a certified, licensed, and insured roofing contractor, our team of experienced tile roofers can meet all your needs.
Contact us today for a free estimate.