Prefabricated roofing is becoming an increasingly popular choice for home builders and homeowners alike. In fact, manufactured roof trusses are now used in nearly four out of five of all new homes built in the United States.
There are many benefits to using a prefab roof, including cost savings, durability, and ease of installation. However, there are also some drawbacks to consider before making a decision.
What Is Prefabricated Roofing?
Prefabricated roofing is a type of roofing that is made in a factory setting and then shipped to the job site. The panels or trusses are then assembled on-site and the roof is installed. This type of roofing has been used for commercial buildings for many years, but it has only become popular for residential homes more recently.
Here are some of the pros and cons of prefabricated roofing to help you decide if it is the right choice for your home.
Advantages of Prefabricated Roofing
Labor Cost Savings
One of the biggest benefits of prefab roofing is cost savings. Compared to traditional roofing methods, prefabricated roofs are cheaper to install and often require less labor. This can save you a lot of money on your total project costs.
Design Options
By replacing traditional rafter and ceiling joist construction with prefabricated trusses, it is possible to construct complex roof and ceiling designs more efficiently and more quickly. Trusses can be designed for nearly any ceiling or roof combination required in modern custom homes.
Ease of Installation
Another advantage of prefabricated roofing is the ease of installation. Because the panels are made in a factory, they fit together more snugly and require less time to install. In addition, because the panels are lighter than traditional roofing materials, they are easier to handle and transport to the job site. This can make your project go smoother and faster overall.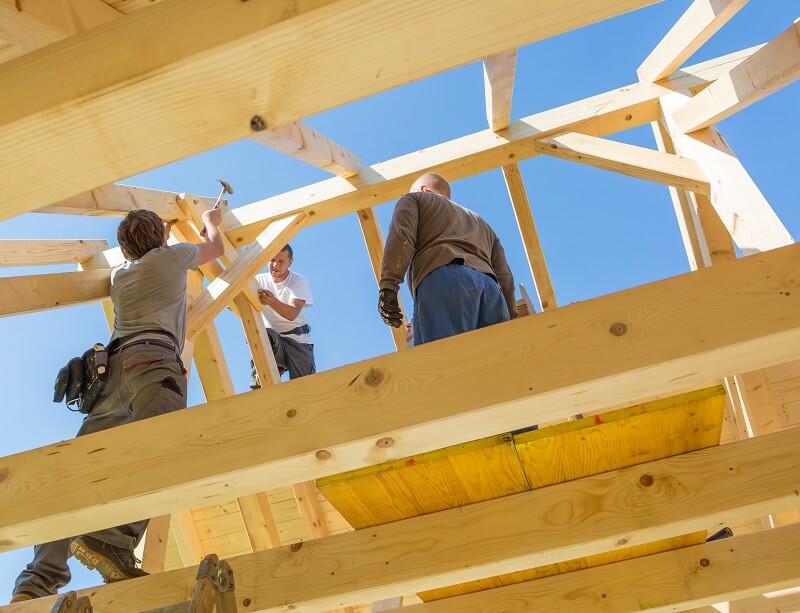 Quality Control
Prefabricated roof construction also offers better quality control than traditional roofs. Prefab roof trusses are designed by engineers to meet the requirements of the specific roof and building codes. Because they are made in a controlled factory environment, the chances of errors or defects are much lower. Additionally, the materials used in prefab roofs are often stronger.
Durability
Prefabricated roofs are also very durable. They can withstand wind, rain, and snowstorms with ease and last for many years without requiring any maintenance.
Drawbacks of Prefabricated Roofing
Limited Design Options
One downside to prefab roofs is that they offer limited design options. If you are looking for a roof with a lot of customization options, then prefab may not be the best choice for you.
Not All Contractors Are Familiar with Them
Another drawback of prefab roofs is that not all contractors are familiar with them. This can make it difficult to find someone who is qualified to install your roof.
Can Be More Expensive
While prefab roofs can save you money on installation, they can be more expensive than traditional roofs. Because they typically last longer and require less maintenance, prefab roofs come with a higher price tag upfront.
Less Attic Space
In some cases, a prefabricated roof can mean less space in the attic for storage.
If you are considering installing a prefab roof on your home, be sure to weigh the pros and cons carefully. There are many benefits to consider, but there are also some drawbacks that you need to be aware of. Work with professional roofing contractors to decide if prefabricated roofing is the right choice for your home.
Types of Roof Trusses
Over the years, a variety of roofing trusses have been developed to suit specific needs. Here are some common types of prefabricated roof trusses: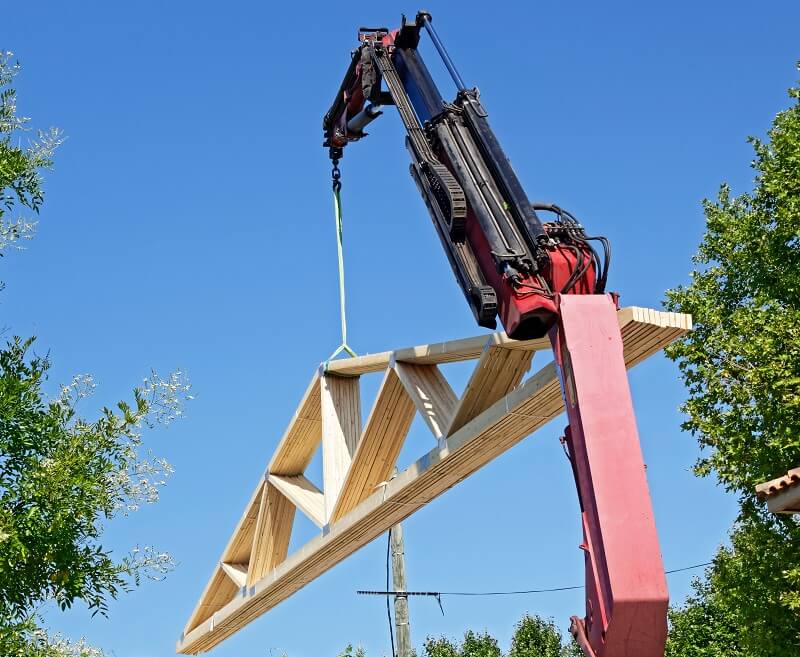 King Post Truss
A king post truss has two diagonal members that meet at a central vertical member, called the king post. This type of truss is often used in small structures, such as sheds and gazebos.
Queen Post Truss
A queen post truss is similar to a king post truss but has an additional horizontal member between the two diagonal members. This type of truss is often used in larger structures, such as barns and warehouses.
Howe Truss
A Howe truss has horizontal members that are parallel to each other and intersected by diagonal members. This type of roofing is named after its inventor, William Howe.
Pratt Truss
A Pratt truss is similar to a Howe truss but has vertical members that intersect the horizontal members. This type of roofing is also named after its inventor, Thomas Pratt.
Paddleford Truss
A Paddleford truss is an unusual type of roofing that has two curved diagonal members instead of four straight ones. This type of truss was developed in the early 20th century and is rarely used today.
Roof Trusses vs Rafters
As a homeowner, your decision between a traditional roofing system and a prefabricated roof depends on the specifics of your situation. In making the choice, you may wonder which is better: Roof trusses or rafters? The answer depends on your needs and preferences.
Here are some things to consider:
Design Options
Rafters offer more design options than roof trusses because they can be cut to any size and shape. This means that you can create custom designs that are not possible with prefabricated trusses.
Cost
Rafters are typically cheaper than roof trusses because they do not require the same level of engineering and manufacturing. However, rafters can be more labor-intensive for roofers to install, which can offset the initial cost savings.
Strength
Roof trusses are stronger than rafters because they are made with stronger materials and have a more robust design. This means that they can better withstand high winds and heavy snow loads.
Ease of Installation
Roof trusses are easier to install than rafters because they come in pre-assembled sections. This means that you do not have to cut and assemble the pieces on site, which can save a lot of time and effort.
What Are the Costs Associated with Installing a Prefab Roof?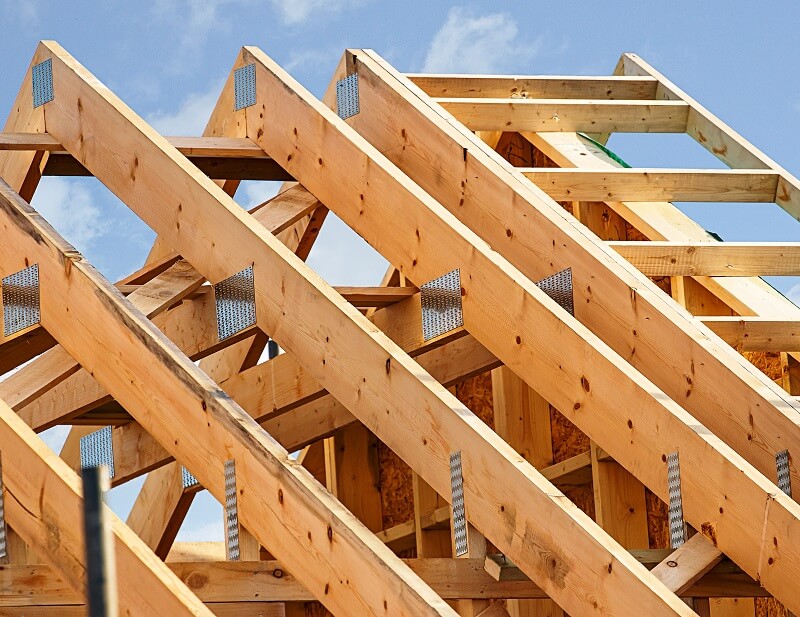 The cost of installing a prefab roof varies depending on the type of roof you choose and the size of your home. However, in general, it is cheaper than traditional roofing methods.
A roofing contractor who has experience with both prefabricated and traditional roofing can provide a detailed estimate for your options to help you decide which is the right choice for you.
How Long Does a Prefab Roof Last?
Most prefab roofs last for at least 20 years without requiring any maintenance. This makes them a great choice for homeowners who want a durable roof that will last for many years to come.
Prefabricated Roof Panels
Prefabricated panels come in a variety of colors and styles, so you can choose one that will perfectly match your home's design aesthetic. They are also made of durable materials, which means they will withstand the elements for many years.
Installation Time
Installing a roof panel is a relatively quick and easy process that can be completed in just a few hours. This makes it a great option for homeowners who want to have a new roof installed quickly and without any hassle.
Prefabricated roofs have come a long way in the last few decades. They are now made of high-quality materials that are durable and weatherproof. Additionally, they are easy to install, which makes them a great choice for homeowners who want a new roof but do not want to deal with the hassle and expense of traditional roofing.
Commercial Prefabricated Roofing
Commercial prefabricated roofing is a great option for businesses that want a new roof but do not want to spend a lot of money. It is also a great choice for businesses that need a roof that is quick and easy to install.
There are many different types of commercial prefab roofs, so you can choose one that will best suit your needs.
Types of Commercial Prefabricated Roofs
The most common type of commercial prefab roof is the metal roof. Prefab metal roofs are durable and weatherproof, which makes them a great choice for businesses that are located in areas with severe weather conditions.
Another popular type of commercial prefab roof is the PVC roof. PVC roofs are made of a lightweight material that is easy to install. Additionally, PVC roofs are fire-resistant, which makes them a great choice for businesses that are located in areas with high fire risks.
Prefab roofs are strong, durable, easy to install, and come in a variety of colors and styles. Additionally, they are a great value for the money, and they last for many years. If you are thinking about getting a new roof for your home or business, discuss the option of using prefabricated roofing with a commercial roofer.
How to Find a New Construction Roofing Contractor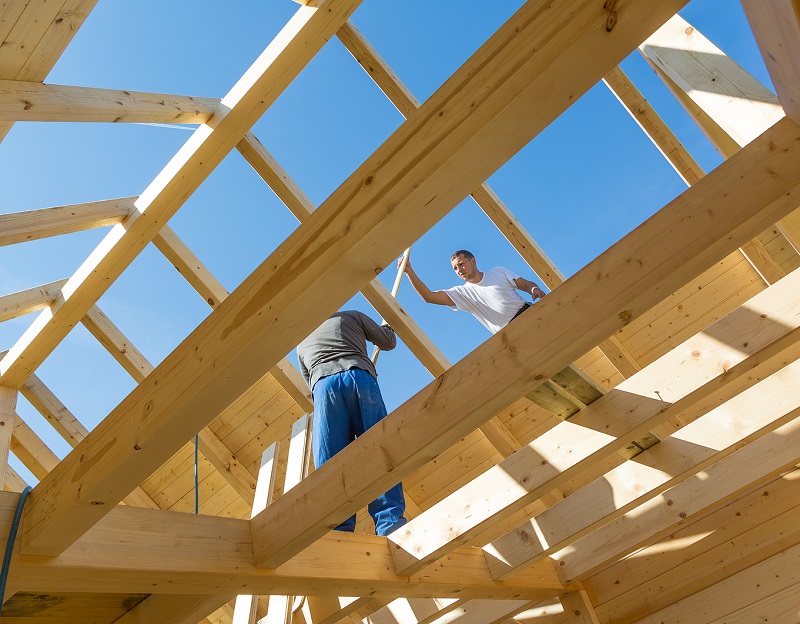 When you are building a new home or commercial building, it is important to find a qualified roofing contractor who can install your roof properly, whether you are using prefabricated roofing or rafter and ceiling construction. Here are some tips on how to find a roofing company:
Ask friends, family, and neighbors for references.
Check the contractor's licensing and insurance. Make sure the contractor is licensed and insured in your state.
Get references from past customers. Ask the contractor for references from past customers and check them out yourself.
Get a written estimate. Make sure you get a written estimate from the contractor before they start work on your roof.
Check the contractor's BBB rating. The Better Business Bureau is an organization that rates businesses based on their customer service record.
Residential and Commercial Roofing in Central Florida
Roofing Depot of FL is proud to provide quality roofing services to homeowners and business owners in Lakeland, Winter Haven, and the rest of the central Florida area. As lifelong residents of Polk County, we are committed to improving our community by providing high quality roofs and exceptional customer service.
Our roofing services include:
Roof inspections to identify issues before they become more serious.
Roof repairs to fix minor problems.
Full roof replacements when your home or business has been damaged or the roof has reached the end of its life.
New construction roofing.
We offer free estimates and 24/7 service for emergencies. When needed, our team can help with homeowners insurance claims, and we offer roof financing options to help you spread the cost of your roof into manageable monthly payments.
Roof Depot of FL. We'll knock your shingles off.