One of the most common issues that homeowners experience with their roofs is a leak around the chimney. When a chimney leak arises, a natural question is whether to call a roofer or a chimney expert.
The answer to that question depends on several factors. Most homeowners do not have the knowledge or the tools to properly identify the source of a chimney leak, so it is generally not advisable to attempt to do it yourself. However, a professional roofer contractor should be able to identify the problem with a leaking chimney and either repair it or recommend that a chimney professional be called in.
According to the Office of Energy Efficiency and Renewable Energy, "Chimneys typically have numerous requirements beyond that of venting products of combustion. They must be adequately connected to the roof structure to resist wind loads based on site design wind speed and exposure category. Chimneys must also be waterproofed to resist rainwater entry during high wind events such as hurricanes."
Given that the state of Florida experiences severe weather events like hurricanes with some regularity, it is important for homeowners in the Sunshine State to understand how their chimney and their roof function together. While chimneys serve an obvious purpose in the overall structure of a home, where and how they intersect with the roof are also very important, since this is a common location for leaks to occur.
What Causes Chimneys to Leak?
Chimney leaks can be either limited to the chimney itself (i.e., the metal flue, the bricks and the mortar, the chimney crown, or the chimney chase cover), or they can be a result of problems with the roof. Locating leaks in or near chimneys can be challenging, since the source can be several different things. Here are a few of the most common possible sources:
Cracked or Missing Mortar
Mortar between bricks on the chimney can erode over time, and it can become cracked or loose. This can allow water to seep in and ultimately find its way into the underlayment, the attic, the insulation, or even the walls.
Repairing this type of chimney issue is generally not the purview of roofing contractors, though a few may have qualified roofing technicians who also have the experience to handle the job.
Flashing Problems
A chimney, like any other protrusion in a roof, requires flashing. Flashing is generally made from thin pieces of metal that are installed on the joints between the protrusion and the roof material. Flashing will be designed and installed to direct any rain water away from the bricks of the chimney, and also to direct it away from the valleys between the chimney and the roof surface. Over time, the flashing can corrode, or it can suffer damage due to age, extreme weather conditions, or accidents. The sealant used to hold the flashing in place is also subject to deterioration over time, which can cause the flashing to pull away from the chimney, leaving an opening for water to enter.
Damaged flashing should be repaired as soon as it is noticed, since leaks can take some time to become visible – and by that time extensive damage may have already occurred. Repairs to flashing and the roofing materials surrounding it can be done by most roofing services that offer roof repair.
Damaged Shingles
Missing or damaged shingles that are near the chimney may be the source of what appears to be a chimney leak.
Shingle roofing issues, whether they are asphalt shingles, clay shingles, or concrete shingles, can be repaired by a professional roofing company. As with damaged flashing, damaged or missing shingles should be repaired as soon as possible to prevent future damage.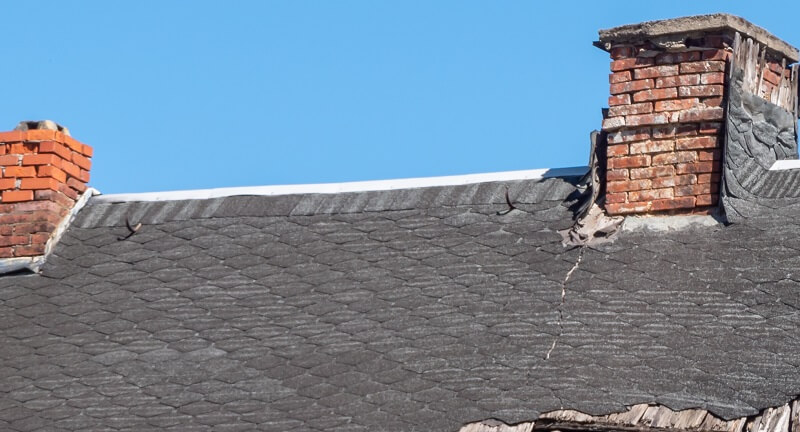 Chimney Crown or Chase Cover
A chimney cover and chimney crown are used to both prevent water from going straight down the flue, and to stop it from getting between the flue liner and the bricks of the chimney. If either the chimney crown or the chase cover is missing, cracked, or otherwise damaged, water damage can be a result.
If you are experiencing a leak due to a chimney crown or cover problem, contact a chimney expert.
How Do I Know if My Chimney is Leaking?
Chimney leaks can be difficult for a homeowner to spot, since they often take some time to become visible inside the home. Additionally, a leaking chimney does not always present as water in the fireplace or flue, or even damage to the ceiling or walls near the chimney.
Here are a few signs that your chimney may be leaking:
Dripping sounds coming from the chimney, even if you cannot see evidence of water
Musty odors inside the house, especially in the area of the chimney
Water stains on the ceiling or the walls around the chimney
Moisture visible around the base of the chimney
Damp or moldy insulation in the attic
Mold growing on the roof around the chimney
Repairing Chimney Leaks
Some chimney leaks are a result of problems with the roof and not with the chimney itself. For instance, loose or missing shingles near the chimney can appear to be a chimney leak, but are in fact something that a roofing contractor could repair.
Likewise, damaged flashing around the chimney can cause a leak, but one that can easily be repaired by a roofer. In fact, it would be wise to have a roofer check any other flashing to ensure that it is not suffering from similar problems as the chimney flashing while they are making repairs.
Other kinds of chimney leaks are caused by issues with the flue, the bricks and mortar of the chimney, the chimney crown, or the chimney cover. These leaks can best be resolved by a professional chimney expert, since they have experience dealing with masonry and the intricacies of how chimneys work.
Some professional roofing contractor companies may be able to provide masonry services to repair chimney leaks, so it is wise to find a professional and reliable roofer if you need repairs. When you schedule an appointment with a roofing technician, ask them about their prior experience repairing chimneys.
Preventing Chimney Leaks
Homeowners are generally advised to have a roof inspection periodically to assess the condition and remaining overall lifespan of their roof. This roof inspection should include an examination of the chimney, the flashing around the chimney, and the roofing materials nearby.
Beyond the examination of the chimney and the flashing associated with it, a roof inspection should include:
Water Damage Assessment. Any area of the roof, not just the chimney, can develop leaks. A roof inspector will look for water damage caused by improper installation or faulty roofing materials, or for damaged or missing shingles.
Deteriorating Roofing Materials. All roofing materials have a finite life, so a roof inspection should include an assessment of the materials' remaining expected lifespan. Asphalt shingles, in particular, can show signs of wear as they are exposed to the elements over time and begin to lose the layer of granules. Other roofing materials, though they may last longer, will also eventually show signs of aging.
Mold Growth. With Florida's often wet conditions, mold can quickly form in areas like the chimney and the attic insulation.
Clogged Gutters and Downspouts. As asphalt shingles lose the granules found on the outer layer, they can begin to clog gutters and downspouts. This can lead to water backing up and causing damage to the roof. Clogged gutters and downspouts may be a sign that a roof replacement will be needed in the near future.
Underlayment Problems. If water seeps under the outer roofing material, the underlayment below it can become wet and begin to deteriorate.
Sagging Roofs. A sagging roof can be an indication of serious problems with the structure of a roof that need to be addressed.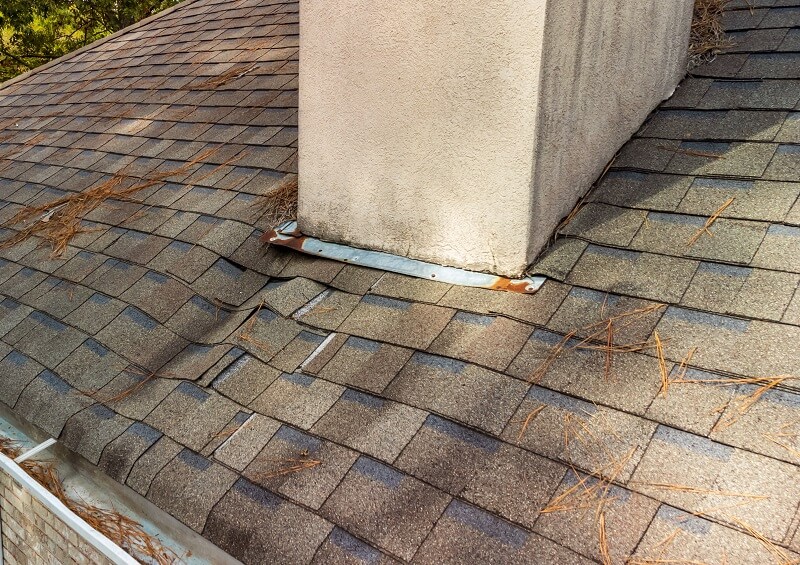 A roof inspection allows a homeowner to be proactive in repairing any small issues before they become larger (and more expensive) problems down the road. They are also useful to assess storm damage, to identify needed repairs that may be covered by warranty, and to give an estimate for the remaining lifespan of a roof.
Chimney services can also do a chimney inspection, which focuses solely on the elements of the chimney and not the roof. They may recommend chimney cleaning or other service depending on their assessment of the chimney's condition.
Some chimney services suggest that you waterproof your chimney to stop excess water from getting in while still allowing the bricks and mortar to vent moisture and gases. This preventative step might help alleviate issues in the future.
The Best Roofing Company in and near Lakeland
If you suspect that your home may have a leaking chimney, you should contact Residential Roofing Depot. We can do a free roof inspection to assess the issue, identify the source of the problem, and suggest the best solution for your home and your budget.
We have experience with both residential roofing and commercial roofing, and we can provide whatever roof repair or replacement services you need. Our roofing options include shingle roofing, tile roofing, metal roofing, flat roofing, and mobile home roofing.
Our services include:
Roof repair to get issues resolved before they become serious damage
Roof maintenance to help ensure that your roof has a long life
Roof installation, whether it is shingles, metal, tile, or a flat roof
New construction for both commercial and residential projects
Roof inspections, including real estate inspections
Because we want to provide the best services to all our customers throughout Central Florida, we offer free inspections and roof financing options. If needed, we can walk you through any homeowners insurance claims and work directly with your insurance company.
We are Polk County's premier roofing company, serving homeowners and commercial building owners in Lakeland, Winter Haven, Plant City, Brandon, Valrico, and beyond. We have experience not only in roofing, but in other areas that are critical to your project's success, including finance and insurance, real estate, and home improvement.
At Residential Roofing Depot, we are not your typical roofing contractors. We are local, qualified, straightforward, and focused on providing peace of mind for our clients, who consistently give us rave reviews.
We are your local licensed, certified and insured roofing contractor. Contact Residential Roofing Depot today to schedule an appointment for all your roofing needs.