With the possibility of rain nearly ever present in the Sunshine State, Florida homeowners often wonder if a roofer can work in the rain. The answer is, not surprisingly: it depends.
Safety is always a primary concern for roofing contractors. Typical work conditions on a roof can be hazardous, and wet and slippery conditions can make it even more dangerous. The level of safety concern depends on a number of factors, including the type of roofing material.
For example, most metal roofers would not attempt to do metal roofing work in the rain. That is because the moisture could cause problems with the materials during the process, but it is even more so because it would be extremely dangerous. On the other hand, a roofer contractor doing shingle roofing might attempt to do some smaller roofing services during a period of lighter rain.
Overall, most roofers prefer not to work in the rain, regardless of the roofing material. Even flat roofing or mobile home roofing can be slick and dangerous when wet, and the rain can bring with it other hazards such as lightning or wind.
What if My Roof Is Leaking?
Naturally, many leaks in residential roofing are first noticed when it is raining outside. As a homeowner, your instinct when finding a leak is to get a roof repair done as quickly as possible to minimize the amount of damage.
However, in addition to potentially putting roofers at risk, having roof work done during a rainstorm presents other issues. Imagine having a full roof replacement done during one of Florida's strong rain storms. There would be no way to keep the water from permeating through roof decking and insulation. Additionally, the adhesives used would not dry properly, and water could seep into places where it should not be.
Even if you are not replacing an entire roof, repairing a roof during a rainstorm can present the same kinds of problems, just on a much smaller scale. Any amount of water can cause serious problems down the road, so it is best to avoid roof work that could expose areas of the roof that should be kept dry at all times to wet conditions.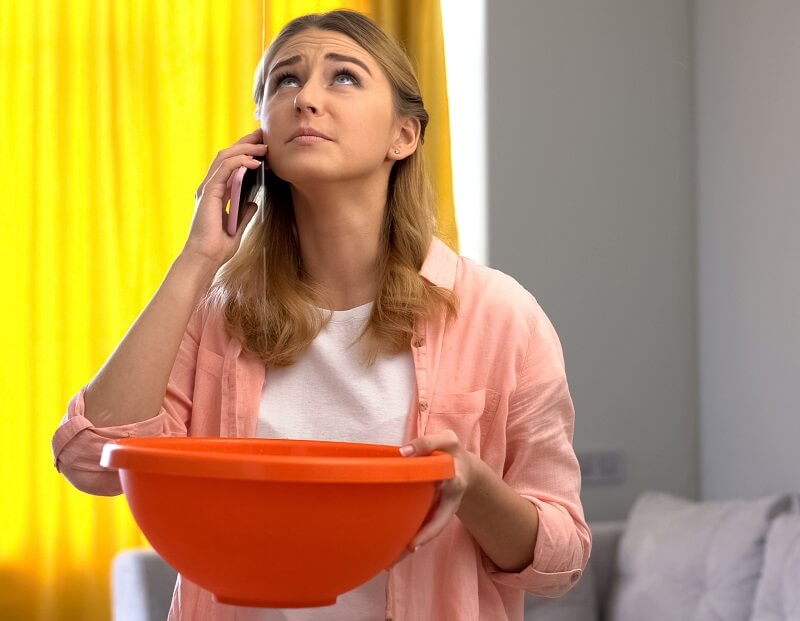 If you notice that your roof is leaking during a period of rain, you should call a licensed roofing contractor. A knowledgeable and professional roofer can arrange for a safe and convenient time to do a roof inspection to determine exactly what the problem is that is causing the leak and can recommend actions you can take to correct it. In some cases, the recommendations may be as minor as just replacing a few shingles or fixing some faulty flashing around a chimney. In other cases, though, even a small leak can be the first sign that a full roof replacement is warranted before the issue spreads and causes more damage.
If needed, the roofing contractor who does the inspection can place tarps over any leaking areas while you wait for a period of dry weather to begin making repairs. Properly placed and fastened tarps should be enough to temporarily keep any additional rain from leaking into the home.
Should My Roof Replacement Be Postponed?
Most roofers who have entered into a contract with clients to do a full or even a partial roof replacement will reschedule if the weather forecast calls for more than a little rain. It is much better for them – and also for you, the homeowner – to ensure their safety and the safety of everyone involved in the roofing project.
In addition to safety, working in the rain might result in additional damage to your home's roof. Re-roofs sometimes involve removing old roofing materials, which would expose the roof decking to rain, which could cause warping and damage to the decking. Water could also seep into the attic, insulation, and the inside of the home, inviting the growth of mold and potentially ruining materials.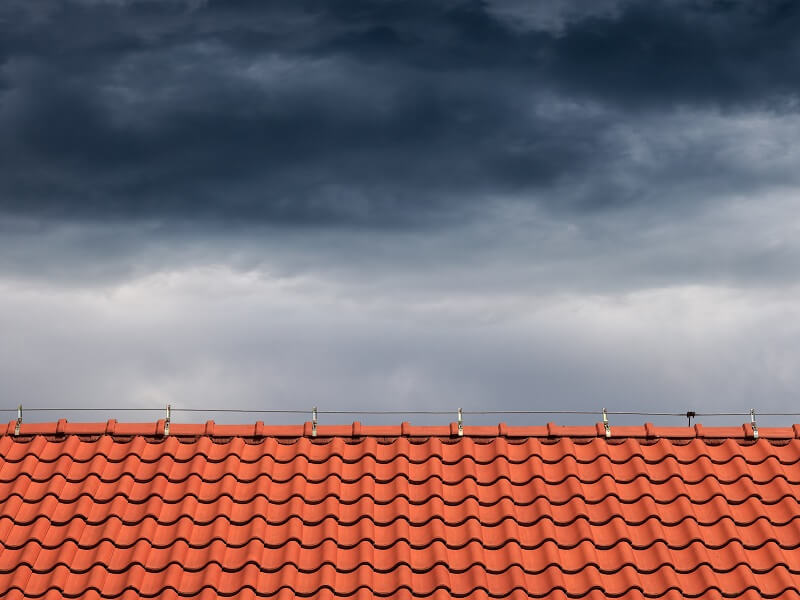 Especially in Florida, precipitation can be unpredictable, so an unexpected rainstorm in the middle of a roofing project is not unheard of. Roofing contractors should be prepared for any contingency, including rain. They will typically bring tarps to larger jobs in the event that some parts of the roof need to be covered.
Roofing contractors postpone roofing projects when it is raining for several reasons.
Shingles might not fasten properly. While the outside of shingles is (obviously) designed to get wet, the underside is not. Wet shingles can warp or bulge, leading to future problems.
Manufacturers' warranties could be voided. Manufacturers of roofing materials provide warranties, but those warranties come with conditions. Improper installation, such as would be the case in rainy conditions, would void the warranty.
It is dangerous. Sloped roofs are ripe for accidents, and roofs made slippery by rain are even more so. Reputable roofing contractors care about the safety of everyone involved in your roofing project.
There is always tomorrow. One of the benefits of owning a home in Florida is that the weather conditions are suitable for roofing projects all year long. Rain does not typically last for long periods of time, and it is almost never too cold to work outdoors. If a rainy day or two delays a job, it can typically get restarted in a relatively short amount of time.
In response to a question on Angi.com about whether it was ok to install a new roof while it is raining, LCD wrote, "The NRCA (National Roofing Contractors and Manufacturers Association) Roofing Manuals, Construction Specifications Institute, standard federal construction standards from various agencies, and International Residential Building Code (used by most states) all prohibit placing either the water barrier membrane or shingles over wet substrate."
Because Florida is prone to frequent (and often unpredicted) rains, many roofers will only remove portions of the roof when they are doing a roof replacement. Typically, the idea is to only remove as much as can be replaced in one day for projects that take several days to complete. This can allow work to proceed around the rainy weather conditions while still keeping the roof dry.
As a homeowner waiting for a new roof, delays caused by rain can be frustrating. However, it is important to remember that your roof is a vital component of your home, and small delays can help ensure that the investment in your roof is long lasting and without problems.
Avoiding the Need for Roofing in the Rain
As the saying goes, "an ounce of prevention is worth a pound of cure." For residential roofs, that means that having a roof inspection before a leak develops can help save stress and cost when rainy weather does arrive.
Many homeowners do not even know they should have roof inspections done, but doing so can identify potential issues, keep manufacturers' warranties intact, and show homeowners insurance companies that proper maintenance has been done should there ever be a claim.
There are many benefits of roof inspection. One of the biggest is having a professional who can identify potential problems before they become serious. This includes things that might result in a leak when it rains. Even if the roof inspector does not see any problems, a professional inspection gives you the peace of mind that your roof is solid and functioning as intended.
In addition to having an inspection, there are several things that homeowners can – and should – do to prepare their home's roof for the rainy season or impending storms in central Florida. (Note that climbing on a roof can be dangerous, even if it is completely dry. Always use caution when on your home's roof.)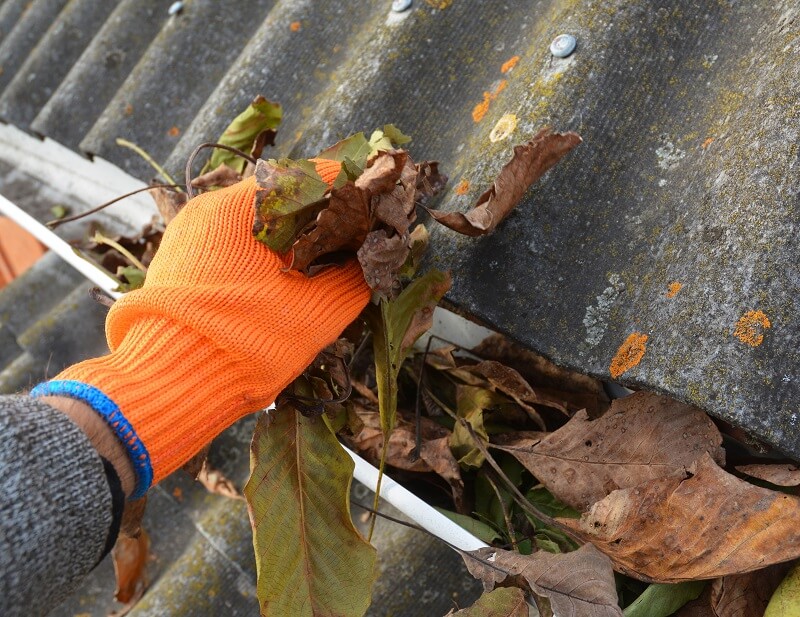 Clean gutters and downspouts to ensure that they are free of debris. Water should always flow easily through the gutters and out through the downspouts, since clogged gutters can cause water to back up. This could lead to damage to roof sheathing and rafters, and potentially to the interior of the home.
Remove any debris on the roof. Branches, twigs, and leaves from nearby trees can collect on roofs. Debris can collect in valleys and around roof protrusions, which can cause damage to shingles or flashing, which can lead to leaks.
Trim trees, bushes, or other landscaping that is encroaching on the roof. Overhanging branches can break during rainy or windy conditions, landing on the roof and causing damage. Even smaller branches from bushes that scrape against the surface of the roof can cause deterioration that could ultimately result in a leak.
Check all the flashing on the roof. If an inspection by a professional roofer was not completed, as the homeowner you should inspect the flashing to be sure that it is in place, and not cracked, warped, or rusted. It is also important to check that the flashing is sealed properly and has not degraded over time.
Check for damaged or missing asphalt shingles. If your roof is tile, be sure that there are no cracked or missing tiles. Flat roofs should be inspected to ensure that there are no areas that appear to be deteriorating.
Buy tarps. As a precaution, especially for big storms like hurricanes, it is advisable to purchase a few tarps to have on hand. If a roof leak develops, you can put the tarps in place until a professional can assess the situation and make the needed repairs.
The Best Roofing Company in and Near Lakeland
Residential Roofing Depot can provide all the roofing services you need in central Florida, from roof inspections to roof repair and roof replacement. Our experienced roofing technicians can work with any type of roofing material: asphalt shingles, clay or concrete tile, metal, and flat roofing. In addition to residential roofing, we provide commercial roofing services as well.
We have been Polk County's premier residential and commercial roofing company for several years, and our service area covers an extensive radius, from Lakeland to Winter Haven, Plant City, Brandon, and more.
Because we understand how important a roof is to your home, we are committed to:
Reliability. You can feel confident in your choice to work with us.
Quality roofing materials. We have the right equipment to do the job.
On time roofing service. We show up when we are supposed to, and we finish the job in the time allotted.
Transparent pricing. Our pricing is always clear, and there are never any surprise fees after the job is finished.
Residential Roofing Depot offers free roof inspections. If needed, we have roof financing options to help pay for the investment in your roof.
Our roofing experts can walk you through the process of filing homeowners insurance claims if needed, and we can work directly with your insurance company to ensure that your roofing claim is processed correctly and quickly.
Contact Residential Roofing Depot today for all your roofing needs.