Your roof is both a critical component of your home and a significant investment. Proper maintenance and care can help to ensure that your roof lasts as long as possible, but the fact is that sometimes things outside our control happen.
Maybe a hail storm pounded your roof and caused damage, or strong winds lifted and blew off shingles. Perhaps a branch fell onto the roof, or the roofing material simply starts to degrade over time. When any of this happens, you may not need a complete new roof installation, but you might need roof repair.
How Do I Know If I Need a Roof Repair?
Thankfully, most roofing material lasts for many years and is resilient. It is designed to be put under normal weather conditions, but many things that can happen that cause problems. If a roof repair becomes necessary, homeowners need to know what to do. Here are some signs that you should, at a minimum, call a roofing contractor to get a roof inspection done; when it comes to your roof, it is always better to be safe than sorry.
Visible leaks inside
Water damage on ceilings or walls
The ceiling is sagging
Missing or damaged shingles
Gaps in the roof
Cracks in the roof
Pooling water on the roof
Of course, if you are unsure whether you need a roof repair or not, it is always best to contact a professional roofing contractor to inspect your roof and give you an estimate for any necessary repairs.
Are Roof Repairs Tax Deductible?
Homeowners often want to know if repairs to their roofs are tax deductible. According to the website of tax preparation firm H&R Block, the answer is that you cannot deduct roof repairs or even a roof replacement. That is because these are considered home improvements.
You can, however, deduct the cost of any damage to your roof that is caused by an event that is identified as a casualty on your tax return. So, if your roof is damaged in a severe storm, you may be able to claim a deduction for the repairs. However, you would first need to reduce the cost of the repairs by any insurance reimbursement you receive. And, you would need to itemize deductions on your tax return for that year in order to claim this type of deduction.
The website of another tax preparation firm, TurboTax, says that you can deduct qualified home improvement expenses like roof repairs if they are made for medical care or safety reasons. So, if your doctor has told you that you need to have your roof repaired or replaced in order to treat or prevent a medical condition, you may be able to deduct the cost of the repairs.
Tax accountants or tax preparers will be able to help explain whether there are any positive tax consequences for your roof repair or roof replacement. Online tax preparation tools like TurboTax can also help with the proper forms when it comes time to file.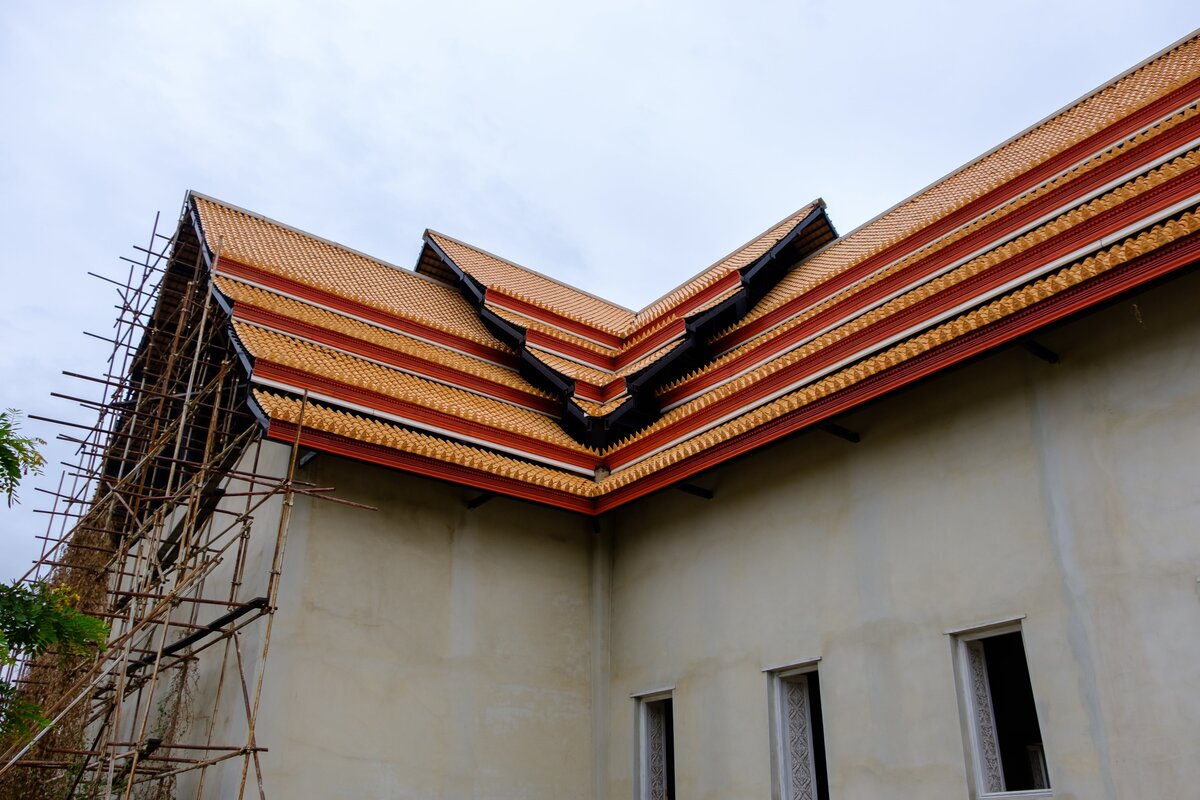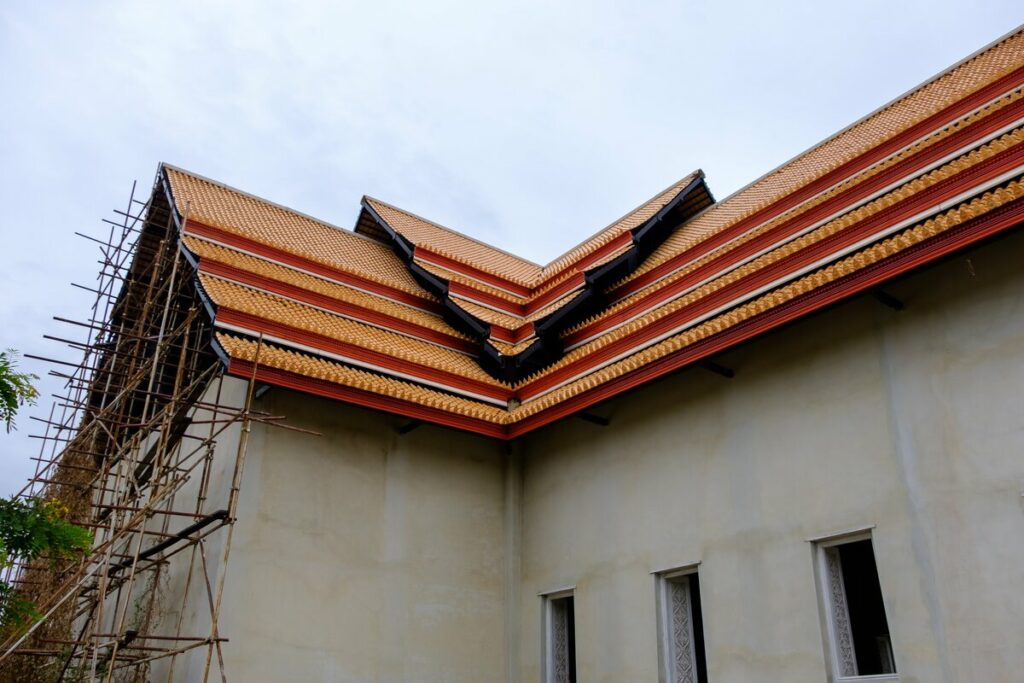 Taxes and Home Improvements
As noted above, roof replacements are considered home improvements for tax purposes. This means that they are not directly deductible on your taxes, but they can increase the "basis" for your home when it comes time to sell the property.
The basis is the amount of capital you invested in your property, less any depreciation. Home improvements represent an investment of capital, so they increase the basis. This adjusted basis is used to determine how much capital gains tax you might have to pay.
Here are a few other examples of improvements that might increase your basis:
Rewiring the entire home
Adding rooms
Installing central air conditioning or heating
Paving the driveway
The higher your adjusted basis is, the less taxable profit you will have when you sell your home. Since the capital gains tax is somewhat complicated and because the rate changes over time, it is always best to speak with a tax professional to determine if you are eligible to claim any deductions for roof repairs or replacement.
How to Find a Roofing Company Near Me
Because the need for roof repairs is relatively infrequent, homeowners (or business owners) often do not know where to turn when they need roofing service. Considering how important your roof is to your home's safety and security, you should always do your research and work with a reputable, professional roofing company.
Here are some tips for finding a roofer:
Ask family, friends, and neighbors for referrals. All roofs need to be repaired or replaced at some point, so people you know may have worked with a roofing company in your area.
Research roofing contractors online if you cannot get a direct referral, but be sure to not let a flashy website fool you into contracting an inexperienced or unqualified roofer.
Identify two or three companies that you would consider, and contact them to arrange an appointment to get a quote.
Ask the potential roofing contractors for references from other homeowners who have used their services to complete similar projects.
Review all the quotes carefully, being careful that you are making apples-to-apples comparisons. There are a lot of choices to make when it comes to even small roof repairs, so be sure that you understand exactly what you will be getting.
Be sure that everything is in writing, including a timeline for when the project will begin and how long it will take. (Of course, weather conditions can impact the even the best laid plans, but you should be able to get a fairly good idea of the timeline.) Also ensure that the payment expectations are clearly spelled out.
What Should I Do If My Roof is Leaking?
If your roof is leaking, you need to take action right away to avoid further damage to your home. The first thing you should do is determine the source of the leak. This can be tricky, as water can travel a long way before it finally drips through your ceiling. Once you have located the source of the leak, you need to have it repaired as soon as possible.
If the leak is due to a hole or crack in your roof, you will need to patch or seal it to prevent further water damage. If the leak is due to loose or missing shingles, they will need to be replaced. If the leak is due to gutters that are clogged or broken, you should remove the debris or have the gutters and downspouts replaced.
It is important to take care of roof leaks as soon as possible to avoid further damage to your home. If you are not sure how to fix the problem yourself, it is best to call a professional roofing contractor for help. They can assess the damage and make the necessary repairs to keep your home dry and safe.
Preventing Roof Leaks
There are several things that homeowners can do to prevent roof leaks in the first place.
Make sure your gutters are clean and in good repair, and that they are draining properly.
Keep the roof free of debris.
Trim or remove overhanging tree branches.
Keep gutters and downspouts clear to prevent water from backing up onto the roof.
Have regular roof inspections to check for any signs of wear or damage. If any are found, you should have them repaired or replaced as soon as possible.
Of course, be sure to call a professional roofing contractor if you have any questions or concerns about your roof.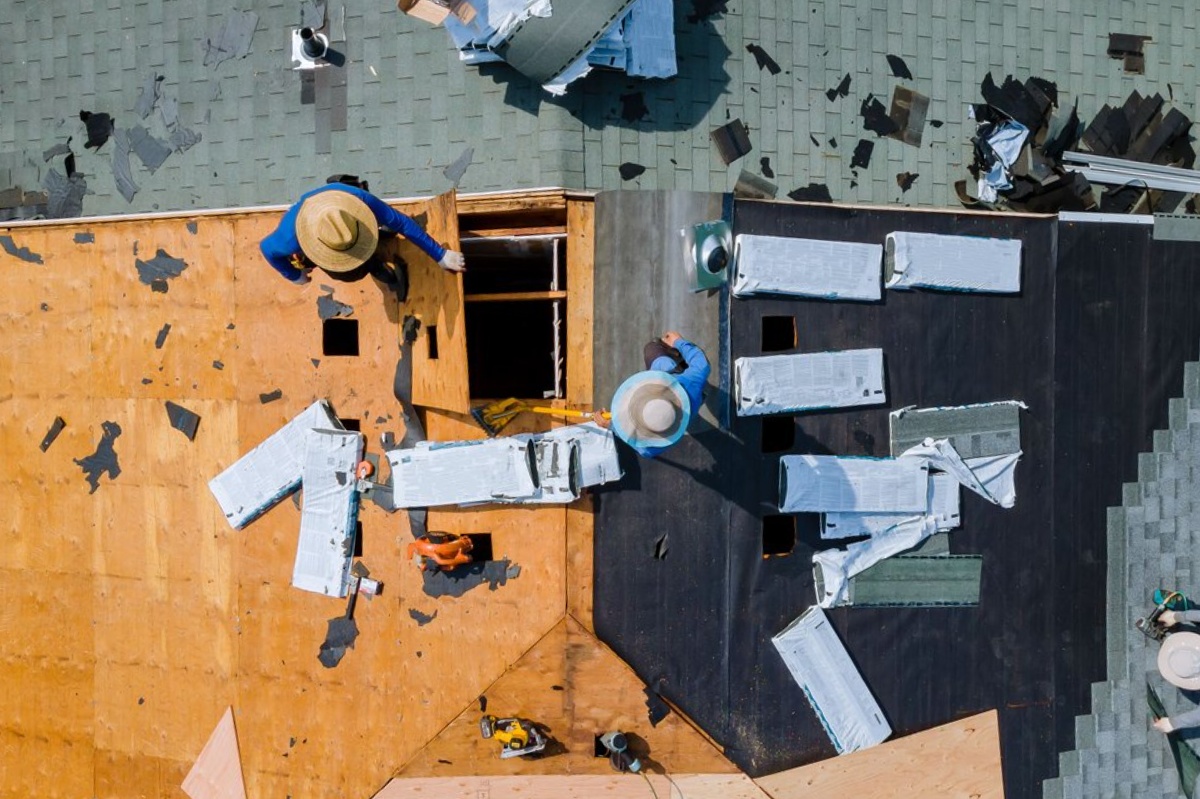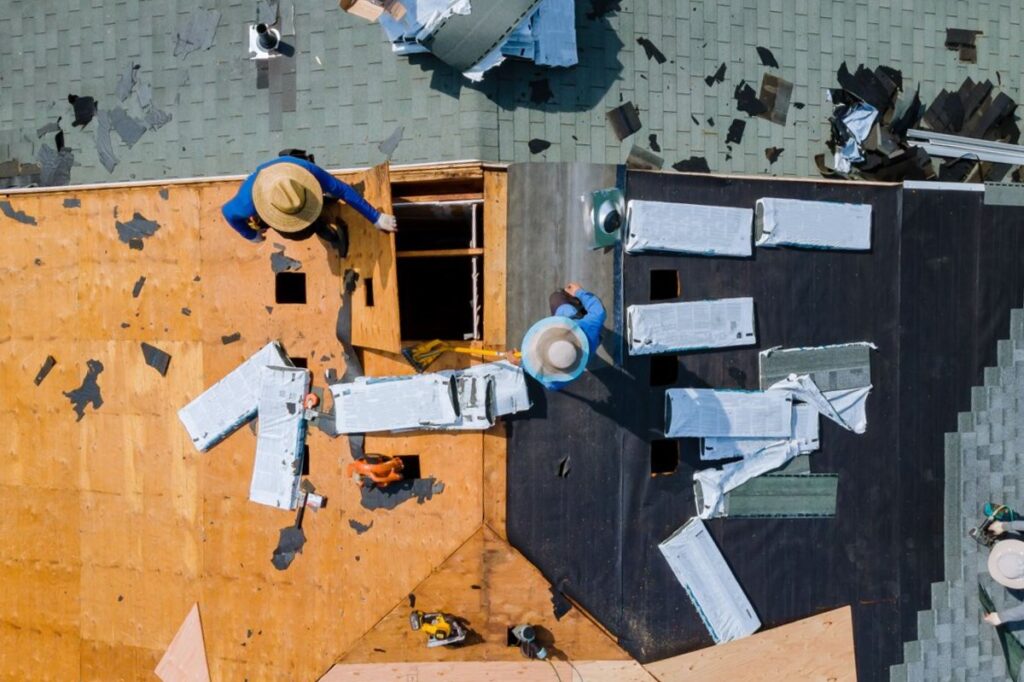 Should I Repair or Replace My Roof?
When your roof has sustained damage, you may have to decide whether it makes sense to repair it or if it is better to do a full roof replacement. Here are a few tips:
If the damage is localized, you may be able to have it repaired. Smaller leaks around skylights, for example, are a good candidate for repairs.
If the damage is widespread, a full replacement may be necessary. Sagging roofs or water damage to trusses may be so significant that they require a complete roof replacement.
The age of your roof will also be a factor. If it is an older roof, a replacement may make more sense, since one will be necessary at some point in the near future anyway.
The type of roofing material will also be a factor. Some materials are easier to repair than others. Standing seam metal roof panels, for instance, may not be easy to patch. Asphalt shingles may be difficult to match to the existing ones depending on the age of the existing roof.
If you are unsure what to do, it is best to consult with a professional roofer who can assess the damage and give you advice on the best course of action.
Commercial Roof Repairs and Taxes
Business owners are subjected to different tax rules and regulations than homeowners.
In 2018, the IRS noted on its website a change to depreciation and expensing under the Tax and Jobs Act that allowed businesses to include roofs, HVAC, fire protection systems, alarm systems and security systems for Section 179 properties.
Tax rules can and do change occasionally, so any commercial property owner wondering about the tax consequences of a commercial roof repair or roof replacement should always consult a tax specialist to be sure they fully understand their options.
Stronghold Roofing & Solar In & Near Lakeland, FL
The best roofing company in Florida is located right here in Lakeland – Stronghold Roofing and Solar.
Whether you need roof repairs or a roof replacement for your home or business, our team of experienced roofers can give you the advice and exceptional quality and service you deserve.
Our services include:
Roof repair to get issues resolved before they become serious damage
Roof maintenance to help ensure that your roof has a long life
Roof installation, whether it is shingles, metal, tile, or a flat roof
New construction for both commercial and residential projects
Roof inspections, including real estate inspections
Stronghold Roofing and Solar offers free inspections, and we even have roof financing options that allow you to break your roofing costs down into consistent monthly payments. If needed, we can walk you through any homeowners insurance claims and work directly with your insurance company.
Contact us today for a free estimate.