Flat Roof Replacement
Flat roofs are quite common in areas that have dry weather. If your house has a flat roof and it is showing signs of damage, you should not ignore getting it inspected by a roofing professional. The approach to repairing or replacing a flat roof is different from that of sloped roofs. A flat roof can get damaged due to various reasons and when the damage is severe, replacing it with a new one is the only option. What is important is that you get this done in time.
Compared to other standard types of roofs, it may be simpler for roofing professionals to install a flat roof. However, a flat roof requires a lot of attention and maintenance on a regular basis.
Also, it is important to know whether your roof needs a repair or a replacement. If you get a repair when what you actually need is a flat roof replacement, you can end up paying more money in the long term. Therefore, always keep an eye out for the kind of damage your flat roof has, and then reach out to a reputed roofing company for a fair and transparent quote for fixing it.
Most Common Flat Roof Issues
Flat roof sufferers from different kinds of damages or issues. The most common of these issues are as follows.
Leaks and Moisture:
Leaky flat roof is a common sign of damage for residential as well as commercial buildings. This happens because water on a flat roof can linger there for a long time – until it evaporates. But if the water stays on the roof for too long, it can seep into the layers beneath the roof and cause damage. Therefore, experts suggest that you never ignore any issue with your flat roof, even if the issue is a minor one. If ignored, minor flat roof issues will turn into much larger problems and you'll have no other option than replacing it altogether.
Flashing:
A flat asphalt roof experiences expansion and contraction due to changes in weather conditions. If this phenomenon continues for a long period of time, the flashing will move away from the edges. As a result, your flat roof will start to leak and have other moisture issues. Upon inspection, a professional will determine the severity of the damage and suggest the best solution.
Alligatoring:
The coatings on a flat roof can get cracks over time. This happens due to exposure to sunlight and old age. The damage caused in this case resembles that of the skin of an alligator, hence the name. There are many other factors that can make these damages worse. If the flat roof of your house or business place is having this problem, you'll need a replacement.
Cracks:
Compared to slanted roofs, flat roofs have to deal with much pressure. When the amount of exerted pressure is beyond what the structure can actually withhold, the roof starts to crack in various places. If you see cracks in your flat roofs, you should immediately seek the help of a professional for inspection and finding out whether you need repair or replacement.
If you have an older home or spot these signs of damage to your flat roof, it is certainly time for a complete roof inspection. If you reside in or near Lake Land, FL, you should reach out to Residential Roofing Depot to discuss your specific needs and get the best advice for fixing your flat roof.
Should You Get Your Flat Roof Replaced?
When you have a leaky or damaged flat roof, the first question to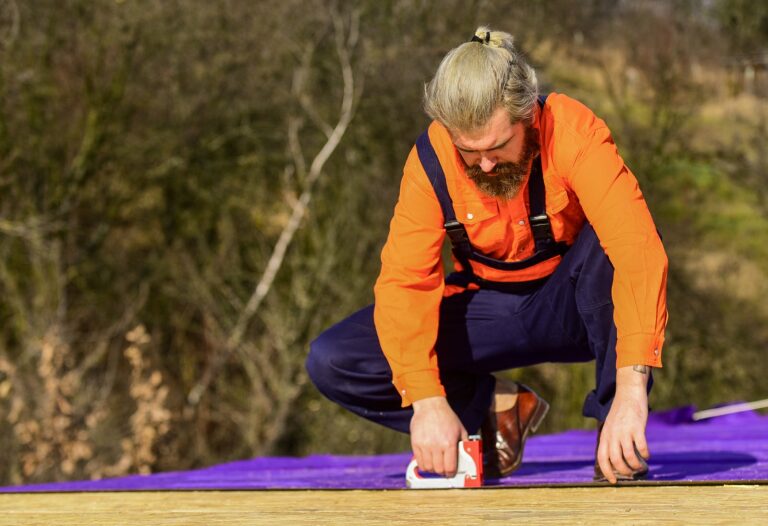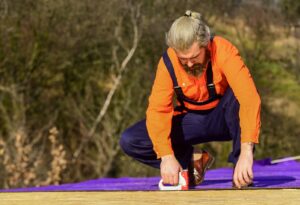 ask yourself is how severe the damage is. Expert roofing professionals analyze how bad the damage is and whether it can be repaired.
One key factor in deciding what kind of repair a damaged flat roof need is the age of the roof. If the roof of your house has passed its lifespan, it is common for the roof to show various signs of damage. If the roof is not too old and it has issues, the technician will be able to repair it. Flat roofs are made up of different types of materials such as metal, BUR, and membrane among others. There are some materials that are highly durable and they can be repaired more easily than others. So, get a roofing inspection done and determine the type of damage.
If your flat roof problem is not too big and the technicians say it can be repaired, go ahead and get it repaired. But if the damage is severe and repairs won't solve the issue, it is time for a roof replacement.
What Goes into Replacing a Flat Roof?
The methods for repairing or replacing a flat roof vary depending on the type of material it is made from. Here is a quick look at the process which a roofing contractor will follow to fix the damages to a flat roof.
Inspection:
The roofing technician will first examine how severe the issue with your flat roof is. While you may think this is a simple task, the technician will need to consider a number of factors to arrive at the right decision after they have inspected the damage to the roof. In cases of leaky roofs and moisture issues, the issue goes beyond the roof and reaches the timber underneath. Going with a replacement where multiple repairs will not fix the problem is the best solution.
Removal of Old Flat Roof:
Before the installation of a new roof, the old roof material will need to be removed. This is a stage that requires time and effort, as the method and tools will vary as per the roofing material. If the damage is limited to only some sections of the flat roof, the repair will be completed quicker. But more time will be taken to replace the entire roof.
Measurement:
After the old roofing material has been torn off, the technician will now take some measurements of the area which needs fixing. This will give the roofer a fair idea of how much material will be needed for new roof installation and what the cost of the new roof will be.
Installation of New Roof:
Finally, the professional will install the new flat roof. Again, the methods and tools used will vary. Depending on the type of roofing material, the technician may use nails or strong adhesive to install the new roof in a correct and accurate manner. Even if the replacement needs to be done to a small section of the roof, the same process will be followed.
Do You Have Issues with Your Flat Roof? Call Now!
If you are having problems with your flat roof, the first thing you should do is seek the help of expert roofing professional. Whether your flat roof is made of metal, EPDM, built up, rubber, fiberglass, or lead, it can get damaged due to a number of factors over time. Let the technician take a close look at your roof and analyze the severity of the issue so that the most ideal solution can be found. At the Residential Roofing Depot in Lakeland, we have a strong team of well-trained roofers who have inspected and fixed damages in a wide range of roofs.
Give our office a phone call to discuss your roofing problem with our professionals. After the inspection, we'll send you a free quote for the services so that you know how much the flat roof replacement will cost.