While asphalt shingles are the most commonly used roofing material used on homes throughout much of the United States, tile roofs are very popular in certain parts of the country. Tile has been used around the world for centuries to create a watertight and aesthetically pleasing covering for homes of all types and sizes. 
While people often picture a traditional, Mediterranean style when they think of a tile roof, there are actually many different types of tile roofs – clay, concrete, metal, slate, solar, and synthetic. But what homeowners may not know is which choice is the best? Which one is most durable? How does tile compare to other roofing materials like asphalt shingles or flat roofs?
One of the most important qualities of any roofing material is its durability, since a roof is a significant investment for most homeowners. A tile roof can be one of the most durable and longest lasting choices, depending on the specific type of tile used. 
Just consider that there are tiled roofs in Europe that are hundreds of years old. Today, manufacturers of some tile roofing materials offer warranties as long as 75 years!
Types of Tile Roofing
When it comes to tile roofs, there are a few things that you need to take into account. The first is the material that the tile is made out of. Clay, concrete, metal, slate, solar, and synthetic are all different materials that tile can be made from. Each one has its own benefits and drawbacks when it comes to durability.
Clay Tile Roofing
Clay tile roofs are one of the most popular choices in some parts of the country. Made of natural materials, clay roofs were originally built from tiles that were hand-crafted and sun-dried. While most tiles are made by machine today, clay tiles roofs still offer a unique look and excellent durability. However, clay is also one of the heaviest roofing materials, so it requires additional reinforcement to support the weight and should only be installed by a roofing contractor with experience in tile roof installation. 
Concrete Tile Roofing
Concrete tiles have been used for roofs since the middle of the 19th century, because the components were readily available and inexpensive. Like clay tiles, concrete tiles are heavy, and require special expertise to install. Concrete tiles tend to have a shorter lifespan than clay but have most of the same maintenance requirements.
When people think about metal roofing, they often picture standing seam metal roofs that have been used for decades on barns, sheds, and other outbuildings. However, metal is available in other forms that are suitable for use on homes, including metal tile. In fact, metal tile roof shingles are one of the most durable types of roofing, and it is available in a wide variety of colors and profiles. Some options even mimic other materials such as slate, wood shakes, or asphalt shingles.
Slate Tile Roofing
Slate tile is another option that is very durable, but it can be difficult to install and maintain. As a natural stone, slate has unique variations in color that can make for a stunning roof. However, because slate is relatively uncommon in most parts of the country, not all roofers have experience working with the material, so slate roof installation and roof repair can be costly.
Synthetic Tile Roofing
Synthetic tile (or composite tile) is a newer option that is available in profiles that resemble slate, cedar, or other materials, and can be made from recycled materials. Synthetic tile is very durable and easy to install, but it is not as widely available as some of the other tile options.
Solar Tile Roofing
Solar tile is a newer option that is becoming more popular as homeowners focus on environmental issues. Like solar panels, solar tiles use the sun's energy to power your home, so they can help reduce energy usage. However, because solar is still relatively new it can be more expensive and the life expectancy is still being determined.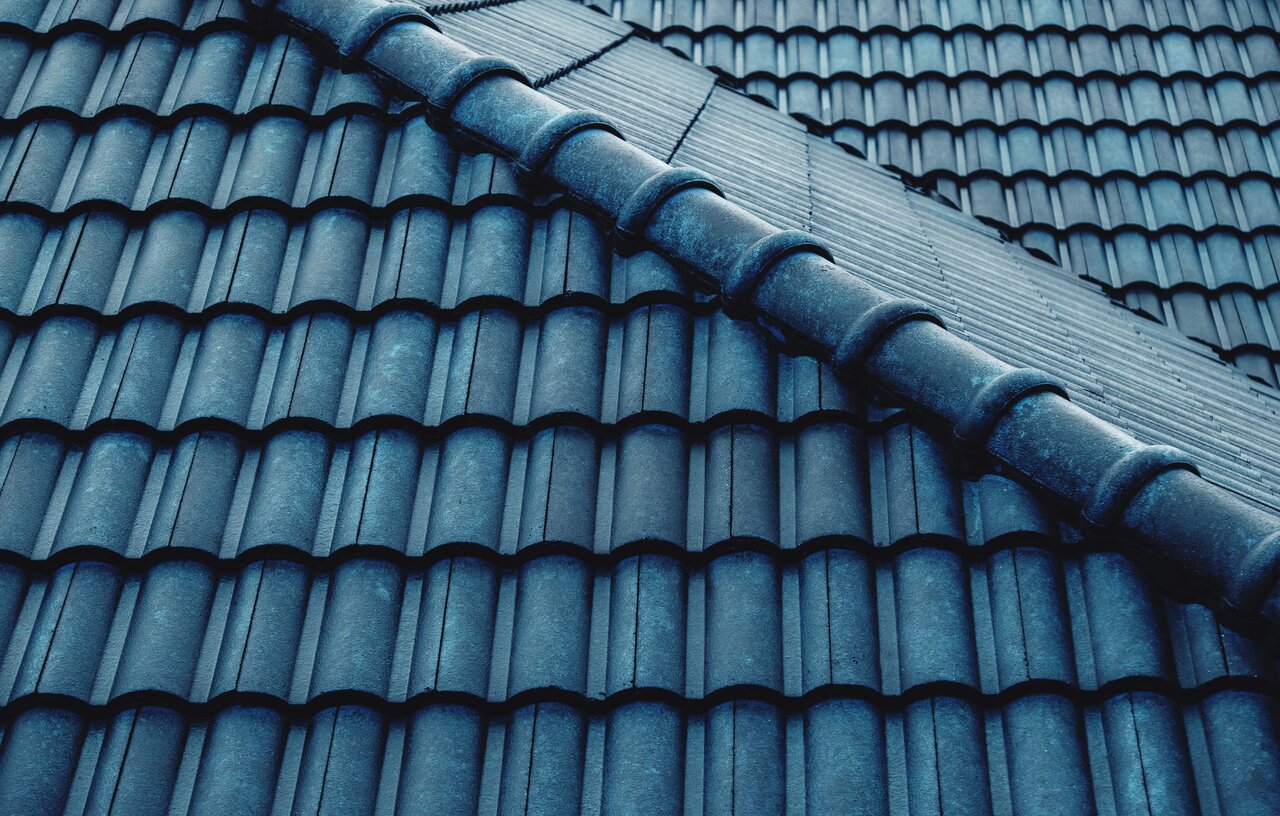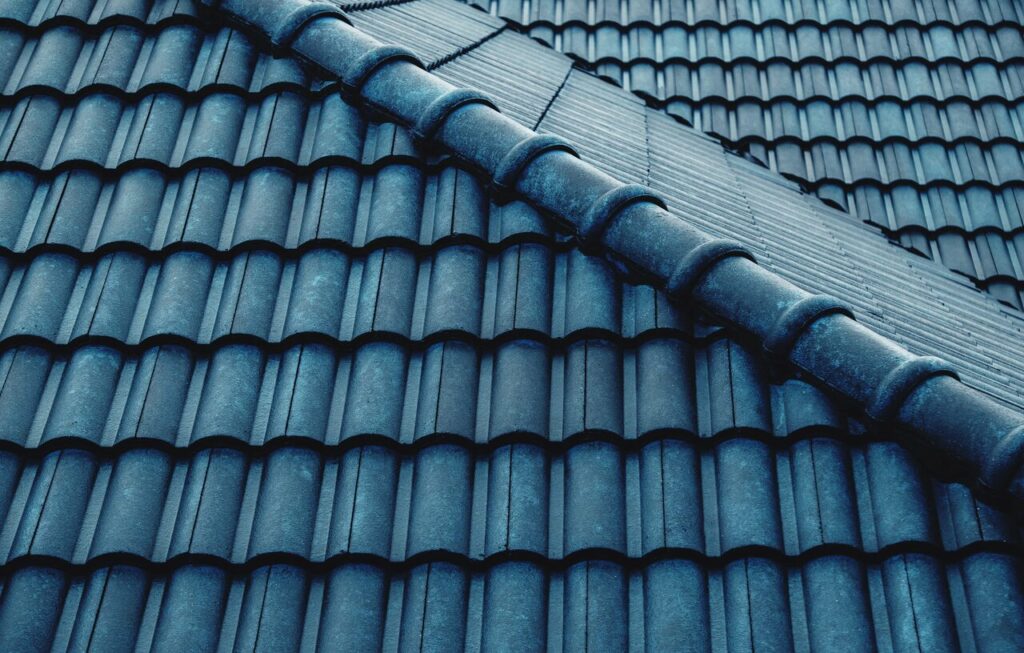 Tile Roof Styles
Spanish roof tiles, also called barrel roof tiles, have a curved "S" shape that resembles a half-barrel. They are the most common tile roof style in the United States.
Mission roof tile systems are installed by alternating the concave and convex shapes of the barrels, creating a unique look and an effective barrier against water.
Roofs made from flat shingle roof tiles can be very creative, especially if the shingles do not interlock.
Interlocking roof tiles create clean, beautiful lines because each tile is connected to the tiles next to and above it.
Wood shake roof tiles have a very old-world charm, though most homeowners today opt for simulated wood shakes to avoid some of the negatives associated with real wood.
Scalloped roof tiles have a bottom edge with a curve that give the appearance of fish scales when installed.
French roof tiles have two flutes on the surface of each tile and an interlocking design.
Graduated roof tiles are used on towers or domes, with each individual tile crafted to fit precisely in its spot. Time-intensive and costly to install, tapered roofs make a dramatic statement.
Tile Roof Pros and Cons
Like all roofing materials, tile roofs have pros and cons. The advantages and disadvantages depend on which specific type of tile, but in general here are some things to consider.
Tile Roofing Pros
Tile roofs are extremely durable and can last for many years. Manufacturer's warranties on tile roofing can be among the longest.
Tile roofs tend to require relatively little in terms of regular, ongoing maintenance.
Most tile roofs are fire resistant, making them a good choice for parts of the country that experience wildfires.
Some tile roofs are very energy efficient, because the gap under the tiles helps prevent heat from the sun from being transferred into the attic.
Tiles can be made from sustainable materials, such as slate or clay. One removed, these tiles can be recycled.
There are dozens of options for tiles, so homeowners can make the roof color and style choices that enhance the look of their home.
Tile Roofing Cons
Tile roofing material often requires a significantly larger upfront investment when compared with other alternatives.
Not every roofing company has experience with tile, so finding qualified roofers can be challenging.
Because of the extra knowledge and skills required, labor costs for tile roof replacement or installation can be expensive.
Roof replacement using tile on a structure intended for lighter roofing materials may require the addition of more support since some kinds of tile roofs are quite heavy.
Some tile roofing options can be brittle and suffer damage from falling objects like tree branches or from being walked on.
Some kinds of tile are prone to algae growth in areas of high humidity or frequent precipitation.
Tile can typically not be installed unless the roof has a minimum amount of slope, meaning that it is unsuitable for homes with flat or low slope roofs.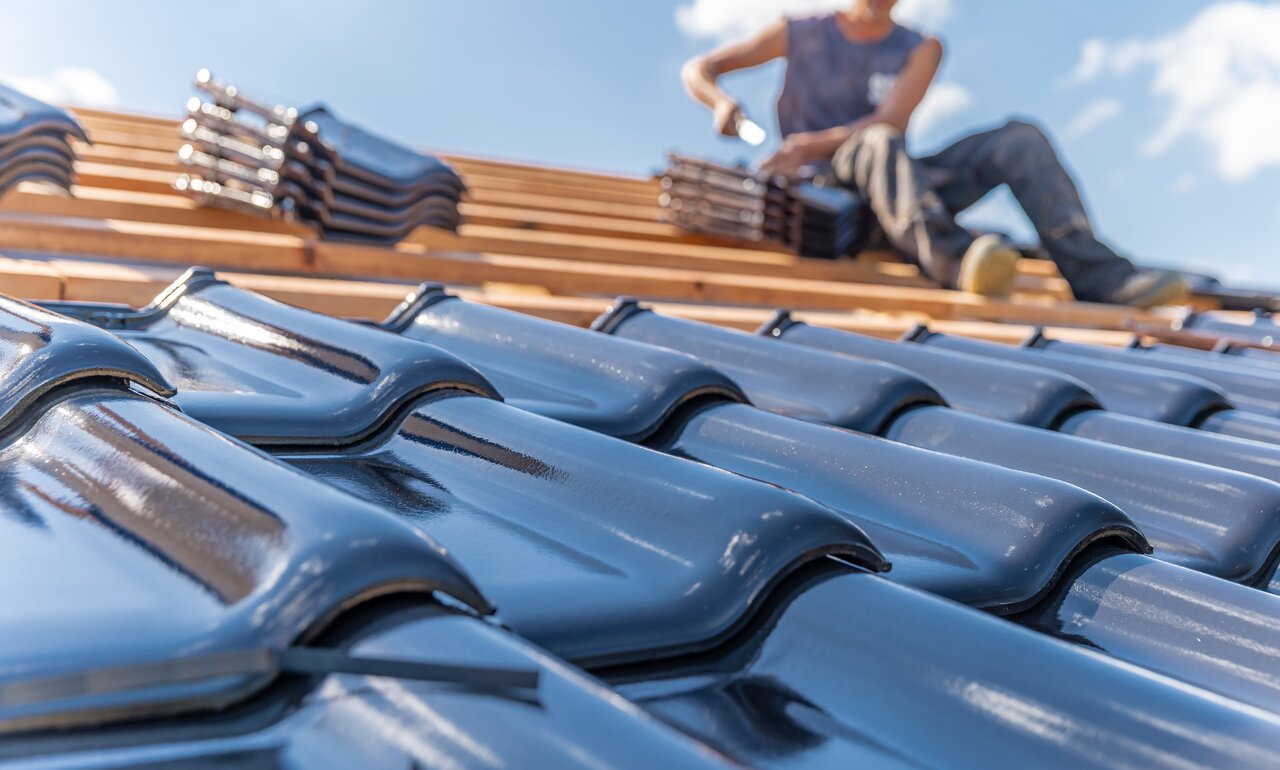 Tile Roof Maintenance
When it comes to durability, tile roofs are definitely one of the best options. They are more durable than asphalt shingles and flat roofs, and they can last for many years. If you are looking for a roof that will stand the test of time, tile is a great choice. 
However, it is important to keep in mind that tile roofs are not indestructible. They still need to be properly maintained and repaired when necessary. Here are a few tips for maintaining the beauty and functionality of a tile roof:
Mildew, algae, or mold growing on a tile roof should be removed. These are typically found on an accumulation of dust and debris on the roof, and not the surface of the tile itself, but removing them will not only improve the look of the roof but also prevent possible damage. For safety reasons and to prevent damaging the tiles, it is advisable to have a professional roofing contractor do the work. 
Debris, such as leaves, twigs, and small branches should be removed from the surface of the roof and the gutters. Pay special attention to areas like valleys and roof protrusions.
Flashing and vents should be inspected regularly to ensure that they remain uncompromised and in good working order. If there are signs of deterioration or damage, repairs should be made as soon as possible.
Roofing tiles that are cracked or broken should be replaced. Very small chips can be repaired, but keep in mind that even small cracks can allow water and harsh UV rays to penetrate the roof's surface, leading to damage.
One type of tile roof, concrete, can experience a temporary condition that causes concern for homeowners, although it is normal and does not require any roofing service to repair. The condition creates a chalky appearance on the roof, which is called efflorescence. This is caused by chemical reactions that are completely normal, and the efflorescence will generally disappear over time on its own.
All roofs, including tile, experience the effects of weather. Over time, this can mean that colored tiles begin to lose their brightness. With certain kinds of tile, paintings or coatings can be used to return the roof to its original appearance.
StrongHold Roofing & Solar In & Near Lakeland, FL
If you have been searching the Internet for "tile roofers near me," look no more! The best roofing company in Florida is right here – Stronghold Roofing and Solar.
We have been serving the roofing needs of homeowners and business owners in Central Florida for decades. No matter what type of roof you want – tile, shingle, metal, or flat – our experienced roofers are dedicated to providing quality craftsmanship, impeccable communication, and fair and transparent pricing.
We offer roof financing and can work with homeowners insurance companies to ensure that claims are filed and completed correctly.
Call us at 863-563-3254 for a free estimate.