Florida's tropical and sub-tropical conditions make it no stranger to severe weather, including hail, lightning, heavy rains, tropical storms, and even hurricanes. Unfortunately, for property owners this can mean that their homes or businesses can suffer damage, including to the roof.
While some damage caused by weather events like lightning is usually confined to one home or business, massive storms and hurricanes can wreak havoc across wide swaths of the Sunshine State.
If you find yourself in need of roof replacement or roof repair after a hurricane, this article offers tips to help you find the best roofing company in Florida to handle the job.
How To Find a Good Roofer After a Hurricane
Whether you are a homeowner or business owner, one of the most important things you can do after a hurricane is to inspect your roof for damage.
Of course, you should wait until after the storm has passed completely, and you should avoid going on the roof unless you have the proper safety equipment and you are sure that the structure is stable. If you do not have the means to assess the roof's condition safely or if you are unsure whether there is structural damage, contact a professional roofing company.
Once you have established that your roof sustained damage during the hurricane, it is important to contact your homeowner's insurance company and to find a reputable roofer to make the necessary repairs right away.
Do not wait too long to start making calls. The sooner you start reaching out to roofers, the better your chances of getting someone to come out and take a look at your roof in a timely manner.
Another thing to keep in mind is that roofing companies are likely to be very busy after a hurricane, so be prepared for some delays. It is important to be patient and understand that repairs and even estimates may take longer than usual.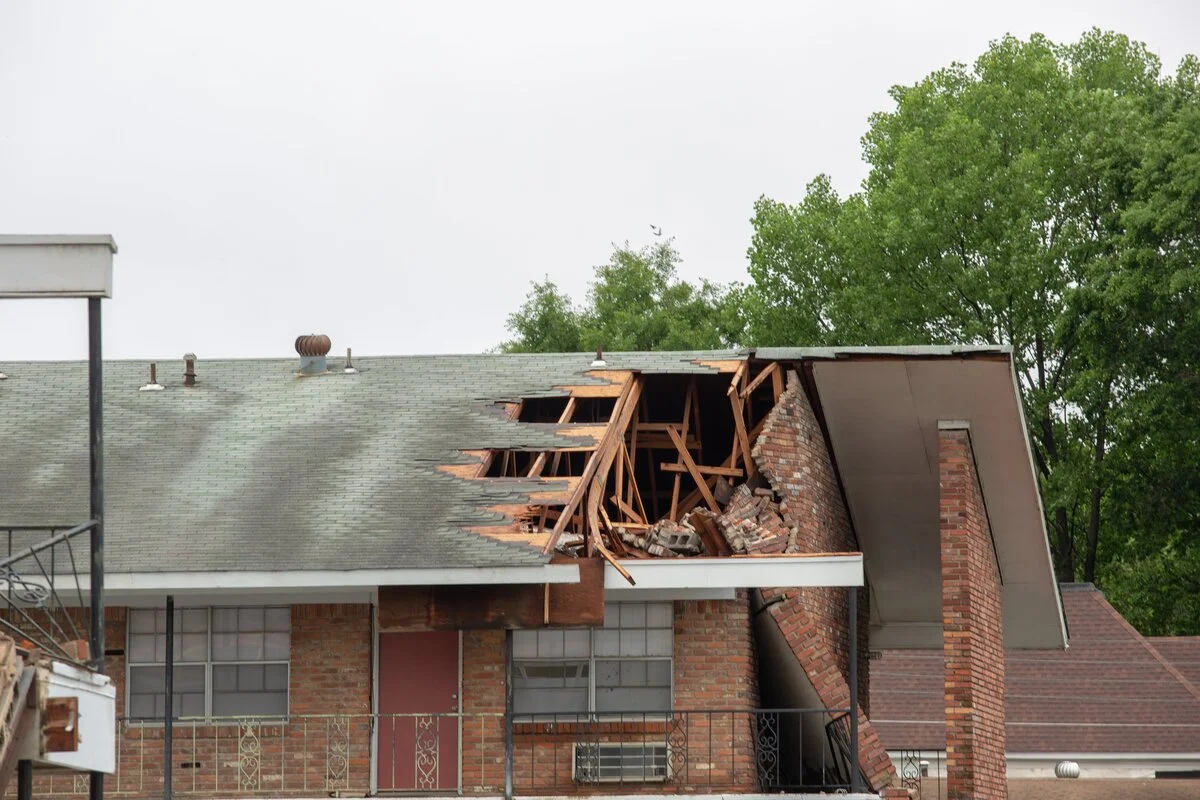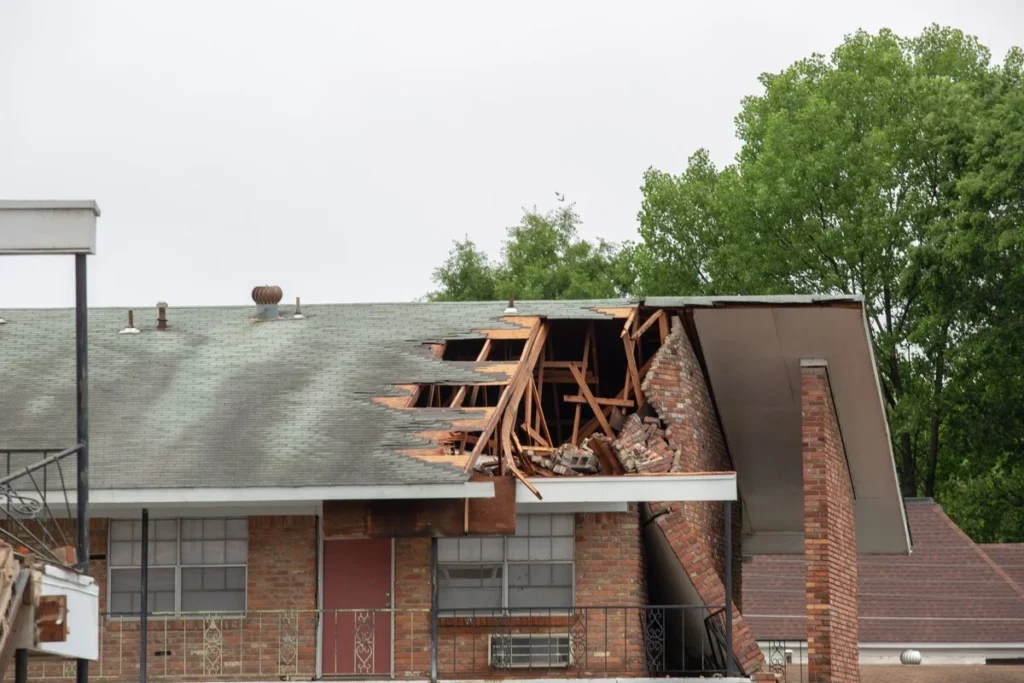 Get Recommendations from Trusted Sources
If you know someone who has recently had their roof replaced or repaired, ask them for recommendations. You can also contact your insurance company or local Chamber of Commerce for recommendations. Once you have a few names, do some research on each contractor to see if they are licensed and insured.
Check Online Reviews
Another great way to screen potential contractors is to check online reviews. Sites like Angi, HomeAdvisor, and the Better Business Bureau (BBB) all have customer reviews that can help you weed out the good from the bad. Be sure to pay attention to both negative and positive reviews to get a well-rounded idea of what each company is like.
Get Several Estimates
Once you have narrowed down your options, be sure to get estimates from at least three different companies. This will not only give you a better idea of pricing, but it will also give you an opportunity to see how each company communicates and what their process is like. Pay close attention to any red flags that come up during the estimate process, such as a low estimate with no explanation or a high estimate with no attempt to negotiate.
Choose a Local Company
In general, it is always best to choose a local company when possible. They will be familiar with the area and the building code requirements for your particular location. They will also be more likely to have established relationships with local suppliers, which can help speed up the repair process.
Taking the time to find a reputable roofing contractor after your home or business has been damaged by a hurricane is well worth the effort. By following these tips, you can rest assured that your repairs will be made quickly and efficiently by a company that you can trust.
How to Cover a Hole In Your Roof Temporarily
If your roof is leaking due to damage sustained from a hurricane, you will need to cover the hole to prevent any further damage. Once the storm has passed completely, here are the steps to temporarily cover a hole in your roof.
Tarping the Roof
The easiest way to temporarily fix a hole in your roof is by using a tarp. Tarping the roof will protect your home or business from bad weather and further damage. Make sure to secure the tarp so that it does not fly off in high winds. You can do this by nailing it down or weighing it down with sandbags or bricks. The type of tarp you use will depend on the size of the hole in your roof.
If the hole is less than 4 feet wide, you can use blue poly tarps which are available at most hardware stores. If the hole is larger, you will need to use a white vinyl tarp which are 30 feet by 100 feet and should be enough to cover most holes.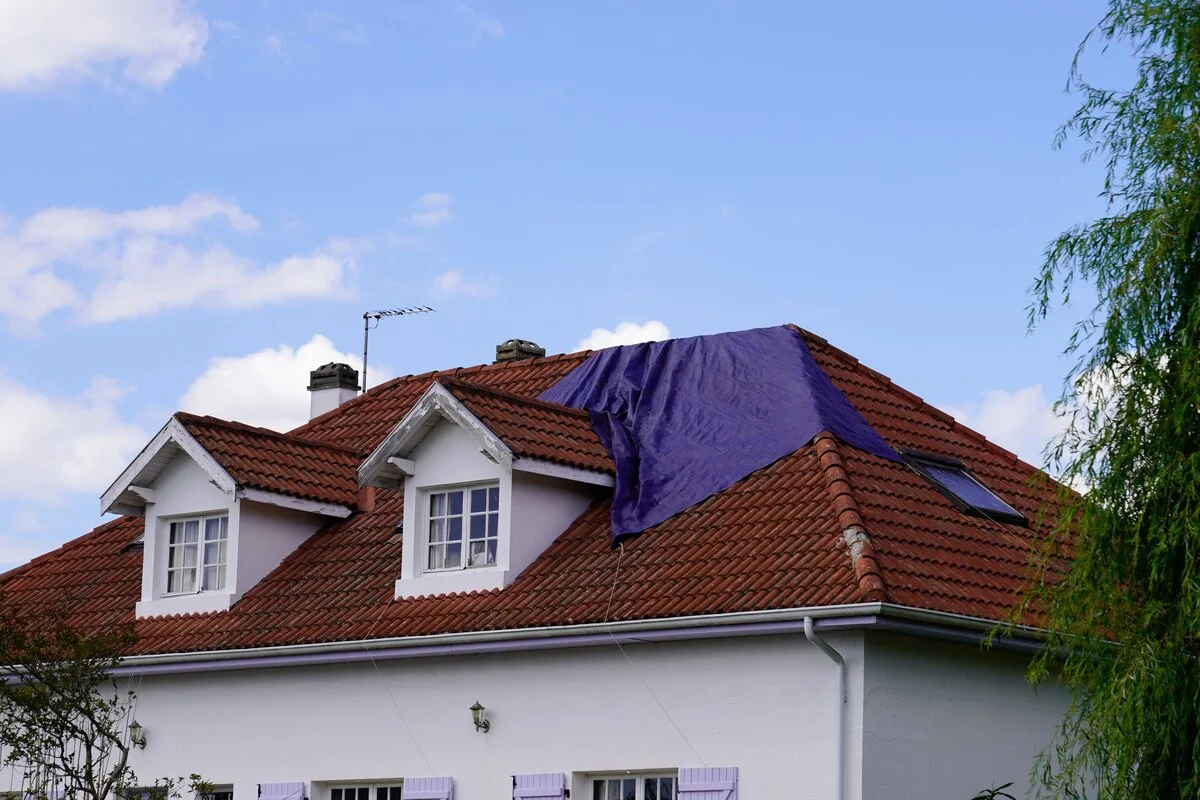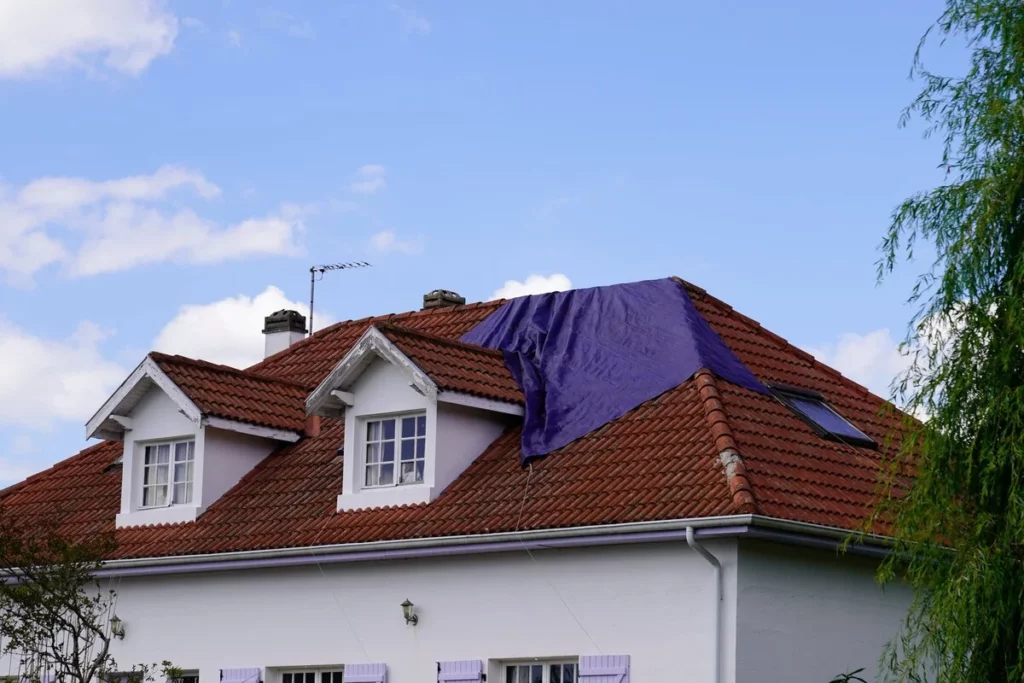 Screws and Washers
Once you have your tarp, you'll need screws and washers to secure it. The size of the screws and washers will depend on the thickness of your tarp. Most blue poly tarps are about 0.031 inches thick and need 1/4 inch diameter washers and screws that are 1 1/2 inches long. White vinyl tarps are thicker, about 0.062 inches thick, so you'll need 3/8 inch diameter washers and screws that are 2 inches long
Polyurethane Sealant (optional)
If you want extra protection from bad weather, you can apply a bead of polyurethane sealant around the perimeter of the hole before attaching the tarp. This will help create a waterproof barrier and keep rainwater from seeping through any cracks or gaps.
Is There Such a Thing As a Hurricane-Proof Roof?
Living in a hurricane-prone area like Florida causes many property owners to wonder if there is a special type of hurricane-proof roofing. The answer is both yes and no.
There is no such thing as a hurricane roof, but there are roofs that are more resistant to hurricanes than others. The key is in the materials and the construction.
The first thing to understand is that no roofing material is completely hurricane proof. Wind speeds in excess of 200 mph can damage even the strongest materials. That said, there are some materials that are more resistant to hurricane force winds than others.
For example, concrete tile roofs are often used in areas prone to hurricanes because they are heavy and have been known to withstand wind speeds up to 120 mph. Metal roofs are also popular in hurricane-prone areas because they are very strong and can resist wind speeds up to 140 mph.
Another factor to consider is the construction of the roof. A properly constructed roof will have interlocking shingles or tiles that help keep the roof in place during high winds. The roof should also be attached securely to the building so that it does not blow away in strong winds.
Another thing you can do for hurricane roof protection is to install hurricane straps (sometimes called hurricane ties) if your roof does not already have them. These metal straps help keep your roof trusses attached to your house. While most newer homes have been required to have them by code, older homes may not.
In addition, you can also help to minimize the possibility of hurricane roof damage by removing any branches that are hanging over the home from nearby trees.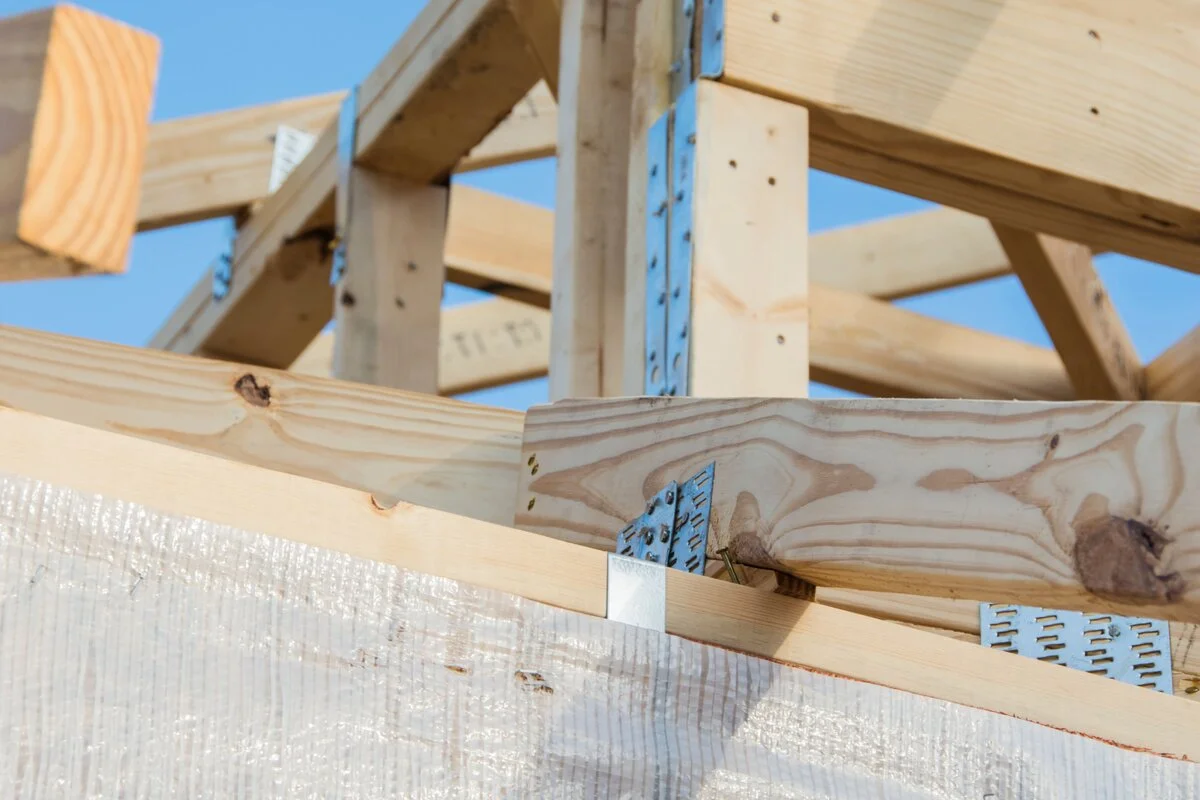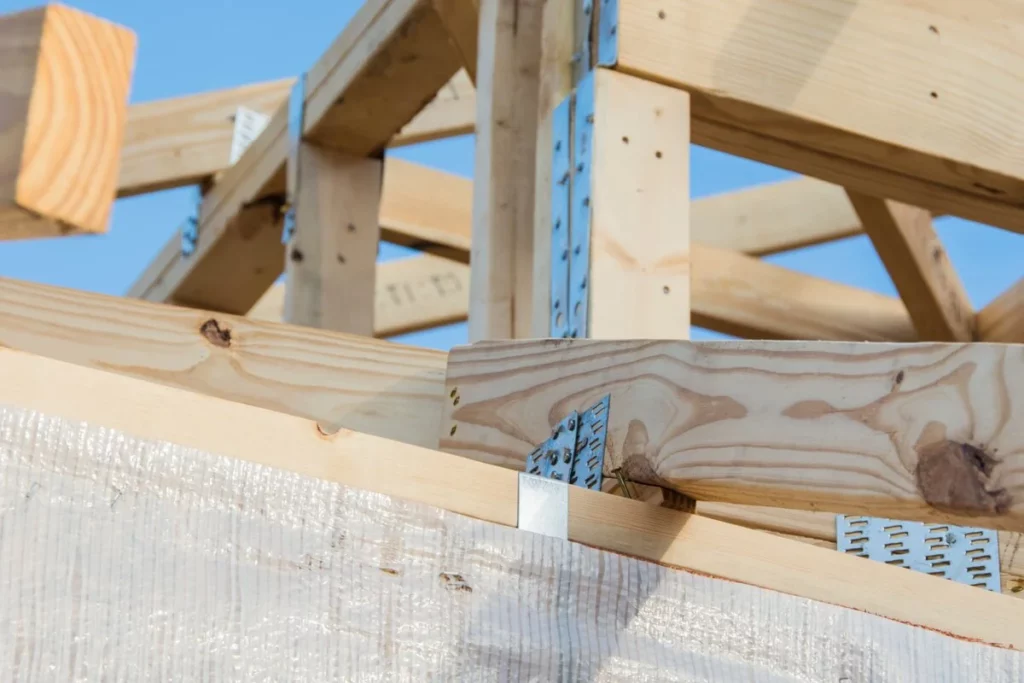 A Tip for Preparing In Advance of a Hurricane
Florida property owners are familiar with the advice to be "hurricane ready" when a tropical storm or hurricane is approaching. This typically means having food, water, prescription medications, and other emergency supplies like flashlights on hand.
However, it is also a good idea to ensure that you have easy access to a copy of your homeowner's insurance information. Additionally, it would be helpful if you had a list of potential companies that could do repair or roof replacement after the hurricane prepared and ready to go if your roof sustains damage.
Your Florida Roof and Hurricanes
As a homeowner or business owner in Florida, you know that our state is no stranger to hurricanes. The first thing to understand is that the risk of hurricane damage is not evenly distributed across Florida. The parts of our state that are most at risk are along the coast, where hurricanes can cause serious damage to property and infrastructure. However, even inland areas are not immune from hurricane damage. High winds and flooding can cause extensive damage to homes and businesses located several miles away from the coast.
Of course, the severity of the damage depends on the strength of the hurricane. A category 1 hurricane will cause less damage than a category 5 hurricane. However, even a weak hurricane can cause significant damage if it hits a particularly vulnerable area. For example, a category 1 hurricane that makes landfall in Miami is likely to cause more damage than a category 5 hurricane that hits a rural area of north Florida.
The other factor to consider is the frequency of hurricanes. In recent years, we have seen an increase in the number of hurricanes making landfall in Florida. This means that the risk of hurricane damage is also increasing. Even if the individual storms are not particularly strong, the increased frequency means that there is a greater chance that one will hit a vulnerable area and cause significant damage.
It is wise to do everything you can to prepare your roof (and the rest of your home) in advance for a hurricane. However, given the severity and unpredictability of some storms, there is no way to prevent all damage from occurring. Being aware of what you need to do to get your roof repaired or replaced quickly if there is damage is important.
Stronghold Roofing and Solar In and Near Lakeland, FL
As lifelong Polk County residents, we at Stronghold Roofing & Solar have seen many tropical storms and hurricanes, and our experienced team stands ready to help you if your roof sustains damage.
Whether you need a full roof replacement or modest roof repairs, we can assist with all your roofing service needs. We offer roof financing options that allow you to spread the cost of your new roof over manageable monthly payments. We can even work directly with most homeowner's insurance companies to ensure that your claim gets filed properly and in a timely fashion.
Contact us today for a free estimate.