Hurricane season is typically defined as the time of year when hurricane activity is most likely to occur. This varies depending on where you live, but it is generally considered to be from June 1 through November 30 in the US.
According to the National Hurricane Center, hurricane damage in Florida alone costs about $2 billion a year on average. The vast majority of this damage (92 percent) is caused by wind. The other 8 percent is from water, such as storm surge and flooding.
The hurricane season can be a very dangerous time, not just for people living in the hurricane's direct path, but also for homeowners whose roofs could be damaged or destroyed by the wind in a hurricane's outer bands.
Nonetheless, many homeowners in hurricane-prone areas do not think about their roofs until a hurricane is headed their way. By then, it is often too late to make repairs or prepare their home for a hurricane.
The best way to protect your roof during a hurricane is to maintain it regularly year-round. While there is no such thing as a completely hurricane proof roof, checking your roof regularly can help you identify any problems before they become a bigger issue. If you do have damage, make the necessary repairs as soon as possible prior to the arrival of severe weather.
Even if you do not live in a hurricane-prone area, it is still important to maintain your roof throughout the year. A well-maintained roof will last longer and be less likely to suffer damage during any weather events, including hurricanes.
Protect Your Roof During a Hurricane
There are a few things you can do to help prepare your roof for a hurricane. One of the most important things is to make sure your roof is in the best possible condition before the hurricane hits.
Repair any missing or damaged shingles, and make sure the roof is properly sealed and waterproofed.
If you have a metal roof, make sure all the screws are tight and there is no rust or damage to the metal.
If you have a clay or concrete tile roof, make sure the tiles are sealed and in good condition.
It is also important to ensure that your gutters and downspouts are clear of any debris so that water can flow freely and does not back up, which can cause damage to the roof.
Hurricane straps can be installed to assist in the retention of the roof in high winds. Hurricane straps are typically made of galvanized or stainless steel and are used to strengthen wood frame roofs and structures.
Preparing Your Home for a Hurricane
In addition to proper advance roof preparation, it is wise to take other precautions to keep your home and family safe if a hurricane is forecast for your area. Here are a few suggestions:
Install hurricane shutters or plywood to cover windows and doors.
Secure outdoor objects such as lawn furniture, grills, and bikes that can become flying projectiles in high winds.
Trim large branches from trees and remove lawn debris.
Move any valuable items inside that may be damaged by flooding
Fill up your bathtub and other large containers with water in case the power goes out and you need to flush the toilet or do laundry.
If you are ordered to evacuate, do so as early as possible.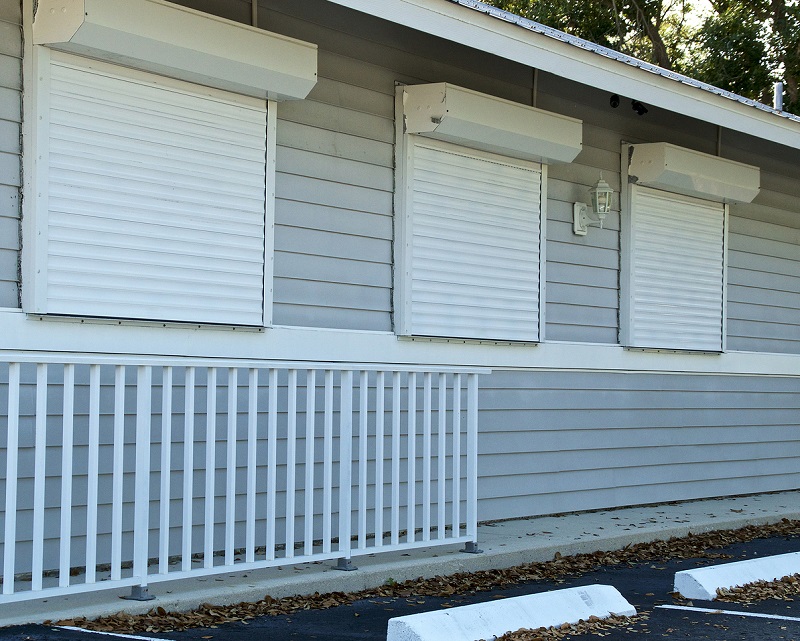 Stay safe during hurricane season by properly preparing your roof and home. By following these tips, you can help minimize the damage a hurricane may cause.
What Type of Roof is Best for Hurricanes?
The best roofs for hurricanes are metal roofs. They are hurricane resistant and can withstand high winds and flying debris.
A clay or concrete tile roof is the next best option. These are generally considered to be hurricane resistant roofs because they, too, can withstand the high winds and debris that hurricanes bring.
While a shingle roof is not the best roofing option for a hurricane, it can still be hurricane resistant if you take the proper precautions. One of the most important things is to install hurricane straps.
How to Install Hurricane Straps
If you are in a hurricane-prone area with a shingle roof and do not have hurricane straps installed, it is not too late to do so. Here is a basic guide on how to install hurricane straps:
Locate the rafters on your roof and mark where you will be installing the hurricane straps.
Drill holes in the rafters and install the hurricane straps using the screws provided.
Make sure the hurricane straps are tight and secure.
Repeat this process for every rafter on your roof.
If you have a metal roof, make sure the hurricane straps are attached to the metal screws.
Following these basic steps, you can help prepare your roof for a hurricane. However, while hurricane straps can be a great way to protect your home during a hurricane, it is important to remember that they are not a guarantee against damage. No roofing option is 100% hurricane-proof, so it is important to take other precautions as well.
Homeowners Insurance for Hurricanes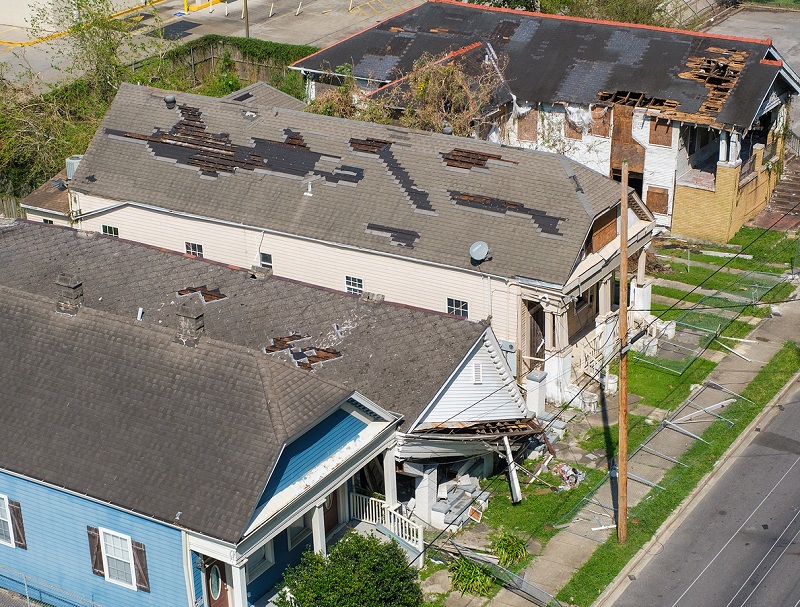 Does homeowners insurance cover hurricane damage to roofs?
The answer to this question depends on your specific homeowners' insurance policy. Some policies do cover hurricane damage, while others do not. It is important to read your policy carefully and understand what is covered and what is not. If you are not sure, contact your insurance company and ask.
Some homeowners' insurance companies provide reduced rates for homeowners whose roofs have wind mitigation features that allow them to better withstand the high winds from hurricanes.
It is always a good idea to document any efforts you take to hurricane-proof your home by saving receipts and photographs, even prior to any hurricane-related roof problems that arise. This will not only help protect your home from any damage in the event of a hurricane but also may help you with insurance claims.
Hurricane damage can be very costly, so it is important to take action as soon as possible. If the damage is not covered under your policy, you may need to file a claim with the Federal Emergency Management Agency (FEMA).
FEMA hurricane damage claims can be a long and complicated process, so it is important to have an experienced lawyer helping you through the process.
What to Do if Your Roof Was Damaged by a Hurricane
If your roof was damaged by a hurricane, you should contact a professional roofing contractor and your homeowners' insurance company as soon as possible. They will work with you to assess the damage and determine if the damage is covered under your policy.
Waiting for a roofing contractor who can fix a roof after hurricane damage is a common issue. More than 60% of homeowners affected by natural disasters wait more than two weeks for a contractor to arrive, according to the latest Insurance Journal/Trivia study. This is because there is often a huge surge in demand for roofing services and other home contracting services when storms hit specific areas hard.
While you are waiting for roofing services following a storm, there are a few things you can do to protect your home from further damage:
When the conditions are safe, remove trees or fallen tree branches from the roof if possible.
Cover the hole in your roof with a tarp or plastic sheeting that is anchored properly to keep any additional rain from getting into the home.
Make minor temporary repairs, such as replacing missing shingles or fixing damaged flashing, but only after getting approval from your homeowners' insurance.
Keep all the entrances to your home sealed and protected from the weather.
The primary consideration, of course, is ensuring your safety and the safety of your family. If hurricane damage is extensive enough that there may be structural problems with the roof or the walls, consider finding alternative lodging until you can be assured that the home is still safe to live in.
Here are some tips for finding a roofing contractor if your home was damaged by a hurricane: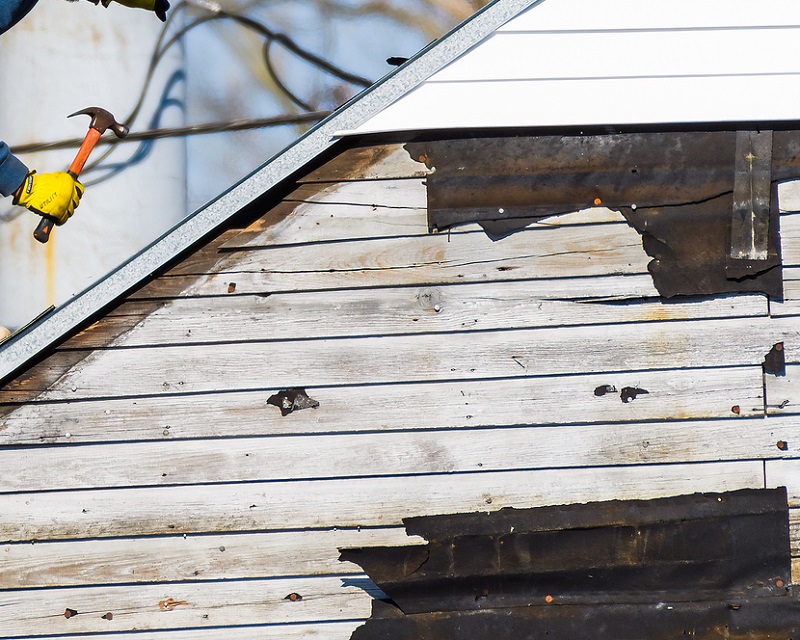 Ask your friends, family, and neighbors for referrals.
Check with the Better Business Bureau to see if the contractor is accredited and has any complaints filed against them.
Check the contractor's reputation and reviews online.
If possible, get at least three estimates from different contractors.
Make sure the contractor is licensed and insured.
Once you have decided on which contractor to use, get a written contract that includes the work to be done, the cost, and the payment schedule.
Make sure the contractor is hurricane-ready and has experience repairing hurricane damage.
Be wary of out-of-state roofers who arrive after a major storm. While some of these companies are genuinely out to provide much needed assistance, others are seeking to capitalize on the plight of desperate homeowners.
If you are not sure where to start, the Roofing Contractors Association of America (RCA) can help you find a qualified roofing contractor in your area.
It is advisable to have a roof inspection done following a hurricane or major weather event even if your roof has not suffered any visible damage or developed any leaks that are immediately apparent. A professional roofing contractor can assess whether there is unseen damage or other issues that might cause problems down the road. This is especially important in providing timely evidence for insurance claims if they are warranted.
In the event of a hurricane, stay safe and be patient. It may take a while for things to return to normal. But with the help of a professional roofing contractor and your homeowners' insurance company, you can get your home back to its pre-hurricane condition.
Roofing Depot of FL
Roofing Depot of FL is here to help with all your roofing needs following a hurricane or at any other time. As lifelong residents of Polk County, Roofing Depot's team has extensive experience providing roofing services following hurricanes and other severe weather events.
We offer the highest quality residential and commercial roofing services in Lakeland, Winter Haven, Plant City, and throughout the rest of Polk County and Central Florida. Our services include roof inspections, repairs, replacements, new construction roofing, and mobile home roofing.
We provide roof financing options that enable you to make predictable monthly payments for your roofing project. Our experienced and knowledgeable roofing professionals may work directly with your homeowners' insurance provider to ensure that any insurance claims are properly handled and submitted in a timely manner.
If you need hurricane repair or roof replacement, contact Roofing Depot of FL. We'll knock your shingles off!