In some homes, the roof accounts for a substantial percentage of the visible exterior, so keeping it looking good is essential to the home's overall curb appeal. However, even houses with less visible roofs should consider periodic roof cleaning as needed to maximize their lifespan.
Why Do Roofs Look Dirty Over Time?
Over time, roofs can accumulate dirt, debris, and buildup from various sources such as air pollution, bird droppings, tree sap, and other environmental factors. Additionally, high humidity, rainfall, or water stagnation can cause mold and algae to grow on the surface of the roof or in its crevices.
All of these factors contribute to a roof's overall appearance becoming dull and dirty. In addition to aesthetics, a dirty roof can be home to mold and algae, which can cause damage by holding moisture against the surface.
If your roof could use some sprucing up, there are several options to consider. One of those alternatives is pressure washing, but before you go down that path there are a few things you should know.
What Is Pressure Washing?
Pressure washing is a popular exterior cleaning method that involves the use of high-pressure streams of water to remove dirt, grime, and other contaminants from hard surfaces. Pressure washing is often used on driveways, patios, sidewalks, siding, decks and other outdoor surfaces to give them a cleaner look.
In most areas of the country, it is possible to hire professional pressure-washing companies who use commercial-grade machines and have experience in the proper methods for cleaning without causing damage. A wide variety of DIY pressure washers for homeowners' use are also available and can be found at most big-box home improvement stores and other retailers.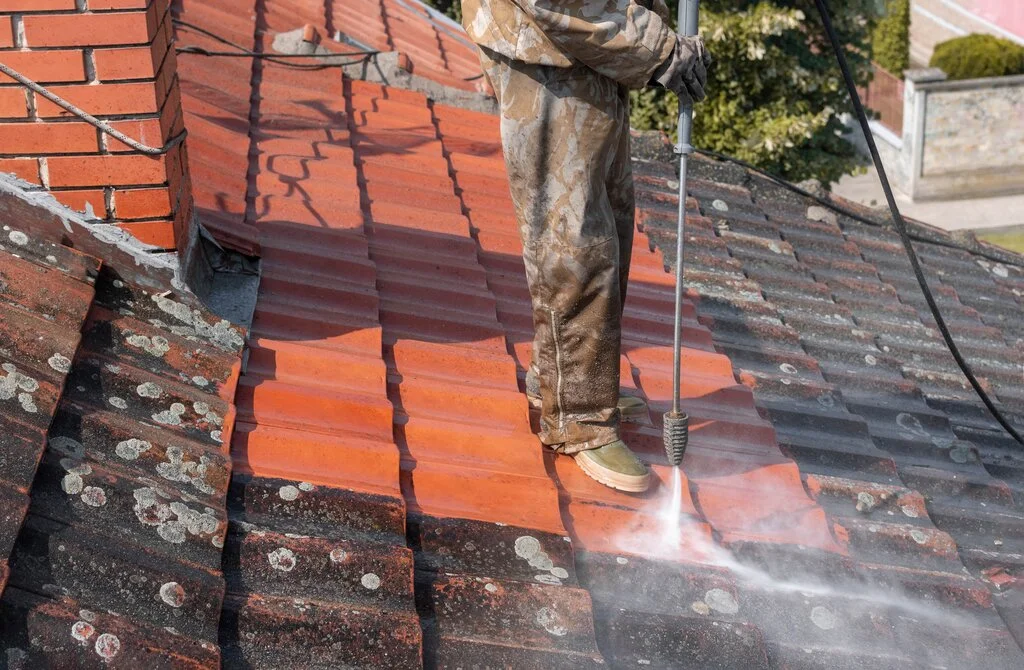 Is Pressure Washing Good for Roofs?
Many homeowners find pressure washing satisfying, as the improvement is usually very clear and immediate. However, while pressure washing is effective, it may not be a wise choice for roofs.
Here are a few things to consider that might influence your decision about whether or not to power wash your roof.
Damage to the Visible Roofing Material
The stream of water from a pressure washer can be as high as 4,000 pounds per square inch (psi). Compared with the average 20-30 psi from an average garden hose, that is a very strong stream and more than enough to cause damage.
The high-pressure stream of water from a pressure washer can erode the granules on asphalt shingles, which can cause them to become brittle and break down sooner. With metal roofs, the pressure can cause seams to become loose and allow for water seepage. Likewise, tile roofs can suffer breakage or cracks.
Damage to the Underlying Roof Surface
Pressure washing can cause splintering and other damage to the wood decking beneath the outer roofing material, which can weaken its structural integrity. This can be difficult to see, even for a professional roofing company, so damage can go unchecked until the problem causes visible signs like sagging.
Water Intrusion
Because the stream of water from a pressure washer is so strong, it can cause water intrusion into crevices, which can cause further damage over time.
Water intrusion can lead to the growth of mold and mildew, which can weaken the roof. It can also cause corrosion, fastenings to come loose, and other damage that may not be visible on the surface.
Long-Term Damage
Pressure washing too often can cause long-term damage that leads to more frequent roof repairs and overall roof replacement sooner than later. Since there are other options available, this is an unnecessary cost for keeping your roof looking good.
Warranty Issues
Roofing materials often come with a manufacturer's warranty, but pressure washing may void that if the warranty specifies the conditions for cleaning.
Not Always Effective
Pressure washing is not always as effective at removing certain types of stains such as tree sap or mold and algae.
Pressure Washing Roof Cost
Professional pressure washing for a roof can cost anywhere from $200-$400 on average, but the exact price depends on the size of your roof and any additional services that may be required.
Being On the Roof Can Be Dangerous
Homeowners who decide to pressure wash their roofs themselves should consider that it can be very dangerous. Even in dry conditions, accidents are not uncommon. Wet roofs can be very slippery, so there is a serious risk of falling off the roof.
In addition, climbing a ladder and hoisting a 20-60 pound pressure washer onto the roof can itself be quite challenging and dangerous.
Alternative Ways To Clean Your Roof
The best way to keep your roof looking great is to clean off debris like leaves and twigs often since they can be a major culprit in causing staining. If you live in a humid area that is prone to streaks from algae or lichen growth, roofing manufacturer GAF suggests that you could also consider using algae-resistant shingles like StainGuard® or StainGuard® Plus.
Here are a few alternative ways to clean your roof:
Soft washing is a low-pressure, chemical-based cleaning method that removes dirt and grime without damaging your roof. This technique uses a special blend of detergents and biodegradable cleaners which are applied with a low-pressure stream of water.
Hand scrubbing is the most economical and least intrusive way to clean your roof. This method requires a brush and some elbow grease – you can use a stiff-bristled brush for tougher stains or even a soft-bristled one for more delicate surfaces.
Dry cleaning is a method that involves using a brush, vacuum, or blower to remove dirt and debris from the roof without the use of water. This method is especially useful for removing leaves, twigs, pine needles, and other organic material that can easily be blown away.
Non-abrasive detergents are a great way to clean your roof without the need for high pressure. These types of cleaners are tough on dirt and grime, but gentle enough not to damage your shingles or other materials. (If you opt for something stronger, be aware of the potential damage to surrounding landscaping if it leaks off the roof onto the ground.)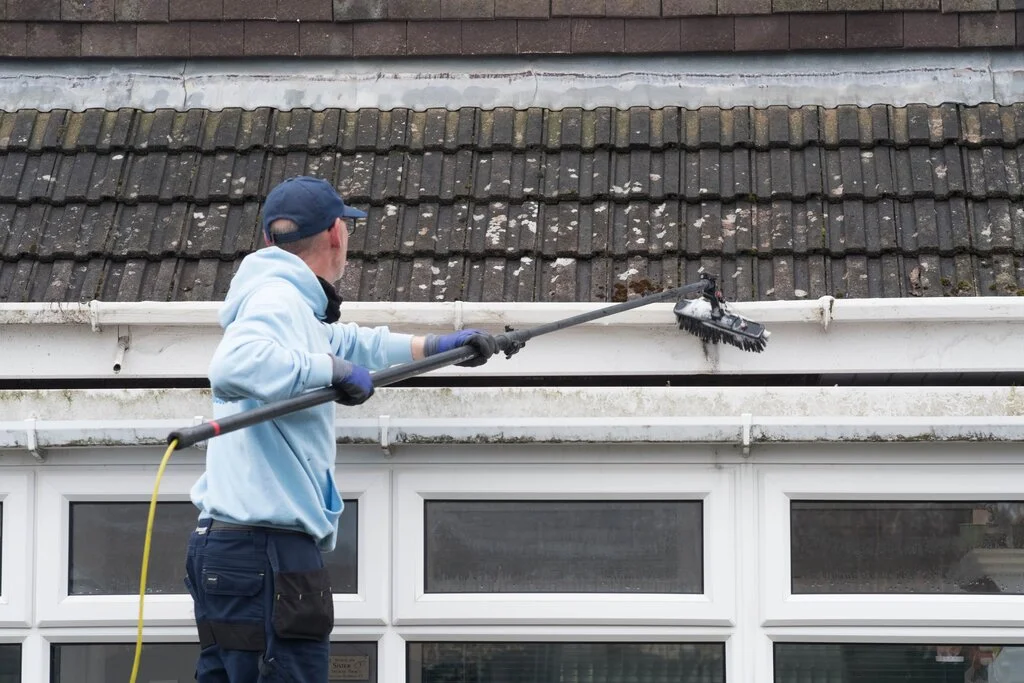 Stronghold Roofing & Solar In & Near Lakeland, FL
When you need roofing services, from a roof inspection to a full roof replacement, contact the best roofing company in Florida – Stronghold Roofing & Solar.
Our team includes experienced roofers and a staff committed to transparent pricing and on-time service. As a Lakeland roofing company, we serve homeowners and business owners throughout Polk County and all of central Florida.
Contact us for a free roof estimate!