Homeowners getting a roof installation or roof replacement are faced with many choices, one of which is the color they want to use. A home's roof can have a big impact on its overall look since the roof can account for up to 40% of the visual exterior, so getting the right color is important.
Roof shingles and other roofing materials are available in a wide variety of different colors. Local roofing companies often have dozens of samples from which to choose, but black is one of the more common. Here are a few pros and cons of a black roof:
Pros Of Black Roofs
Design Flexibility
Black can work with a variety of roof types and home styles while blending in with the surrounding neighborhood. It can be dramatic in certain uses, but generally black is one of the most flexible colors.
Lower Energy Costs
Black roofs can help reduce energy costs in both summer and winter. In summer, the dark color absorbs heat from the sun, keeping the building cooler. In winter, the black roof helps to retain heat, reducing the amount of energy needed to heat the building.
Life Expectancy
Black roofs can also extend the life of your roof. The dark color helps to prevent solar degradation, meaning the materials will last longer before needing to be replaced.
Curb Appeal
Black roofs can add curb appeal and value to your home or business. The unique look of a black roof can make your property stand out from the rest, or it can help your home or building blend into the neighborhood or environment.
Cons of Black Roofs
Heat Absorption
Black roofs can absorb more heat than lighter-colored roofs, which can cause the building to be hotter inside. This is especially true in hot climates where air conditioning costs can be high.
Cleaning Requirements
Black roofs can also show dirt and grime more easily than lighter colors. This means they may require more frequent cleaning to keep them looking their best.
Premature Deterioration
Black asphalt shingle roofs may not last as long as expected in hot climates, as the heat buildup can cause curling of the shingles.
Code Restrictions
In some areas, black roofs may not meet code requirements for reflectivity. This could impact your ability to get a permit for your new roof.
Overall, black roofs have both pros and cons that should be considered before making a decision. If you are looking for an energy-efficient and unique-looking roof, a black roof may be the right choice for you. However, if you are concerned about the increased heat retention or cleaning requirements, you may want to choose a different color.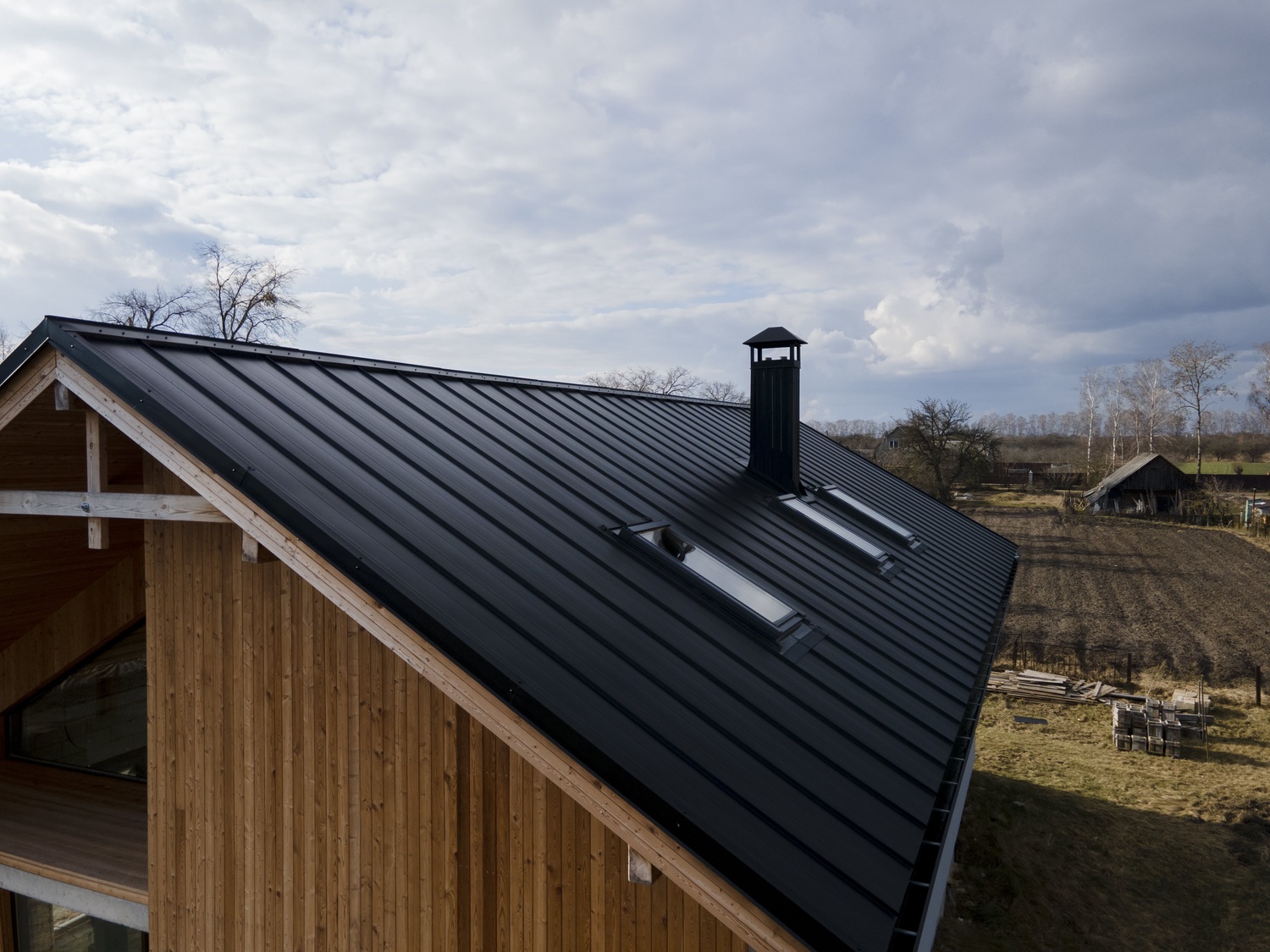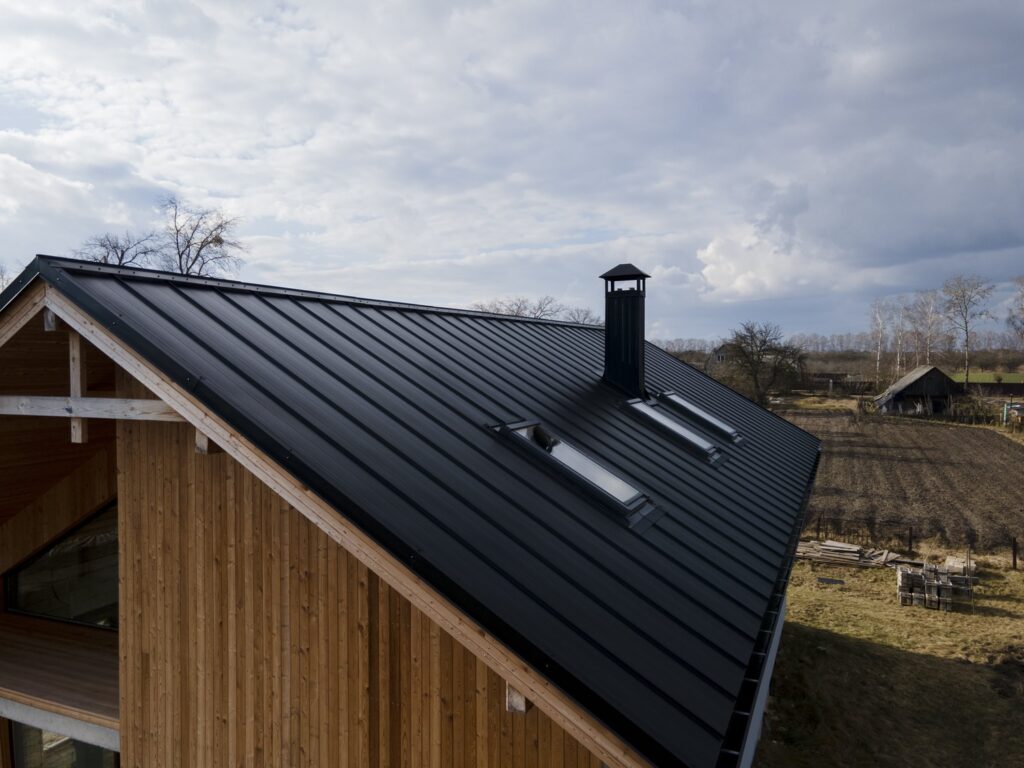 What Roofing Materials Are Available in Black?
Many people are familiar with standard black asphalt shingle roofs, but other roofing materials are also available in black or dark colors.
Asphalt shingles are available in an enormous variety of colors, but black and grey are the most common. In fact, traditional black three-tab shingles are used on more homes than any other roofing material and color.
Slate is a naturally dark-colored material, and even grey slate roofs can appear black from a distance. As a natural material, slate often has color variations, but the overall look is dark.
When most people think of clay roof tiles, they envision a terra cotta color. However, concrete and clay roof tiles are actually available in dozens of other colors, including black or other dark colors.
Dark colors are some of the most popular choices for metal roofs. In fact, one metal roofing manufacturer offers three different variations of black, along with ten other dark color options.
Solar shingles or solar tiles are roofing materials that are made of solar cells, which are naturally black. Solar panels, likewise, are large black panels mounted on the surface of a roof. Depending on how many are used, solar panels can have the effect of making the whole roof look black.
Are Dark Roofs Or Light Roofs Better For the Environment?
As interest in the environment has grown throughout the world, so too has the debate about which color roofs are better. Not surprisingly, black roofs absorb more heat from the sun, just like wearing black clothing on a bright, sunny day. White roofs reflect 60 – 90% of the "near infrared" radiation from the sun, so they naturally stay cooler.
So-called "cool roofs" absorb less of the energy emitted by the sun's rays and thus stay significantly cooler than conventional roofs – up to 50℉ cooler! The ability of cool roofs to shed thermal infrared radiation can save energy used for air conditioning, thus also leading to cost savings.
According to the website energy.gov, cool roofs may last longer because they do not suffer as much of the effects of extreme heat. Here are a few other benefits they cite:
Using cool roofs on many buildings in a community can help reduce the so-called urban heat island effect by reducing the outside air temperature.
The demand for electricity can be reduced as reliance on air conditioning is lessened, and this can help prevent power outages.
Decrease pollution from power plants used to generate electricity.
What About Green Roofs?
"Green roofs" have become popular in recent years, but it is important to understand that green in this usage is describing the fact that these roofs are covered in plants or vegetation, and not so much describing the color.
For homeowners concerned about the environment, green roofs may be the ultimate solution. Also known as eco-roofs, they offer economic benefits like energy savings and, in some cases, increased property values. Green roofs can also help manage stormwater runoff, improve air quality, reduce greenhouse gas emissions, and – when used on large commercial buildings – increase urban green space.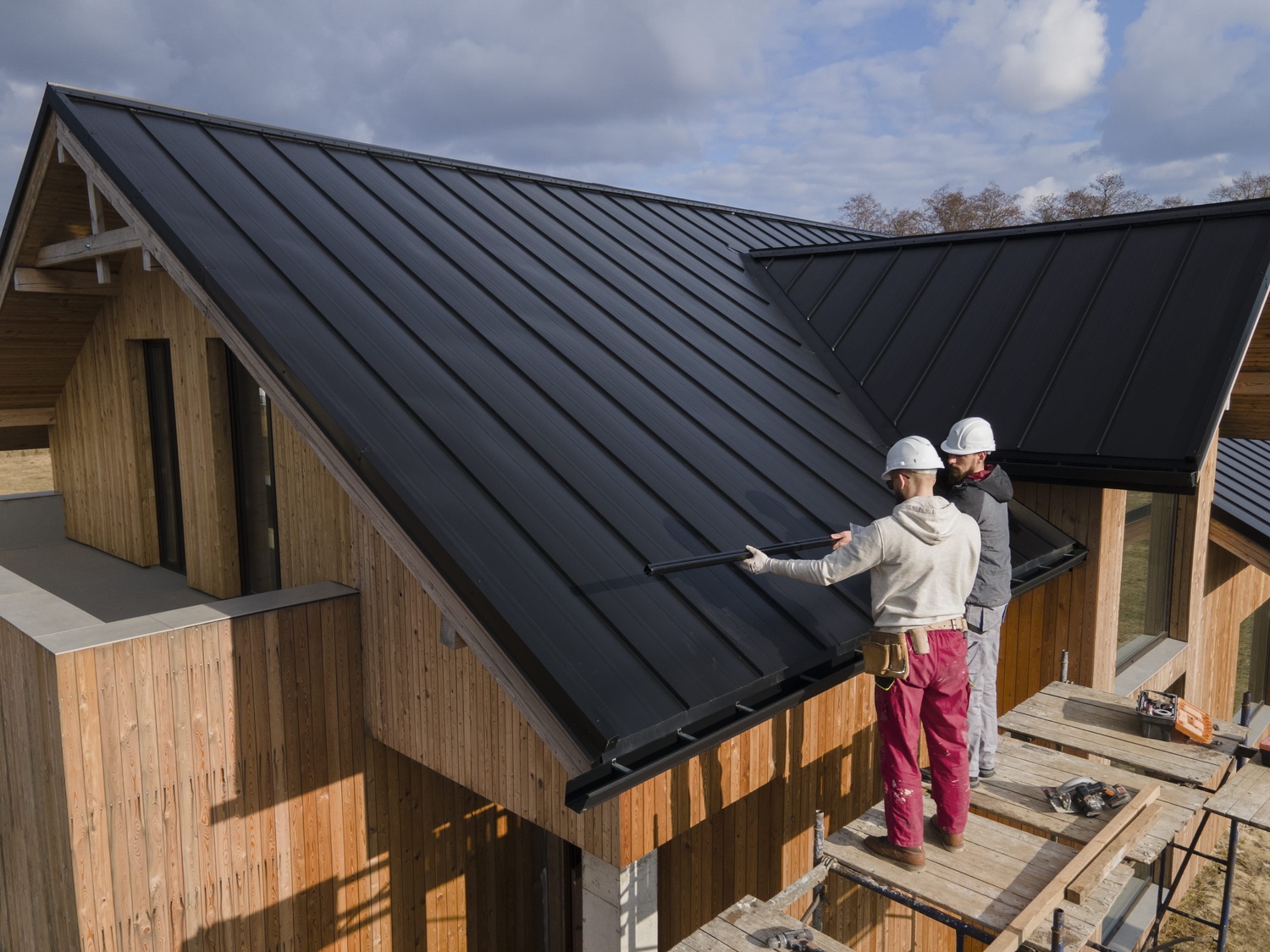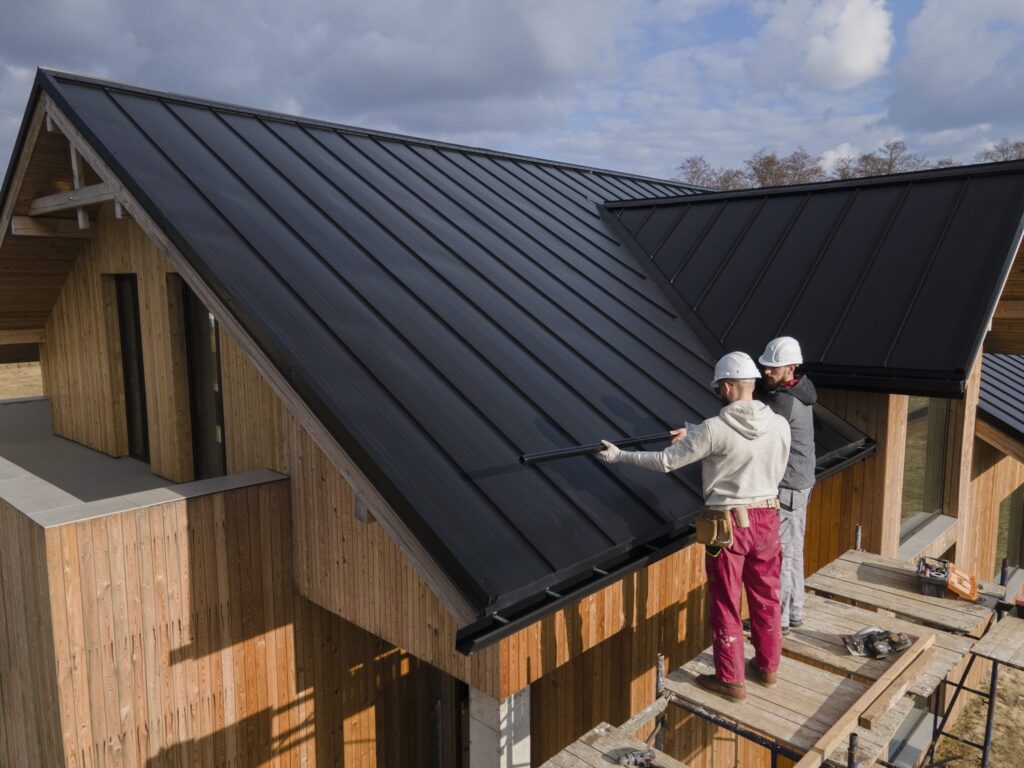 What Color Roof Works Best For My Home?
A new roof is a major investment that most homeowners do not make very often, so the choices can feel overwhelming. A roofing contractor can provide important guidance in choosing the best roofing material for your home, but the decision about color ultimately is a personal one.
Here are some suggestions from roofers and roof designers concerning color selection:
In some homes, the roof can be a big part of the visual exposure of your home. Remember that something that looks good in a small sample might look very different when it takes up 40% of your home's exterior.
If you are doing a roof replacement, do not feel constrained by the color of your existing roof. There is no rule that says you must keep it the same – unless local homeowners' association or locality rules apply!
Consider the architectural style of your home. For instance, if your home has a very traditional style, then a roof that is a traditional color might be the best choice.
Consider the rest of the exterior. A black roof on a white home creates high contrast, whereas a white roof on the same home might look dull and uninspiring.
Think about resale value. If you are thinking of selling the home in the foreseeable future, a common, neutral color might be a better choice than something more striking.
Be sure that you see not only the roofing material but also the color you choose in person. If possible, get a sample to take home so that you can see how it looks in the light at different times of the day.
Ask for feedback! The choice of a roof color is not easily undone, so consider asking friends, family, and neighbors for their opinions. Your roofing company might even be able to recommend a design professional to help you feel confident in the color you choose.
Try out the color at home using one of the free tools available online. The GAF Virtual Home Remodeler, for example, allows you to see how different color shingles will look on your specific home by uploading a photo.
There is a nearly endless array of choices for the color of your roof, from Nantucket Morning or Patriot Red shingles to Matte Black or Mansard Brown metal – and everything in between. There are gradations, combinations, and different profiles that affect how a color looks. While choosing the perfect color can be daunting, remember how ultimately rewarding it will be when you see how your new roof looks on your home.
Maintaining Your New Roof
Regardless of the color you choose for your new roof, once it is installed it is important to start planning for what you can do to keep it looking good and functioning properly.
Here are a few quick tips:
Remove debris from the roof, gutters, and downspouts as needed. Leaves, twigs, and even small branches that go unnoticed can cause mold or algae to grow, or can lead to deterioration of your roofing materials.
Do a visual inspection periodically and after heavy storms. Keep in mind that being on the roof is dangerous, and, for some types of roofing materials, can cause damage. If you are unsure, look from a ladder or use binoculars.
Have a professional roof inspection done at least every 2-3 years. Roofing contractors often will do inspections at little to no cost to the homeowner. These professionals are able to identify potential problems much more effectively than most homeowners can.
Make needed roof repairs as soon as possible, since even small issues can quickly become big (and expensive) problems. For instance, stains on the ceiling inside may not seem urgent, but it is likely that they have been developing for some time due to a problem that could be getting worse.
Roof maintenance is often overlooked by homeowners because they are "out of sight, out of mind." However, just as with any other component of your home, taking proper care of your roof can save time and money down the road.
The Best Roofing Company in Florida
Roofing Depot of FL is dedicated to helping our customers make the best decisions when it comes to their new roofing needs – from the color to the choice of which roofing material to use.
We have been providing residential and commercial roofing services in Lakeland and throughout Central Florida for years. In addition to roof installations and replacement, we also offer inspections, maintenance, and repairs of all types of roofs.
We offer risk-free roof inspections, free estimates with transparent pricing, roof financing, and we can even work directly with homeowners' insurance companies.
Roofing Depot of FL. We'll knock your shingles off!