A roof is a significant investment for most homeowners, so they want to be certain that they always take the appropriate steps to make it last as long as possible. However, all roofing materials have a finite lifespan, so at some point, your home's roof will need work.
When you need a roof replacement or roof repairs, it is usually best to hire a local roofing company. There are several benefits to seeking out a business that is located in and operates within the same area as you.
Benefits of Hiring a Local Roofing Contractor
There are several benefits to hiring a local roofing company rather than an out-of-town one.
Familiarity With Local Requirements
One of the advantages is that local companies are more likely to be familiar with the building codes in your city or town. This means that any work they do will meet all safety and legal requirements, helping to ensure that the job is done correctly.
Familiarity With the Environment
Many roofing materials fare better in some parts of the country than in others. Local companies also have an understanding of the weather conditions in your area and may be able to advise on materials that would fare better than others given your climate.
Availability for Follow-Up
Choosing a local roofing company may help when it comes time for roofing services like roof repairs or roof replacements down the line. It is likely that the same company will be familiar with your property and can provide quicker service when needed. Because they are already familiar with the type of materials previously used, there is a good chance that any replacement parts or components can be sourced quickly and easily.
Potentially Lower Costs
The cost of services may also be lower than those offered by larger companies who need to factor in extra expenses for travel. As local businesses have shorter distances to travel, they may offer more competitive rates while still providing exceptional service.
Supporting A Local Business
In recent years, consumers have begun to value their local businesses and look for ways to support them. Supporting a local business is beneficial to the community as it helps keep money circulating within the area. Not only does this help the economy but it strengthens relationships between local merchants and customers – something not often found with larger, out-of-town businesses.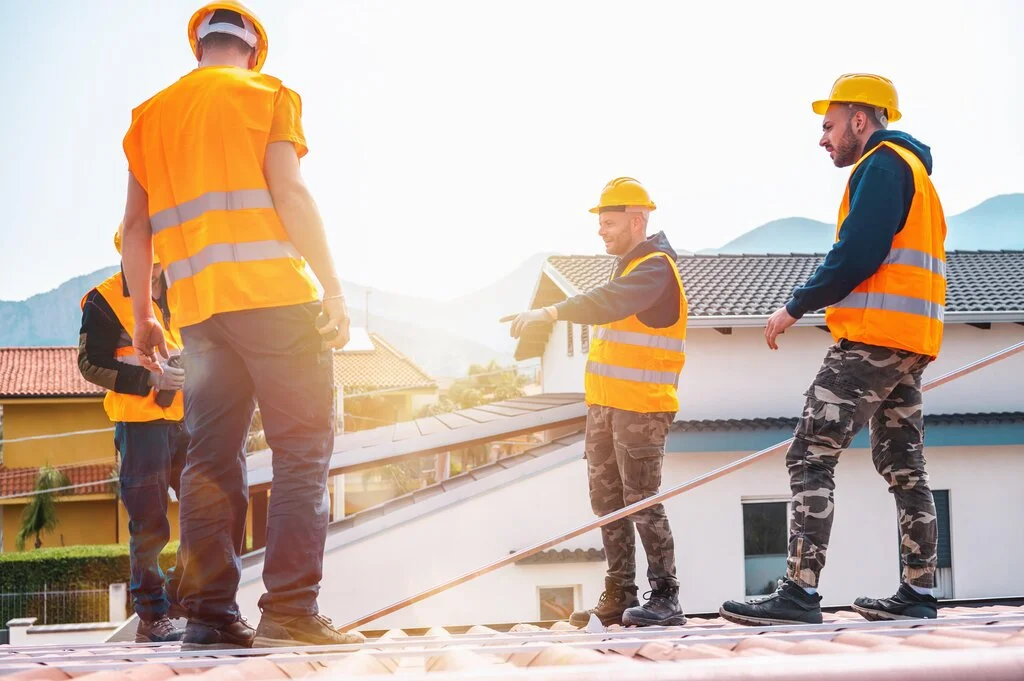 Problems With Out of Town Roofers
While not all out-of-town roofers are unscrupulous, there are all too many stories where homeowners got ripped off. Here are a few of the most common problems:
Unsolicited Door-to-Door Sales – Beware of out-of-town companies that knock on your door telling you that they have seen a problem with your roof. This is an attempt to pressure you into making a purchase without properly evaluating the condition of your roof.
Overcharging for Repairs – Homeowners may be charged far more than necessary when out-of-town companies are used. They may try to convince you that certain repairs need to be done urgently and take advantage of the situation.
Poor Workmanship – Out of towners often lack the experience and expertise needed to do a good job, meaning you could end up paying for work that will need to be replaced or fixed in the near future.
Subpar Materials – The materials used may not meet local building codes, which could lead to costly repairs or re-roofing down the line.
No Accountability – Roofers who are only in an area temporarily do not have the same level of accountability as a local company. If something goes wrong, homeowners may have no recourse.
Lack of Licenses or Insurance – A legitimate local roofing company will have all the proper licenses, as well as insurance that covers both the property owner and the roofers doing the work. Out-of-town roofers may not have those important things.
Of course, the worst-case scenario for homeowners is when out-of-town companies arrive on the heels of a major weather event like a hurricane, tornado, or blizzard, seeking to capitalize on the many homes that suffered damage. Desperate homeowners with roofs in need of repair are susceptible to not doing the due diligence that is necessary as they try to resolve their issues quickly.
Disreputable companies will often require a substantial down payment (or even payment in full) before they will begin any work. After bilking the homeowners, however, they simply skip town, leaving the work undone and the property owners with little recourse.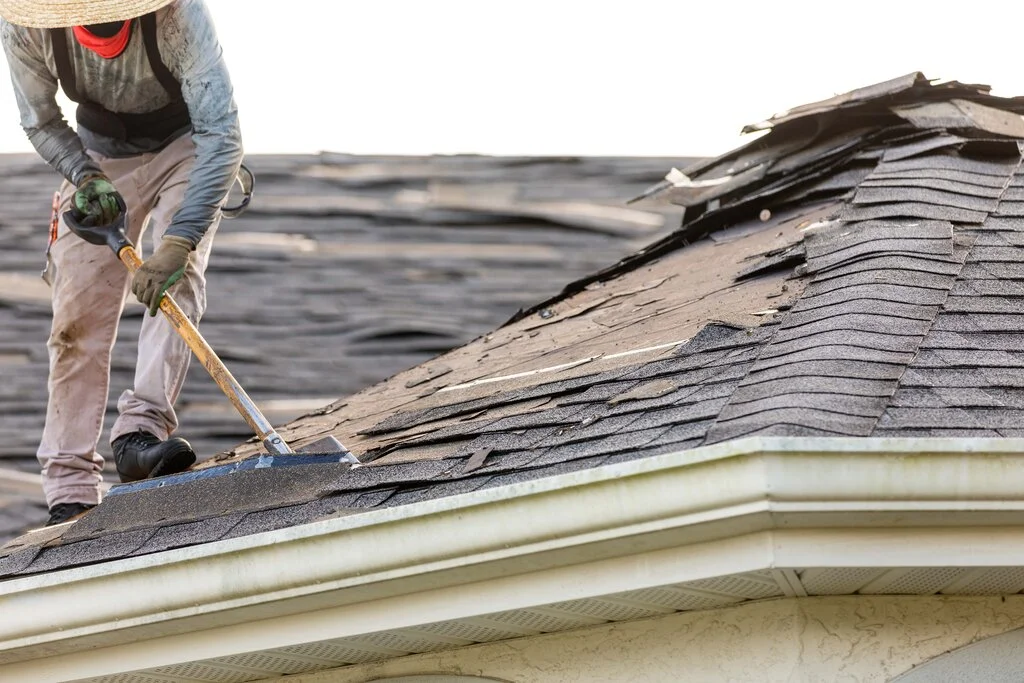 What To Do If You Have Been Ripped Off by an Out-of-Town Roofer
If you have been ripped off by an out of town roofer, there are several steps you can take:
Contact the local and state authorities to report any fraudulent activity.
Seek legal advice from a qualified lawyer to see what your rights are in the situation.
Document all communication with the roofer, such as emails and phone calls, to support your case if necessary.
File a complaint with the Better Business Bureau or other consumer protection organizations.
Pursue compensation through small claims court if applicable.
Of course, following severe weather events, many reputable contractors will also come into town to help with the high level of demand that might take months (or even years) for local companies to handle. The main point is that homeowners should always do their research, including checking for licenses and insurance, and getting references from previous customers. Even in a challenging time when repairs are needed quickly, a little due diligence can go a long way to ensuring that your roof will get back to working condition and stay that way for a long time to come.
Stronghold Roofing & Solar In & Near Lakeland, FL
When you need a Lakeland roofing company for repairs, roof replacement, or an inspection, you will be happy to know that the best roofing company in Florida is right here – Stronghold Roofing and Solar.
We are available 24/7 in the event of emergencies, and we offer free roof inspections and roof financing.
As lifelong Polk County residents, we are committed to the satisfaction of all our clients throughout the central Florida area.
Contact Stronghold Roofing and Solar today!