Although every home has a roof, many homeowners do not have much experience or knowledge about roofing. As a result, when a roof repair or roof replacement is needed, they may wonder about the feasibility of doing it themselves.
The main reason for considering doing a DIY roof is obvious – homeowners often foresee a significant savings in the cost of this major investment. Before embarking on a new roof installation, though, homeowners should understand what they might be getting into should they decide to attempt it on their own.
The process for installing a new roof depends in large part on the type of roofing material that is being installed. For example, metal roofing has different requirements than shingle roofing. A steeply pitched roof has different challenges than a flat or low slope roof.
Asphalt Shingle Roof Installation
Asphalt shingles are by far the most popular type of residential roofing in the US. Some estimates suggest that 80% of homes have shingle roofs. The popularity is a result of several factors.
Asphalt shingles are one of the most affordable options, far less expensive than options like slate, clay or concrete tiles.
Because of the popularity of shingles, most roofing contractors have experience with installing them.
They are available in a wide variety of styles, colors, and textures, allowing homeowners to create a unique design aesthetic that aligns with the exterior of their home.
They are relatively easy to repair should there be damage.
Reliability and durability are good. Depending on the specific type, some asphalt shingles can last as long as 50 years.
Despite their ubiquity, asphalt shingle roofs are a complex system that must be installed properly to effectively protect a home. Here is a general outline of the steps involved in installing a shingle roof.
Remove the old roof. In the majority of cases, existing roofing materials will need to be removed. This means tearing off old shingles and ensuring that nails have been removed or pounded flat. The old roofing will need to be disposed of properly.
Inspect the roof decking to ensure that it is solid, and the roof structure to be sure that it can continue to support the weight of the roof.
Install drip edge, which is a type of metal flashing that is placed along the eaves and gable ends of the roof to protect the wood structure under the shingles.
Underlayment is installed next. This layer lies between the outer layer of shingles and the sheathing. It provides an additional layer of protection from the elements to ensure that the roof remains free of leaks.
Felt paper or "tar" paper may be added, rolled out in short sections and stapled to the roof deck.
Special care should be taken around roof valleys with the underlayment and felt paper.
Starter shingles (or starter strips) help waterproof the eaves and gables and provide a straight line for the field shingles to be laid against.
Finally, begin applying the shingles on the body of the roof, starting at the bottom and working toward the top. They should be laid in an overlapping pattern and secured with nails.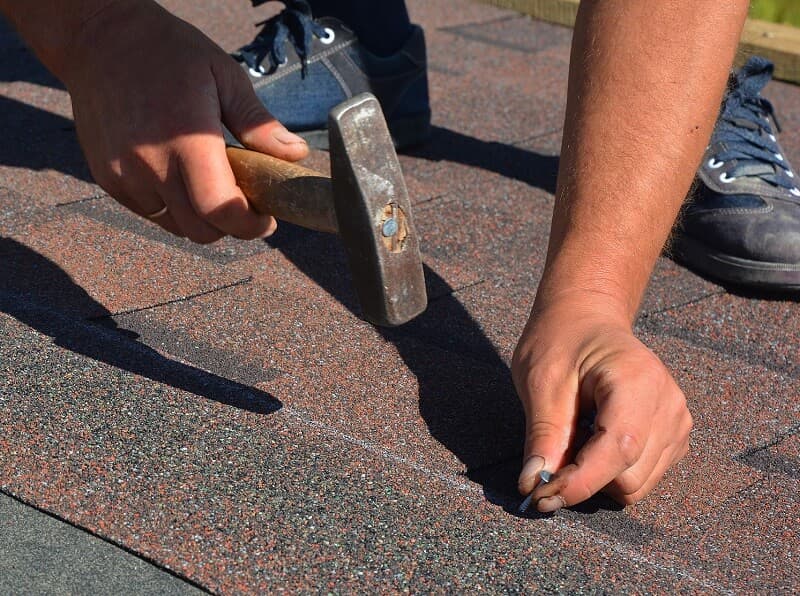 Flashing helps prevent water damage around skylights, chimneys or other roof projections. Flashing is typically made of aluminum, copper, or steel cut to fit securely.
A ridge cap is installed at the peak of the roof to overlap the two opposing sides. This provides protection in this high-stress area as well as visual appeal.
Areas around flashing will need to be sealed.
All debris should be cleared and the entire roof inspected to ensure that there are no exposed nails or gaps in flashing.
The area around the home should be carefully cleaned so that any loose nails or shingles from the old roof or construction of the new roof have been disposed of properly.
The old roofing will need to be taken to the appropriate facility for safe disposal or recycling.
While a professional roofing contractor might make the installation of a new asphalt shingle roof look easy, the fact is that it requires knowledge, special tools, and a commitment in terms of time and the willingness to do it right.
Metal Roof Installation
Metal roofs are becoming increasingly popular in the United States, thanks to some of these benefits:
Metal is available in a wide variety of options that can work with virtually any style of home. From standing seam metal roofs to roofs that resemble natural slate or clay tiles, manufacturers have continued to produce newer and more diverse types of metal roofs.
Metal is very durable, with many roofs having an expected life span of 40 – 70 years or more depending on the climate and other conditions.
Metal roofs require minimal ongoing maintenance, which can result in savings in the long run.
Metal roofs are environmentally friendly. Most have at least 25% recycled content and are also completely recyclable at the end of their life.
Because metal roofs reflect the sun's UV rays, they can help reduce energy costs by 10-25%.
Although the upfront cost of a metal roof may be more than asphalt shingle roofing, the lifetime cost may be less due to a longer lifespan and fewer repairs.
As with shingle roofs, metal roof installation is a process that can be more complex than it might appear. As a general rule, metal roofers follow these steps when installing a new residential roof:
Old roofing is typically removed before installing a new metal roof, though it is sometimes possible to install one directly over asphalt shingles.
If the old roof is not removed, be sure that the roof sheathing and underlying supports are solid and do not need to be repaired or replaced before beginning.
Install roofing underlayment. Follow specific guidelines from the manufacturer, since different types of metal require different underlayment.
Install drip edges along the eaves and rake of the roof.
Add sealant tape along the drip edge.
Install the metal, starting at the eave and working toward the peak. Be certain to follow the manufacturer's guidelines for the placement of screws, and do not overtighten the screws.
Install the ridge cap.
Inspect the roof to ensure that all screws are installed properly, and remove any debris.
Clear the ground around the home to remove any unwanted nails or old roofing materials.
Take the old roofing materials somewhere to be disposed of.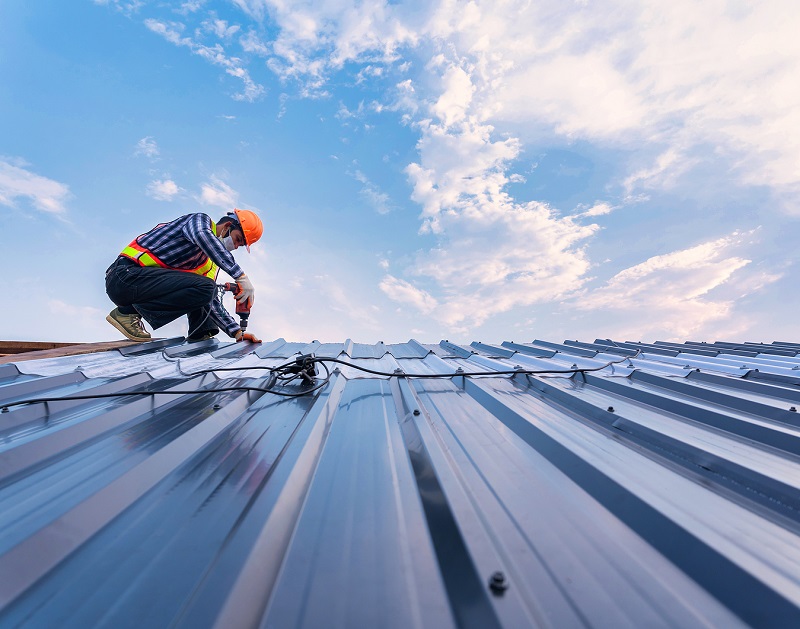 If a roofer contractor is hired to install a new metal roof, it is important to find someone with experience. Metal roofs are less common than asphalt shingle, and using a roofer without the right knowledge and experience might lead to future problems.
Installation of Other Roof Types
There are a variety of other materials used on homes throughout the country, including:
Natural slate
Ceramic tiles
Clay tiles
Concrete tiles
Wood shakes
Flat roofing
Mobile home roofing
Each of these requires a unique process, knowledge, and tools. Most homeowners do not have the ability to install a roof of these types.
While homeowners may be tempted to be frugal when replacing a roof, professional roofing contractors can offer some important benefits that compensate for the added cost compared with doing it yourself:
Manufacturers of some roofing materials require that they be installed by licensed contractors to be eligible for warranties.
Experienced roofing contractors have access to the full range of materials and can provide guidance in selecting the best option for a given home and location.
Roofers can work quickly and efficiently, which can be especially important in situations where damage has occurred or in climates that get frequent precipitation.
Professional roofers know and understand local building codes and can ensure that your roof is installed properly and inspected as required.
Usually, a roofing company will take responsibility for obtaining any work permits that are required.
Some roofing contractors offer workmanship warranties that are in addition to the material warranties provided by manufacturers.
If there are issues down the road, a roofing company might be able to fix them at low or no cost.
Professional roofers have the knowledge and tools to do the job right – and to be safe while doing so.
Some roofers offer roof financing options to help cover the cost of the roof.
Homeowners insurance companies sometimes work directly with roofers to ensure that claims and documentation are filed properly and on time.
Roof Installation Safety Tips
Of course, with any work that is elevated off the ground and requires the use of potentially dangerous tools, it is important that safety always be put first. Even professional contractors who regularly perform roofing services risk serious injury, so DIY homeowners should be extremely cautious.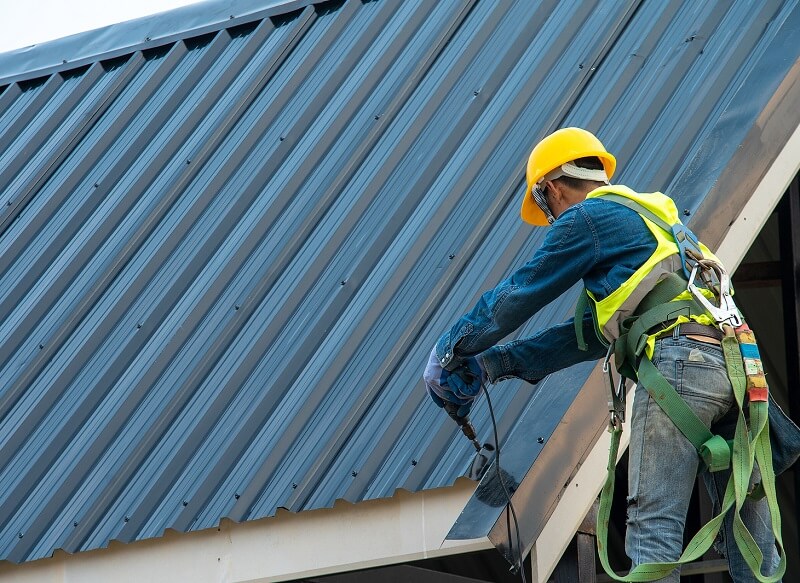 For homeowners considering installing their own roof, here are some important safety tips:
Always wear appropriate attire, especially shoes. Roofs can be slippery, even when they are not wet, so footwear with appropriate traction is one of the most critical safety elements.
Do NOT go on a roof alone, even just to perform a roof inspection. Have someone on the ground to help hold the ladder and be present in case of an accident.
Avoid going on the roof if it is raining or windy, even if the roof is leaking.
Before climbing a ladder, inspect it for safety and be sure that it is set on a level surface.
Do not exceed the maximum load for the ladder.
The height and slope of a roof can be scary, even for people not afraid of heights.
If doing roof work, be sure that the area around the house is blocked off to keep people and pets on the ground safe.
Do not carry heavy loads of materials up the ladder.
Most homeowners should consider contacting a few professional roofing contractors if they are in need of a new roof. When factoring in the cost of materials and the time involved, having a professional roofer often turns out to be the most cost-effective option.
It is also important for homeowners to be aware that installing a new roof themselves may be a violation of local building codes and could impact warranties. Similarly, homeowners insurance could be impacted by having a roof installed by anyone other than a licensed roofing contractor.
Roofing Depot of FL
Whether you need a new roof, roof repairs, or a roof inspection, contact the best roofing company in & near Lakeland – Roofing Depot of FL.
Our experienced team can offer advice and support in choosing the right options for your roof and your budget. From commercial roofing to residential roofing, we are dedicated to providing quality craftsmanship, exceptional service, and fair and transparent pricing.
We are available 24/7 to address roofing emergencies, and we offer free estimates and roof financing.
We are licensed, insured, local, qualified, straightforward, and focused on customer satisfaction. Roofing Depot of FL – We'll knock your shingles off!