There are a lot of things to think about when you are preparing your home for sale. One of the most important, yet often overlooked, is the condition of your roof. Should you replace your roof before putting your home on the market? Or will doing so actually hurt your chances of selling?
Signs Your Roof Needs to Be Replaced
Before taking a look at the pros and cons of replacing your roof before selling, first consider whether your roof needs to be replaced at all.
Here are some signs that your roof may need to be replaced:
• The roof is more than 20 years old
Although some roofs last much longer, most roofing material has an expected lifespan of just 20 to 25 years. If yours is more than 2 decades old, it may be time for a roof inspection to determine whether it is still in good condition or if you need to be thinking about getting a new one.
• You have noticed missing or damaged shingles
Missing or damaged shingles can cause the roof deck (the underlying layer of your roof) to become exposed to the elements, resulting in costly damage that could have been avoided.
• There are cracks or holes in your roof
Cracks or holes in your roof obviously can be very serious problems because they can lead to structural damage to your home if not addressed promptly.
• Your roof is sagging in places
A bowing or sagging roof might indicate that leaks or other problems have led to damage to the structure of the roof. This should be assessed as soon as possible by a professional roofing company with the problem knowledge to know how serious the problem is.
• There are water stains inside the home
If water has leaked through your roof, it may eventually find its way lower – onto ceilings or walls inside the home. If you notice water stains that are not explainable by a plumbing leak or other internal issue, you may have a serious roof problem.
Pros of Replacing Your Roof Before Selling
There are a few reasons that you might want to consider a new roof installation before putting your home on the market.
Positive First Impressions
The first thing a potential buyer sees is the exterior of your home, and that includes the roof. If the roof looks damaged or just plain old, that first impression may be less than positive. Just as you will want to be sure everything else about the home is in as good condition as possible, you might consider how much of an impact the roof makes. Especially if the roof is prominent or easily visible from the street, having a new roof can significantly increase your home's curb appeal and make it more attractive to potential buyers.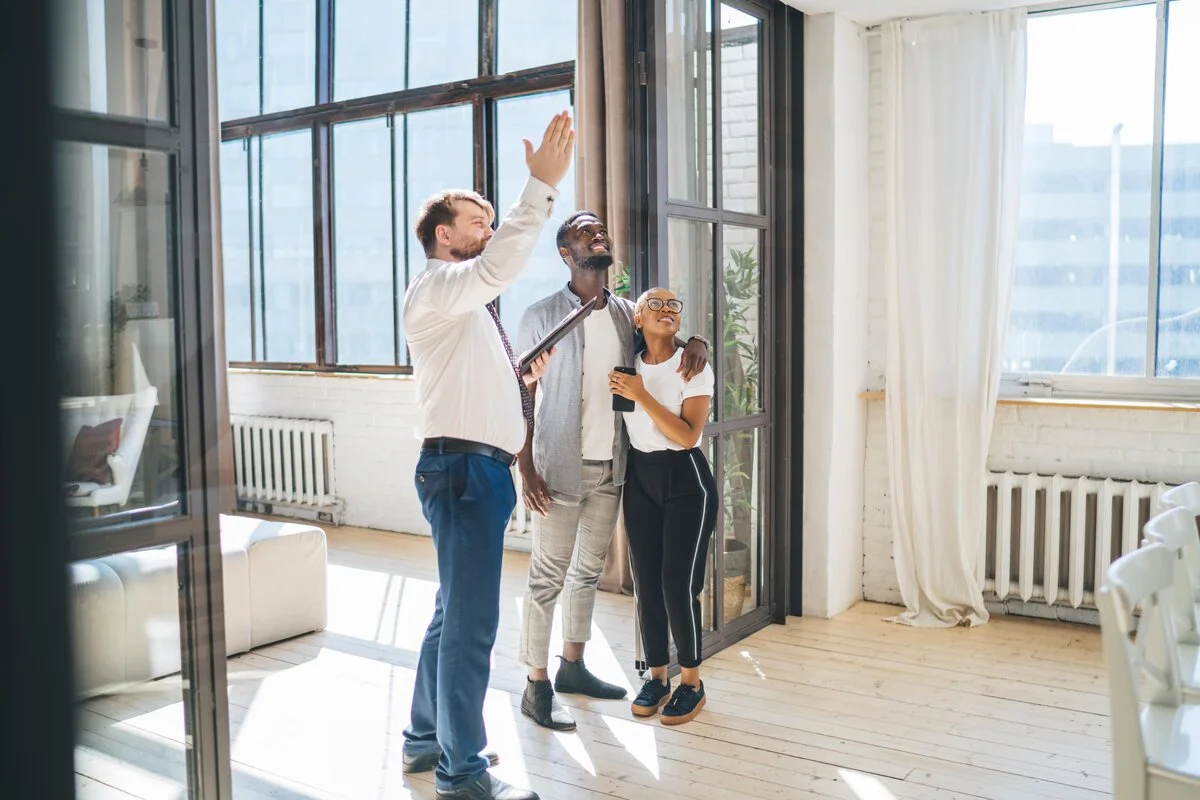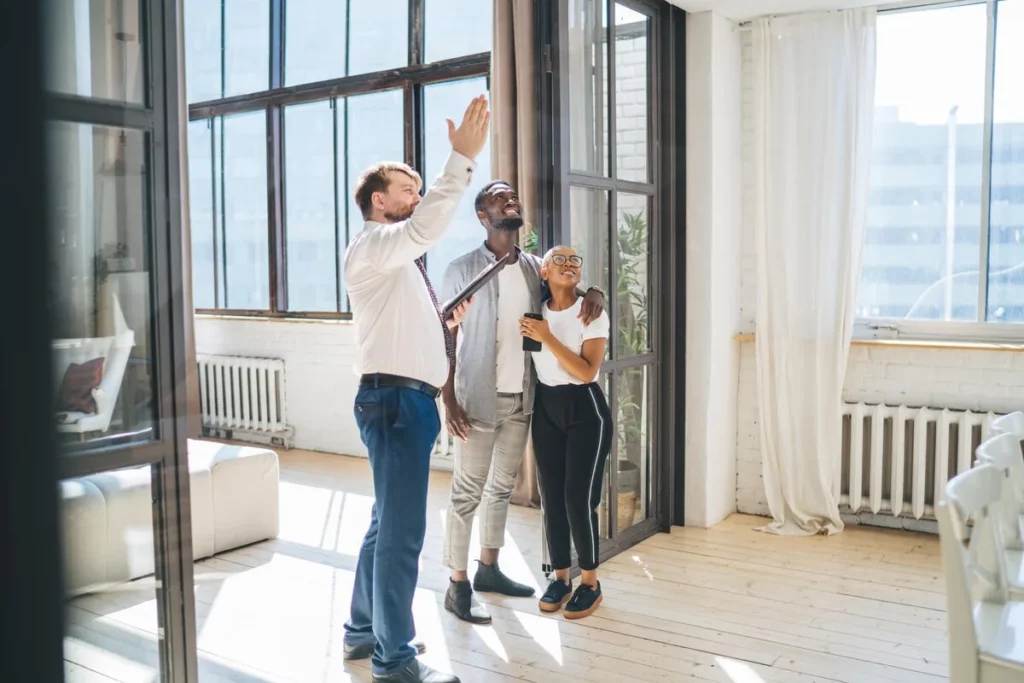 Peace of Mind for Potential Buyers
A freshly installed roof most often comes with a warranty, sometimes on both the roofing materials themselves and on the roofing company's workmanship. These warranties give prospective buyers extra peace of mind when they purchase because they know that they will likely not be incurring significant expenses for roofing services in the near future.
Less Time on the Market
A home in need of a new roof or major roof repairs may take longer to sell since some potential buyers will not be interested in dealing with the hassle and spending the money. There are a few disadvantages to having your home on the market for a very long time:

It can give buyers concern that there are major problems.
It means added hassle of keeping your home ready for showings for an extended period of time.
It might prevent or delay you from moving on with the next step in your own process.
You must continue to keep up with the home's needs for care and service while it is on the market.
Improved Energy Efficiency
Replacing an older roof with a new, more energy-efficient one can reduce energy consumption within the home, leading to lower heating and cooling costs. This benefit can be very attractive to potential buyers both due to the financial considerations and also the positive environmental impact.
Meet Lender Requirements
Some lenders will not approve a mortgage on a home with a roof that needs to be replaced, or they may place restrictions on the borrower. For this reason, homes with serious roof problems often appeal to a very limited portion of the available buyer market. This would primarily be cash buyers or real estate investors who can afford the added expense of replacing the roof after purchase. By installing a new roof, you can eliminate this pitfall for any potential buyers, thereby expanding your potential market.
Cons of Replacing Your Roof Before Selling
Unfortunately, in addition to the pros, there are also some drawbacks to replacing your roof before selling.
Cost
Replacing a roof can be very expensive, whether it is when you are selling your home or not. The average cost of roof replacement in the United States is approximately 10,000 dollars. Depending on the size of your home and the type of roof you choose, the cost could be significantly more. Incurring these added costs while you may be spending money on other repairs or on moving expenses can be daunting.
You May Not Recoup Your Investment
A 2019 study by Remodeling magazine found that the average return on investment for a new asphalt shingle roof was just 68.2%, while a new metal roof was even less – just 60.9%. While this negative ROI might be offset by getting a higher price for the home, it is important to be aware of this fact and consider it when making your decision about getting a new roof.
Getting a New Roof Takes Time
Finding and hiring a professional roofing company and then having a new roof installed can take time – often weeks or even longer. This can be worsened if you are trying to sell your home at a time when weather conditions in your area are not conducive to roof work. If you have already found a new place to live or otherwise have limited time in which to sell your existing home, this can quickly become a serious problem.
Disclosing Roof Condition When Selling
In the United States, sellers are generally required to complete a real estate disclosure form that details the condition of the major components of the home – including the roof. Even if the form does not specifically ask about the roof, it will likely have a section to document any known problem.
It is important to be truthful on the disclosure form, as knowingly concealing problems can have serious legal and financial consequences down the road.
Tear Off and Replace or Roof Over?
If you decide to install a new roof before selling your home, you sometimes have 2 options: tearing off and disposing of the old roofing material before installing a new roof, or installing the new roofing material directly over top of the existing roof. Each option has advantages and disadvantages.
Tear off and replace is more expensive because it involves more labor and the cost of disposing of old roofing material. On the plus side, it allows you to inspect the roof decking and make any necessary repairs prior to re-roofing.
Roof over is less expensive upfront, but may not be allowed in some jurisdictions or by some homeowners' insurance companies. Additionally, if there are problems with the existing roof that go undetected, they can cause significant issues down the road.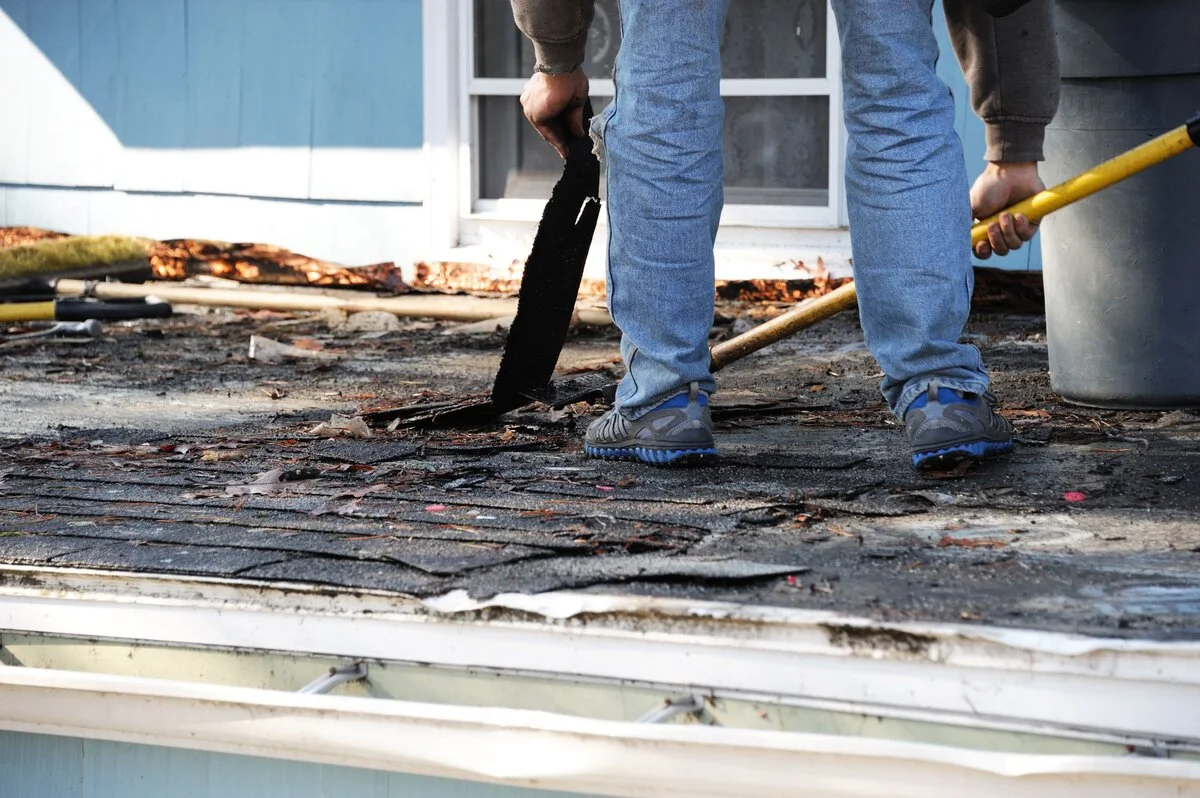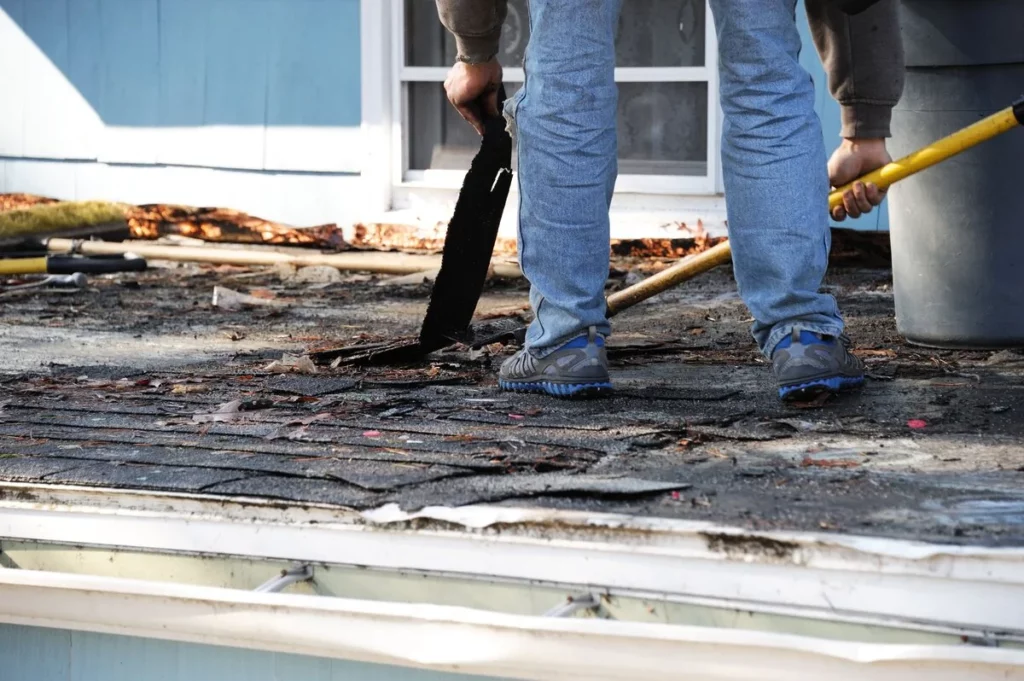 What Type of Roofing Material Should You Get?
If you decide to replace your roof before selling, one of the main questions will be what type of roofing material you should use.
This will depend on a variety of factors including cost, durability, and aesthetics.
Asphalt shingle roofs are the most popular option as they can be relatively inexpensive and offer good durability. Asphalt shingles come in a wide range of options, from the basic three-tab variety to more costly and longer-lasting premium architectural shingles.
Metal roofs are gaining in popularity due to their increased longevity and energy efficiency. However, they can be significantly more expensive than asphalt shingles.
If your home is located in an area that experiences extreme weather conditions or the potential for hail or wind damage, it may be worth considering options such as slate, tile, or rubber roofing materials that provide superior protection from the elements.
Preparing Your Roof for Selling If You Are Not Replacing It
If your roof does not need to be replaced, you should still take care to ensure that it looks as good as possible to appeal to potential buyers. Here are a few suggestions:
Clean the roof and gutters. Dirt, debris, and mildew can accumulate on a roof, so ensure that your roof is cleaned before listing. Additionally, clear out any debris in the gutters to ensure proper water drainage.
Repair minor damage. If there are minor problems with shingles or flashing, repair them now rather than waiting for buyers or their home inspectors to discover them. Not doing so could result in delays in closing the deal.
Inspect the roof structure. A structural roof inspection will help you identify any potential problems with your attic insulation or ventilation system. An efficient attic and ventilation system are attractive features for potential buyers since they reduce energy usage in the home.
Consider having a roof inspection from a professional roofing contractor. This will give you peace of mind knowing that the roof is in good condition, and the report can be a selling point that you share with prospective buyers.
Stronghold Roofing & Solar In & Near Lakeland, FL
The best roofing company in Florida is Stronghold Roofing and Solar. We are here to help with all your roofing needs, from roof installation to roof maintenance and repairs.
We are a local central Florida business, fully licensed, certified, and insured. Our team can assist with everything from making the best decisions about your roofing needs to helping arrange roof financing and working with your homeowners' insurance.
We offer both residential and commercial roofing services, and are available 24/7 to help service any roofing emergencies & free roof estimate.
When you are in need of a Lakeland roofing company, contact the pros at Stronghold Roofing and Solar.