Modern mobile homes emerged as a result of increased demand for housing in the 1950s. Since then, mobile homes have continued to be a popular option for more affordable housing, vacation homes, and retirement homes.
Given that Florida's reputation for good weather that attracts vacationers and retirees alike, it is not surprising that the sunshine state ranks near the top of all states in the country for the number of mobile homes. In fact, there are entire guides about mobile home living in Florida.
Mobile homes offer convenience, affordability, and durability, but they also require the same commitment to regular care and maintenance as other types of homes. As with all home types, mobile homes also can require repairs and occasionally need components to be replaced. Roofs on mobile homes are a common source of problems, which is often exacerbated by Florida's sometimes extreme weather conditions.
Roofs on mobile homes and manufactured homes may have a different structure than those of traditional stick-built homes. This means that if you need roof repair or a roof replacement on your mobile home, it is important to find a roofer who has experience with mobile home roofing.
While some mobile home roof repairs may be suitable as a do it yourself project, more extensive work can be challenging and require skills and tools that the average homeowner does not have. Hiring a professional with experience dealing with mobile home roofs can be a wise investment in your peace of mind.
Roofing Styles for Mobile Homes
Just as mobile homes themselves have evolved over the years, so have the styles of roofs that can be found on them. Today, it is possible to find flat roofs, pitched roofs, and a wide variety of roofing materials.
Prior to the implementation of safety standards by the US Department of Housing and Urban Development in mid-1976, mobile homes generally had flat roofing or bowed roofs. These roofs were most often covered with an asphalt coating or metal roofing materials.
Since that time, manufactured homes typically have roofs with a fairly shallow pitch. They are usually covered with asphalt shingle roofing or metal roofing panels, similar to traditional frame-built homes.
Double-wide roofs use half trusses on each side, which become a single standard truss when the home is assembled.
When any roof, including a mobile home roof, has problems, it is important to have a professional roofer contractor assess what the issue is and recommend options for addressing it. From the roofer's recommendation, you will be able to decide on the proper course of action to ensure that your roof continues to provide the protection that it should.
How Long Does a Mobile Home Roof Last?
Lifespans for mobile home roofs are equivalent to anywhere else that uses the same roofing material. In short, the expected life of any roof depends on the environment and proper maintenance, but mostly on the type of materials used and proper (or improper) installation.
In general, mobile homeowners should expect their roofs to last between 10 and 50 years.
Asphalt shingles come in various grades, which can last anywhere from 25 to 50 years.
Single-ply membranes like thermoplastic polyolefin (TPO) are expected to last between 20 and 30 years.
Metal roofing can last up to 50 years or more.
Mobile Home Roof Leaks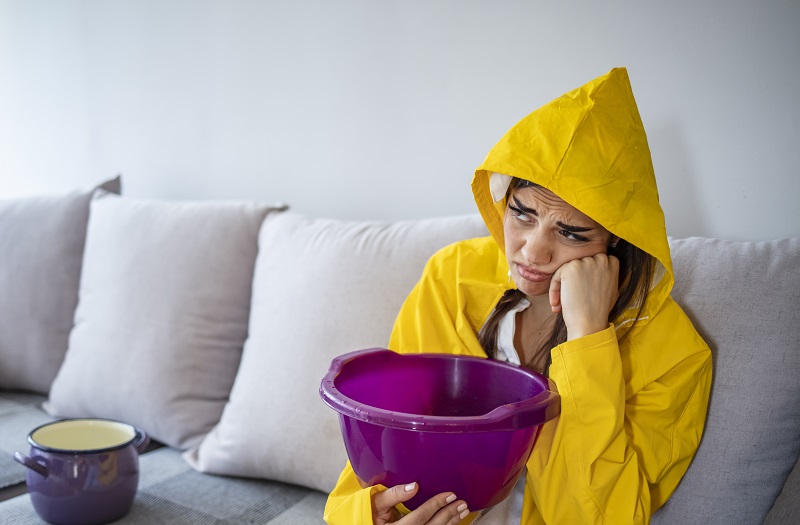 Even before a mobile home roof reaches the end of its lifespan, leaks can develop. Leaks in mobile home roofs can be caused by a variety of factors, including branches and other debris, ventilation issues, improper installation, and natural weakening of the roofing materials due to age. Leaks might also be a result of:
Holes in shingles or metal roofing materials
Damaged rubber boots that surround ventilation pipes
Metal flashing around chimneys, vents, and skylights
Cracked vents
Blisters on rubber roofs
Here are a few signs that your mobile home roof may have a leak:
Dark spots on ceilings or walls
Sagging ceilings
Granules from asphalt shingles washing off the roof
Paint flaking from walls or ceilings
Addressing a leaking mobile home roof may seem like an easy proposition, but even finding the source of a leak can be tricky. Depending on the type of roof and the roofing materials, damage that appears inside the home may not be easily traced to the primary source outside. Experienced roofing contractors can do a roof inspection to identify what the problem is, find its source, and recommend solutions.
The roofer may recommend one of several options, depending on the specific issue and the type of roof the mobile or manufactured home has.
Mobile Home Roof Sealing
Flat or bowstring roofs may have a metal roof, which needs to be sealed every few years. However, it is important to know that sealing will not really repair roof leaks. Instead, sealing is meant to help reflect the sun and to prevent the metal roof from rusting.
Mobile Home Roof Over
When a traditional stick-built home needs a roof replacement, the old roof is generally (though not always) torn off. Conversely, mobile home roofs can often get a "roof over," which is exactly what it sounds like – placing a new roofing system or layer of roofing material over the existing roof.
A roof over offers several advantages, including that it requires significantly less labor and there are less fees for refuse disposal. Roof overs also offer an opportunity to change the look of the home by changing the type of roofing material, the color, and even the pitch of the roof in some cases.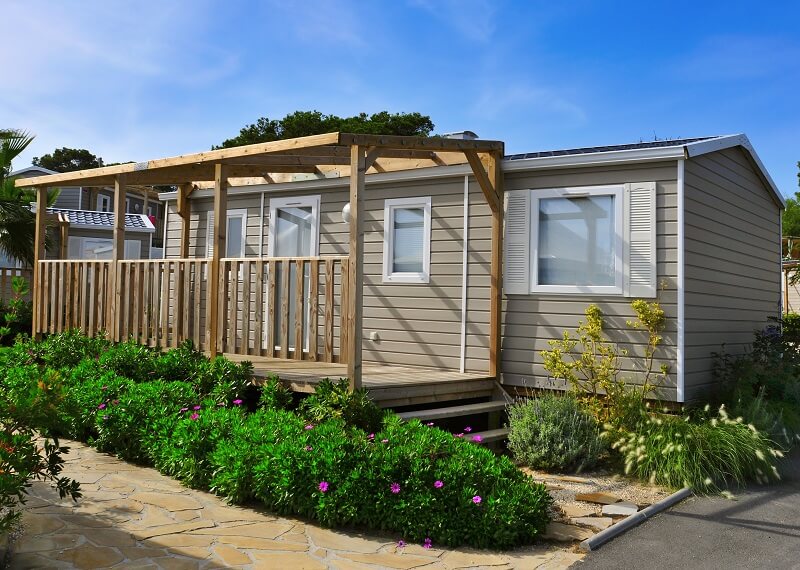 Roof overs can be done using one of several different types of materials:
Asphalt shingles are often used for aesthetic reasons, particularly on the pitched roofs found in newer mobile homes. Asphalt shingles are available in a huge array of styles, colors, and profiles, giving homeowners options to choose what works best for their home. However, asphalt shingles come with a few drawbacks when being considered for mobile home applications. First, asphalt shingles are quite heavy, so it is usually not recommended to place more than one layer. Second, asphalt shingles can be a significantly more expensive alternative compared with the other options for mobile home roofing.
Composite shingles are similar to asphalt shingles, but they may weigh less and be more affordable. Some composite shingles are even resistant to mold and algae, which is beneficial in Florida's rainy climate. However, because composite shingles are so lightweight, they are prone to being blown off in high winds, so their use is not always recommended.
Corrugated metal roofs are popular, and they are regarded as a good option by many. Metal roofs are can be expected to have a very long lifespan. They can withstand even Florida's extreme and variable weather conditions, and they can be installed on different slopes. Metal roofs can include insulation that serves to keep the mobile home comfortable, and they are resistant to mold and mildew, fire, and rust.
Thermoplastic Polyolefin (TPO) membrane roofs are another popular choice among mobile home owners, especially for flat roofs or for roofs with a low slope. TPO consists of a thin, flexible rubber sheet that is stretched over the existing roof surface. It can be installed over a pitched roof, which makes it an excellent, lower-cost option for reroofing on mobile homes.
TPO offers several additional benefits beyond affordability. TPO roof overs are hurricane zone approved up to 160 miles per hour, they are energy star certified, and they are virtually maintenance free.
Full Mobile Home Roof Replacement
If a roof over is not desired or if that is not a viable option, a full mobile home roof replacement may be needed. A full roof replacement will be more expensive than a roof over due to the increased need for labor, refuse material, and time needed to complete the project. The standard roofing materials that are available for a new mobile home roof are the same as for roof overs – shingles, metal, or TPO.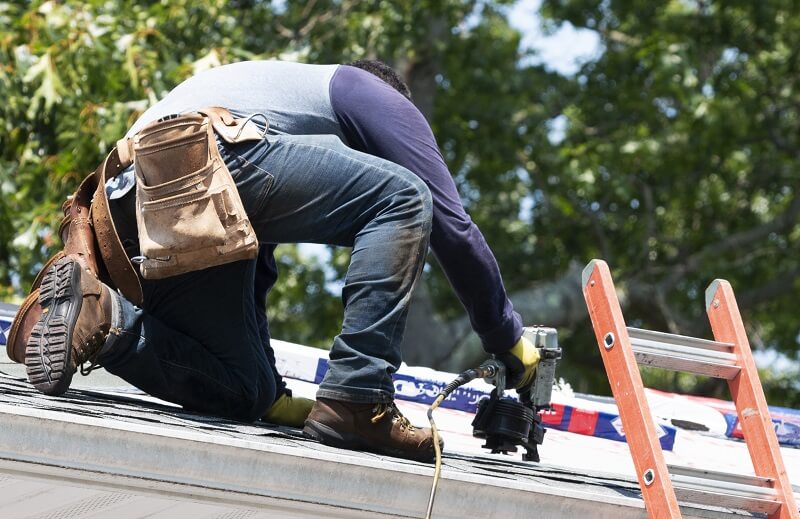 Mobile Home Roof Maintenance
Mobile home roofs should be inspected by a professional roofer periodically to address any small issues before they become larger and more expensive problems. Additionally, regular maintenance can go a long way toward keeping your mobile home roof sound.
Here are a few tips:
Clean rubber roofs periodically with cleaning products that do not contain harsh abrasives, petroleum solvents, or acidic based agents. A mild laundry detergent or soap-based cleaner mixed with water should be all that is needed.
Metal roofs may develop black marks or streaks that are caused by dirt running off. Regular cleaning can help keep the roof looking good, and also offers an opportunity to remove debris and perform a basic roof inspection.
Address any signs of a possible leak in the roof immediately. By the time damage is evident inside, the problem may be serious. A call to a professional mobile home roofing contractor is advised.
RV Roofing – A Special Case
RVs are a special type of mobile "home" in that they tend to be smaller and move with greater frequency than permanent mobile or manufactured homes. Roofs on RVs are also susceptible to all the same problems and needs, and it is equally important to address any issues with them promptly.
RV roofs do not lend themselves to using shingles, but they can be made from several other types of materials – TPO, EPDM (Ethylene Propylene Diene Monomer), fiberglass, and aluminum.
As they are typically of a significantly smaller size, the cost for RV roof repairs or replacement is generally less. However, according to RVingKnowHow.com, a roof replacement for an RV can cost as much as $10,000.
Mobile Home Roofing in Central Florida
If you need a roofing company in and near Lakeland who has experience providing mobile home roofing services, contact Residential Roofing Depot.
We are lifelong Polk County residents, dedicated to providing the best roofing services in Lakeland, Valrico, Winter Haven, Plant City, Brandon, Davenport, and across Central Florida. We offer the best in professionalism, communication, and quality with competitive pricing and a range of roofing options.
Residential Roofing Depot is licensed, certified, and insured. We offer free estimates, with transparent pricing, roof financing options, and we can even help with homeowners insurance claims.
Our roofing services include:
Residential roofing
Commercial roofing
Roof inspections
Roof repairs
Full roof replacements
Mobile home roofing
New construction roofing
Roofing options include:
Shingle roofing
Metal roofing
Clay or concrete tile roofing
Flat roofing
Our client reviews reflect our commitment to always providing the best service possible.
Contact the best roofing company in and near Lakeland for all your mobile home roofing needs.