Roofs are easily one of the most integral components of a home, but, even with proper maintenance, issues can arise that make repairs necessary. Depending on the severity of the issue, those repairs can range from very large to small.
With smaller roofing problems, homeowners may find themselves wondering what the best choice for getting them repaired would be. Should they attempt to do it themselves? Could a handyman repair the roof? Or should they be looking for a professional roof company?
Who Can Repair Residential Roofing?
The answer depends on numerous factors, including the level of experience needed to make the repair, access to proper equipment, and safety. Here are a few things to consider with the different options.
DIY Roof Repair
The Internet is a wealth of information about how to do your own home repair and renovation projects, including roofing. While some of the articles and videos found online contain helpful advice, it is always prudent to take a realistic, common sense approach to any DIY project.
Common roof repairs that can be tackled by a homeowner include: placing tarps if the roof is leaking, removing and replacing damaged asphalt shingles, clearing debris off the roof, and clearing granules from clogged gutters and downspouts.
Before beginning a DIY roofing project, you must consider a few things. Do you have the tools and any other equipment needed to successfully complete the job? Can you do the work in a reasonable amount of time? (This is an especially important factor when dealing with a leaking or otherwise damaged roof that can quickly become more serious.) Do you understand the dangers involved, and can you ensure everyone's safety?
Be aware that some roofing jobs are more challenging than others. Replacing a few damaged asphalt shingles or repairing damaged flashing are jobs that would be suitable for some homeowners. However, damaged metal roofing or flat roofing can be harder to repair – and mistakes can become even bigger problems. Having a realistic idea of what you are facing is important.
If you choose to go the DIY route, you might consider getting advice from an experienced roofer first. Some roofing contractors offer free inspections, and they might be willing to explain what you need to do for a minor DIY roof repair.
Always keep in mind that walking on a roof can be dangerous. Falls from high elevations are not uncommon even among professionals, so homeowners should take every precaution to prevent potentially serious bodily harm.
While doing a roof repair yourself can be appealing due to the cost savings, it is important to be aware of the difficulty of the work needed, and to be honest about your own limitations. The savings from a botched DIY repair can be more than offset by the problems and damage it can cause in the future.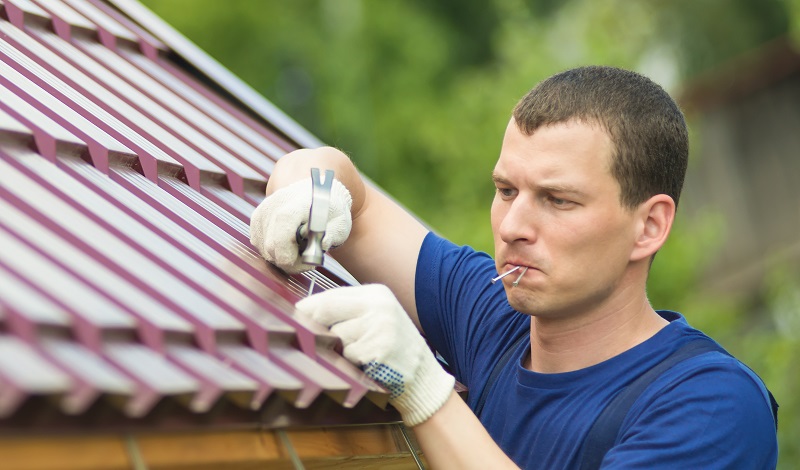 Handyman or General Contractor
If the roofing job is too challenging to do yourself or if you feel more comfortable having a professional do the work, a handyman or general contractor might be an option.
A handyman or general contractor could tackle similar issues as those suggested for a homeowner (e.g., replacing damaged shingles, fixing leaks and cracks in the seals around flashing, or clearing out gutters and downspouts). They might also be able to do the somewhat more complicated repairs like fixing leaks in flat roofs or repairing mobile home roofing.
Even a handyman or contractor who does not specialize in roofs will still generally have the tools and the knowledge needed to complete basic roof repairs. This is especially true for asphalt shingle roofing, which is one of the easiest types of roofing materials to repair.
Keep in mind that even the most experienced general contractor is essentially a jack of all trades. This means that they are knowledgeable about a wide variety of home repairs, but they do not specialize in any one specific thing.
Most people who do home repair or renovation professionally understand roof construction and roofing materials on a general level, but they typically do not have experience dealing with more complicated roof issues. This is sometimes problematic, as the cause of a roof problem is not always apparent from visible damage. For example, a stained ceiling in a home with a sloped roof is sometimes a result of a leak that is higher up on the roof and not from one directly above the visible ceiling damage. A less experienced handyman or general contractor might not make the needed repairs properly if they are not aware of this fact.
The cost of a handyman or general contractor varies widely, as does their experience, professionalism, and reliability. If possible, get referrals from friends or neighbors. It is also advisable to get estimates (in writing) from more than one, and to check their reputation and credentials online.
Professional Roofing Contractor
Larger roofing jobs should be left to a professional roof company. Most homeowners, handymen, or even general contractors are not in a position to do something as extensive and complicated as a full roof replacement or even many moderate roof repairs.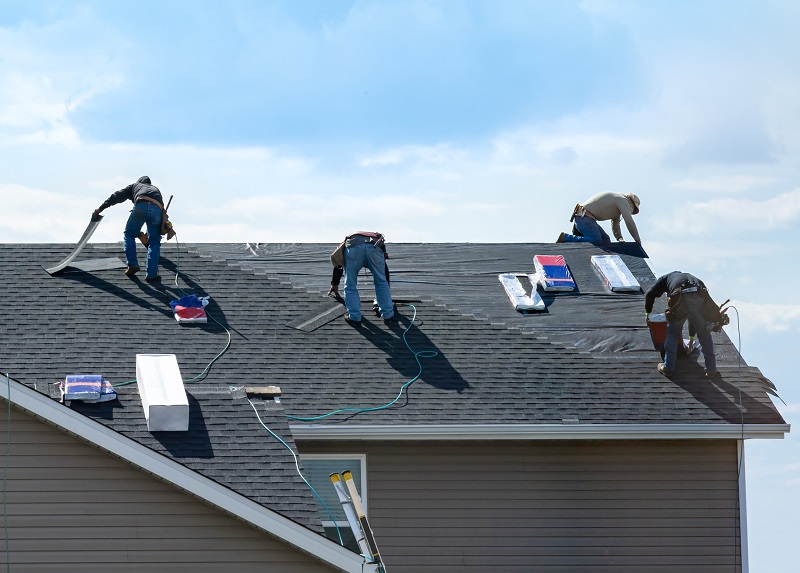 Some roofing contractors, such as metal roofers, specialize in doing a specific kind of roofing material. Others might specialize in styles, like flat roofing, or a type of building, like commercial roofing. Some other roofers focus on doing smaller roof repair jobs.
Larger roofing contractors often have teams of professionals with years of experience working with a variety of roofing options and roof styles. Reputable roofers, whether they are large or small, also have the proper licenses, insurance, and are bonded.
Professional contractors should always be consulted in certain situations, such as major structural damage, large holes, or fire damage (even if there does not appear to be damage to the shingles).
The cost of hiring a professional roofing contractor tends to be higher than a general contractor or handyman. However, in some cases, the cost differences are not large, and the additional peace of mind from knowing that the work was done by someone with experience can be well worth it.
Where to Find a Roofer for a Small Job
Here are a few tips if you are wondering where to find a roofer and how to decide which roofer to hire:
Ask neighbors, friends, and family members for referrals.
Check online sources for reviews, positive and negative.
Look for roofers who are doing work in your neighborhood.
Be sure to get an estimate in writing that outlines the price and other details, such as insurance and evidence of roofing contractor license (if required).
Ask if the roofer will be responsible for any roofing permits required.
Get a specific timeline for when they plan to start and finish the job, recognizing that delays caused by weather may occur.
Consider how you will pay for the roof, and if roof financing options are available through the roofing company.
Ask if the roofing contractor offers a warranty on the quality of their work in addition to the manufacturer's warranties on the materials.
Tell the roofing company representative how you would like to receive communications before the job starts and while it is underway.
Ask what you should expect in terms of clean up after the job is completed.
With any home renovation or maintenance project, it is best to have a clear understanding of what you need up front. Getting two or three estimates can also be valuable, though be cautious about choosing based on price alone. There is a wide range of roofing materials that a roofer could use, as well as a wide range of experience among roofers. Sometimes the higher cost is justified, so just be sure you understand what you are getting.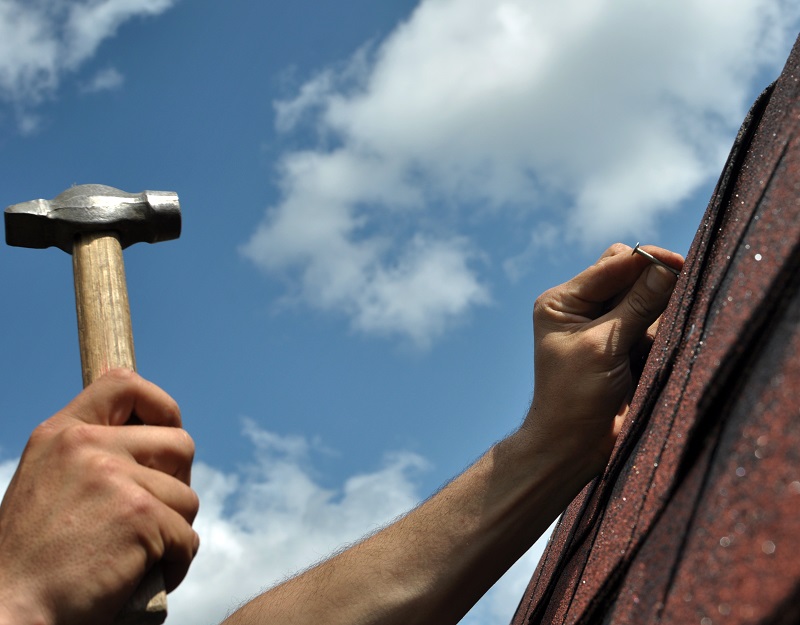 Paying for a Small Roofing Job
Even small roofing jobs can be costly, and homeowners frequently ask roofing contractors about whether any roof repairs would be covered by their homeowners insurance. The answer to that question depends on the specifics of the situation and the policy itself.
According to Quicken Loans, "Roof leaks caused by covered perils are typically included in homeowners insurance coverage. A peril is defined as an act of nature that damages your home or its contents, like a hailstorm, strong winds or a fire. This is where your insurance company covers losses and damage repair from the unexpected weather damage."
However, different policies have different "covered perils," so each homeowner needs to check their own insurance documentation to know if their roof work could be covered. A professional roofing contractor will sometimes work directly with the homeowners' insurance company to facilitate the process of having the roof repairs completed in a timely fashion.
For residential roof services that are not covered by insurance, homeowners can consider other roof financing options:
Home equity loans, lines of credit, or cash-out refinancing. These are based on the amount of equity (current value minus outstanding mortgage obligations), and use the home as collateral.
FHA 203 or FHA Title 1 loans are an option for homeowners without enough equity to qualify for a home equity loan. These options also use the home as collateral.
Personal loans are generally unsecured, and, as a result, typically carry higher interest rates.
Credit cards can be a viable option if the homeowner is able to secure a 0% annual percentage rate for a given period of time.
Contractor financing may be available from larger roofing contractors who work with a specific lender to provide this service to clients. These loans have the advantage of quick approvals and a streamlined process.
Homeowners who are faced with the often unexpected expense of a roof repair sometimes consider putting off repairs altogether. Although your roof is often "out of sight, out of mind," the function it serves is vital, and leaks or other damage left unchecked can lead to bigger, more expensive problems down the road. It is wise to consider protecting the investment in your roof – and your home – by having issues resolved as soon as possible.
Your Roofing Company in and near Lakeland
If you need residential or commercial roof repairs, no matter how large or how small, contact Stronghold Roofing & Solar. As lifelong Polk County residents, we are dedicated to providing quality roofing services across Central Florida.
We are licensed, bonded, and insured, and our team of roofing professionals has experience with virtually every kind and style of roof imaginable. Our goal is to always find you the best, most affordable roof for your unique needs and budget.
Our roofing services include:
Free roof inspection
Roof repairs
Full roof replacements
Residential roofing
Mobile home roofing
Commercial roofing
New construction roofing
We offer free roof estimates and roof inspections. Roof financing options are available, and we can work directly with your homeowners insurance company for any roof insurance claims.