Shingles are the most popular type of roofing material in the United States, according to HGTV. They are relatively affordable, easy to install, and come in a wide variety of styles and colors to choose from.
As you decide on shingle roofing for your home, take into account various aspects including budget, climate, and your home's style. While this Shingle Roof Guide offers valuable insights, consulting a professional roofing contractor is recommended for the ideal choice aligning with your home and financial plan.
Types of Shingles
Four primary shingle types include asphalt shingles, metal shingles, wood shingles, and solar shingles as outlined in the Shingle Roof Guide.
Asphalt Shingles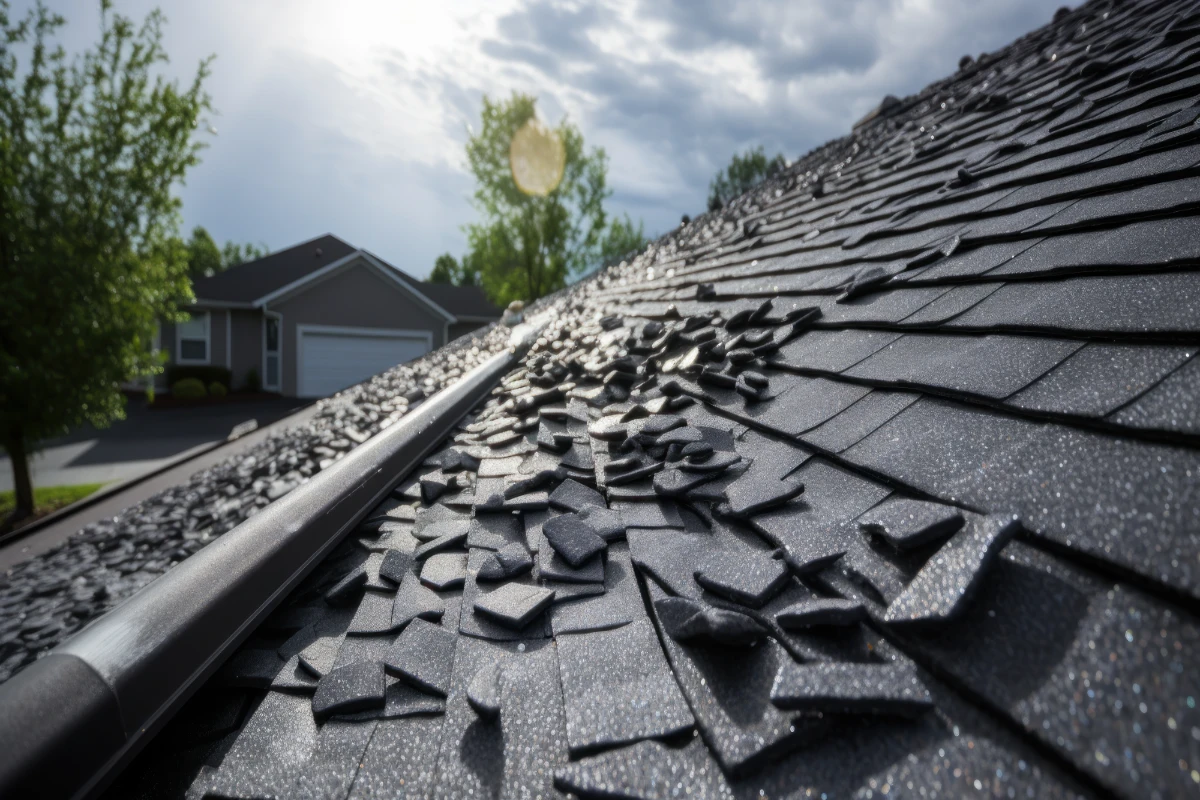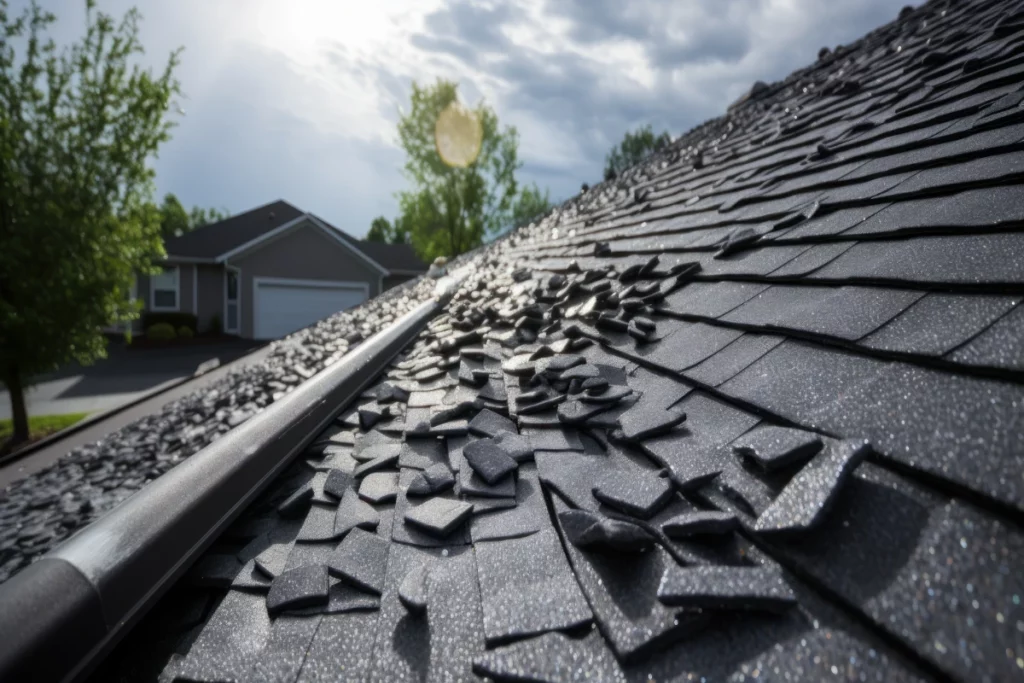 Asphalt shingles are the most common type of shingle, and for good reason. They are generally affordable, durable, and easy to install. Asphalt shingles are made from a fiberglass or organic mat that is coated with asphalt and then covered in mineral granules. This construction makes asphalt shingles resistant to water, wind, and fire.
There are three main types of asphalt shingles available in the market:
3-Tab shingles are the most basic and affordable type of asphalt shingles. They are lightweight and offer a flat, clean appearance with a single layer of material and cutouts (tabs) along their long lower edge.
Dimensional shingles are also known as architectural or laminate shingles. They are a step up from 3-tab shingles in terms of quality, durability, and appearance. They have a layered, dimensional look and can mimic the look of wood shake or tile roofing.
Luxury shingles are the highest quality asphalt shingles and are designed to replicate the look and feel of slate or cedar roofing. They are heavier, more durable, and offer more aesthetic appeal than the other types. However, they are also more expensive.
Pros of Asphalt Shingles
Asphalt shingles are recognized for their affordability and ease of installation, making them an accessible choice for many homeowners. They have a respectable lifespan and durability, and are capable of withstanding a range of weather conditions, from heavy rain to high winds. Additionally, asphalt shingles come in an assortment of styles and colors, enabling customization to match the aesthetic of any home. They also boast resistance to fire comparable to their metal counterparts.
Cons of Asphalt Shingles 
Despite their many pros, asphalt shingles do have a few drawbacks. They are not as durable and long-lasting as metal or wood shingles, with an average lifespan of 15 to 30 years for the more affordable options. Additionally, they are not as environmentally friendly as other options due to their reliance on petroleum-based materials.
Metal Shingles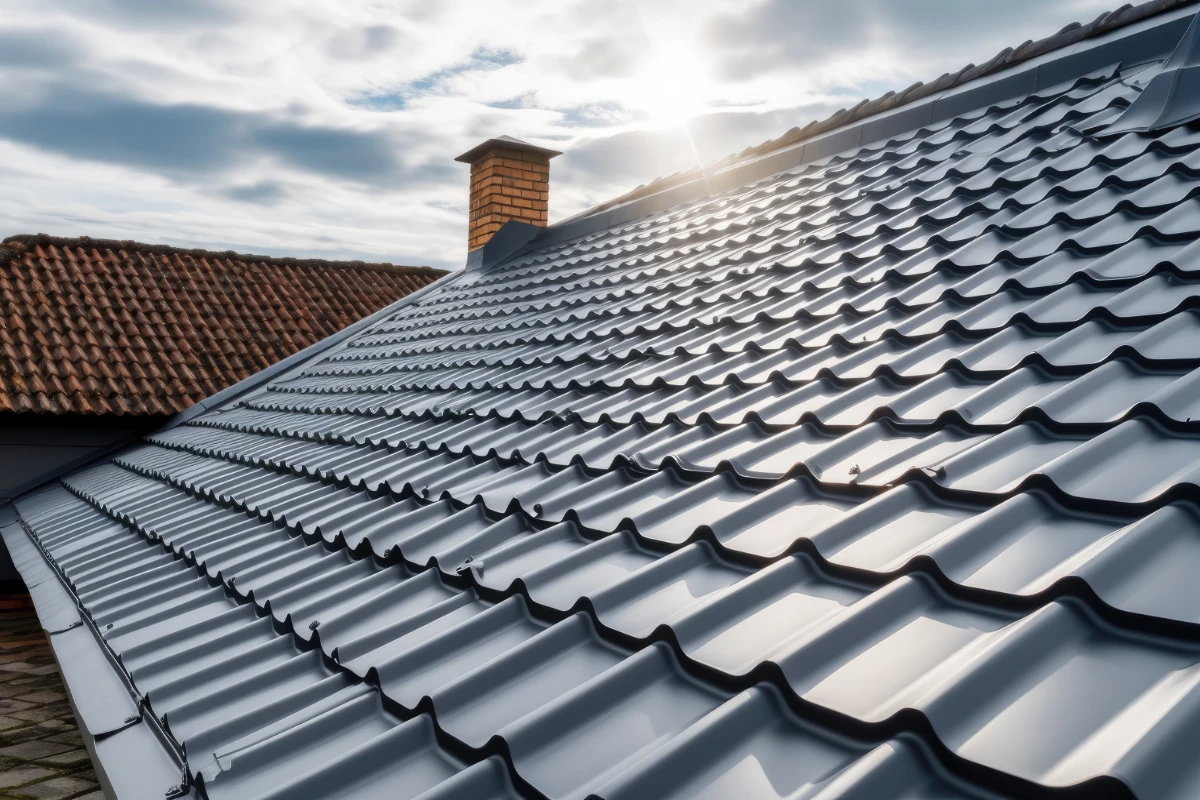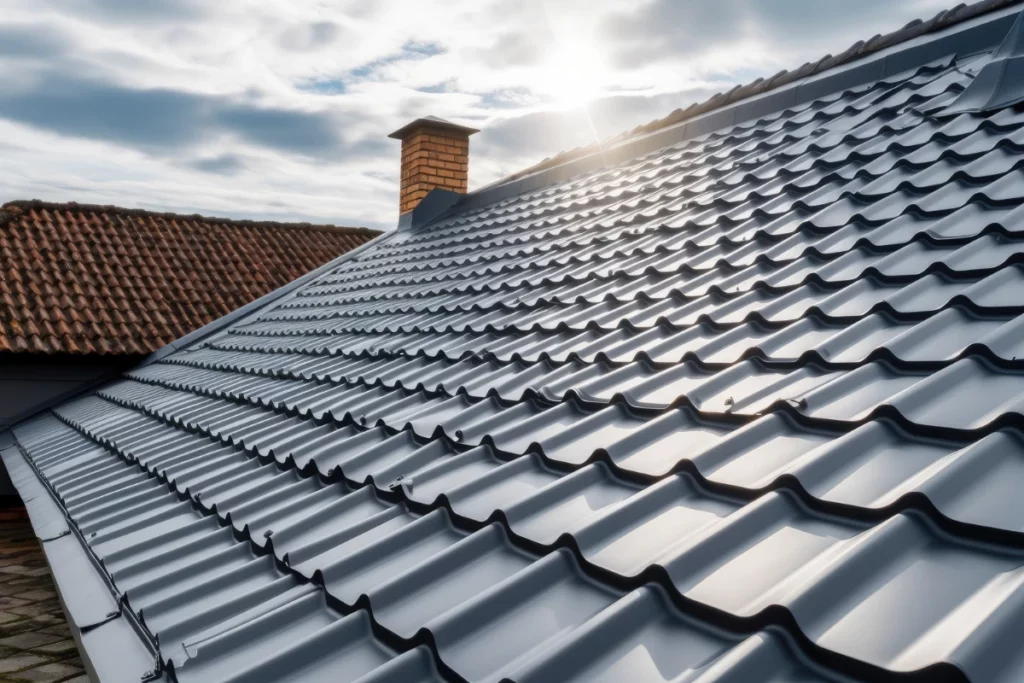 Metal shingles are another popular choice for homeowners. They are more expensive than asphalt shingles, but they are also more durable and have a longer lifespan. Metal shingles are made from a variety of materials, including aluminum, copper, and steel. They are available in a variety of colors and styles, and can be installed on both pitched and flat roofs.
Metal shingles are available in various types based on the material used:
Aluminum shingles are lightweight and rust-resistant, perfect for coastal areas with high salt exposure. However, they're relatively soft and may dent easily.
Copper shingles offer a distinctive aesthetic appeal that develops a beautiful patina over time. They're extremely durable but are among the most expensive metal roofing options.
Steel shingles are galvanized or coated with zinc, making them durable and affordable. They come in a variety of styles and colors.
Pros of Metal Shingles
The primary metal shingle roof benefits are their durability and longevity, their ability to withstand harsh weather conditions, and their lifespan of up to 50 years or more. They are also fire-resistant and can be energy-efficient, reflecting solar radiant heat to reduce cooling costs in the summer.
Cons of Metal Shingles
Metal shingles are more expensive upfront, requiring a larger initial investment. Installation requires specialized knowledge and skills, making DIY installation challenging.
Wood Shingles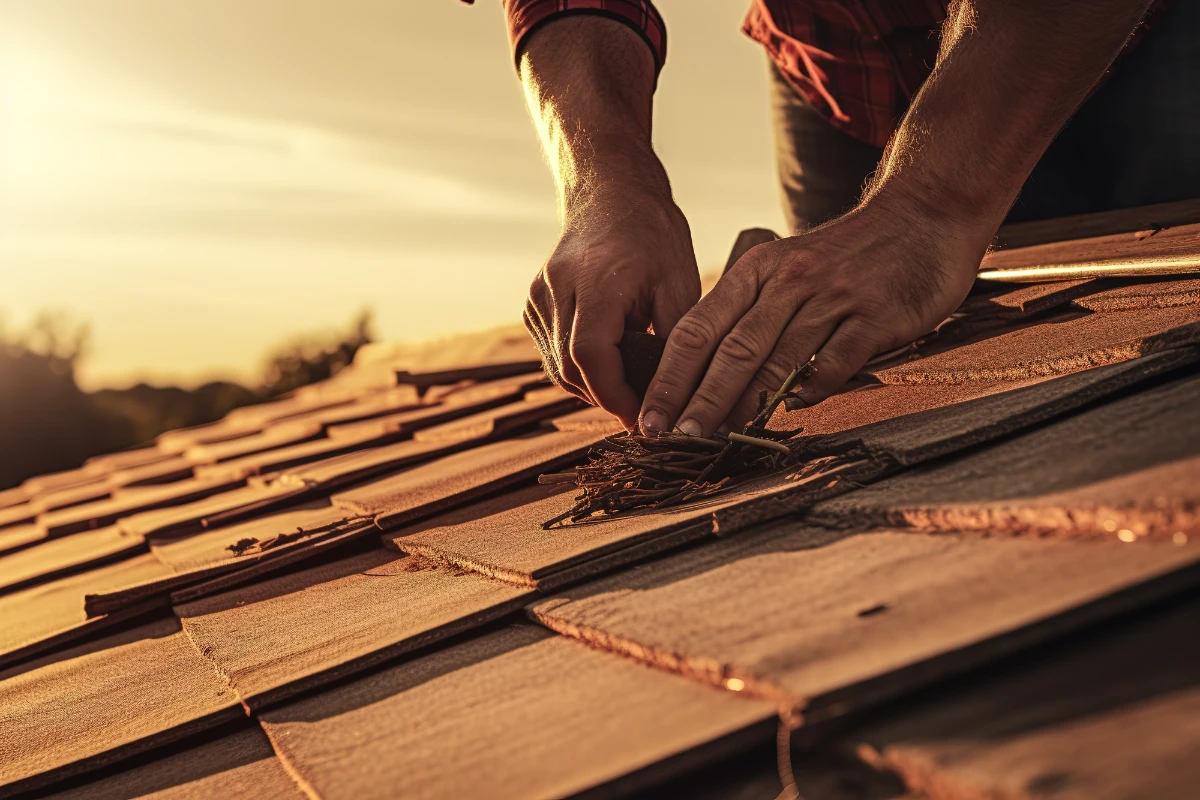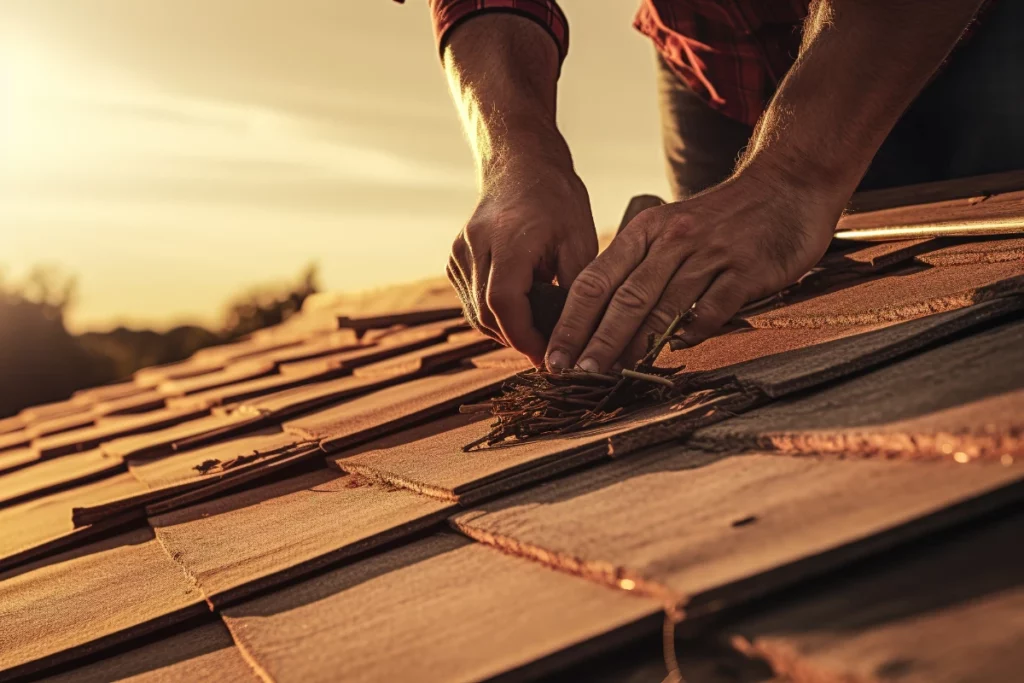 Wood shingles, also known as wood shakes, offer a natural and rustic aesthetic to homes. They are made from cedar, redwood, or pine and are cut by hand or machine to create a tapered shape. Wood shingles are installed in an overlapping manner on the roof, creating an appealing texture.
Pros of Wood Shingles
Wood shingles have excellent insulation properties and are energy-efficient, reducing heating and cooling costs. They also have a long lifespan of up to 50 years when properly maintained.
Cons of Wood Shingles
Wood shingles can be expensive, especially for high-quality materials such as cedar or redwood. They also require regular maintenance, including sealing and staining every few years to prevent rot and damage from weather exposure. Additionally, wood shingles are not fire-resistant and can be a fire hazard if not treated with fire-retardant chemicals.
Solar Shingles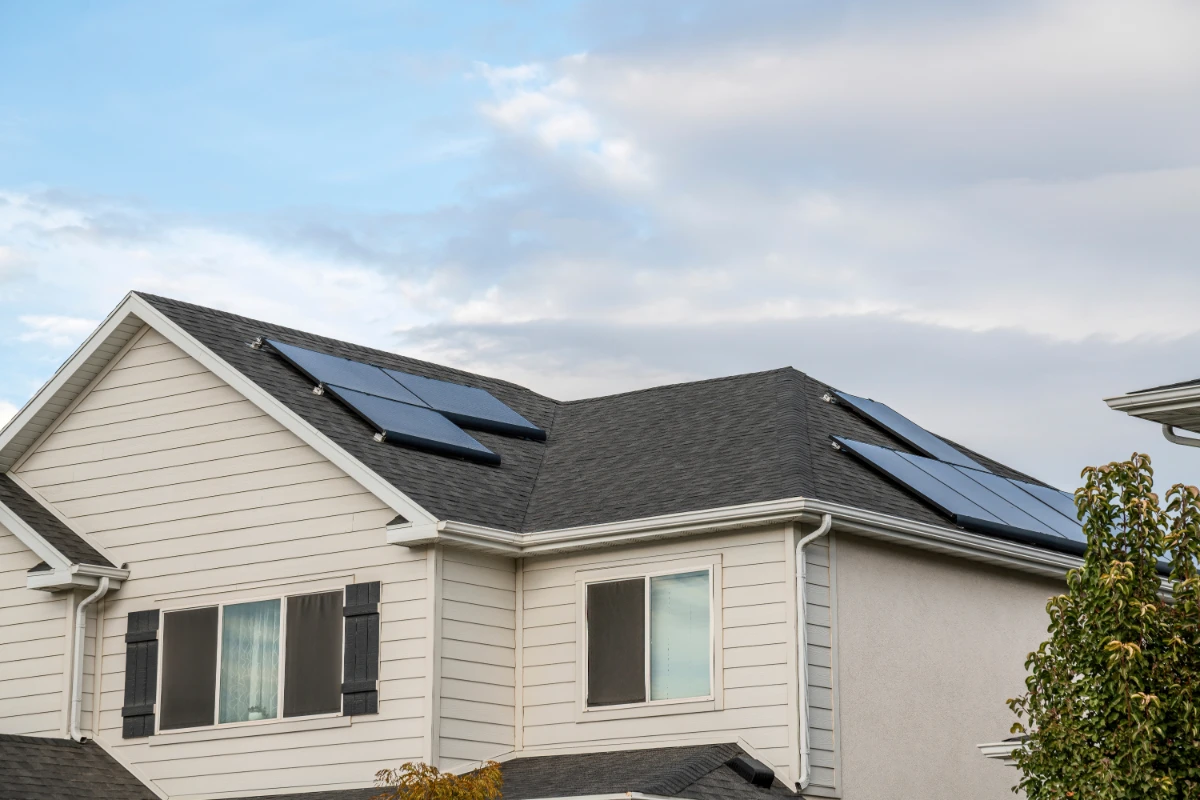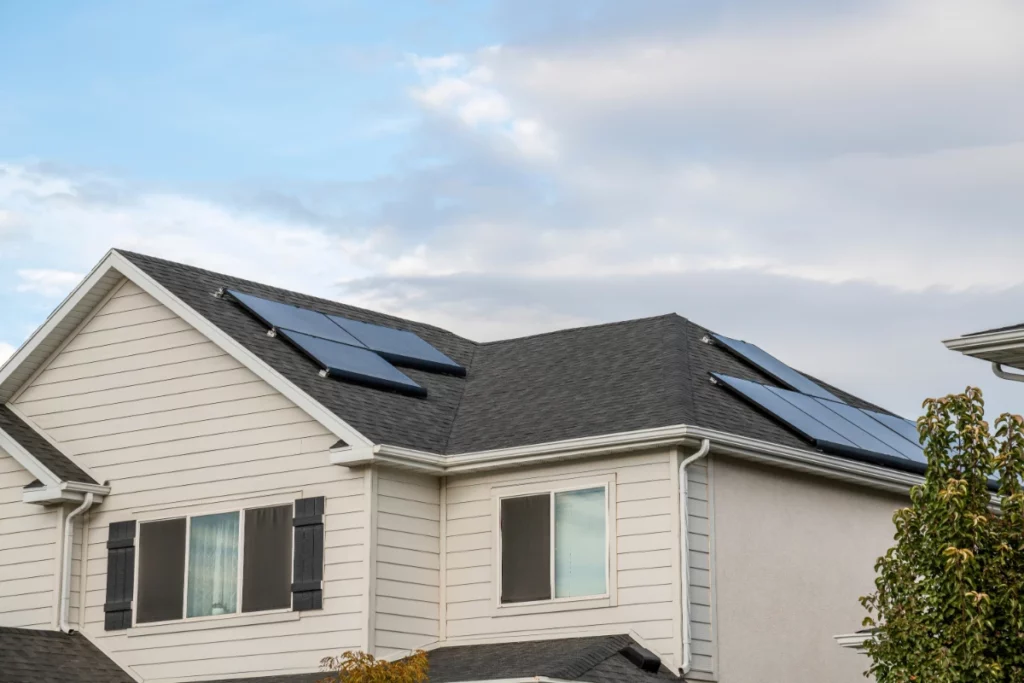 Solar shingles, also known as photovoltaic (PV) shingles, are a relatively new addition to the roofing market. They are designed to mimic the look of traditional shingles while harnessing solar energy to generate electricity for the home. Solar shingles are made from crystalline silicon solar cells and have a thin, flexible design that allows them to blend seamlessly with traditional shingle materials.
Pros of Solar Shingles
Solar shingles offer a renewable energy option for homeowners looking to reduce their carbon footprint and save on electricity costs. They are also durable and long-lasting, with an average lifespan of 20 to 30 years. Additionally, solar shingles may qualify for tax incentives and rebates, making them a more affordable option in the long run.
Cons of Solar Shingles
Solar shingles can be expensive to install. They also require professional installation and may not be suitable for all roofs or climates. Additionally, their energy production may be limited in areas with low levels of sun exposure.
Choosing the Right Type of Shingle for Your Home
Choosing the right type of shingle for your home is a major decision, and there are a number of factors to consider, including:
Climate
Consider the climate in your area. If you live in an area with high winds or hail, you will need to choose a type of shingle that is resistant to these elements. Metal shingles are a good choice for windy climates, while wood shingles are a good choice for climates with mild winters.
Budget
Asphalt shingles are the most affordable type of shingle, followed by metal shingles and wood shingles.
Style
Shingles come in a variety of styles and colors, so you can choose a type that complements the overall style of your home.
Roof Pitch
The pitch of your roof refers to its slope angle. For steep roofs, selecting shingles designed for such pitches is essential. Our shingle roof guide recommends architectural shingles as an ideal option for steeply pitched roofs.
Roof Maintenance Requirements
Consider how much maintenance each type of shingle will require. Wood shingles require the most maintenance, followed by asphalt and metal shingles.
Other factors to consider:
Shingles come with a variety of warranties. Choose a type of shingle with a warranty that meets your needs.
Some types of shingles are more energy-efficient than others. If you are concerned about energy efficiency, choose a type of shingle that is designed to reflect heat.
Some types of shingles are better at reducing noise than others. If you live in a noisy area, choose a type of shingle that is designed to reduce noise.
Apart from shingle type consideration, selecting a reputable roofing contractor is vital for installation. Ensuring proper installation is essential in guaranteeing the durability and efficiency of your roof as detailed in the Shingle Roof Guide.
The Best Roofing Company in Florida & Georgia
When deciding on the best shingle type for your home, it's crucial to assess your unique requirements and preferences. Evaluate factors like your budget, local climate, and home style. If you're contemplating a new roof installation in Sarasota, Lakeland, or southern Georgia, connect with the expert team at Stronghold Roofing & Solar for guidance from our shingle roof guide.
We offer a full range of roofing services, including free estimates, and we would be delighted to work with you to find the best shingle roofing option for your home.
FAQ's
Are shingles the best choice of roofing material for my home?
Shingles are a popular choice for roofing materials due to their affordability, durability, and range of styles. However, the best choice ultimately depends on your specific needs and budget. It's always recommended to consult with a professional roofing contractor for advice.
How long will my shingle roof last?
The lifespan of shingle roofs varies depending on the type of shingle used, climate, and maintenance. On average, asphalt shingles can last up to 30 years, while wood and metal shingles can last up to 50 years with proper care.
Do I need to replace my entire roof if only a few shingles are damaged?
It depends on the extent of the damage. In some cases, individual shingles can be replaced, but if the damage is widespread, it may be more cost-effective to replace the entire roof. It's best to consult with a professional roofing contractor for an accurate assessment.
Is it necessary to hire a professional for shingle roof installation and repairs?
It is highly recommended to hire a professional roofing contractor for proper installation and repair of shingles. This ensures that the job is done correctly and safely, minimizing the risk of future issues or damage to your home.  Additionally, professional contractors often offer warranties for their work.