A home's roof serves an obvious functional purpose – it keeps the residents and the inside of the home dry and safe. Roofs also often serve another purpose as well, by being a significant contributor to the way the home looks on the exterior.
Tile roofs are among the most striking of all roofing options. Often associated with Mediterranean-style homes, tiles today come in such a range of materials, styles, and colors that they can be appropriate for many different types of architecture.
Tile roofs are common throughout certain parts of the United States, namely the southwest and southeastern states like Florida.
Tile Roof Pros
Using tile as a roofing material offers many important benefits.
Long Lifespans
Depending on the specific type of tile roofing material, a tile roof can be expected to last 50 – 100 years or even longer. Some tiles have even lasted for two centuries. In contrast, most asphalt shingle roofs last between 15 and 30 years. The long life expectancy of tile roofs means that most homeowners will only need to do a full roof replacement once during their own lifetime.
Fire Resistance
Clay and concrete tiles are ideal in fire-prone areas because they have the highest rating in fire retardancy.
Wind Resistance
Tile roofs can be a good choice in areas that get high winds, since they are designed to withstand winds of up to 150 MPH.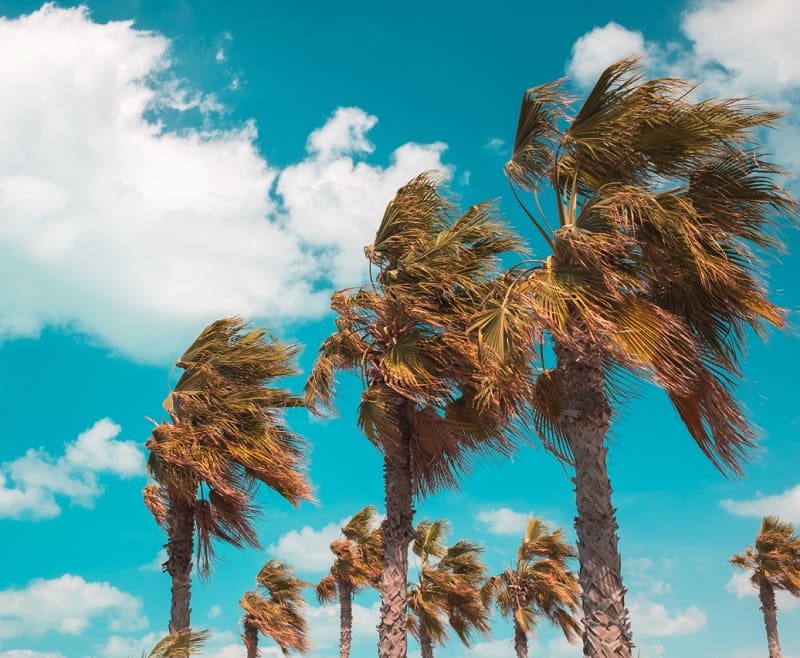 Hail Damage Resistance
Most types of tile roofs stand up well to hail and sustain minimal or no damage when hit by other small objects.
Salt Air Resistance
Unlike many other roofing material options, some of the choices in tile roofing are relatively unaffected by salty air. This is particularly useful in states like Florida, where many homes are located near the ocean or Gulf.
Low Maintenance
Tile roofs do not often have leaks, and the few occasions when roof repair is required are typically a result of damage from weather or other heavy impacts.
Environmentally Friendly
Clay and concrete tiles are made from natural, sustainable resources, and chemical preservatives are not needed when producing them. Should it be necessary to remove them, most tiles are recyclable.
Unique Aesthetics
Tile roofs have a unique look that can enhance the overall aesthetics of homes. Because modern tiles are available in a wide variety of styles and colors, their use is not limited to one type of architecture.
Energy Efficiency
A tile roofing system is installed in such a way that there is natural air ventilation under the tiles. This minimizes the transfer of heat, meaning that less energy is needed for cooling the home.
Tile Roofing Cons
While tile has numerous benefits, it is not without its downsides. Homeowners considering having a tile roof installed should be aware of the following cons.
Cost
The cost of tile roofs varies depending on the type of material, style, and other options. Nonetheless, a tile roofing system can be expensive, especially when compared to options like asphalt shingle roofing that often costs only half as much upfront. It is important to note, though, that the lifetime cost of a tile roof may be less because it will likely last significantly longer.
Weight
Some roof tiles can be extremely heavy. For example, clay tiles can weigh as much as 12 pounds each, so a properly reinforced roofing structure is often required. This fact alone can make reroofing with tile an unaffordable option, since not only are the materials more costly, but additional materials and labor might be required to support them.
Installation
Installing a tile roof is not a DIY project that most homeowners can do. Tiles must be measured carefully, installed in a specific pattern, and inspected by a knowledgeable tile roofer. Improper installation can negate warranties, result in sub-optimal roof performance, and lead to frequent repairs. Just as experienced metal roofers will be best suited for metal roofing work, roofers with knowledge in tile installation should be called on to work on tile roofs.
Types of Tile Roof Materials
Roof tiles can be made from a variety of materials.
Clay Tiles
Clay roof tiles have a traditional, Mediterranean look that is familiar in some areas of the country. Made of readily available, natural material, they have been used for centuries. Clay tiles are baked at high temperature to form a strong, impenetrable material. Though it is naturally earth-toned in color, clay can be sprayed with an enamel before the baking process to make it virtually any color. Though they can be heavy, clay tiles are typically significantly lighter than concrete. Downsides to clay tiles are that they are less durable in extremely cold temperatures.
Concrete Tiles
Concrete tiles are common in Florida residences because they are very versatile in terms of styles and textures. They can simulate the appearance of clay or slate, and are environmentally friendly. Overall, concrete tile has the lowest life cycle cost of any roofing material, and it outperforms clay in colder climates.
Metal Tiles
Metal tile roofing has become popular among homeowners because it is lightweight and can imitate other tile types. Metal tiles are available in a wide range of shapes and colors, and they are an affordable option that may not require roof reinforcement. The downsides of metal roof tiles are that they are susceptible to dents, do not have insulation capabilities, and can be dangerous to walk on, especially when wet.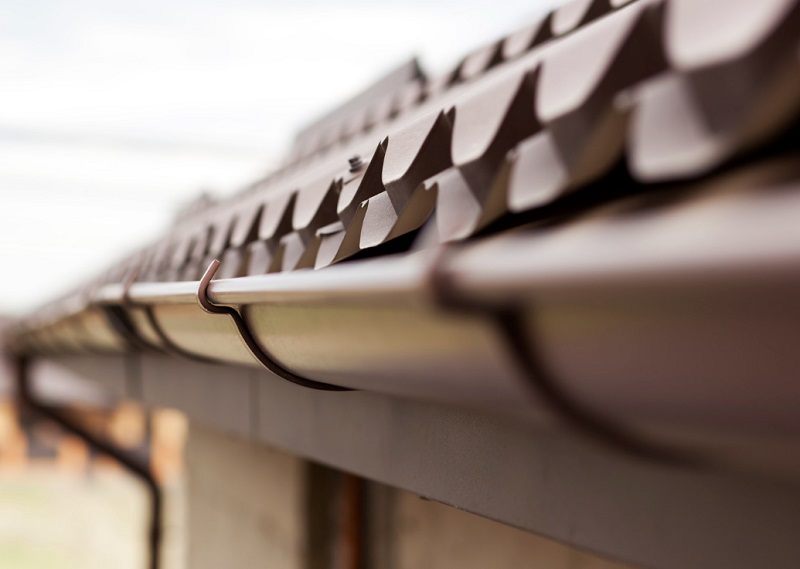 Composite Tiles
Composite tile roofs are made from sustainable mixtures of natural and man-made materials. They can simulate the look of any other tile roofing material and are available in a wide range of colors. They are non-porous, so mildew and mold do not grow, but they do build up dirt and require regular cleaning.
Bituminous Tiles
Bituminous tiles are light and flexible, made from cellulose fiber or fiberglass imprinted with bitumen. They are the easiest tile option to install, since fasteners or screws are not needed because adhesive is used instead. The lack of fasteners means that bituminous tile roofs are less likely to leak. Bituminous tiles are expensive.
Solar Tiles
Solar roof tiles can be used in place of standard roof tiles. Solar tiles are connected to a battery inside the home, and power is generated from the sun. They are the height of environmental friendliness, but they are costly, require knowledgeable professionals to install, and need regular maintenance.
Styles of Roof Tiles
In addition to a choice of materials, homeowners considering a tile roof also have options when it comes to the style of the tiles.
Spanish tiles are the protypical tile roofing material. They have a wavy "S" shape that forms a distinctive pattern of ripples across the roof, creating a classic Southwest look.
Mission (or barrel) roof tiles are curved barrels that are installed to form alternating convex and concave shapes on the roof.
Some flat roof tiles do not interlock, so installation can be customized and very creative.
Shake roof tiles are designed to simulate the look of wood shakes, which is very popular.
French roof tiles are sometimes called Marseille tile. They have two flutes on the surface of the tile and a very strong interlocking design.
Custom tiles are used for roofs that are rounded or domed. For these roofs, tiles must be created such that the shape is molded to the contour of the roof, which can create a truly stunning design.
Tile Roof Installation
Tile generally works well on roofs with a slope that is greater than 20 degrees. Some recommendations suggest that they should not be used on roofs with pitches below 4:12.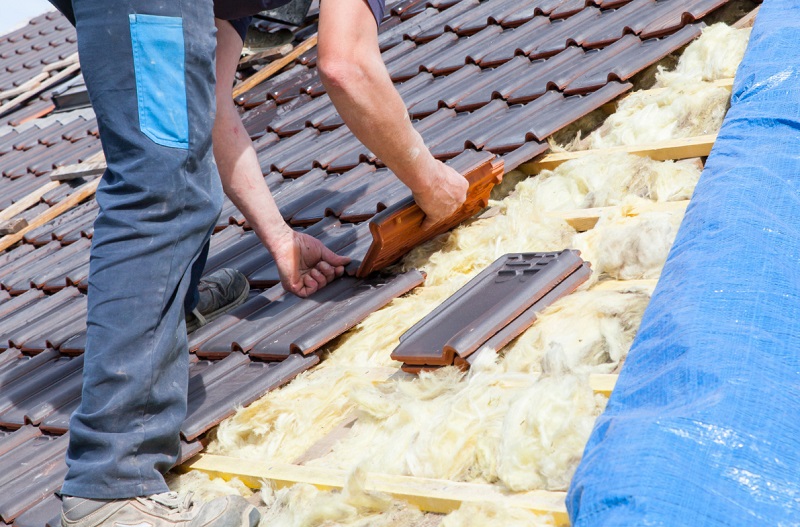 However, very steep roofs may incur higher costs during installation because special equipment could be required. Each type of tile requires certain steps during installation, but here are some general guidelines for tile roofs.
Step One
Among the most important things when installing tile is a good roofing underlay, because this can influence the tile's durability. Proper installation of the underlay is also very important.
Step Two
After laying the underlayment, roofing contractors will next install metal flashing around chimneys, skylights, vents, and anywhere else that the sloped roof meets a vertical surface. Flashing is designed to direct water away from areas of the roof where it could cause damage.
Step Three
The roof tile is laid next. The exact process depends on the specific type and style of roof tile. Generally tile roof installation begins at the bottom edge of the roof, and the roofer will work upwards toward the peak. Each new row of tiles overlaps the previous row to ensure that water cannot get under the tiles.
Step Four
After the tile is installed, the roofer should do a thorough inspection and clean up any debris from the roof installation.
Tile Roofs in Florida
Tile roofs are more common in Florida than in other parts of the country because their higher cost is offset by their ability to withstand salt air, extreme humidity, heavy rains, and high winds – all conditions that are likely to be found in the Sunshine State.
Because of this, the Tile Roofing Institute (TRI) and the Florida Roofing, Sheet Metal and Air Conditioning Contractors Association (FRSA) teamed up to develop an installation manual for tile roofs called Florida High Wind Concrete and Clay Tile Installation Manual. The manual addresses the best installation practices and code requirements for any roofer contractor working on tile roofs.
The Best Roofing Company in and Near Lakeland
Whether you need commercial roofing or residential roofing, Roofing Depot of FL is the best choice for roofing services in central Florida.
Our team of roofing professionals has the knowledge and skill to do a complete tile roof installation, from providing a free estimate to helping you choose the tiles that meet your needs and your budget.
In addition to tile roofs, we do installation, repair and roof inspection for:
Asphalt shingle roofing
Metal roofing
Flat roofing
Mobile home roofing
When insurance claims are part of the roof work process, we can work directly with homeowners insurance companies to ensure that everything is documented and filed properly, eliminating hassle and headaches for our roofing customers.
Our roof financing options can be helpful in budgeting for more expensive roof repairs or roof replacements. Fixed monthly payments with no prepayment penalties can help spread out the cost without tapping into your home's equity.
Roofing Depot of FL is licensed and insured, serving all of central Florida, including Lakeland, Brandon, Winter Haven, and Plant City. Our founders are lifelong Polk County residents, dedicated to providing quality roofing services to our friends and neighbors. They personally guarantee that they will do everything possible to be sure that you feel informed when making big decisions about your roof and that you are satisfied with the quality of your roof work.
Contact Roofing Depot today for a free roof inspection. We'll knock your shingles off!