It is that time of year again! The holiday season is just around the corner, and it is time to start putting up your lights. If you are planning to create a festive look by decorating the outside of your home this year, be sure that you do so correctly, since you could cause serious damage to your roof or cause injury to yourself and others.
It is important to stay safe AND keep your roof intact, so here are some tips from your favorite roofers.
How To Hang Lights On Your Roof
First and foremost, you must always consider safety when hanging Christmas lights – or doing anything that involves a ladder and electricity!
Try to install lights on a day when the weather is good, and do it during the day so you are able to see what you are doing.
Even if you have a single-story home or are only decorating at the lower level of a two-story house, use caution. Stringing lights can require frequent steps ups and down a ladder, and a missed step can end up in a twisted ankle, broken arm, or worse. Moving the ladder from one spot to the next repeatedly can make it tempting to try to hurry or to reach further than is safe, but remember that a fall could ruin your whole holiday season.
Never stand on the top of a ladder; if you cannot reach where you are trying, get a taller ladder or revise your plan for where you will put lights.
It is a good idea to test all the lights before starting the project to ensure that they work properly. Trying to fix non-working lights while you are installing them is a headache you want to avoid.
Here are a few additional safety measures:
Use a stable ladder and ensure that it is the correct height to get onto your roof without putting too much strain on your body.
Use proper handrails when available and have someone spot you while you climb up and down the ladder.
Make sure all of your tools are close by so you do not have to lean too far off the ladder to reach them.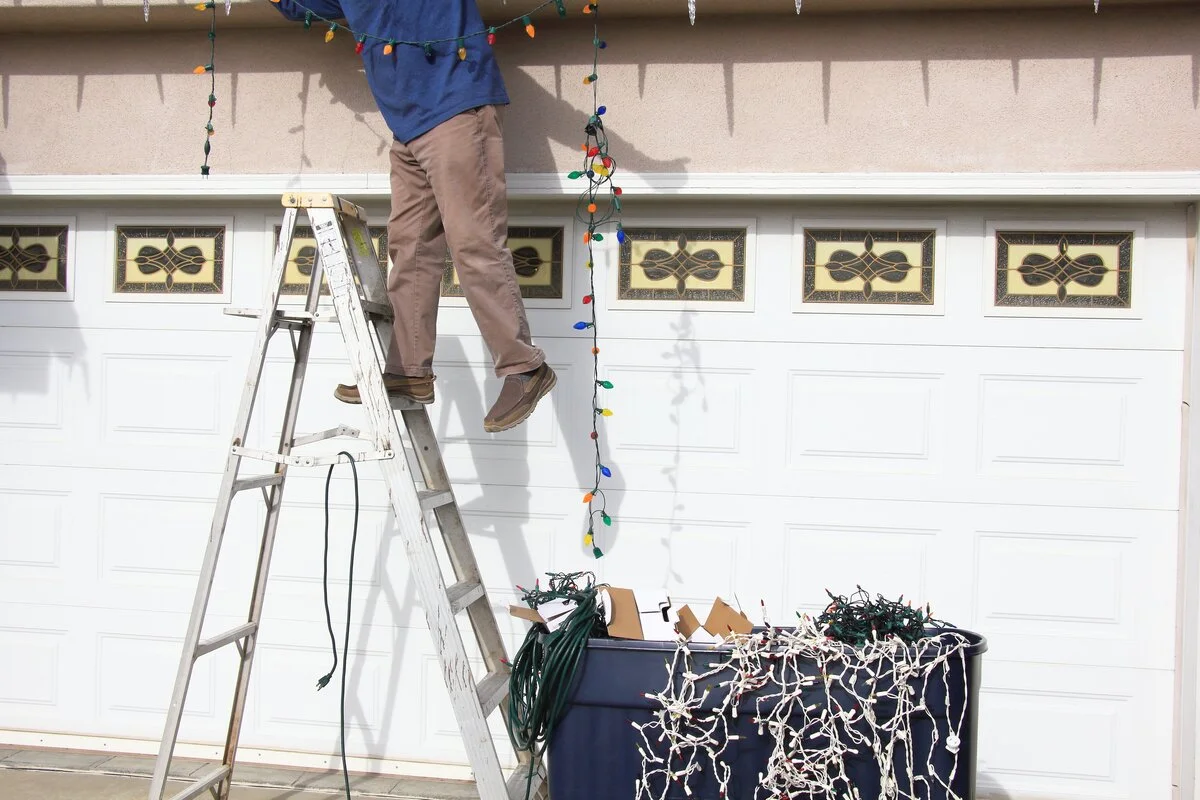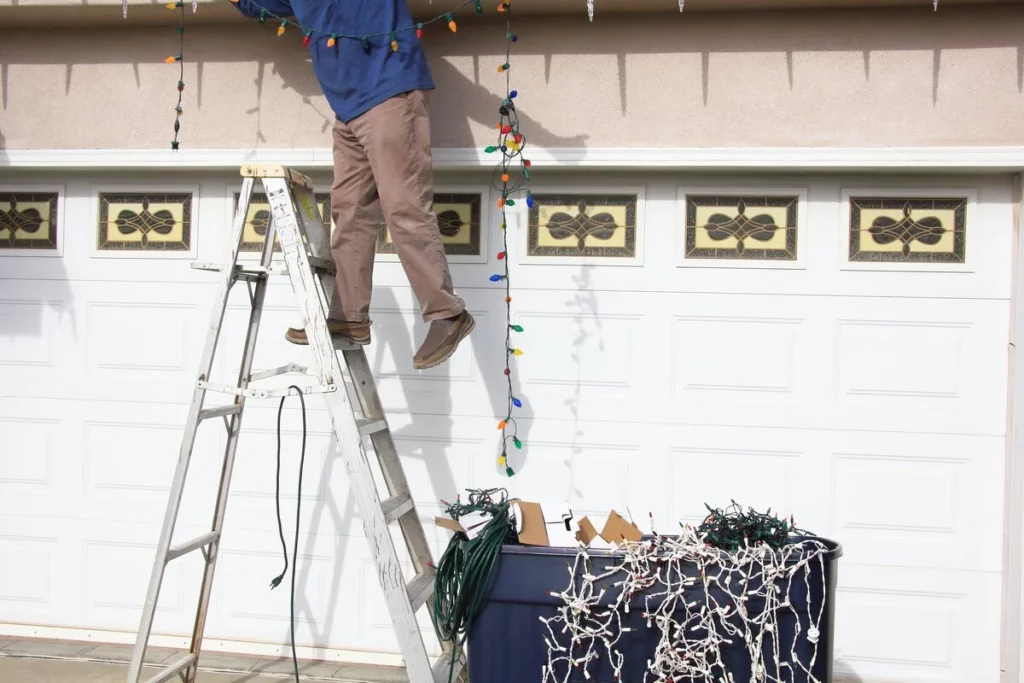 Additionally, it is always very important to use lights that are approved for outdoor use.
Always switch off the lights at the end of the day, and always be sure to unplug them before leaving home. You can purchase a timer that will automatically turn the lights on and off.
Tips to Prevent Roof Damage
While you want your home to look festive for the holidays, you do not want to end up needing roof repair or roof replacement later. Follow these simple rules to avoid having to get roofing service after the holidays.
Most roofers will advise against the use of any fasteners like nails or staples, since even small punctures in the roof, fascia, or gutters can cause problems later. Instead, you should purchase and use special plastic clips that are designed specifically for attaching Christmas lights to the gutter or roof.
Several different types of clips are readily available for different styles of roofs.
All-in-one clips are made to slide under a shingle or attach to a gutter.
Clay tile roof clips have jagged teeth to help them stay in place without damaging the tiles.
As the name implies, eave clips are meant for use on eaves, but they also can be used on railings and banisters.
There are even clips designed for use along the peak of the roof.
It is best to try to avoid clips that require you to lift the shingles or other roofing material since this can break the seal and cause problems or even serious roof damage later.
Roof Lighting Choices
When it comes to making your home festive with lights, there are several choices and many options to consider.
Do you want white lights or colored ones?
Do you want to outline the roof, or perhaps the roof and the walls?
Would you prefer to cover the entire roof with lights?
Are there areas of your home's exterior that you would like to emphasize with lights?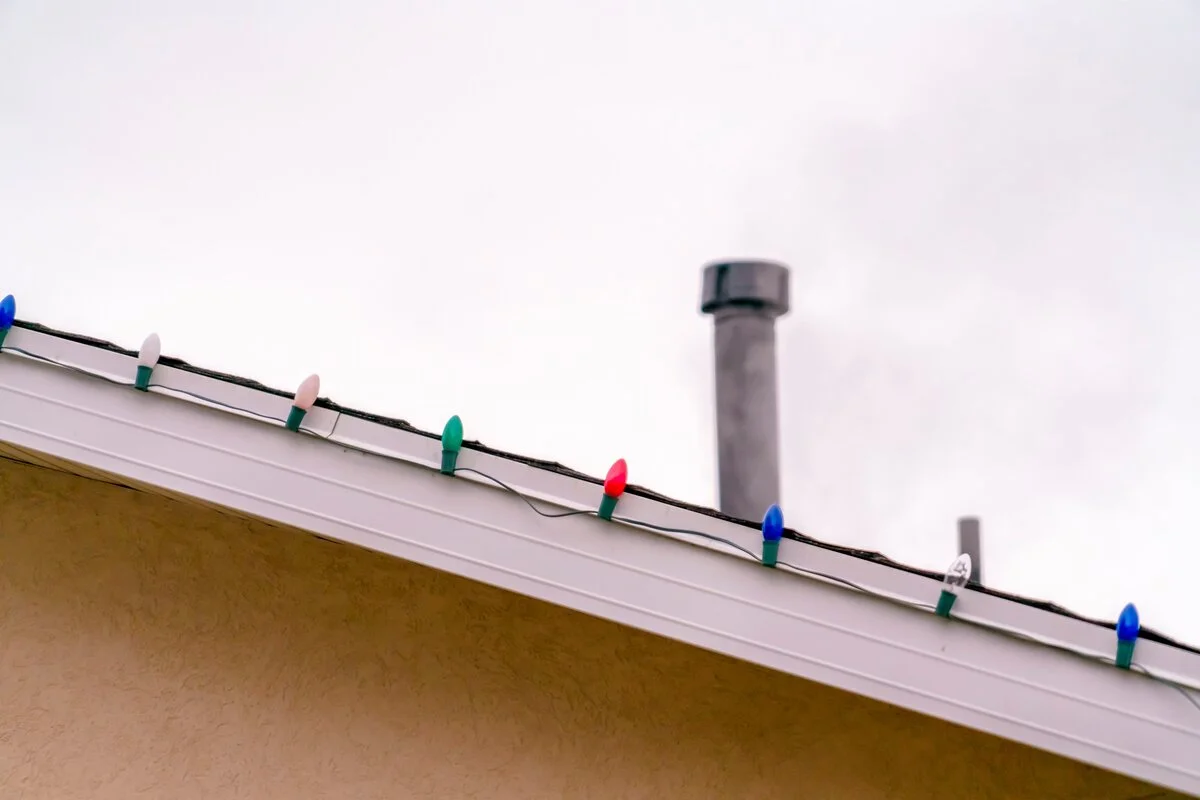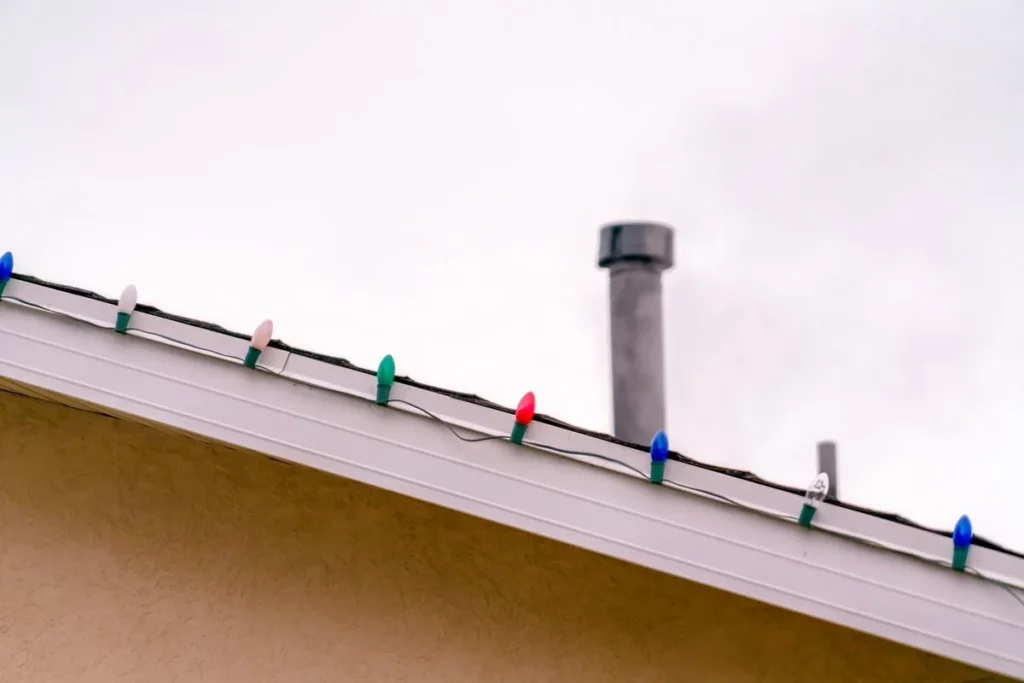 Types of Outdoor Christmas Lights
With so many options for using lights to decorate your roof, one of the first choices is what type of lighting you want.
Incandescent lights are generally less expensive, but they are less energy-efficient and can pose a fire hazard because they get hot.
LED lights use less energy but tend to be somewhat more costly upfront. They offer the advantage of being able to string many sets together, making it easier to install on homes that have limited access to electricity outside. RGB LED lights are a special type of LED lights that are programmable, so you can make them virtually any color you choose.
Projection lights are a way of adding a festive touch to your home with virtually no installation required. Projection spotlights just need to be plugged in and placed so they shine on your home. You can achieve a variety of lighting effects with just the flip of a switch.
Styles of Outdoor Christmas Lights
Gone are the days when all houses were decorated the same using the same kind of lights. Now, there are a myriad of choices. Here are a few of the most common:
Large bulb lights come in your choice of colors and give a home a traditional Christmas look. They are also available in a variety of shapes, such as stars and snowflakes.
Icicle lights come in various lengths and colors, and are intended to look like icicles hanging from the roof.
Mini string lights are commonly used indoors but can also be used outside. These lights tend to emit less light, though, so they make less of a statement outdoors.
There are quite literally dozens of other options, so if you are looking to create a unique style, take a look at retailers that sell lighting.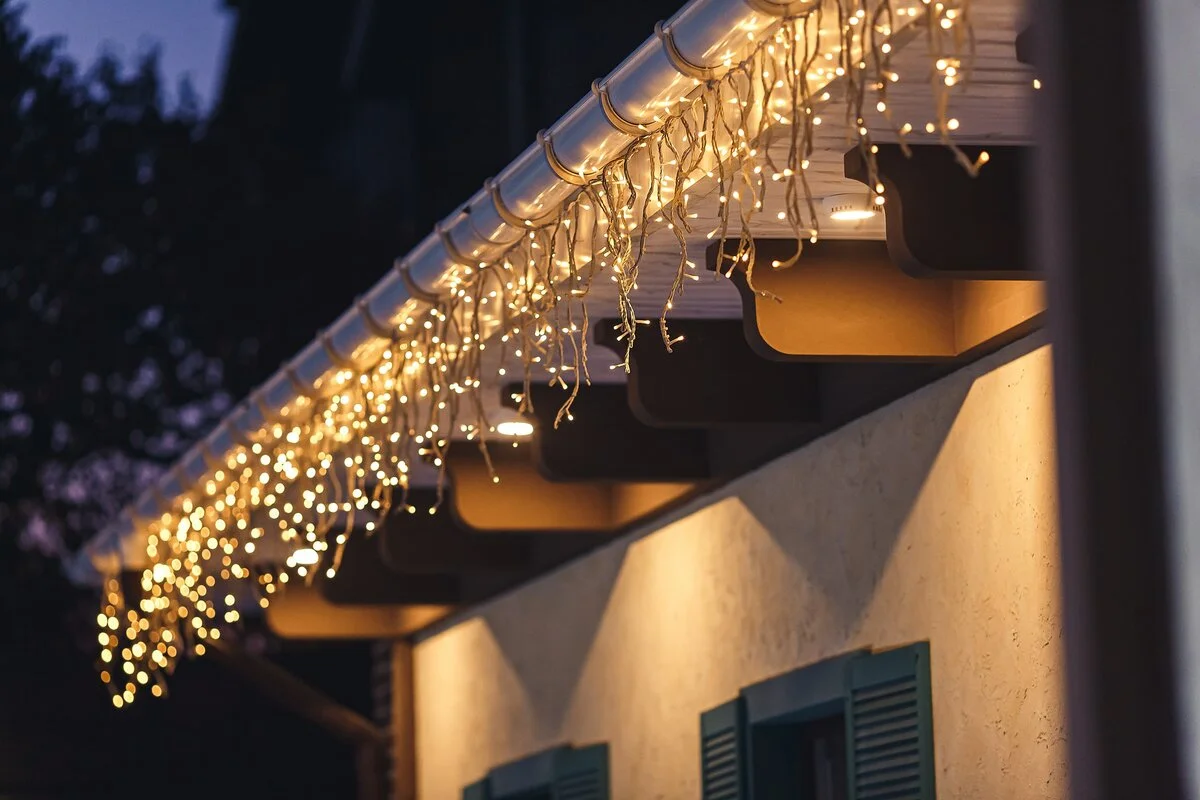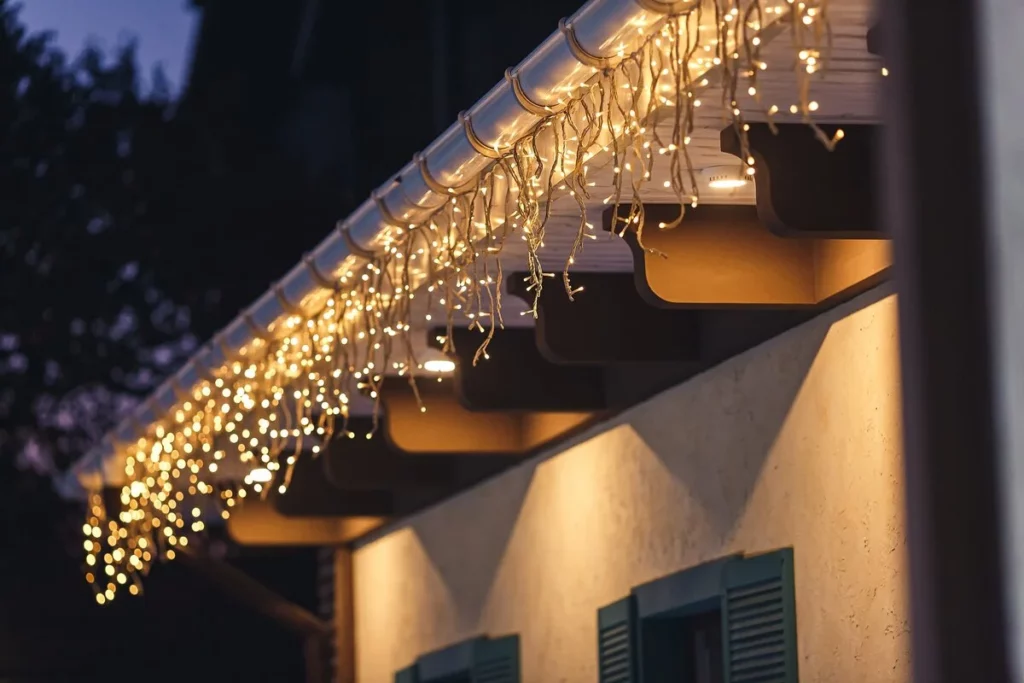 How To Hang Lights Along the Roof Line
To hang lights along the roof line, start by making a plan and laying out the strings of lights on the ground. Be sure that you have enough to complete the entire job before getting started.
Once you have done that, locate the source of outdoor power. Unless you are using battery powered lights, you will need somewhere to plug them in! If you use extension cords, be sure that are UL-rated and safe for outdoor use.
Next, find the spot where you want to begin, which is often at a corner. Once you have located it, use a plastic clip to attach the first light to the gutter or part of the roof, depending on what type of clips you are using.
Then, move along the edge of the roofline, and continue attaching lights until you reach the other end. Most lighting sets can be strung end to end, so add as many as necessary – but always stay within the guidelines of the manufacturer!
If your home has multiple levels or slopes, you will need to find the highest point and start there. Then, hang lights on the lower sections of roof.
Cover Your Entire Roof With Christmas Lights
Outdoor holiday decorating trends come and go, but one style that is popular now is to cover your entire roof with Christmas lights. There are outdoor lighting sets that are mesh, or a "net" of lights that can make achieving this look easier.
Covering your whole roof can give your home a uniquely bright and festive look, and if this is what you want you should follow these step-by-step instructions for doing so safely:
To put lights all over your roof you need to first consider all of the safety precautions mentioned above, plus a few additional ones:
Wear proper shoes with good grip to prevent slipping. Falls are one of the most common injuries around the holidays, so do not take this suggestion lightly.
Make sure that someone remains on the ground while you are on the roof. They can hold the ladder while you go up and down, and ensure that you remain safe throughout the process of installing lights.
Since you are going to be on the roof anyway, you should consider spending a little extra time doing a roof inspection. Look for broken or missing shingles, bowing or sagging along the peak, and missing or damaged flashing. If you see any of these, be sure to make the repairs as soon as possible. This is also a good time to clear any debris from the roof and make sure gutters are clear.
Once you are on your roof, be sure to keep these things in mind:
Be mindful of the direction and placement of your lights so that they do not cause any damage to your roof or cause the lights to overheat.
Use clips specifically made for attaching light strings that are designed not to slip off tiles and metal surfaces.
You should not use staples, but if you must, then be sure that they are insulated. Be careful to not accidentally puncture any cables when you fix the light strands in place.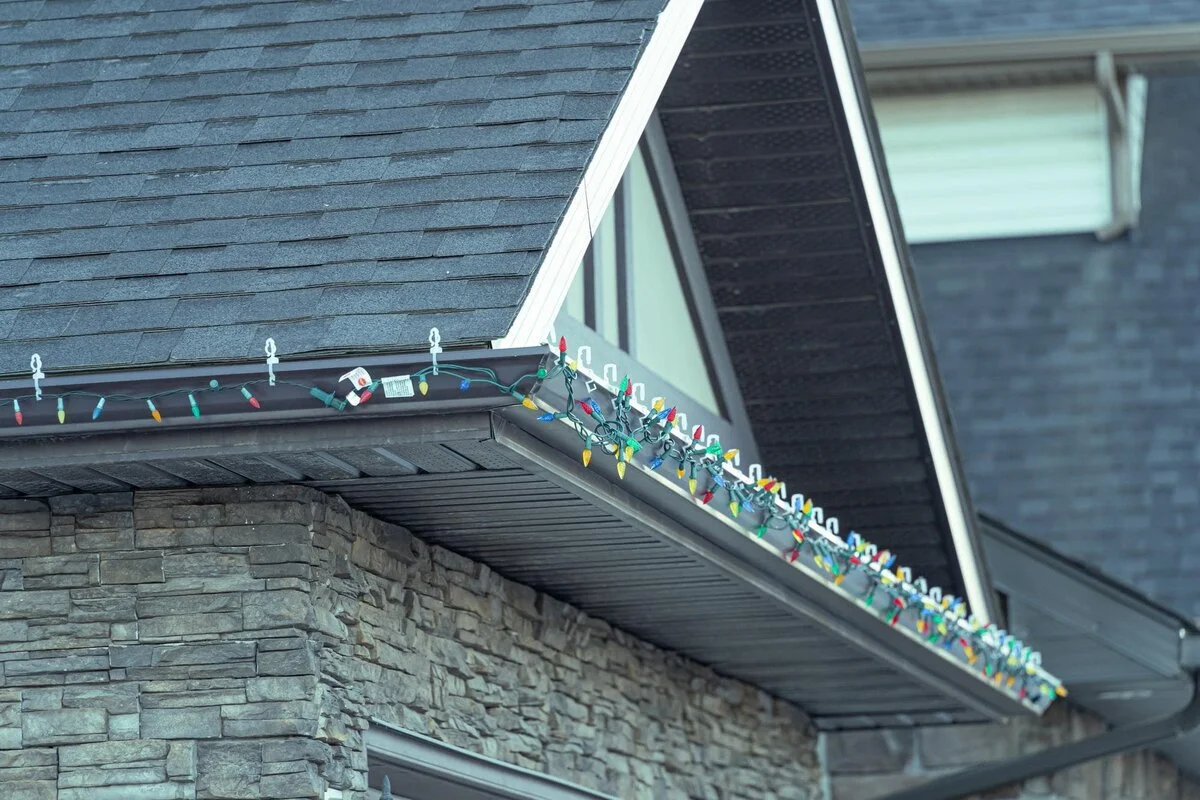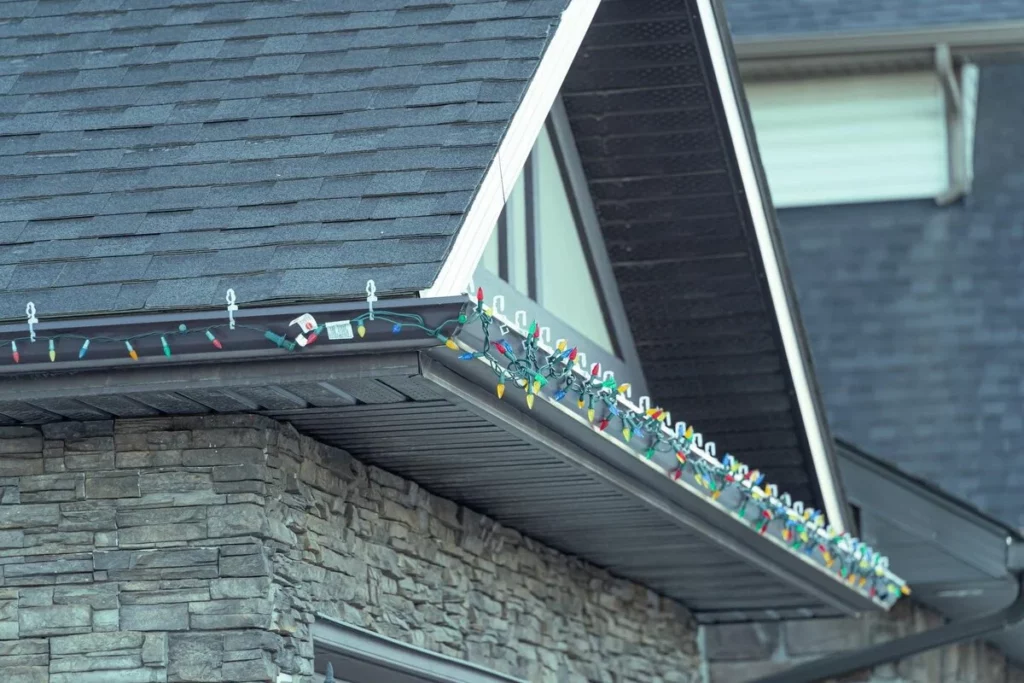 When to Take Down Your Christmas Lights
Once the holiday season is over, it is important that you take down your lights as soon as possible. The longer they are up, the greater chance they have of getting damaged by wind or weather.
When removing the lights, take a few extra minutes to ensure that all the clips have been removed, and that no wires or pieces of plastic are left behind. This will help preserve your roof's integrity in the long run.
Putting up Christmas lights can be an enjoyable way to celebrate the holidays while making your house look beautiful. However, it is important that you do it safely, so your roof remains undamaged. With these tips and a little bit of patience, you can easily add some festive cheer to your home this holiday season.
Stronghold Roofing & Solar In & Near Lakeland, FL
When you need a roofing contractor, do not just do an online search for "roof company near me." Go with the best roofing company in Florida – Stronghold Roofing and Solar.
We have been serving our neighbors throughout Central Florida for years, and our team of experienced professionals can do anything from roof inspections to roof installation – and everything in between!
We offer roof financing, 24/7 service, the best warranties in the business, and we can even work with your homeowners' insurance company on any claims.

Contact us today for a free estimate.