Commercial property owners want to ensure that the roofs on their buildings are effective at serving their primary purpose – keeping the interior dry and safe. There are a wide range of options in commercial roofing, so business owners in need of roof repair or roof replacement will want to work with a reputable commercial roofing contractor.
As with residential roofing, commercial roofing trends evolve over time. New materials are introduced that are less expensive, more durable, or last longer. New technologies can make everything from inspections to installation more efficient.
Here are some of the hottest commercial roofing trends for 2022.
Roofing Materials
New and improved roofing materials have changed the commercial roofing industry over the years. This evolution reflects the unique needs that commercial properties have due to the buildings' size, locations, and roof type.
Solar Integration
With the growing emphasis on renewable energy and the environment, commercial building owners are increasingly looking to integrate solar panel technology into their roofs. Solar manufacturers have responded by developing designs that can reduce heating and cooling costs – and are aesthetically pleasing.
Accompanying the growth in solar, energy storage is becoming increasingly important. Companies have been working hard to develop batteries that cost less and have better storage capabilities.
Metal roofing
Metal has been a very popular material to use for commercial roofs for many years, thanks to its durability and long expected lifespan. Metal roofs are energy efficient, offering excellent thermal retention that can result in lower cooling costs during the warm summer months.
From a design standpoint, metal roofs can be sleek and modern, but they can also mimic the look of traditional asphalt shingles or clay tiles. This makes them more appealing in applications where a more traditional design aesthetic is desired.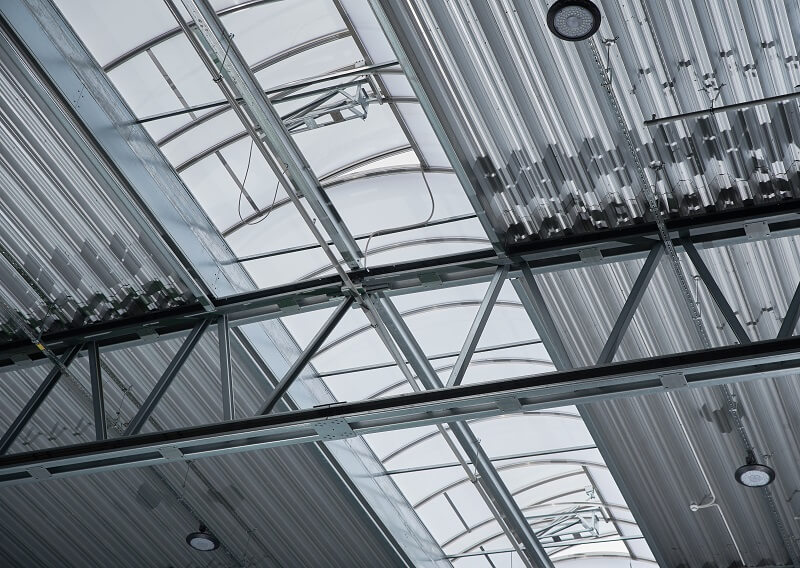 A downside of metal in the past – corrosion – has been alleviated by adding coatings to minimize damage from the environment.
Green Roofs
Green roofs are also known as living, vegetative, or eco-roofs. The basic anatomy of a green roof is different from other roof types, requiring several layers designed to both preserve the structural integrity of the roof and provide a medium for plants to grow.
Green roofs are not only eco-friendly, but also they can reduce energy costs because they provide a high degree of insulation.
Green roofs can also offer commercial property owners a beautiful, unique design aesthetic, and they can improve the air quality indoors by filtering the air through rooftop vents.
Commercial roofers expect the popularity of green roofs to continue to grow in 2022.
Cold Roofing
Cold roofs have a high thermal resistance index, which means that they can help reduce the demand for air conditioning, cutting cooling costs by nearly one third. The cost savings and environmental friendliness should continue to make cold roofing popular throughout 2022 and beyond.
Synthetic Roofs
Made from materials like rubber, plastic, or polyurethane, synthetic roofs have been used on commercial properties for quite a long time. More recently, manufacturers have introduced materials that have the same low-maintenance characteristics as older membranes, but are lighter, fireproof, impact resistant, and even more durable. Synthetic roofs are also attractive because they are recyclable.
White Reflective Roofs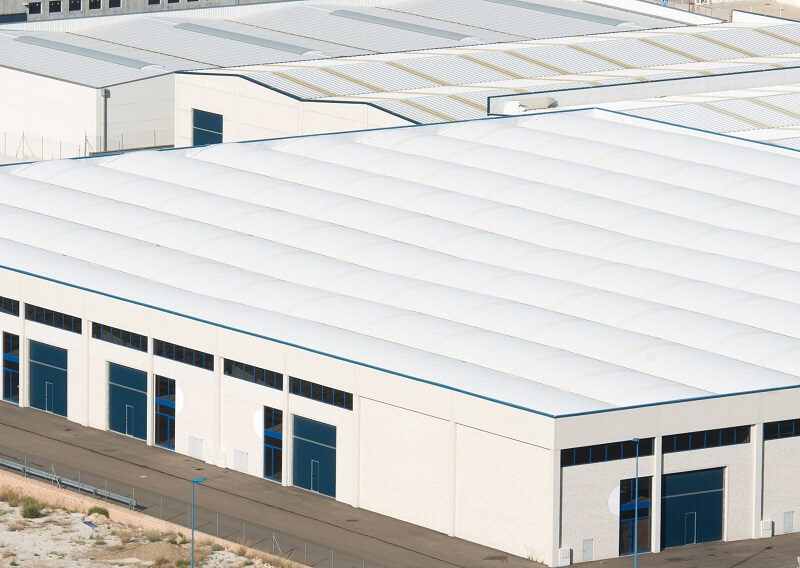 It is a commonly known fact that lighter colors reflect more of the sun's rays and absorb less heat than darker colors. A traditional black roof can reach 150 degrees on a hot summer day, but white, reflective roofs can be 50 degrees cooler. This can yield significant reductions in cooling needs.
High Density, High Performance Insulation
High performance insulation has been one of the hottest commercial roofing trends for several years, as building owners look for cost savings and seek to minimize their impact on the environment. This trend should continue in 2022.
Silicone Roof Coatings
Two coats of a silicone roof coating over an existing roof can create a membrane that will not crack or deteriorate. Roof coatings can be a more affordable option than a roof replacement, and can extend the lifespan significantly. It is even possible to change the roof color to give it a completely different appearance.
Commercial Roofing Industry Trends in Technology
The use of technology has allowed commercial roofers to make major improvements in the way they help customers maintain their roofs.
Drones
As drones have become more available, commercial roofers are increasingly utilizing them to do roof inspections. An experienced drone pilot can scan parts of the roof that would be difficult to see otherwise, giving a more complete picture of any damage. Drones also offer the benefit of keeping roofing technicians out of potentially dangerous situations. Inspections can be done much more quickly and are more thorough.
Project Management Software
Commercial roofers are benefitting from new software that allows them to improve their processes, from developing quotes to communicating with customers and managing progress. This improved efficiency results in reduced costs, which can be passed along to customers.
Commercial Roofing Services
Commercial roofs tend to be different from residential roofs. They are often flat or have a very low slope, and they are typically much larger. Flat roofs require more maintenance and necessitate that the underlying structure be able to withstand the weight of the roofing material and any equipment that will be housed there.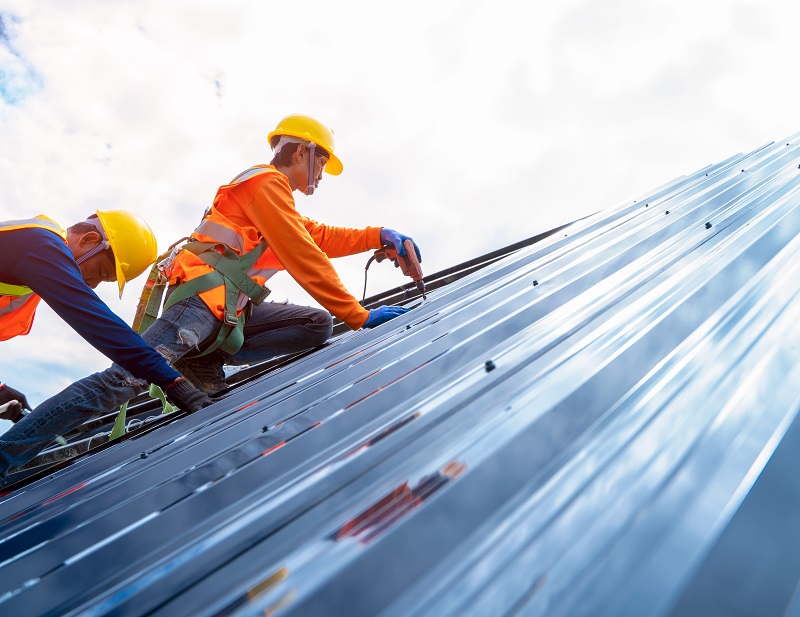 Every business property needs a properly functioning roof, which requires several types of services:
Commercial roof installation requires specialized knowledge and skill sets. Commercial roofing is very different from residential roofing. It uses different roofing systems, different materials, and requires specialized training. Commercial roofs need to have a solid structure to support them, particularly when equipment like air conditioning or telecommunications equipment will be installed on them. If the roof is flat or has a low slope, it is important that there is a good system for preventing water from pooling.
Commercial roof inspections are designed to identify potential problems before they become more serious. This includes examining roofing materials, roof decking, flashing, gutters, downspouts, and drainage pipes. Inspection of commercial roofs is recommended at least twice a year, though monthly inspections greatly increase the likelihood of identifying and correcting a minor problem before it becomes costly. It is also advisable to have a roof inspection done after any weather events like heavy rains, hail, or high winds, or after contractors (e.g., HVAC, telecommunications) have had access to the roof.
An inspection should include assessment of:
The roof coating for signs of peeling, bubbling, or cracking
The drainage system to keep it clear of blockages
The roof flashing around the perimeter and any equipment mounted on the roof
Skylights, chimneys, or other roof protrusions to make sure they are secure
Commercial roof maintenance is needed to ensure that the roof can reach its expected lifespan. This includes:
Making any repairs to roofing materials like membranes or flashing if needed
Cleaning away debris
Commercial Roof Styles
In general, commercial buildings have one of three styles of roof.
Flat Roofs
Flat roofs can be found on the majority of businesses built since the 1920s. Flat roofs require less material, and are easier and quicker to install. Flat roofs using roofing membranes are available in a variety of colors, though most buildings use white due to its reflective properties.
Flat roofs allow for the placement of equipment like air conditioning units, solar panels, and satellite dishes more easily than pitched roofs.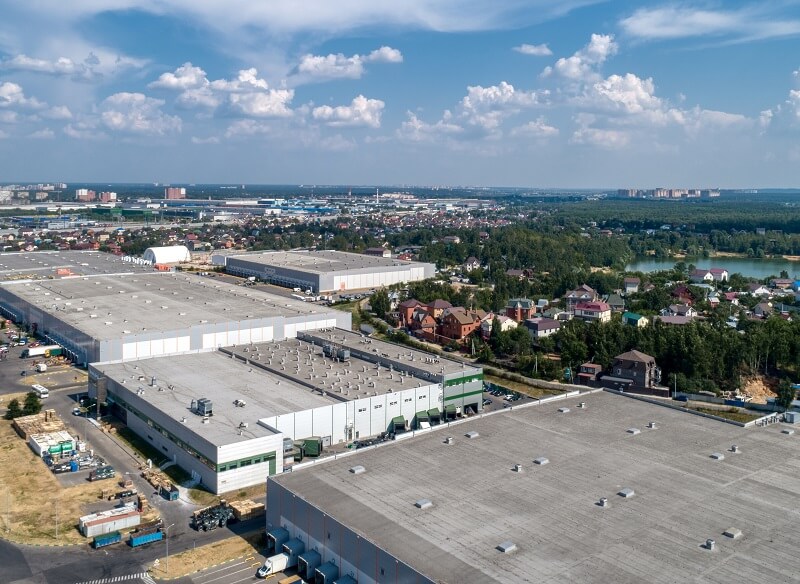 Low Pitch Roofs
These roofs have a slight slope, while still offering many of the benefits of flat roofs. Low pitch roofs, however, have the additional benefit of helping water run off.
Pitched Roofs
Some non-residential buildings, like churches or historic sites, have steeply pitched roofs. Beyond being a better aesthetic choice for certain building types, roofs with a slope minimize the risk of water building up, which in turn decreases the likelihood of water damage.
Roofs with especially steep pitches, however, can be challenging to work on, making repairs or replacement more costly.
Your Commercial Roofing Company in Lakeland
Roofing Depot of FL offers commercial roofing services in and near Lakeland, and throughout central Florida. We are dedicated to improving the community where we live by providing quality roofing services. We promise that we will find you the best, most affordable roof for your buildings' specific needs and for your budget.
We offer energy efficient, eco-friendly roofing options to help save you money in the long run. Roofing Depot of FL is qualified, experienced, licensed, insured, and certified, so you can rest assured that your roofing needs will be met with the utmost professionalism and quality.
Services are available 24/7 should an emergency arise that requires fast service and quick roof repairs.
Contact us today to set up a free inspection and consultation for your commercial roofing needs. Roofing Depot of FL – We'll knock your shingles off!