To some homeowners, a roof is merely a functional component of their home, providing shelter for the occupants and protecting interior structures and systems. For others, a roof is more than just functional; it is also a design element that impacts the overall aesthetic of the home. Whichever camp you are in, recent trends in roofing materials mean that you have more options than ever before.
Historically, the vast majority of homes in the United States had asphalt shingle roofs. First used in 1903, asphalt shingles were intended to replace fire-prone wood shakes or shingles. Asphalt roofs served that purpose well, and over time more choices were made available, with different colors and styles being introduced each year. Today, there are nearly infinite combinations of shingle type, profile, and roof color.
Other roofing materials have undergone similar evolutions. Metal roofs were once made of tin, which had the benefit of being lightweight, but which had a limited life expectancy due to rust. Lead and copper were used on the roofs for one of the "grandest mansions" in Virginia in the eighteenth century. Over time, the roofing industry has introduced metal options like aluminum, iron, and steel that are more durable – and coatings that come in various colors and improve life expectancy.
Installation practices have likewise evolved, resulting in roofs today that are much more durable and weather resistant than those in the past. It seems likely that roofing technology will continue to advance, offering homeowners even more choices in the future.
Top Roofing Trends for 2022
Technology and new discoveries have resulted in a dramatic increase in the number of options available for residential roofers who are assisting homeowners with a new roof or a roof replacement. Below are some of the more recent roofing industry trends.
Roofing Material Trends
Asphalt Shingles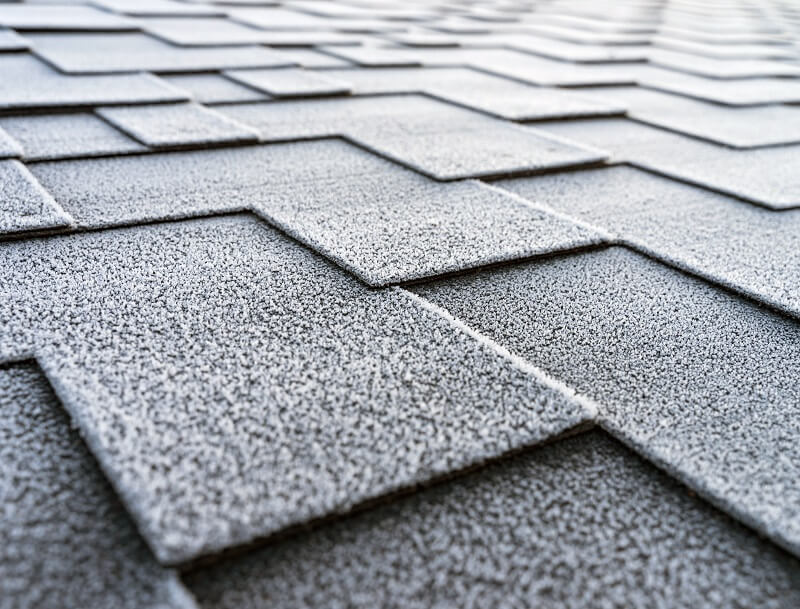 Asphalt shingles are the time-tested favorite for roofs in most parts of the country, and for good reason. They offer good protection from rain, snow, and other severe weather, they are easy to install, and, in most cases, they are the most affordable option.
Asphalt shingles are available in three grades: 3-tab, dimensional, and luxury. In addition, asphalt shingle manufacturers continue to introduce new color patterns and new style variations. Here are some of the newer developments:
Some higher end asphalt shingles mimic the look of real slate or wood shake roofing, but at a fraction of the cost. These continue to be attractive for homeowners looking to create a traditional, upscale aesthetic.
There are architectural shingles with scalloped edges that create a unique, Victorian look. For homeowners opting for a look from this period, scalloped-edge shingles offer a good balance between affordability and cohesive design.
Some asphalt shingles are being designed with granules that offer better sun reflectance than traditional shingles, which helps to keep the home cooler. Given homeowners' growing interest in the environment, these shingles will continue to become more popular in 2022.
Other newer shingles come with algae protection to keep unsightly and potentially harmful algae off the roof.
As more new options in asphalt shingle roofing become available, homeowners are able to choose a roof that complements their home and their personal taste.
Metal Roofing
Metal roofs are quite often seen on commercial buildings, but they are increasingly being used in residential applications as well. Although it is lightweight, metal is able to withstand severe weather conditions, and it has a long life expectancy – between 40 and 70 years.
From an aesthetic standpoint, metal roofs are no longer just the standing seam roof that many homeowners are familiar with from the past. Metal has become a good choice among modern roofing materials because it can be sleek and contemporary, or more traditional.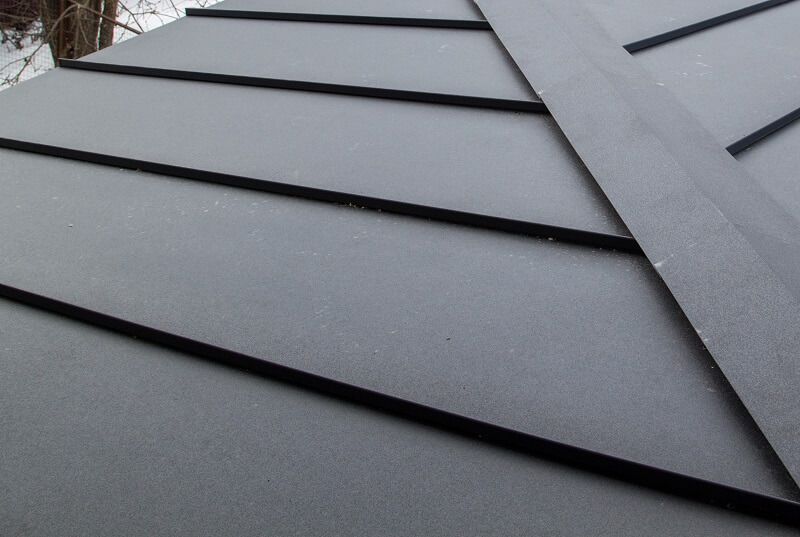 Metal roofs can be made from a variety of materials;
Aluminum is light and does not corrode, making it suitable for coastal or high humidity areas.
Copper is long-lasting and develops a patina that gives it a unique look.
Zinc, like copper, will develop a protective layer of patina, and is very long-lasting.
Steel is the most common type of metal and comes in a variety of finishes.
Metal roofs are available in several formats: corrugated, standing seam, shingles, slate look-alikes, and tile look-alikes.
The many options available with metal roofs have made them a popular choice for homeowners over the past decade, and the trend seems likely to continue in 2022. Look for more options as manufacturers work to offer homeowners the choices they want.
Eco-Friendly Roofs
Though still relatively rare for residential roofing applications, eco-friendly "green" roofs are becoming popular with homeowners who are looking for a unique look combined with practical benefits. Green roofs that include plants can help insulate the home, absorb rainwater, and provide natural shade that cools the building.
"Cool" Roofs
Cool roofs are perfect for warmer climates because they can reduce indoor temperatures significantly. The reflective paint or coverings of a cool roof or white roof can reflect the sun's rays and save on energy usage.
Hybrid Roofs
The use of more than one type of material is continuing to grow in popularity. These roofs can create a unique and interesting aesthetic while providing superior protection to the home. Additionally, depending on the materials, hybrid roofs may have a lower overall cost than one material alone.
Solar Roofs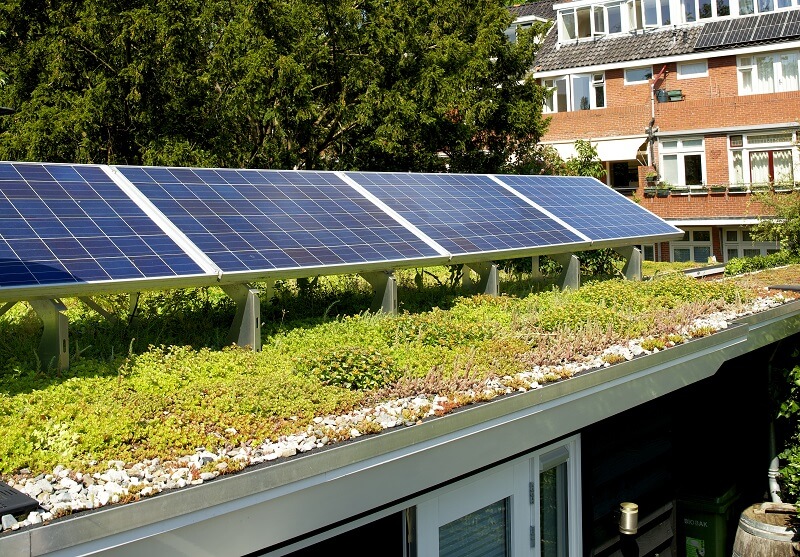 Homeowners or business owners can harvest their own energy with solar roofs, lessening the impact to the environment and potentially saving money on energy costs. Solar panels and solar shingles are now available in styles that mimic the appearance of traditional roofing options, making them a more attractive choice for homeowners concerned about aesthetics.
Synthetic Roofing
Synthetic materials are another "greener" alternative. Their environmental impact is low because they are recyclable and long lasting. Additionally, the cost for synthetic roofs is often lower than other options. Rubber is one example of a synthetic material used on many homes today, with rubber shingles that are designed to look like asphalt shingles. Composite plastic roof shingles are another environmentally friendly alternative because they are usually made from recycled plastic materials. They can imitate slate tiles or wood shakes, but are much lighter and easier to install.
Architectural Style Trends
Flat Roofs
While commercial buildings have had flat roofs for many years, their usage in residential applications has been more limited. Now, though, the straight, clean lines of flat roofs are growing in popularity as home design reflects mid century modern influences. Flat roofs are also suited for "green" roofs, and they provide a good surface on which to mount solar panels.
The particular aesthetic associated with flat roofs is growing in popularity in certain parts of the country, though they are less desirable in areas that receive significant snowfall. Unlike with sloped roofs, snow can accumulate on a flat roof and cause problems.
Clean Modern Rooflines
A noticeable trend in newer homes is toward less complicated rooflines. Rather than complex roof structures with multiple pitches, gables, and dormers, many homeowners are opting for a more simple and straightforward design aesthetic.
Roof Color Trends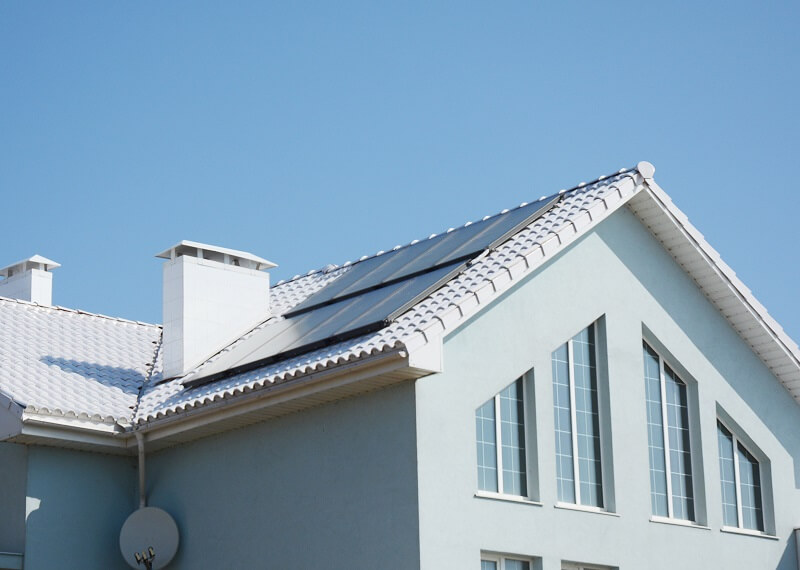 Thanks to the newer options available, homeowners are increasingly focusing more attention on their roofs, and choosing more eye-catching color combinations. One popular trend over the past several years has been white homes with black accents and roofs, and this combination is expected to continue to remain in vogue in 2022.
White or light colored roofs are also a trend that can be expected to continue in 2022. Not only do these roofs make a design statement, but they also can provide significant energy savings by limiting the temperature in the attic.
Options for roof color have continued to increase. Now, manufacturers offer asphalt shingles in shades of blue, red, gray, green, brown, and more. SImilarly, tile and metal roofs are available in many different colors.
Manufacturers now offer color visualizing technology that allows homeowners to see what a new roof color will look like on their home, allowing them to make a better choice. Coordinating a home's exterior walls with the roof can be challenging for most homeowners to visualize, so these color visualizers are becoming increasingly popular among homeowners.
Do You Need a New Roof?
Before making any choices about a new roof, it is important to find a reliable, professional roofing contractor who can work with you to identify the needs for your specific roof and provide a written estimate outlining exactly what you should expect in terms of materials, timeframe, permits, and warranties.
Signs you need a new roof include:
Water damage in the attics or on walls or ceilings inside the home.
The roof has exceeded or is nearing its expected lifespan.
Asphalt shingles that are curled or missing, or excess granules in gutter or downspouts.
There is significant damage from wind, hail or other severe weather events.
When you see any of these, it is recommended that you contact a roofing contractor to do an inspection. Many professional roofing companies offer low cost or free inspections that can identify the seriousness of any damage and help you plan for an eventual roof replacement if needed.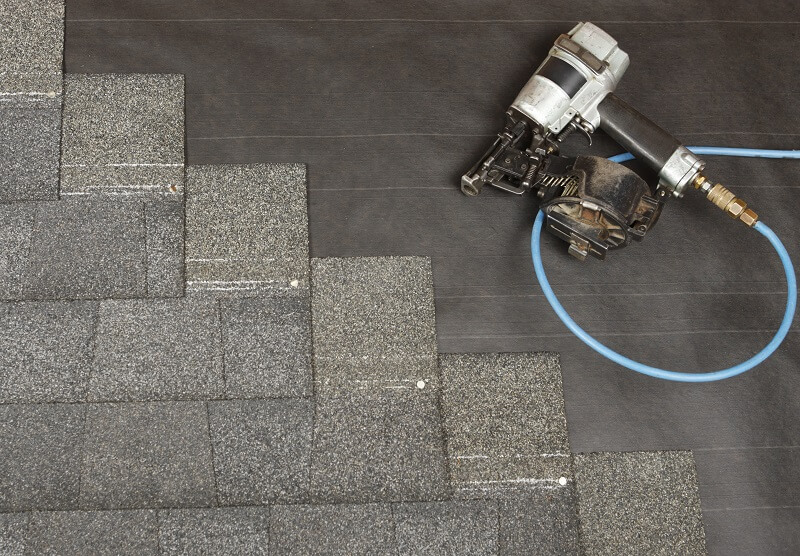 When hiring a roofing professional, it is always a good idea to get referrals from family, friends, and neighbors. You should also consider the following questions:
Does the contractor work on various types of roofs, particularly the one(s) that you are considering for your home?
Can the contractor provide references, and do they have positive reviews online?
Does the contractor offer a labor warranty in addition to the warranty provided by the manufacturer of the roofing materials?
What is the timeline for beginning and completing the project?
Does the contractor handle the permitting required in your locality?
If insurance claims are involved, can the contractor work directly with your homeowners insurance company?
Does the roofing company offer any financing options to make paying for the new roof easier?
Roofing contractors have the knowledge and experience to guide you through the entire process of getting a new roof or a roof replacement, from recommending materials to suggesting the color options that work best for your home.
Roofing Depot of FL
When you need a new roof or a roof replacement in and near Lakeland, contact Roofing Depot of FL. Our experienced roofing team can help you select the best option for your residential or commercial roof.
We have knowledge and experience of many kinds of roofs, including:
Asphalt shingles
Clay or concrete tile
Metal
Flat roofing
Mobile home roofing
Residential roofing
Commercial roofing
We offer free estimates, roof financing, and we can work with homeowners insurance if needed.