While every home has a roof, most homeowners do not fully understand the components that go into having a roof that is effective at protecting their home from the elements.
One of the least understood elements of a roof is underlayment, which is sometimes called roofing paper.
Roof Underlayment
A typical residential roof is constructed by installing roof decking on top of the trusses or rafters in the home's attic. The roof deck is typically made of either plywood or oriented strand board (OSB) and is the surface upon which the outer roofing material is set.
Between the decking and the shingles, however, there is often an additional protective layer, which is the roofing underlayment. This layer is installed directly on the roof deck and provides a secondary layer of protection from the elements, including rain, snow, and wind.
While shingles or other roofing materials are designed to protect your home from the elements, they can only do so much. Over time, they will degrade and break down, leaving your home vulnerable to water damage. That is where roofing underlayment comes in. Underlayment acts as a barrier between the shingles and the roof deck, catching any water that may seep through the shingles and preventing it from causing damage to your home.
Benefits of Roof Underlayment
Protection against Water Damage
One of the main functions of roof underlayment is to protect your home from water damage. By acting as a barrier between the shingles and the roof deck, underlayment catches any water that may seep through the shingles and prevents it from causing damage to your home.
Enhanced Durability
Roof underlayment can also help extend the life of your roof. By protecting the roof deck from exposure to the elements, underlayment can prevent premature deterioration and prolong the life of your roof.
Improved Energy Efficiency
In addition to protecting your home from water damage, roof underlayment can also help you save money on your energy bills. By insulating the roof deck, underlayment can reduce heat transfer and keep your home cooler in the summer and warmer in the winter.
Enhanced Aesthetics
Roof underlayment can also improve the appearance of your roof. By providing a smooth, even surface for shingles or other roofing materials, underlayment can give your roof a more polished look.
Roof Underlayment Types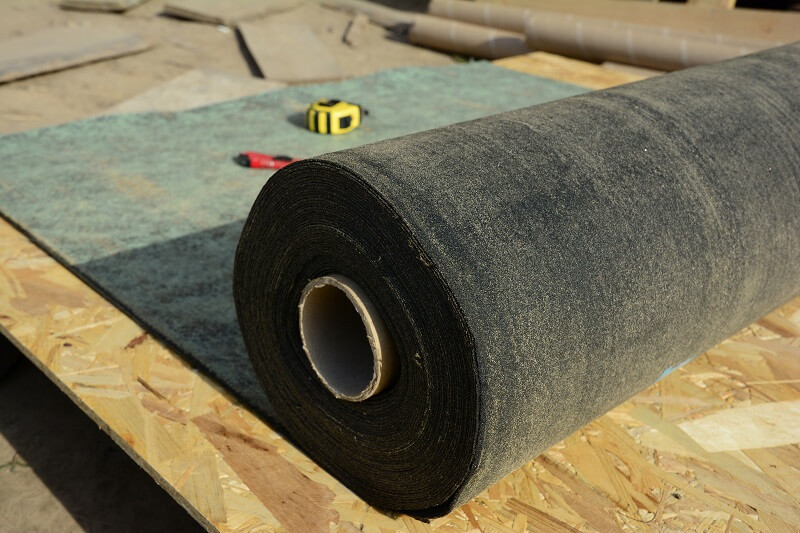 There are three main types of roofing underlayment: felt, synthetic, and rubberized asphalt.
Felt Underlayment
Felt underlayment is one of the oldest types of underlayment. It is made from felt paper or fiberglass mat that is embedded with asphalt. Felt underlayment is typically less expensive than synthetic, making it ideal for budget-conscious consumers.
However, felt has several drawbacks:
It is less durable and more susceptible to damage from the elements.
Installation must be done with care, since it tears easily.
Shingles should be installed immediately after laying felt underlayment because it can be damaged if exposed to wet conditions.
Felt underlayment is heavy and slippery, making it more challenging to install.
Felt underlayment can wrinkle if it gets wet, causing the surface of the roof to appear uneven.
Most importantly, some manufacturers' warranties may be void if they require synthetic underlayment.
Manufacturers have begun to offer newer felt underlayment products that are designed to minimize some of these drawbacks. FeltBuster® Synthetic Roofing Felt, for instance, offers a less slippery surface and longer-lasting performance, while remaining more affordable than some other options. Tiger Paw™ Premium Roof Deck Protection offers a special moisture-control design that will not rot or become brittle over time.
Synthetic Roof Underlayment
Synthetic roof underlayment is made from a variety of materials, including polypropylene and rubber. Synthetic underlayment is lighter and more durable than felt, and it can better withstand exposure to the elements.
The biggest drawback to synthetic underlayment is that it is more expensive than felt.
Rubberized Asphalt Underlayment
Rubberized asphalt underlayment is a type of self-adhesive underlayment. As the name suggests, it is made from rubberized asphalt and is designed to be used with low-slope roofs.
It is more expensive than both felt and synthetic underlayments, but it offers several advantages:
It is easy to install, since it can be rolled out like carpet.
It provides excellent protection against water damage.
It is lightweight and does not require special equipment for installation.
Metal Roof Underlayment
Metal roofs expand and contract, which would destroy typical underlayment. For this reason, they require something different: ice and water shield roofing underlayment.
High heat ice and water shield is more expensive than other types of underlayment, but it will provide the long-lasting protection that a metal roof requires.
Special Considerations for Underlayment in Certain Environments
Standard underlayments are water-resistant, which is enough protection for most residential roofs. However, in some regions with particularly harsh weather like high winds or ice damming, waterproofing underlay may be used to provide additional protection.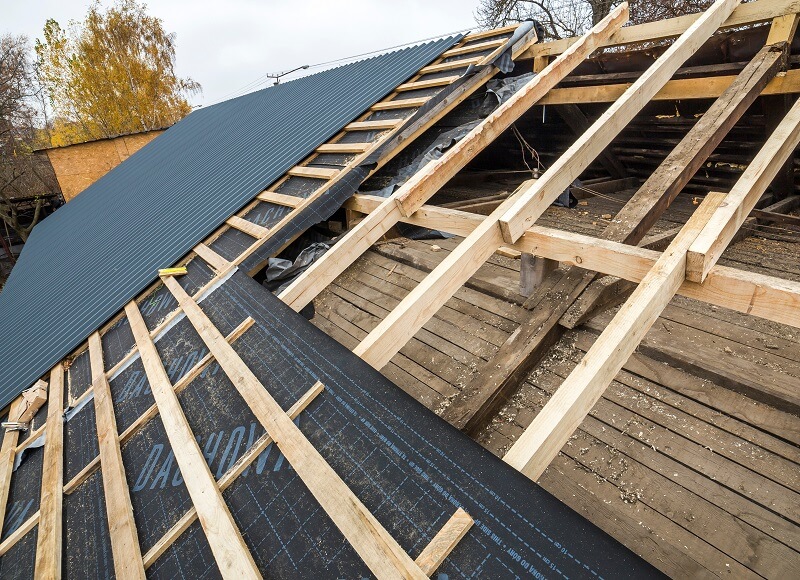 Damage to Roof Underlayment
If roofing underlayment becomes damaged, it will no longer be effective at protecting your home from water damage. That is why it is important to have your roof inspected regularly by a professional roofer.
During a roof inspection, your inspector will assess the condition of the underlayment and look for any signs of damage. If they find any damage, they'll likely recommend having it repaired or replaced.
The International Association of Certified Home Inspectors has an article describing what inspectors should look for when inspecting underlayment on roofs. Because roof inspections are a specialized kind of inspection, it is generally advisable to have a professional roofing contractor, rather than a general home inspector, if you suspect there may be damage to your underlayment.
Here are a few common causes for damage to roof underlayment:
The quality of the underlayment material used was substandard. Even reputable manufacturers make underlayment at various price points, but the least expensive options may not always be the best for your situation.
If the initial installation of the roof and the underlayment were not done correctly, the result may be that the material will not work as intended.
Volatile organic compounds found in asphalt underlayment can degrade and evaporate over time. This effect is compounded in hot weather, making the underlayment lose durability.
In cold weather, traditional roofing felt can become brittle, making it more prone to damage from being walked on.
Animals, such as squirrels or racoons, can tear off shingles, exposing the underlayment to harsh weather conditions.
In older homes, resin pockets found in the pine and fir that were used for roof sheathing can react chemically with some roofing materials, causing them to degrade.
The most frequent cause of underlayment problems is homeowners putting off having needed roof repairs done. Even the best quality underlayment is not designed to be the sole protection for your roof, and it can become damaged if left exposed for too long.
If your roof's underlayment becomes damaged, it is important to have it repaired or replaced as soon as possible. What might seem like a minor problem, like small stains on a ceiling or on walls in the home, can be a sign of something more serious.
If left unaddressed, damaged underlayment can lead to serious water damage and even mold growth in your home. It can also lead to needing a full roof replacement rather than just repairs.
Choosing the Best Roof Underlayment
If you are building a new home or replacing the roof on an existing home, there will be many decisions to be made. It may be tempting to focus solely on the outer roofing material, which is crucially important for the effectiveness, durability, and aesthetics of your roof. However, selecting the right underlayment is also important in ensuring that your roof continues to serve its intended purpose for years to come.
Here are a few tips for choosing the best underlayment for your specific situation:
Consider the climate. If you live in an area with harsh weather conditions, you may need a stronger underlayment or a specific type of underlayment to protect your home from water damage.
Think about the type of roof you have. Some roofs, like metal roofs, require special underlayment to prevent damage. Flatter roofs may need different underlayment than those with a steeper pitch.
Do not forget to factor in the cost. Underlayment ranges in price, so be sure to choose the one that best fits your budget.
Different underlayment types and installation methods are best for different situations, both in terms of the outer roofing material that is used and the slope of the roof. For instance, it is recommended that courses of felt underlayment should be overlapped at least 19 inches on roofs with low slopes, while the guideline for steep roofs is much less – just two inches.
Similarly, the fasteners used to secure the underlayment may be staples, plastic caps, or windstrips depending on the specific needs.
It is always important to remember that underlayment may be required to obtain the benefits of the manufacturer's warranty for your new roof.
Additionally, building codes in some areas require that residential roofs have underlayment. Professional roofing contractors should know the rules for a given municipality, but homeowners should always confirm to ensure that they are in compliance with applicable codes. The cost and time involved in a code violation would often more than offset any cost savings from not using underlayment.
Do I Need New Underlayment In a Roof Replacement?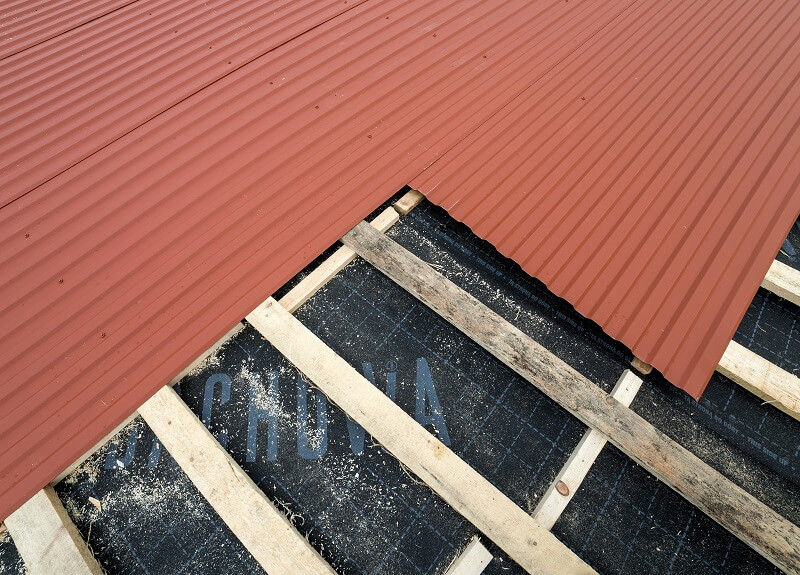 In the case of a roof replacement, there is sometimes a question about whether the underlayment needs to be replaced or if the old underlayment can be reused. In most cases, it is advisable to replace both the outer roofing material and the underlayment. Here are a few reasons why:
The underlayment is as old as the shingles or other roofing material (or older). Since underlayment will also deteriorate over time, it makes sense to replace it.
Removing the old outer roofing material without damaging the underlayment requires extra care and time, which will add to the cost of the job.
Building codes may have changed since the roof was installed.
The cost of new underlayment is relatively minimal when considering the cost of a full roof replacement.
If you are unsure which roofing underlayment is right for you, consult with a professional roofer. They will be able to assess your needs and recommend the best option for your situation. With their help, you can be confident that your home is well protected against water damage.
The Best Lakeland Roofing Company
If you have questions about roofing underlayment or any other topics related to residential or commercial roofing, contact Roofing Depot of FL.
Our services include roof repair, roof maintenance, installation, and new construction. We offer a variety of roofing materials – asphalt shingles, metal, tile, and flat roofing, and our expert roofing team has the knowledge to work with you to find the best solutions for your specific needs.
Contact us today for a free estimate or to discuss our roof financing options.
Roofing Depot of FL. We'll knock your shingles off!