For most people, the roof over their head is something they take for granted. It is not something they think about until there is a roof leak or some other problem.
When an issue arises, homeowners need to understand what the problem is and what is causing the roof damage so they can address the issue.
Below are the things that might be ruining your roof.
Rain or hail. Hard rains can damage the protective coating on asphalt shingles, leading to eventual leaks or other problems. Hail damage is common in some areas of the country, where the hard pellets can result in dented or split roofing materials.
Wind. Wind damage is a serious issue in some parts of the country. Strong gusts from tornadoes or hurricanes can clearly cause serious wind damage to a roof, but even milder windstorms can blow off shingles or lift them, allowing water to seep in.
Ice or snow. In parts of the country where winter precipitation occurs, snow or ice damage to a roof are not uncommon. Heavy snowfalls can put a great deal of stress on a roof. Ice dams can occur on the edges of roofs, putting pressure on shingles.
Roof debris. Twigs, sticks, leaves, and pine needles can accumulate on the roof, especially in valleys made by extensions or dormers. This essentially forms a layer of mulch that stays continuously wet, which can lead to deterioration of the roofing materials.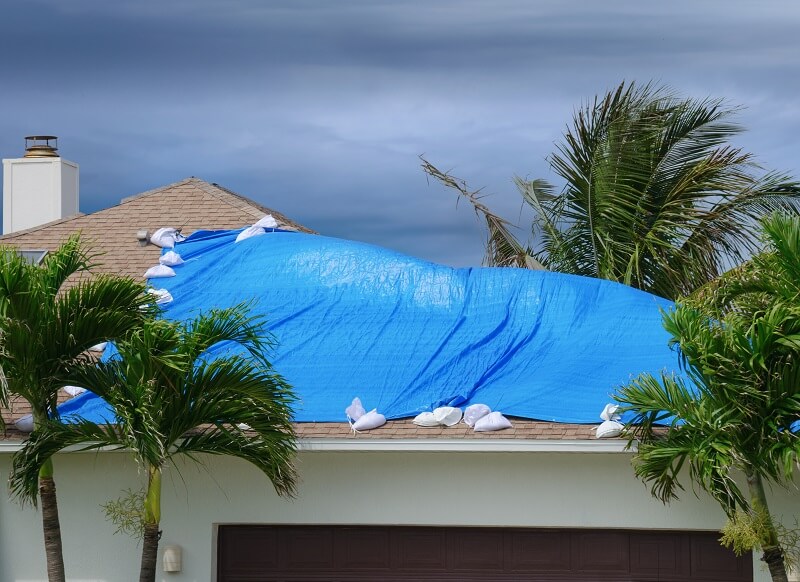 Gutter or downspout problems. Gutters and downspouts that are clogged or that have been installed improperly can back up with water, which results in damage to the faccia, the roof sheathing, and the shingles or metal.
Damaged or deteriorated flashing. Flashing helps guide water away from areas it shouldn't be on your roof. If the flashing or the adhesive used to hold it in place are cracked or missing, water will go where it is not intended to be.
UV rays. All roofing materials are, obviously, exposed to UV rays from the sun. While they are manufactured to withstand the UV rays, continuous exposure to sunlight expedites the degradation of shingles and other roofing materials.
Moss can grow on roofs that are in shade for much of the day, causing decay. This is most common with cedar shakes and asphalt shingles.
Algae growth. When there is high humidity and heat, blue-green algae can grow on shingles. While this does not typically cause damage to the roof, it does lead to unsightly discoloration that can negatively impact your home's curb appeal.
Trees. A tree falling on the roof can obviously cause severe roof damage, but even a single large branch can lead to big problems. Additionally, when trees are growing too near the house, overgrown branches can scrape against the roof. Leaves, needles, twigs, and other debris from trees can collect in valleys or clog gutters and downspouts.
Improper installation or repairs. A properly installed roof can be expected to last for years, but an improperly installed one can develop leaks or other issues fairly quickly. Additionally, repairs done by unqualified professionals or do-it-yourselfers often do not only fail to fix the problems, but sometimes make them worse.
Accidental damage from people. Walking on some types of roofs can actually cause damage, but even roofing materials that withstand the weight of people might get cracked or broken if proper care is not taken. Even installing Christmas lights can cause damage if done by nailing into the roof.
Critters. Birds sometimes attempt to nest on roofs, and animals like bats, squirrels, mice, raccoons, or rats may try to use the roof as shelter or use it to get into the attic. Insects under shingles attract woodpeckers, and vent covers can be an entry point for some animals.
Do I Have a Roof Problem?
Sometimes a roof problem is obvious, like water staining on the ceiling or even water leaking from the ceiling. Other times, however, the problem is not so readily apparent. Here are some signs of potential roof ruin that should be addressed.
Water Staining on Ceiling or Walls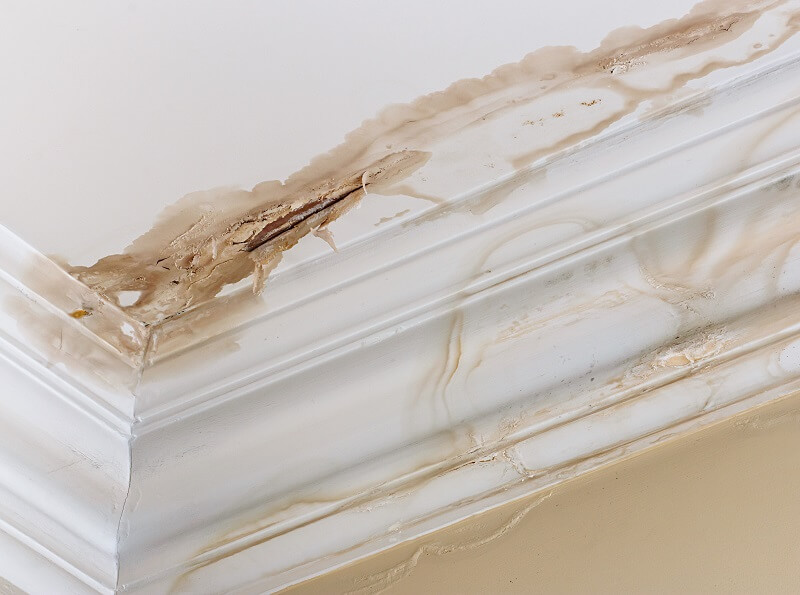 Stains on ceilings or running down interior walls are often a result of a leaking roof. Aside from the unsightliness of such stains, damage to sheathing, framing, and drywall can occur if the source of the leak is not located and corrected promptly.
Cracked, Broken, or Missing Shingles
If a section of a shingle is broken, cracked or otherwise damaged, you may not have an immediate problem but should get the issue repaired before it becomes more serious. Missing shingles from storm damage should be replaced immediately.
Sagging or Bowing
A sagging roof is a serious signal that there is a problem. Whether the cause is poor construction or roof damage, roof ruin could be imminent and should be assessed by a roofing professional.
Flashing Is Missing
If the flashing around chimneys, skylights, or other projections is missing or damaged, water can seep under the shingles or directly into the home.
Increased Energy Costs
While most signs of roof problems involve water seeping in, another problem involves heat or cooling going out. If roof damage has caused insulation in the attic to deteriorate, you may find that heating or cooling costs increase.
Granules
Damaged or aging shingles can lose granules, which can clog gutters or downspouts, or wash out into the yard or driveway.
Age
All roofing materials have a finite lifespan. If your home's roof is nearing the end of its life expectancy, it is time to begin considering a roof replacement to ensure that your home stays safe and comfortable.
Dangers of a Leaking Roof
When water is pouring in through an open hole in the roof, the need for immediate repairs is obvious, but when the damage is less blatant, it can be tempting to ignore or put off making repairs. This can be dangerous, however.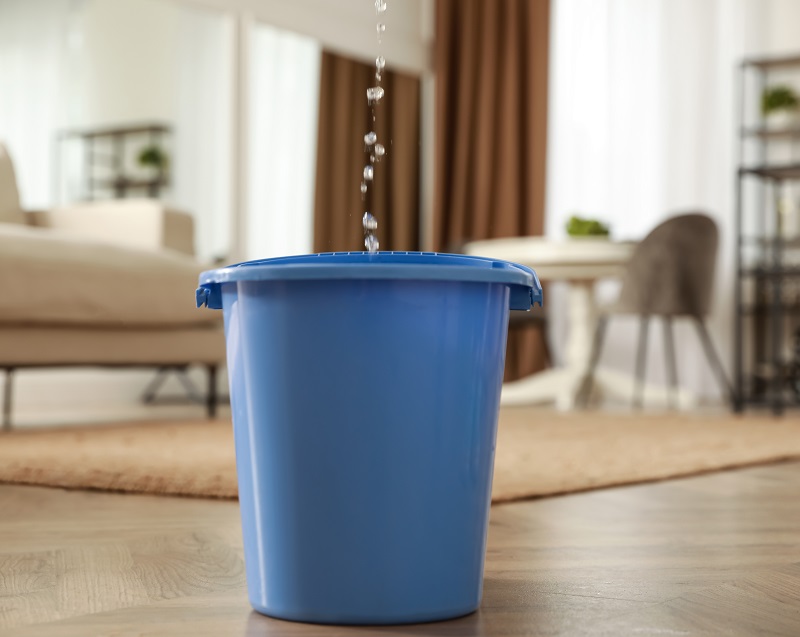 Mold thrives in wet conditions. A leaking roof can become a breeding ground, allowing mold and mildew to form on ceilings, walls, floor coverings, fabrics, furniture, and many personal items. Not only is mold unsightly, but it can also be hazardous to your health and will have a negative impact on your home's value.
Water and electricity do not mix, so roof leaks can become a fire hazard. Water from a leaking roof can drip into the cavity between walls, unseen but potentially deadly as it comes into contact with electrical wiring.
Walls and ceilings that get wet from a leaking roof not only become stained and unsightly, but the plaster or drywall can also be damaged or even ruined.
Framing inside walls and ceilings that stays wet can become weakened and rot, resulting in expensive structural repairs.
Where Do Roof Leaks Occur?
While every roof and every situation are unique, roofing contractors note that roof leaks tend to occur in some common areas:
Valleys, where two roof planes intersect, are a source of many problems. These are often sealed with flashing that can come loose, deteriorate, or be damaged.
Chimneys or skylights can contain several different types of flashing and counterflashing, making them ripe for leaks.
Plumbing, furnace, or B-vent flashings can fail well before the roofing material.
The expanse of roofing material known as the field can develop pinpoint leaks that are hired to locate.
Locating the precise spot of a roof leak can sometimes be challenging. If the damage is not obvious from the outside, you can also check the underside of the roof in the attic. Look for damaged insulation, which indicates that it has gotten wet. Stained sheathing indicates that it has gotten wet. You should also inspect the underside of the roof sheathing for any objects, such as misplaced nails, that have pierced it.
What to Do if You Have a Roof Problem
If you have a leaking ceiling or need to fix a roof leak, here are some suggestions for what to do.
Always consider contacting a roofing contractor if you do not have experience working with roofs. Most professional roofers can attest to the fact that do-it-yourself roofing projects often result in more work when they are called in to fix the repair than had they handled the problem in the first place.
If water is leaking through the ceiling, you should immediately move everything out of the way, including furniture, clothing, bedding, and carpets. Try to catch as much of the water as possible in buckets or containers.
If the ceiling is bulging, this is a sign that water is collecting there, so try to relieve the pressure by poking a hole in the ceiling. While this may seem counterintuitive, a bulging ceiling could burst, resulting in even more damage. Position a container below to catch the water, of course.
When it is no longer raining and it is safe to walk on the roof, cover the problem area with a tarp if repairs cannot be initiated right away. Extend the tarp as far as possible over the location where you believe the leak originated, and be sure it is fastened or held down securely, especially if bad weather conditions are likely before a repair can be made.
If the roof has been damaged from weather or another event, take photos as documentation in case your homeowners insurance requires them.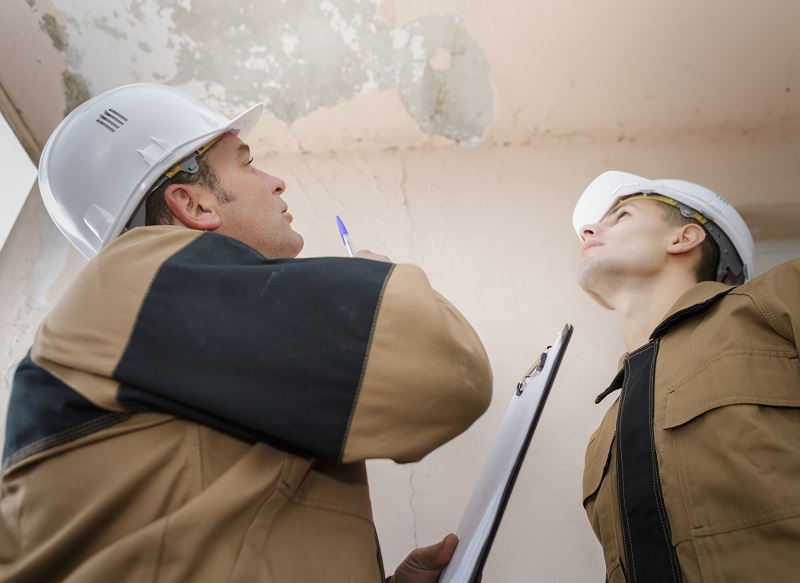 How to Avoid Roof Problems
The best way to avoid having roof problems in the first place is by doing regular inspections. Since many roofing contractors offer free roof inspections, having one annually or after serious storms is a good preventative measure. Inspections can help identify minor issues that can be easily repaired before they become major (and expensive) problems.
Other tips include:
Keep gutters and downspouts clear.
Remove debris from the roof regularly.
Trim trees near the house to ensure branches are not scraping against the roof.
Be sure the attic is ventilated properly.
Address pest issues promptly.
Roofing Services in and Near Lakeland
Roofing Depot of FL is your choice for addressing roof problems. We have been serving the homeowners of central Florida for decades with quality materials and unparalleled customer service.
Our services include roof inspections, replacements, and repairs for residential property owners and businesses.
We offer free inspections, 24/7 service, and roof financing. Homeowners can select the roofing option that works best for their home and their budget – asphalt shingles, metal, tile, or flat roofing.
If your home has sustained roof damage, we can work with you to help remove the stress of dealing with homeowners insurance by working with you every step of the way.
For all your roofing needs, contact Roofing Depot of FL. We'll knock your shingles off.