Facing a denied roof insurance claim can be frustrating and stressful for homeowners. After all, you've been diligently paying your premiums, expecting coverage when you need it most.
When your claim is denied, it's crucial to understand the reasons behind the denial and take appropriate steps to rectify the situation.
When To File a Roof Claim
First, it's important to recognize when you should file an insurance claim. The specifics of what is covered by insurance depend on your individual policy but, generally speaking, a roof insurance claim is in order if there has been significant damage due to extreme weather or any other unexpected event.
If the roof is simply old and worn out due to age or wear and tear, then this would not typically be covered under your policy.
How to File a Roof Claim
Once you've determined that you should file an insurance claim, it's time to take the necessary steps.
Contact a professional roofing contractor to assess the damage and understand the extent of needed repairs. They will provide a detailed inspection report, which can be crucial in supporting your claim.
Document everything. Take photographs or videos of the damage, noting the date and time. Keep a record of any conversations with your roofing contractor and insurance company. This will be useful evidence if there are disputes about your claim.
Contact your insurance company to inform them about the damage. Provide them with the detailed report from your roofing contractor, and any other supporting documentation, and officially file your claim.
Cooperate with the insurance adjuster. The insurance company will send an adjuster to assess the damage. Be available for their visit and answer any questions they have honestly and to the best of your ability.
Review the claim estimate from your insurance company. If you agree with their assessment, you can proceed with the claim. If you disagree, you may need to negotiate or seek a second opinion.
Once the claim is approved, you can arrange for the repairs to be made. Ensure that the contractor provides you with a detailed invoice and receipt. This will be necessary for finalizing your claim.
Remember, every insurance policy is different, so it's important to thoroughly understand your own policy before filing a claim.
Reasons for Roof Claim Denials
Here are some of the more common reasons for roof claims to be denied, along with suggestions for how to minimize the likelihood of a denial.
Lack of Maintenance and Regular Inspections
Insurance companies often require homeowners to maintain their roofs properly. If you neglect routine maintenance and inspections, your claim may be denied. Insurance providers expect you to take proactive steps to prevent roof damage.
To address this issue:
Start a regular maintenance schedule for your roof, including inspections, cleaning, and repairs as needed. Document these activities, as they can serve as evidence of proper upkeep.
Pre-Existing Damage
Insurance policies typically do not cover damage that existed before the policy was in force. If the insurance company suspects that the damage to your roof occurred before you obtained the policy, they may deny your claim.
To address this issue:
Maintain records of the roof's condition before and after purchasing the insurance policy. Photos, inspection reports, and invoices from previous repairs can be valuable evidence to prove the damage is recent.
Insufficient Documentation
Inadequate documentation can lead to a denied claim. If you fail to provide clear evidence of the damage and its cause, the insurance company may reject your claim.
To address this issue:
Document the damage thoroughly with photographs and written descriptions. Provide detailed information on the cause of the damage, such as hail, wind, or a fallen tree. Include estimates from roofing professionals to support your claim.
Policy Exclusions
Insurance policies often contain exclusions that specify what types of damage are not covered. Common exclusions related to roofs include wear and tear, damage from pests, and certain types of water damage.
To address this issue:
Review your insurance policy carefully to understand the exclusions. If you believe your claim falls outside these exclusions, consult with your insurance agent or an attorney to dispute the denial.
Failure to Notify the Insurance Company Promptly
Most insurance policies require prompt notification of damage. If you wait too long to report roof damage, your claim may be denied.
To address this issue:
Notify your insurance company as soon as you discover roof damage, even if you're unsure whether you'll file a claim. Timely reporting can prevent denial based on delayed notification.
Inaccurate or Incomplete Information
Providing inaccurate or incomplete information when filing a claim can lead to denial. This includes misrepresenting the cause of the damage or the extent of repairs needed. (Always keep in mind that insurance fraud not only can result in claim denials, but is a crime.)
To address this issue:
Be honest and accurate when providing information to your insurance company. Consult with roofing professionals to ensure you provide precise details about the damage and necessary repairs.
Policy Lapses or Non-Payment of Premiums
If you allow your insurance policy to lapse or fail to pay premiums, your coverage may be voided. Any claims submitted during this period would likely be denied.
To address this issue:
Maintain continuous coverage by paying your premiums on time. If your policy has lapsed, contact your insurance company to discuss reinstatement options.
Disagreement Over Coverage
Sometimes, the insurance company and the policyholder may have differing opinions about the extent of coverage. This can lead to claim denials based on the interpretation of policy language.
To address this issue:
Consult with an attorney or public adjuster who specializes in insurance claims to help negotiate with the insurance company and resolve coverage disputes.
What To Do If Insurance Denied Roof Claim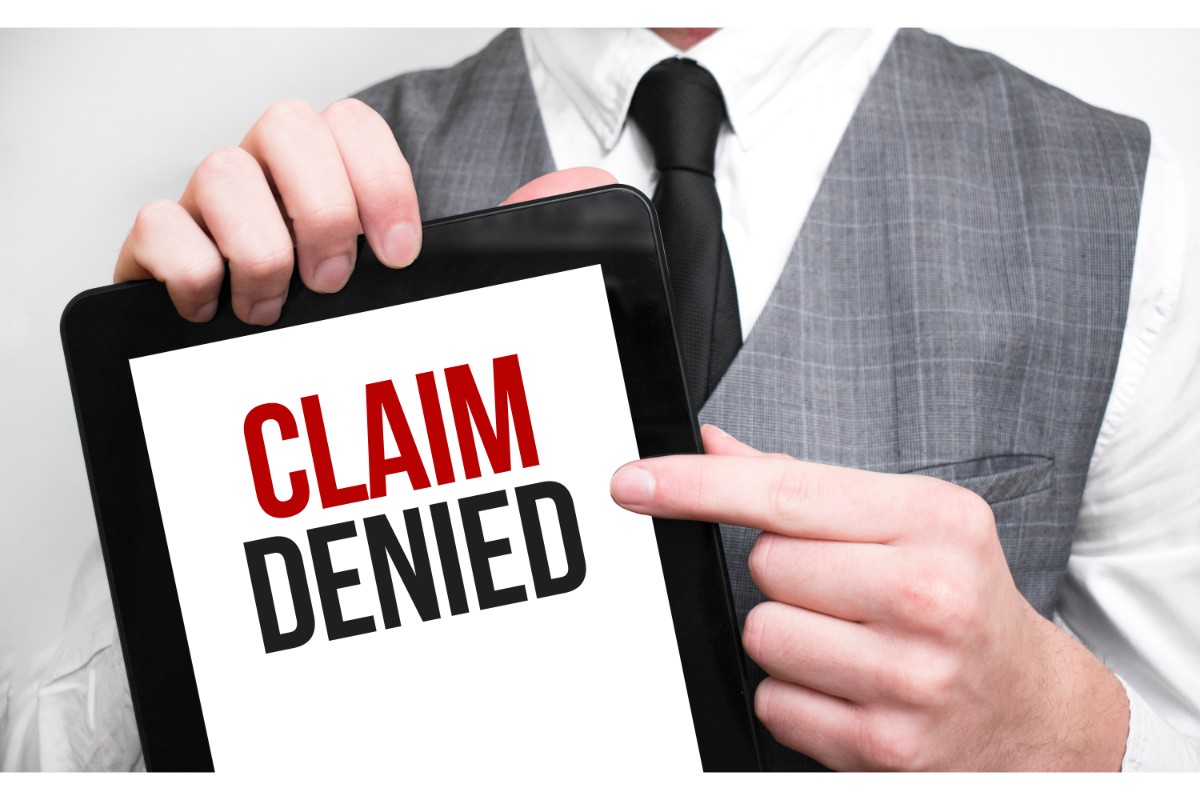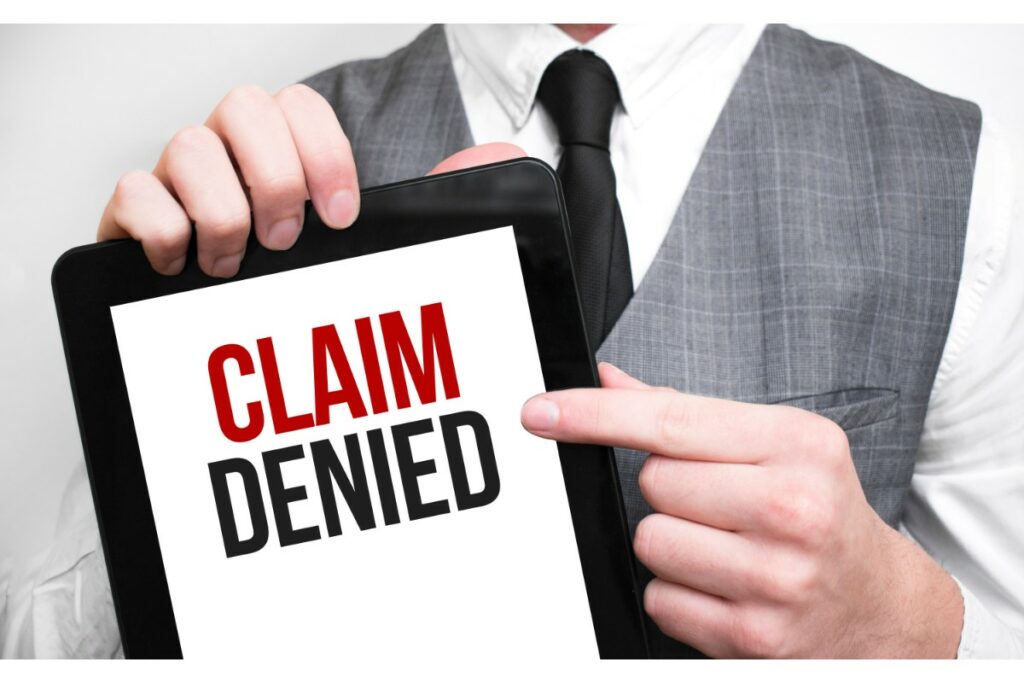 If your roof claim is denied, don't despair. You should receive a letter from your insurer explaining why the claim was rejected. It's essential that you read through this carefully and take note of any specific reasons mentioned.
From there, you can decide on the best course of action to rectify the situation. Depending on the reason for denial, it may be possible to appeal the decision or provide additional evidence to support your claim. If there were issues with the initial filing (such as incomplete information or insufficient documentation), then you can submit a new claim with the necessary information and paperwork.
If, after all these efforts, your roof insurance claim is still denied, then it may be necessary to take legal action. In this case, it's important to consult with a lawyer who specializes in insurance law and knows how to get a roof claim approved.
Additional Sources of Assistance for Your Roof Claim
In addition to taking the steps mentioned above, there are other resources available that can help you with your roof insurance claim.
In Florida, you can file a complaint with the Florida Department of Financial Services, which oversees the Department of Insurance in Florida.
Another alternative is to contact a public adjuster. These licensed professionals work on behalf of policyholders to help them get the maximum settlement for their claim.
A denied roof insurance claim can be challenging, but understanding the reasons behind the denial is the first step toward resolving the issue. By addressing the specific cause of the denial and providing compelling evidence to support your claim, you can increase your chances of a successful appeal or resolution with your insurance company. If needed, seek professional guidance to navigate the process effectively and ensure you receive the coverage you deserve.
The Best Roofing Company in Florida
The best choice for roofing services in Sarasota, Lakeland, and Georgia is Stronghold Roofing & Solar. Our team of experienced roofers combined with our committed staff stand ready to help when you need a roofing company.
We offer free inspections, roof financing, and are able to work with your homeowners' insurance company to help expedite the approval process of filing claims.
FAQ's – Roof Insurance Claim Denials
Why did my insurance company deny my roof claim?

Insurance companies can deny roof claims for various reasons, including lack of maintenance, pre-existing damage, policy exclusions, insufficient documentation, and disputes over coverage interpretation. Understanding the specific reason for your denial is essential to address the issue effectively.
Can I dispute a denied roof insurance claim on my own, or do I need legal assistance?

While you can attempt to dispute a denial on your own, seeking legal assistance or consulting with professionals experienced in insurance claims can significantly improve your chances of a successful resolution. They can provide guidance, advocate for your interests, and help you navigate the complexities of the claims process.
How can I prevent my roof insurance claim from being denied?

To reduce the risk of claim denial, regularly maintain your roof, document its condition, promptly report damage, provide accurate information when filing a claim, and ensure you understand your policy's coverage and exclusions.
Can I appeal a denied roof insurance claim?

Yes, you can typically appeal a denied claim. Review your insurance company's appeals process, gather additional evidence if necessary, and work with professionals to strengthen your case during the appeals process.