When homeowners need a roof for new construction or a replacement for an existing roof, they have many choices to make. The most obvious of those is the type of roofing material. Would asphalt shingles, metal, tile, or some other option be the best choice?
While the roofing material decision is obviously of great importance, another big choice that homeowners must make is what color they want their roof to be. Black roof shingles have been a norm throughout the United States for many years, but newer color options offer nearly unlimited diversity – and equally unlimited choices.
Homeowners trying to decide on a roof color can work with a professional roofing company to help determine which options are best for their home.
Factors to Consider When Choosing a Roof Color
Not all colors are available in all roofing materials, and the way a color looks on one type of roof may be entirely different than on another type. Homeowners must factor in both the look they want to achieve and the practical considerations of the climate where their home is located.
Aesthetics
Most homeowners choose a roof color that will enhance their home's appearance. Black and other dark colors have been popular for years, but more homeowners are now choosing lighter colors.
Whites, light grays, and even blues are becoming more popular choices. These colors can brighten up a home's appearance and make it stand out from the rest. Lighter colors can make a larger home look more inviting and can also reflect more sunlight, which is helpful in climates with hot summers.
Energy Efficiency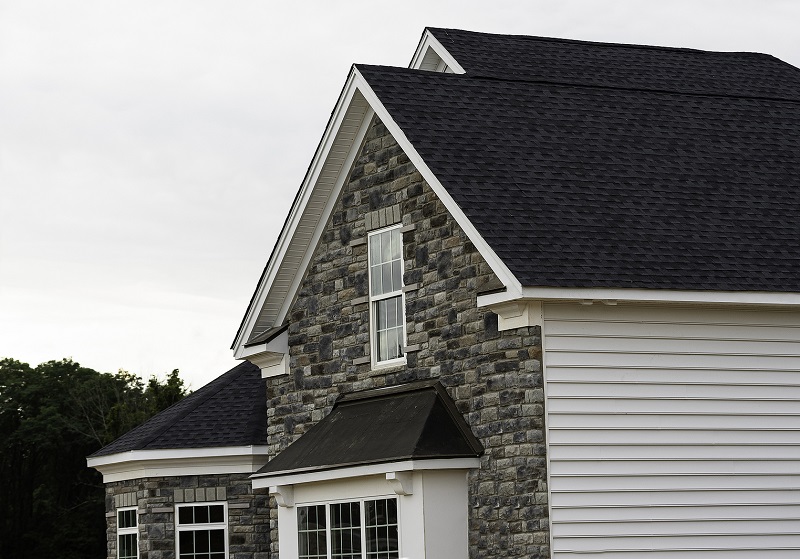 The color of a roof can also have an impact on the home's energy efficiency. Darker colors tend to absorb more heat than lighter colors. This can be a problem in climates with hot summers, where the absorbed heat could raise the interior temperature of the home and lead to increased air conditioning costs.
Homeowners in colder climates should also consider the color of their roof when choosing a new one. A light-colored roof will reflect more sunlight and will help keep the home warmer during the winter. A dark roof in a cold climate can actually cause the home to lose heat.
How to Choose a Roof Color
There is no "right" answer when it comes to choosing a roof color. Every homeowner's situation is different, and each will have different priorities.
Some of the things homeowners should consider when making this decision include:
Climate
Different climates call for different roof colors. In hot climates, homeowners should avoid darker colors that will absorb more heat. Lighter colors that reflect the sun's rays are a better choice. In cold climates, a dark roof color can help keep the home warm by trapping the heat inside.
Blue roofs blend in well with the environment when a house is located next to a body of water, making blue an excellent choice for beach cottages. When a deep green roof is chosen, homes tucked away in the woods appear to be part of the natural world.
Style of the Home
Some home styles look best with certain colors. For example, a cottage-style home might look best with a light-colored roof that reflects the sun's rays, while an older home might look best with a color that is traditional for that era. On the other hand, a more modern home might look better with a dark-colored roof that creates a sleek and elegant appearance.
Homeowners should also consider whether they might want to change the exterior color of the home. Wood or stucco homes can be painted any color, but the roof color might impact future decisions about the options for the exterior wall colors.
It is important to consider both the style of the home and the neighborhood when considering the design impact of roof color.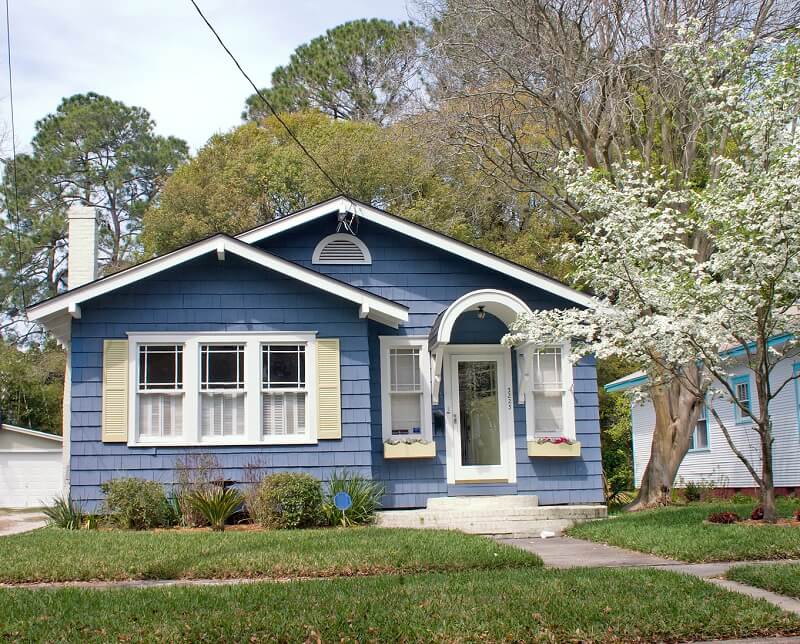 Type of Roofing Material
Not all roofing materials are available in all colors, so the decisions may be limited by the type of roof chosen. However, new techniques in manufacturing mean that there is often a wide array of options that homeowners may not be aware of.
For example, some manufacturers offer dozens of metal colors that go well beyond the standard white metal roof. Even tile roofing can be found in a myriad different colors.
Cost
Different roofing materials can vary widely in price, and different colors may also have an impact on the overall cost for a new roof or roof replacement. Homeowners should get estimates from several different companies before making a final decision.
How the Roofing Looks at Different Times of the Day
Homeowners should also take into account how the roofing will look at different times of the day. A light-colored roof might look great in the morning, but it might not be as appealing at night when it's lit up by the moon and stars.
Lighting often makes a world of difference. Homeowners should examine the shingle sample alongside the exterior colors both in the sun and in the shade to be sure their colors blend well together under all kinds of light and in different intensities.
Complement Your Surroundings
Consider both the natural surroundings of the home and the neighboring homes. While it can be tempting to choose a roof color that really stands out, doing so can have an impact on the value if the home is being sold in the future.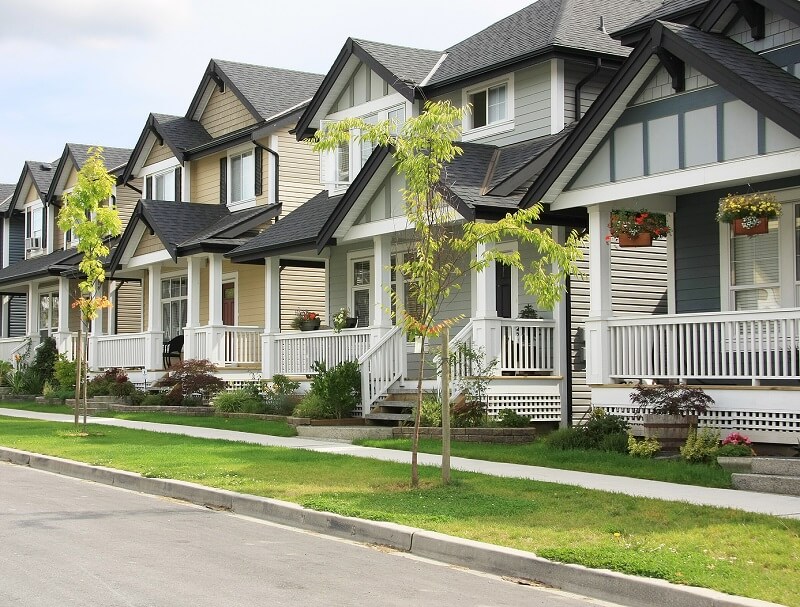 Expert Suggestions for Choosing a Roof Color
Much as interior designers are experts at creating a specific style inside a home, professionals who specialize in exterior design have some suggestions for choosing a roof.
Color Contrast
Color contrast is a factor when choosing a roof color. Experts suggest that aesthetic harmony is improved when there is a difference between the color of the roof and the color of the exterior walls. A dark-colored roof looks best with light siding. Conversely, if the siding is dark, a lighter roof color is preferable.
When the roof color matches or picks up on the colors used on window shutters, doors, and other accent trim, the overall look of the house improves even more.
Variations and Patterns within Colors
In addition to the overall color of the roof, another important design consideration is the pattern or color variation within the roofing materials. Some roofing materials, like clay tile, offer natural color variation, while others are completely solid. However, even materials without natural variation can be available in options that mix different colors together. Asphalt shingles, for example, are available in a wider variety of contrasting colors that create different looks.
Some roof patterns – exterior siding patterns can make the home look "busy". Conversely, a solid colored roof with no pattern can look boring on a home with plain walls.
In general, if there is a lot of color variation in the walls of the home, there should be less variation in the roof to minimize visual clutter. If, on the other hand, the siding is very uniform in color, more variation with the roof will make the overall look more interesting.
Size of the Home
The roof can comprise as much as 40% of the visible exterior of a home, so choosing the right color is important. A light-colored roof on a large home with multiple stories can look bland and detract from the overall aesthetic.
The height of the house can make a big difference to the overall effect the roof creates. Dark colors are more eye-catching than lighter ones. This means that very dark shingles on a single-story house, such as a bungalow, can make the roof stand out unpleasantly.
The best shingle color choice is one that allows the roof to fit together with the size of the house in a way that looks blended and balanced.
Architectural Style of the Home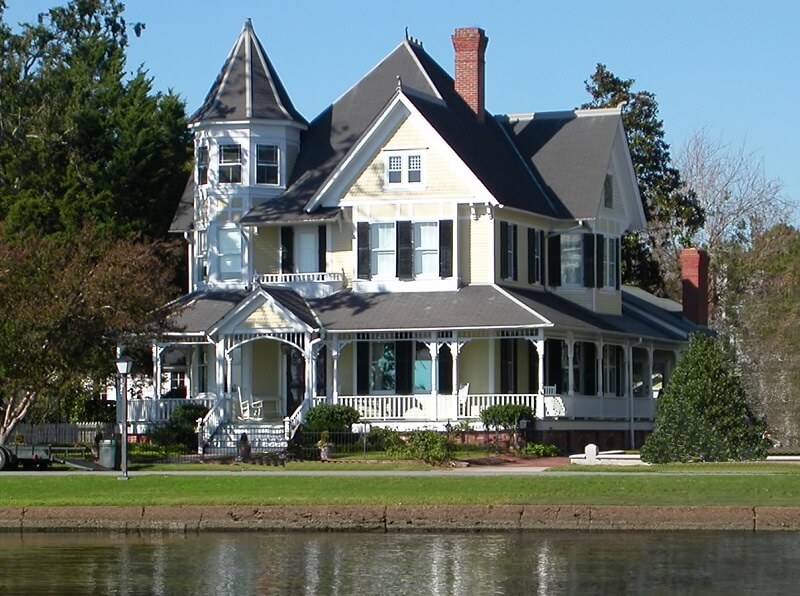 When the home was built, its architectural style, and the roofing design may have a significant impact on which colors work best.
For instance, large Victorian homes typically have specific roof styles that look good with darker roofing materials, which were more typical of the era. The rich hues of black and blue draw the eye to these attention-grabbing dark colors. They seem appropriate for this home style's traditional aesthetic.
Conversely, homes inspired by the Southwest or Florida often look best with natural tones like rusty reds or oranges. Very contemporary homes can stand out with brighter colors or look sleek and modern with a white metal roof.
Color Choices for Different Roofing Materials
Metal Roof Colors
Metal roofing comes in a wide variety of color options. In fact, some manufacturers have over 100 different choices for color alone, plus additional options for the level of gloss or whether the material looks weathered.
Some of the most popular metal colors are black, silver, green, and brown. However, metal roofs are also available in a wide variety of other colors, including blue, red, and pink.
When choosing a metal roof color, it is important to think about the overall look of the home. For example, for a more traditional look, black or brown might be the way to go. Silver or green could be good choices for homeowners who are looking for something a little more unique.
Some metal roof manufacturers offer free color visualizers to allow homeowners to see how different options will look on their specific home.
Asphalt Roof Shingle Colors
A majority of homes in the United States have asphalt shingle roofs, and most of them use black roof shingles or another dark color like brown, or gray. However, there are many other options available, including red, green, and blue.
Light-colored asphalt shingles are also becoming more popular as homeowners attempt to make their homes more energy-efficient. White, light gray, and even tan can all help to reflect the sun's heat and keep the home cooler.
When choosing a color for an asphalt shingle roof, it is important to consider whether the home is in a sunny or shady area. Dark colors can get very hot in direct sunlight, while light-colored roofs stay much cooler.
In addition, homeowners should think about what will look best with the style and color of their home. A red roof, for example, might be a good choice for a home with white siding, while a green roof could be perfect for a home with light brown or tan siding.
Tile Roof Colors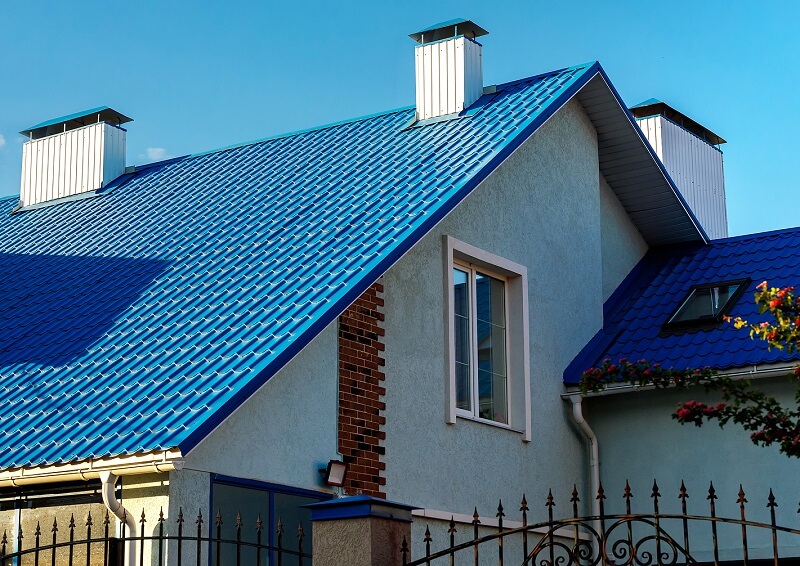 Tile roofs come in a variety of colors, including black, brown, gray, green, and blue. They are also available in a number of different textures, including smooth and ridged.
When choosing a color for a tile roof, it is important to consider the style of the home. For example, a Mediterranean-style home might look best with a terra cotta roof, while a more modern home could benefit from a black or gray tile roof.
There is no one "right" answer when it comes to choosing a roof color. It is important to think about the overall look of the house, the architectural style, and the climate in order to make the best choice. With so many color options available, there is sure to be a perfect choice for every home.
Roofing Depot of FL
Roofing Depot of FL offers a wide range of roofing options to allow homeowners to customize their roofs to their specific desires.
Our roofing material choices include shingles, metal, tile, and flat roofs. We use the highest quality materials from the best manufacturers, which are available in hundreds of different colors and profiles.
Our roofing services include installation, inspection, and repair for homes and commercial buildings throughout Central Florida.
Contact us today for a free estimate.