Commercial roofs often experience problems that are not found on residential roofs. This is because commercial buildings have different needs and uses than homes.
How Are Commercial Roofs Different from Residential Roofs?
Commercial roofs are often larger than residential roofs, which means they can experience more wear and tear.
Commercial roofing systems may have different ways to drain water, which need to be maintained properly to ensure that they continue to function effectively.
Many commercial properties have flat or low-sloped roofs, while most homes have roofs that are pitched.
Commercial roofs often house components like heating and air conditioning equipment, which are typically found inside or on the ground in a residential home setting. This means that any work needed on a commercial roof could also entail HVAC and other contractors to participate.
Residential roofs are generally easier to inspect because of the pitched roofs and their smaller size, and also because they do not typically house equipment.
Commercial buildings are often taller than homes, which means that roof repair or roof replacement might require additional equipment like scaffolding. Additionally, added height adds to the need for more precautions to prevent injuries.
Commercial roof replacement or even roof repair often presents the challenge of work being done while keeping the business operational. This adds significantly to the challenge, particularly if people are entering and exiting the building while the roof work is being done.
What Are Some Common Commercial Roofing Problems?
Like residential roofs, commercial roofs are not immune to problems. Commercial roofing contractors cite these as some of the most common problems they see:
Leaks
One of the most common commercial roofing problems is leaks. Leaks can occur for a variety of reasons, but they are often caused by damage to the roof membrane. Leaks can be caused by a variety of other factors, including poor installation, wear and tear, or severe weather conditions.
If your commercial roof develops a leak, it is important to have it repaired as soon as possible. Depending on the size and severity of the leak, repairs can range from simple patching to complete replacement of the roof membrane.
Ponding Water
Another common issue with commercial roofs is ponding water. Ponding water can occur when there is not proper drainage on the roof. This can cause the roof to become saturated, which can lead to leaks and other damage. Ponding water can cause the roof to deteriorate and even collapse. It can also lead to mold and mildew growth, which can be a health hazard for your employees or customers.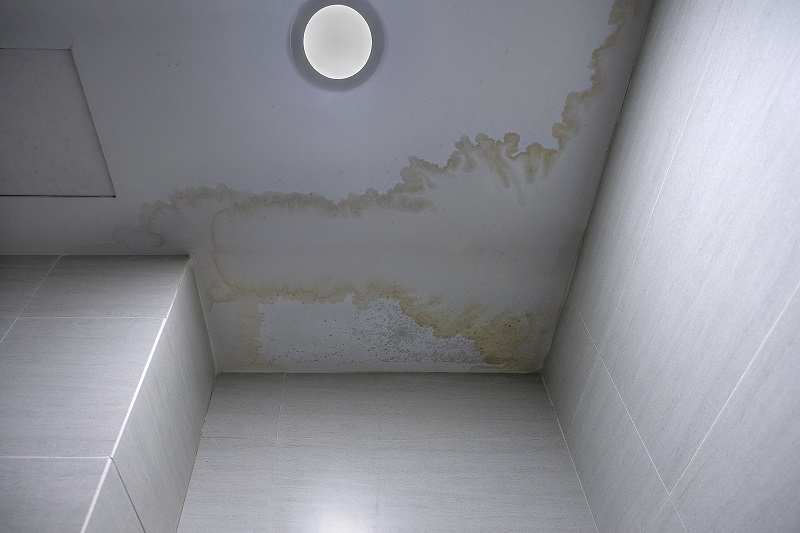 The National Roofing Contractors Association (NRCA) classifies "undesirable" ponding water as standing for more than 48 hours, though ponding might be harmful in far shorter periods. The weight of a 1″ deep pool is approximately 5.2 lbs./square foot, which is a major issue. That amount of additional weight could pose a threat to the structural integrity of the building, with a very real possibility of roof collapse in extreme cases.
To prevent ponding water, it is important to make sure that the roof has proper drainage. This can be accomplished by installing drains, by making sure that the gutters are clear and functioning properly, and by having regular roof inspections by a professional commercial roofing company.
Punctures
Punctures and penetrations can cause serious issues for some roofing materials. For those with single-ply roof systems, damage from foot traffic can be problematic.
Minor holes or tears in the membrane are commonly caused by foot traffic, and these can be repaired with a patch. If the damage is extensive, however, it may require a full replacement.
Shrinkage
Single-ply roofing types are unique. Rubber flat roofing, which is common in many commercial structures, has a number of potential issues. Shrinkage is perhaps the most typical problem with this sort of roof. Modified asphalt and EPDM roofs, in particular, are susceptible to shrinkage problems that might jeopardize the structural integrity of the whole roofing system.
Shrinking membranes do not necessarily cause total roof failure. However, they can pull away at the flashings in curbs and along walls, which opens up the roof to be more vulnerable to water penetration.
Blistering
Blisters can appear on roofs made of a variety of materials and are not restricted to any one type. However, roof systems with membranes are more susceptible to blistering.
When there is less adhesion on the roof due to the roofing materials stretching from heat or direct sunlight, blistering forms. These raised sections might look like bubbles all over your commercial building's roof.
Water or air trapped inside a blister causes the interior of the blister to grow in warm weather. If these blisters are not treated, they will continue to develop, allowing more moisture to enter them until they cause tears in your roofing materials.
Common Causes of Commercial Roofing Issues
The causes of roofing problems are nearly as varied as the number of roofs, but here are a few things that industrial roofing contractors identify as being the source of many issues.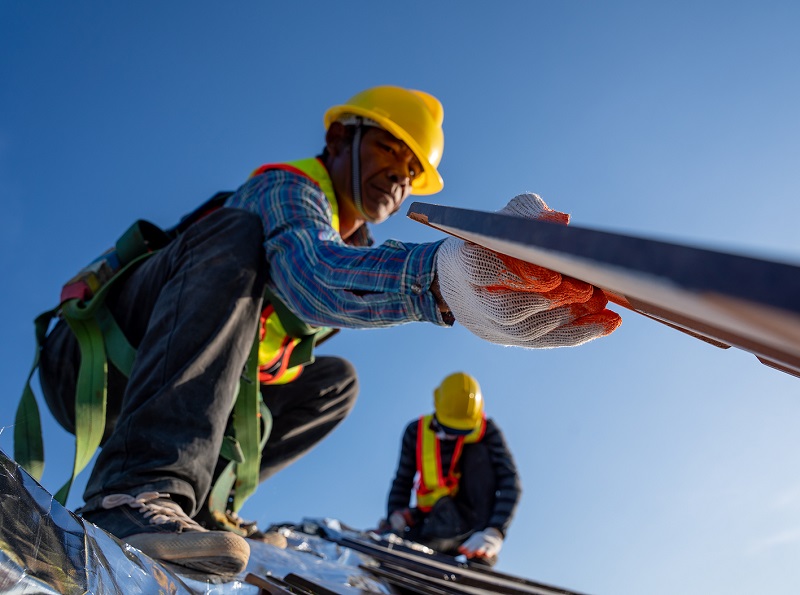 Improper Installation
One of the most common commercial roofing problems is improper installation. This can happen when a roofer does not follow the manufacturer's instructions or uses the wrong materials. This can lead to leaks, drafts, and other issues.
Poor Maintenance
Another common problem is poor maintenance. Something as seemingly minor as not clearing debris after storms can eventually lead to significant issues.
If a commercial roof is not properly maintained, it can start to deteriorate and develop problems. This is why it is important to have a regular maintenance schedule and to hire a qualified roofing contractor to perform any necessary repairs.
Weather
Mother nature can wreak havoc on any type of roof, especially in severe weather like hurricanes, heavy rainstorms, or tornadoes. ​​All commercial roofs are vulnerable to wind uplift and water damage, regardless of their construction material.
When strong air gets underneath the roofing materials and lifts them up, this is known as wind uplift. This can cause a variety of problems depending on the roofing material. With asphalt shingles, for example, it is possible that rain can get under them and cause damage to the underlying sheathing.
Metal roofing that is commonly used for commercial roofs can suffer damage in hail storms. Although the damage is usually only superficial, occasionally hail can chip or crack the roof's finish, which can ultimately lead to damage from rust.
Damage from Walking
Because commercial roofs often house HVAC and other equipment, they tend to be walked on with much greater frequency than the average residential roof. While commercial roofing materials are designed to be durable, walking on some types can cause damage. Additionally, installing or moving heavy equipment can easily lead to tears, holes, or other damage.
How Often Should a Commercial Roof Be Inspected?
As with residential roofs, regular inspections can help extend the life of a commercial roof and prevent minor problems from becoming major, costly issues.
At least twice a year, according to the National Roofing Contractors Association, all commercial roofs should be inspected. They recommend having an inspection done once after the coldest weather (January), and once after the hottest weather (July/August). It is also suggested that an inspection be done following any significant weather occurrences.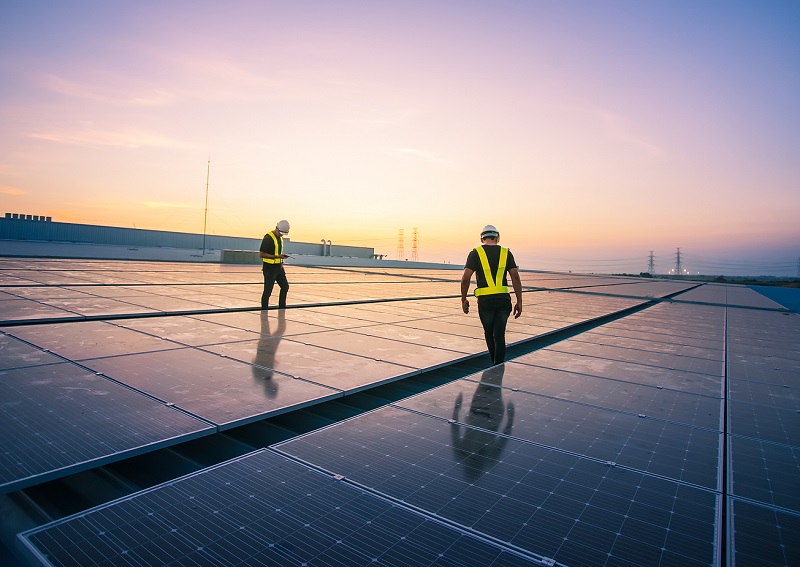 Flat roofing, in particular, should be inspected frequently to fend off potential problems. Finding leaks in flat roofs is challenging because they must be tracked from the interior of the building. A leak on the outside might allow water in, which then move laterally before showing up on ceilings or walls inside building. This means that it may be some time before the leak is even apparent, giving water plenty of time to cause further damage to the building's structure.
It is always advised to have commercial roof inspections done by professional roofing contractors who have knowledge and experience dealing with the unique characteristics of commercial roofs.
Here is what an inspector will check:
The condition of the roofing materials to ensure that they remain intact and undamaged
Chimneys, vents, pipes, exhaust fans, skylights, and any other penetrations
Fascia, flashing, seams, and fasteners
HVAC systems, communication systems, or other equipment that is on the roof.
If applicable, solar panels, including the mounting hardware
Interior roof deck, ceilings, and walls
Exterior walls
Gutters, downspouts, and drains
Potential perils such as large tree limbs overhanging the roof
Commercial Roof Repair
When a commercial roof needs repairs, the process depends on several things, including the type of roofing material, the age of the roof, the size of the building, and whether there has been significant damage or wear.
Another factor is the style of the roof. Flat roofs are often used in commercial buildings because of their cost effectiveness, but also because they provide a good place for HVAC, solar panels, and other equipment. As with all roofing systems, flat roof repair becomes necessary if there are leaks or other issues.
Because flat roofs are different than pitched roofs, it is always important to have an experienced commercial roofing contractor identify and address any issues.
Metal roofing is also common on non-residential buildings. Although metal is durable and has a long life expectancy, it can become damaged.
Commercial metal roofing is not the same as residential metal roofing, so damage requires roofers with the proper knowledge.
Repair or Replace?
At some point, businesses may be faced with the decision of whether to repair or replace their roof. While it is almost always less costly to do a repair, old or damaged roofs will need to be replaced at some point. The decision of whether to repair or replace will need to consider the possibility of the need for ongoing repairs versus the investment in a new roof.
When a complete roof replacement is in order, a roofing contractor can explain the options, including whether a roof over roof systems (or retrofit roofing system) would be possible. Because this does not require removing all of the old roofing materials, the overall cost can be significantly lower.
If a complete re-roof is necessary, the roofer can help.
Lakeland's Best Commercial Roofing Contractor
At Roofing Depot of FL, we are proud to serve the commercial roofing needs of our neighbors in Lakeland and throughout the central Florida region. Our roofing professionals are certified in the latest techniques, and our streamlined processes and customer service make us the best partner for your next commercial roofing project.
Our team has worked on hundreds of commercial roofing projects across a wide range of industries from retail to civil and industrial. We have handled every type and roofing material used on commercial buildings.
When you need the best roofers for your commercial roofing project, contact Roofing Depot of FL. We'll knock your shingles off.