Despite being one of the most important components of a home, roofs – and the terms associated with roofing – are unfamiliar territory for many homeowners. The phrase, "out of sight, out of mind," is a common theme that roofing contractors are all too familiar with.
However, given the importance of your roof and the investment required in it, homeowners should understand at least the basic roofing services that they might need. For residential roofing, those are most often roof repair or roof replacement.
Roof Installation
A roof is obviously part of any new home construction, since it is the part of the building that protects the entire rest of the structure.
For existing homes, roof replacement will eventually become necessary. Whether it is shingle roofing, flat roofing, metal roofing, or mobile home roofing, all roofing materials eventually wear out. When repairs are no longer sufficient to maintain the effectiveness of the roof, it will be necessary to do a complete new roof installation.
Signs that you might need a new roof include:
Visible damage from a storm or other weather event
Asphalt shingles that are visibly worn
Shingles that are curled or cupped
Cracked shingles
Rust on metal roofs
Loose metal panels
A professional roof contractor can do a roof inspection to assess the roof and determine how much (if any) remaining life it has. If it is time for a roof replacement, here is what to expect in general:
A dumpster (or dumpsters) might be delivered to your home in preparation for the removal of old roofing materials.
The new roofing materials may arrive before the day the roofing project is expected to start so that they are already in place.
On the day that the team from the roofer contractor arrives to begin the work, they will first remove the old roofing material (in most cases).
One the outer roofing material has been removed, the roofing technicians will evaluate the roof decking (or sheathing) to ensure that it remains solid and does not exhibit any damage.
The roofers will replace any (or all) of the roof decking if necessary.
A water barrier may be installed to prevent damage from heavy rains.
The drip edge will be installed along the bottom edge of the roof.
Felt or synthetic underlayment will be secured in place.
Drip edge will be installed on the sides of the roof the same as it was on the bottom.
Final cleanup to remove any fallen debris should be done by the roofing contractor.
A final inspection should be done to ensure that everything is in order.
Types of Roof Installations
The process for replacing a roof depends on several factors, including the slope (or pitch) and size of the roof, angles or projections within the roof surface, and the type of roofing materials being used. For instance, metal roofers will need to use different techniques and tools than roofers installing a clay tile roof or an asphalt shingle roof.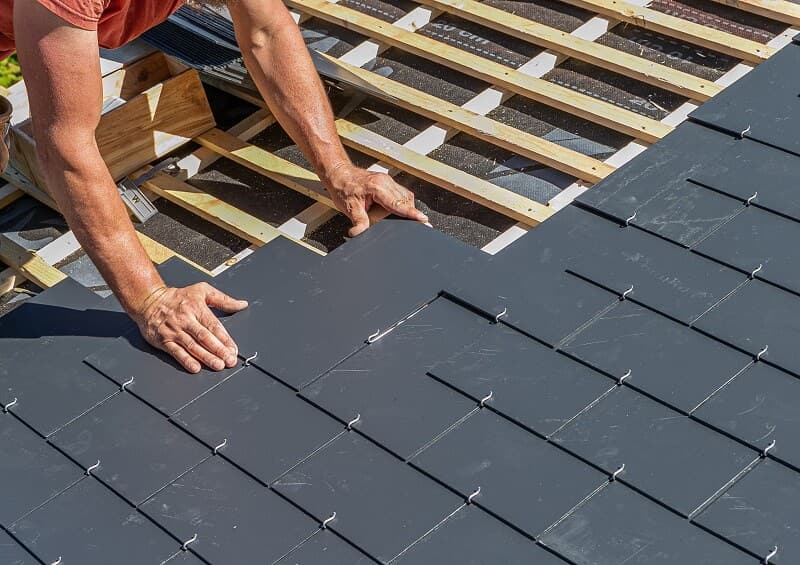 Asphalt shingles are generally considered to be among the most affordable and easiest to install options for roofing materials. Because they are very common throughout the United States, most experienced roofers have the ability to repair or install asphalt shingle roofs, but it is important to understand that the lifespan of a roof will be impacted by both the quality of the shingles and the quality of the workmanship. Always hire a reputable, experienced roofing company to do a new roof installation.
Metal roofs are becoming more common for residential usage. Metal is generally more expensive than asphalt shingles upfront, but metal roofs are known for their durability and longevity. As a result, they may be a more cost-effective option over the longer term. Installing metal roofs involves a different process than shingle roofing, so hiring a roofer with experience working with metal is advised.
Tile roofs are popular in some parts of the country due to their ability to withstand strong winds. More expensive than asphalt shingles, their long expected life nonetheless makes them the lowest life-cycle cost for a roof. Tile roofs are available in clay or concrete. Both have a variety of options in terms of color and profile. Installing tile roofs requires specific knowledge and skills to do properly.
Flat roofs are often used in commercial roofing, but they are becoming more popular for homes as well. Flat roofs are easy to maintain, offer more usable space, and are usually less expensive. Installation is also easier and generally much quicker.
New roofs are different from re-roofing because they involve working on the structural framework of the roof, installing roof decking or sheathing, installing underlayment, and then completing the outer layer. The cost of a new roof is typically built into the price of home construction and will depend on size, complexity, and the roofing material chosen.
Roof Repair or Roof Replacement?
When your roof has a leak or other issue, an obvious consideration is whether it is better to make roof repairs or do a full roof replacement. According to Owens Corning, a roofing materials company, there are five things to consider when deciding between repair or replacement:
Age of the Roof
If the roof is nearing the end of its expected lifespan and showing signs of aging, it may be more cost-effective to replace it rather than to repeatedly pay for repairs. When a roof needs frequent repairs, it is typically a sign that the entire roof is failing and that a new roof will be needed sooner rather than later.
Roof Leaks
Leaks in roofs are probably the most common reason that homeowners contact a roofing company. Leaks often result in visible water stains on ceilings or walls, but they can also be invisible until after they have become a serious issue. Roof leaks may cause damage in attics or to the structure of the roof or walls before they become evident from within the home. If a roof has been leaking for a long while, a roof replacement may be the only solution that effectively addresses the issue.
Roof Damage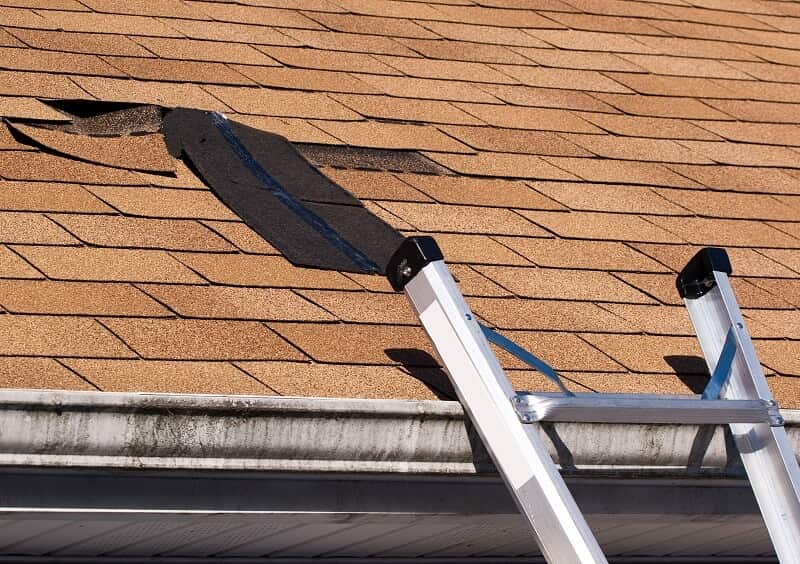 Roof damage can be aesthetic – the roofing looks old or worn, or moss or algae are growing on or between the roofing materials. Damage can also be structural. Structural damage can include bald spots on asphalt shingles, broken or cracked shingles, or rusted metal panels. The extent of the damage should be assessed by a professional roofing contractor to determine whether the best option is roof repair or roof replacement.
Geographical Area
The environmental conditions of where the home is located have an effect on roof decisions. Given Florida's volatile and often harsh weather conditions, a solid, stable roof is especially important. Even a small roof problem can quickly become bigger with heavy rains and winds, so it is important to address any issues as quickly as possible. Conversely, in areas where there is ice and snow, planning for roof work requires anticipating when weather conditions will make that possible.
Cost
The cost of replacing an entire roof is, of course, much more than the cost of a roof repair. It is important, though, to consider the longer range cost in the roof. A one-time damage repair might not be a concern, but will regular, ongoing repairs add up over the years and eventually exceed the cost of a roof replacement? Are there roof financing options available that make investing in a new roof feasible?
In general, if a roof problem is fairly minor, such as a few missing or broken shingles, roof repair might be the best alternative. Shingles can usually be replaced with new ones fairly easily and affordably.
When there is moderate damage, the choice between roof repair and replacement can be more subjective, since it is not usually possible to predict exactly how much longer a roof will last. Experienced professionals in roofing company can generally give a fairly accurate estimate, but weather conditions and other factors will make any guess inexact.
One option that might work in some cases of moderate damage is to reroof just one side or area. This poses some challenges, like matching the aesthetics and getting the installation done correctly, but it would be more affordable than a complete re-roof.
Benefits of a New Roof
A roof is one of the single most important components of any home or commercial building. When it serves its purpose well, a roof keeps the residents safe (and dry!), and protects the structure and mechanical systems of the home.
In addition, a new roof:
Increases home value
When purchasing a home, buyers will consider the fact that a new roof makes costly repairs or replacement less likely in the near future. Depending on the roofing materials used, it is possible that a new homeowner might never need to replace the roof, and that should factor into their value decisions.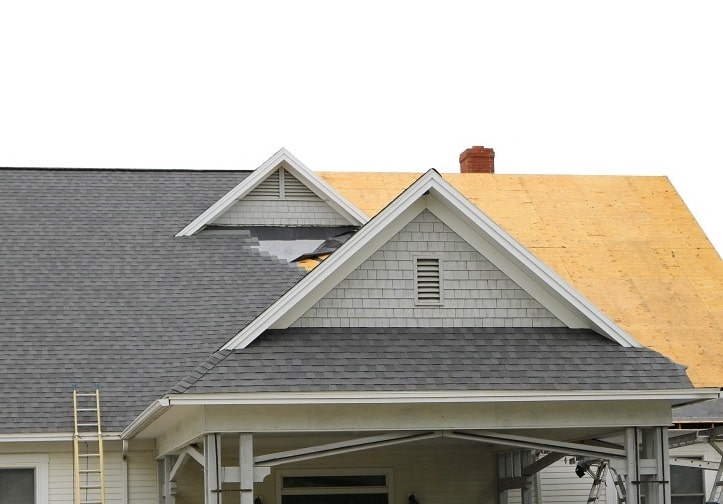 Increases energy efficiency
Modern roofing materials are designed to help control energy usage throughout the home, saving energy costs and helping the environment. Some roofs are even designed with special materials that help reflect sunlight.
Increases curb appeal
Roofs are often a highly visible part of the exterior of a home, and can make a big impact on the overall aesthetics. Roofing materials come in a wide variety of styles, profiles, and colors, so homeowners can choose options that maximize the home's appearance.
A new roof can also offer one intangible, but important, benefit – peace of mind. The value of knowing that your family and possessions are protected is immeasurable.
Your Roofing Company in Lakeland
If you need roof installation, repair, or inspection, contact Stronghold Roofing & Solar. We are a licensed, certified, and insured roofing company offering residential and commercial roofing services in Lakeland, Valrico, Winter Haven, Plant City, Brandon, Davenport, and across central Florida.
Roofing Depot of FL's founders are lifelong Polk County residents who bring to the table not only roofing experience, but also experience in other areas like finance, insurance, real estate, and home improvement. Local, qualified, and customer-centric, we promise that we will help you find the best roof options for your specific needs and budget.
We offer free estimates with transparent pricing, and warranty-backed roofing services for every budget. Our services include:
Roof repair
Roof maintenance
Roof installation
New construction
Because we understand that your roof is a significant investment, we offer roof financing options that allow you to pay for your project with predictable monthly payments that do not tap into your home's equity. We can also assist with homeowners insurance claims, and in many cases work directly with your insurance company to ensure that all documentation is provided and the process goes as smoothly as possible.
Check out our reviews to hear what other clients have to say about their experience with us. Stronghold Roofing & Solar In & Near Lakeland, Florida – We'll Knock Your Shingles Off. Get In Touch!